Details that Transform Any Wedding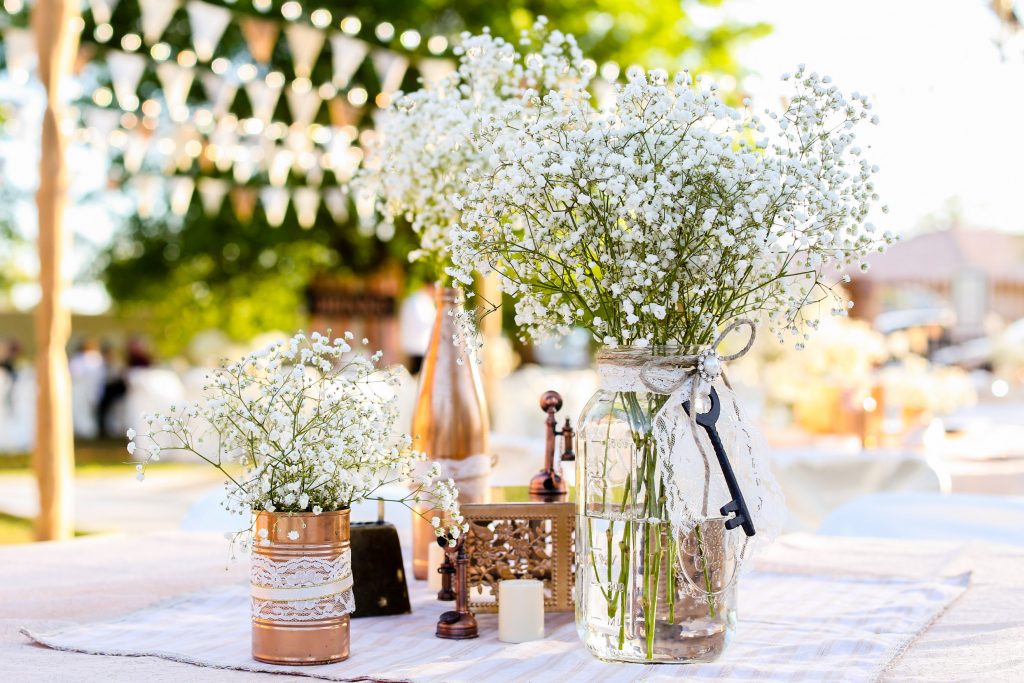 Your wedding is once in a lifetime occasion, and it should be inspiring in every aspect without a doubt. Hence, the parties and festivities leading up to your wedding reception and grand wedding exit should be celebrations of love and life equally. Whether you are planning for a dream destination wedding or you are tying the knot at the courthouse, and plan to throw a grand reception party afterward, this once-in-a-lifetime event should be celebrated with some unforgettable wedding details that can work seamlessly with your wedding timeline. Here are some of the traditional basic elements that you need to consider while planning your wedding– the wedding ceremony where you and your love will exchange your wedding vows and wedding bands, followed by some sort of cocktail party and reception.
Some of the most inspiring weddings truly embody a combination of modern luxury and a sophisticated interpretation of romance. In current times, many couples are opting for minimalist wedding themes and eliminating traditional big wedding details to their big day celebrations. But if you always wanted your wedding day to be remembered in the best way, you do not have to join this bandwagon of trending wedding style of minimalism. You will be surprised to see how adding unexpected elements to your wedding celebration can transform your big day into an unforgettable affair for you and your loved ones. Whether you are getting married in a rented hotel ballroom setting or hosting a cozy winter wedding in the countryside, add some of the most glamorous wedding details to the most special day of your life and transform the celebrations into something grand and glorious.
If all the glitz and glam sounds like your idea of getting married, there are ways to translate it across your décor landscape. Adding these glamorous wedding details will definitely have a big impact that your guests will remember for many years to come. Whether you are drawing your wedding inspirations from some of the best Instagram wedding accounts or browsing through good old Pinterest for various wedding ideas, you will be surprised to find how there are so many more glamorous and luxurious wedding themes than just palatial venues in India and destination weddings in Europe. With very few installations and little furnishings, we have come up with some of the most celebrated wedding details that can transform any normal wedding day into an epic celebration of extravagance and royalty.
Some of our favorite wedding details that can transform any wedding:
Visionary wedding venue
Your selection of wedding venue can make or break the deal. In the case of hosting a luxurious and extravagant wedding, no wedding venue is off-limits, and you can truly host a fairytale wedding. From renting entire islands to getting married in an airplane, we have seen couples get married in a wide range of luxurious and visionary wedding venues. Ranging from private islands and castles to vineyards and countrysides, your selection of wedding venue should be sophisticated and elaborate and it should not need to fit the mold. Choosing a luxurious wedding venue is the first step for extravagant beginnings and transforming these event spaces becomes easily doable as such wedding venues speak grandeur and uniqueness for themselves.
Top-notch service
Setting the tone for a luxurious wedding celebration begins with personalized and instinctive services. There should be a single point of contact, ideally a dedicated wedding specialist, who can ensure the wedding details come together effortlessly. The dedicated wedding specialist of your luxurious wedding venue can be the resource to help and select top-notch wedding vendors. Your selection of wedding vendors is the key to creating a flawless and sophisticated experience. Proximity to upscale vendors is also paramount. When researching venues, inquire about staff ratios so guests do not encounter hiccups like unnecessary long lines.
Creating an experience
Making people feel welcome aboard, entertaining them with excellently artistic options, treating them with wholesome details, and sending them back home with an unforgettable experience sums up the key details of a luxury wedding. To begin this, put yourself in the guests' shoes and look at every element of the day from their perspectives. Look at the details and organizations and make sure you understand the entire process and every point they are going to have interactions with, and how do you want that to be. From extravagant activities like creating a customized gourmet cuisine experience and a private yacht tour to simple wedding details like a little note or sign or a special guest book, the thoughtfulness behind these details can elevate the entire wedding experience in a different way.
Customized feast experience
For creating a memorable experience for your guests, your wedding should be a series of gourmet culinary indulgences with personalization of every detail right from cocktail selections and hors d'oeuvre to main course and desserts. For instance, you can pick up any popular signature cocktail and add your dash of culinary creativity by including ingredients like foreign liquor, cordials, and a selection of herbs. The refined dining experience that will be presented to your guests will stay with them forever. Your wedding guests might not remember the exact floral details or what song played when you walk down the aisle, but they will definitely remember what they ate, especially if it was particularly bespoke and delicious. Customize your wedding menu and accommodate tons of tasty options by keeping common food allergies and dietary restrictions in mind. Bring in food experiences like a cocktail hour with petite Beef Wellingtons and bacon-wrapped scallops served with 'Beet Martini', and the list of epicure creativity can go on and on. You can also set aside time for a private tasting- it's a good sign if the venue offers a relaxed and intimate space to taste and sample the food.
Upscale wedding décor
Whether you want something classically elegant with clean lines and a good old white and gold-themed wedding, or you want to bring in something bold like black and gold, your wedding is a series of opportunities to treat your guests to fabulous sights, smells, and sounds. It should be a feast of the senses in everything that touches the aesthetics- look, sound, smell, feel, and everything else that comes into a big play. From including custom neon signs that showcase the initial of your last name or the popular wedding hashtags, to working with your florist for bringing in small trees to break up the dinner tables, or wrap a pergola with vines and greenery to make your head table stand out, your timeless wedding décor should embody understated luxury and tasteful simplicity. Considered the entire wedding venue as a blank canvas where you can start crafting your luxury occasion with the expertise and intuition of a wedding specialist. You might want to create an intimate feel by draping the walls or a romantic tent-like atmosphere or choose to deliver an element of luxurious experience by handing your guests floral cannons, which they can shower the bride and groom with fresh petals as they walk the aisle.
Statement-making aisle designs
All eyes will be on you as you walk down the aisle on your wedding day and upscaling your aisle aesthetics is the best way to ensure that your ceremony entrance is extra grand. From setting the tone with some amazing wedding music and unique lighting to wearing a statement-making wedding dress and decorating the aisle with something meaningful are some of the best ways to make a statement with your wedding aisle designs. Ranging from decorating your aisle with loose greenery, white florals, and pampas grass for creating a modern eclectic boho feel to walking down the aisle with your mother or with both parents, there are many modern ways to make a statement on your wedding day as you walk down the aisle.
Personalized details
From the choice of wedding flowers to the choice of the cocktail menu, every wedding decision should be personal for the couple that is exclusively their own. Personalizing the wedding details according to the unique personalities of couples that differ from one another, and bringing them to the wedding detail palette is a great way to add sentiments and emotions to your wedding planning process. Creating wedding moments that will stay with your guests forever will start with great designs that lie in the details– the table linens, the wedding signs, the little jokes you sprinkle throughout your different wedding reception spaces, and so on. Bring your own story and personality into the mix and host a wedding that is fully yours. For instance, the wedding table numbers can be named after your favorite places in the world or you can place handwritten notes to each of your guests in envelopes that serve as their escort cards.
Splurge on incredible lighting
Your wedding lighting is one of the most important parts of the party especially because good lighting is inevitable for incredible wedding photography. Hanging extra lights- the dreamy cafe lights, glowing lanterns, and grand chandeliers is a great way to transform your wedding space. Whether it's for your ceremony or reception, it's worth the investment to upgrade to unique or romantic lighting that will add tons of interest to your photos. The warm glow of amber and pink uplights make even the simplest event space feel chic and stylish along with being super flattering for memorable wedding photos. You can also highlight a few spots within your reception space with smaller lights to bring in more drama. For instance, aim pin spots at the cake table and escort card table or shine a monogram gobo light on the wall behind your sweetheart table, which will instantly transform the space into a cozy and ambient atmosphere.
Creative reception options
If your wedding venue spacious and airy, you can divvy up the reception space from the typical round table and dance floor arrangements. As an alternative to the traditional reception seating arrangement, you can set up a lounge area, a zone of cocktail tables, and outdoor seating spaces which will add a sense of relaxation and laid-back vibe to the entire reception party. Long banquet-style tables look aesthetically beautiful and make it easy for conversations and mingling. You can also skip the traditional white linen and go for funky runners, tablecloths, and napkins in quirky and fun colors to create eye-catching reception settings. If you are a fan of understated sophistication, then opt for bold wedding color palettes for your linens, and go for the metallic route, and deck out the tables with sequin table runners with bold centerpieces and dangling focus lights.
Amazing entertainment options
Paying special attention to entertainment amenities is an inevitable part of hosting a luxurious wedding. Invest in a great music band or a popular DJ if you want your guests to remember having a blast at your reception. The pro-entertainers are known to be crowd pullers as they are known for playing a selection of wedding tunes that can pull your friends and family out of their seats to the dance floor. From hiring your celebrity favorite to famous artists for performing during receptions, the idea behind these extravagant entertainment options is to make the wedding event memorable and treat your guests to a special performance they will remember forever. Apart from dance and music, alternative wedding entertainments can be anything from hiring illusionists and exotic dancers to arranging for broadway shows, circus acts, and bespoke shows.
Host an after party
Just the sound of an after-party sounds fun and memorable! But if you are planning for an extravagant send-off, you can extend your reception hours and move to a smaller venue or even a bar to give your guests the option of partying till dawn. Who could pass up an invitation to a wedding like that? Hosting an after-party is the best way to say thank you to all your friends and family without even saying it, as they have traveled so far to be with you on the biggest day of your life. Fantastic after-party ideas can be anything from an outdoor bbq and pizza party with your favorite Spotify list on to heading off to an outdoor excursion the next day.
Time and again the rich and famous couples surprise us again, as they spare no expense when it comes to planning their wedding celebrations. Discerning couples who seek to create a refined wedding will find that a host of essential details and personal touches will take their wedding to a new level of elegance. Whether you are looking to splurge in the same manner or you want to get a little crafty while planning your wedding details, the key to hosting an epic wedding celebration is to stay connected during the wedding planning process, with your wedding planners as well as the vendors. Creating an incredible wedding experience is all about ensuring that your vendors work together seamlessly towards your definite 'wedding goals'. With thoughtful planning, the careful eye of a helpful wedding specialist, passionate vendors, and personal touches, you can truly elevate your wedding to become a memorable and inspiring occasion