Outfit Ideas for Mother of the Bride and Groom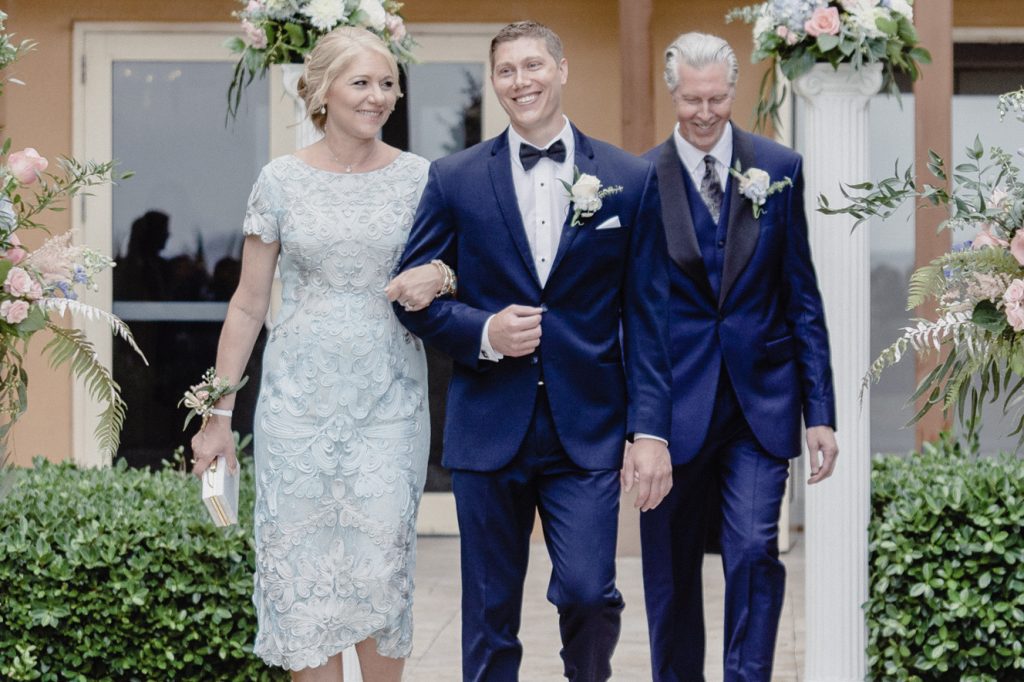 Mothers are real-life superheroes! From fixing bruises and scars to magically preparing cookies overnight for school fundraisers, mothers are indeed the most beautiful creatures on earth. Your wedding resolution as a bride-to-be will be to celebrate the bond with your mother, honor the oldest friendship of your lifetime, and acknowledge what she means to you by gifting her or asking her to dress up in an unforgettable ensemble for this pivotal moment. There are a few more important wedding dress purchases which should be remembered while prioritizing the wedding budget that goes into the wedding planning process right after the bride and groom make the big decisions of choosing their bridal and groom outfits respectively. She will be the second most noticed woman at the wedding right after the bride, and with guests prowling to see what everyone is wearing, the mother of the groom and the mother of the bride must ensure that their outfits are stylish and classy for their children's wedding. We have prepared a list of some of the most beautiful mother of the bride dress ideas and mother of the groom outfit inspirations according to seasons, different styles, and tastes.
Mother of the bride and groom outfit ideas for spring weddings:
Wayf Chelsea Tiered Ruffle Maxi Dress
Balancing 2021 trend-forward style drawn from the runway with classic silhouettes and vintage-inspired details, this spring detailed mother of the bride dress is made for dancing and sauntering around the wedding day like a breeze. The multi-tier dress features a twirly bell-cut shape that is adorned by endless flouncy and semi-sheer ruffles along with a wide V neckline. It is meant for a casual wedding as this multi-tiered floral number with beach-ready details is perfect for a seaside affair or a spring-themed wedding and can be paired with espadrille wedges and a straw clutch.
Short A-Line Applique Dress with Cap Sleeves by David's Bridal
This short and intricately embroidered cocktail dress with an illusion neckline and cap sleeves is the perfect outfit for a mother of the groom. Featuring lustrous rosette appliques and mini sequins, this trendy mother of the groom dress is an A-line dress that comes with a fresh update in the shade of dove color palette. The understated and bold mother of the groom's outfit is perfect for making a statement as this tea-length dress features a delicate combination of rosette appliques and scattered sequins. The traditional mother of the groom dress comes with precious vintage wedding accent details along with a modest neckline, cap sleeves, and high V-back, with just enough sparkle to feel festive.
BHLDN Parsons Dress
This vintage-inspired mother-of-the-bride dress from the house of BHLDN is a tea length and delightfully embellished outfit for the lovers of timeless vintage wedding gowns. Intricately embellished with raised pink flowers and tiny embroidery blooms that cascade from the bodice to the down of the skirt, this sleeveless midi dress comes with sweet and scalloped detailing at the hem. The delicate and sophisticated mother-of-the-bride outfit is appropriate for both a casual springtime or fancy oceanfront affair or even a destination wedding in Europe without looking overwhelming.
Tadashi Shoji Tuxedo Jumpsuit
This unbelievably chic and tailored tuxedo jumpsuit is a modern mother-of-the-bride outfit idea that looks straight out of a runway magazine! Exuding elegant styling and featuring a stunning shade of teal, this ravishing crepe jumpsuit is perfect for mothers who love power dressing and has a flair for gender-neutral tuxedo dressing. It is designed with a plunging neckline that is set off by satin lapels, intricately embroidered lace sleeves, pleated front trousers, concealed center back zip, and a draped waist accentuated by a tie sash, making it a perfect suit for mothers looking for trendy springtime dress ideas. The gorgeous green hue looks flattering on all skin tones and the solid color palette makes it easier to be paired with gorgeous gold and silver jewelry, which can be a transforming detail for the wedding look.
Beaded A-Line Gown from JS Collections
This sophisticated and romantic mother of the bride dress is embellished with beautiful ornate beading work making it perfect for glistening under the moonlight on your daughter's spring wedding soirée. The impeccable design with the flattering fit and ultra-feminine details is designed to catch the light from every angle. This romantic mother of the bride dress design features three-quarter length sleeves, a bateau neckline, and a full A-line skirt which makes it flattering for all body types.
Mother of the bride and groom outfit ideas for summer weddings:
Dolce & Gabbana Pink Lace Dress
We just can't get enough of this Dolce and Gabbana mother of the groom gown for its delicate embroidery design and dreamy pink shade. Made out of the finest bridal fabric, this is the dress for your mother to wear on your big wedding day which will never go out of style. Perfect for sequel weddings and courthouse nuptials, this dreamy pink floral lace mini dress is a strong contender that will remain fresh for seasons to come with whimsical ruffled detail adorning the hem and sleeves. This blooming beauty is a classic option for the romantic mother of the bride who loves poetic aesthetics and wants to be a muse in all the precious wedding moments.
BHLDN Twobirds Ginger Convertible Maxi Dress
Imagine gifting your mother a dress for your wedding which she can wear even after the big day in almost 15 different ways- from strapless to halter to criss-cross, making it look like a new dress every time! This extremely versatile New York-made dress from BHLDN was an instant hit and became a favorite contemporary bridesmaids' look complementing every body type. This muted pink dress is a convertible maxi dress that can be worn in 15 different ways, making it a perfect choice for the mother of the bride or the mother of the groom who will not only enjoy the comfort of a jersey but also will appreciate the elegance of a floor-skimming gown. We recommend dressing up this beach-perfect dress with gold flat sandals, drop earrings, and a pop of turquoise jewelry for perfect summertime nuptials.
Jenny Packham Belted Embellished Chiffon Gown
Often seen worn by the Duchess of Cambridge, the dreamy and whimsy designs of Jenny Packham have managed to make a mark on wedding fashion, especially in the summer and spring weddings. Loved for garden weddings and formal events, this elegant and beautiful summery mother of the bride's wedding dress is a soft mint-hued gown, made out of lightweight chiffon and paired with cape-effect sleeves and a flowing skirt. This evening dress is accessorized with sparkling crystal jewelry and bead embellishments in the yoke.
Marchesa Slip V-Neck Side Drape Metallic Gown
Planning to make your wedding stand out on social media? Opt for this dress as it is for all the mothers who are "extra" and "softy" at the same time! When shimmering metallic details meet tropical flower color palettes, it adds to become an elegantly draped gown ideal for a beach wedding. This luxe Marchesa dress metallic printed jacquard gown with a front side slit, plunging V neckline, and cascading draped bow can be paired with gold jewelry to create an extra "oomph" look or let the shiny gown gleam on its own!
Tadashi Shoji Floral Green Cocktail Dress
This exquisite floral frock is an amazing dress choice for the mother of the groom who is young at heart! The refined and soft blooming aesthetics also make it one of the best floral bridesmaids' dress choices. Since the printed textured crepe dress features a wide V neckline, minimalist draping, a front slit, a concealed back zip, and elbow-length sleeves it will perfectly complement any nature-inspired wedding or a wedding in the garden. You can dress up your wedding party in this dreamy floral frock by pairing them up with grass-friendly shoes like woven wedges and block heels.
Mother of the bride and groom outfit ideas for fall weddings:
Pisarro Nights
Inspired by details of South-Asian wedding outfits, this exquisitely beaded dress is perfect for the mother of the bride who has a thing for all things vintage. The exquisitely embellished special occasion dress features scrolls of twinkling beads women all across this slim tulle dress. Available in a generous range of sizes, the show-stopping design and figure-flattering fit will have your mother looking positively radiant, and the best part is this dress is affordably priced and comfortable to wear. The elegant and modest blue beaded mesh-veiled dress with retro-inspired embellishment details will make your mother stand out on your wedding day without competing with the bridal outfit.
Marina Long Sleeve Lace Gown
This trendy elegant silhouette lace gown with couture-like attention to detail and exquisitely feminine design is a perfect dress for the mother of the bride or the groom. The chic and glamorous mother of the bride style is a floor-length mermaid-style skirt that comes with intricate sequin embellishments. This wedding gown design can also be perfect if you are on the lookout for an ultimate classy bridesmaid dress style idea while creating a statement and without going overboard. Finishing up the trendy wedding look with strappy heels is a total yes!
The Rachel Wrap Gown
This texture-striped georgette-wrapped gown creates an elongating and alluring look for an effortless mother-of-the-bride dress style with its sumptuous fabrics and radiant aesthetics. Constructed in a wrap gown style, this georgette evening gown for a fall wedding is perfect for a woman who loves sophisticated and minimal designs, as it features long sleeves with three-button cuffs and comes in a dramatic burgundy color which can make your mother pop out in the wedding party without stealing the attention from you. The dreamy and dramatic georgette gown has a surplice V-neck that makes it perfect for all body types and can be paired with a gorgeous necklace.
Vince Twist Front Silk Dress
Who can deny the power and drama of opulent jewel wedding tones in wedding party attire details? This pure liquid silk mother of the groom dress is synonymous with a modern and timeless aesthetic which can be the perfect option for outfit change in a wedding for even a bride! The iconic chic dress design conveys minimal sophistication with straightforward tailoring that is highlighted and accented with a twist-front flourish. The enduring style and uncompromising quality of this dress are made out of the finest fabric which can make the mother of the groom look exhilarating on her son's biggest day, especially when paired with a nude lip and a smokey eye.
J Kara Bead-Embellished Cape Gown
The effortlessly chic and flowing V-neck gown in gorgeous hunter green will perfectly match the mood of an outdoor wedding, especially in the countryside. The timeless and glamorous aesthetic of this modern mother-of-the-bride dress is accentuated with a beaded chiffon cape, which is an attached asymmetrical illusion capelet with bead embellishment. We love the boho whimsy that imbues the silvery beads on the chiffon cape of this evening cocktail gown along with the intense emerald green color that can add drama to any special event.
Mother of the bride and groom outfit ideas for winter weddings:
Teri Jon by Rickie Freeman Sequin Flower Off-The-Shoulder Midi Dress
This modern mother-of-the-groom dress design is a structured one and is undoubtedly one of the most flattering silhouettes out there! The gorgeous and sophisticated cocktail dress design is a glam way for your mother to get some more subtle sheen into her mother-of-the-bride look. Styled up with an off-the-shoulder detail, a demure neckline, and three-quarter length sleeves, this stunning mother of the groom outfit design is an elegant tea-length A-line silhouette. The delicate floral embroidery sets this navy number apart from the rest making it a gorgeously fit idea for winter mother of the groom dress.
RM Richards Stretch Satin High-Low A-Line Dress with Sequins
If your mom likes a little more coverage, an embellished black gown with dark and sultry details in a high-low style will be an ideal option. The thing about black gowns is it looks flattering and great on everyone! Making it easy to walk and dance in, this effortlessly chic black sequin mother of the bride dress is designed to be easily worn again to another formal affair. It features ornate sequin flowers that sparkle from the bodice of this stretch satin A-line dress with a high-low hem, along with a keyhole back and a waist tie that completes the look. For a cozy winter nuptial, you can pair this black gown with your favorite winter bridal cover-up as the versatile color can be mixed and matched with a wide range of other colors and styles.
Dupioni Trumpet Gown by Alfred Sung
The elegant, sophisticated, chic, and timeless dupioni gown by Alfred Sung is an inspirational mother-of-the-bride outfit idea that comes in gray, champagne, pink, black, and deep red. Sculpted with a structured bodice that gives way to a gracefully flared trumpet skirt, this timeless mother-of-the-groom look flashes a striking style which is completed with a geometric cut-out back detail and a pretty bow.
Fame and Partners the Rachel Wrap Gown
The true wrap style georgette gown is an inspiration to the winter mother of the groom outfit ideas as the texture striped maxi gown creates an alluring and elongating look for an utterly effortless and elegant style. Let your mum make a statement on your wedding day with this gorgeous evening gown that features long sleeves with three-button cuffs in a burgundy color that is perfect for a winter wedding. Keeping warm with timeless winter wedding dress accessories as the surplice V-neck simply begs for the addition of a gorgeous necklace.
New Deve Lace Mother of the Bride Dress
Not all mother-of-the-bride or groom dresses are long and maxi. This sheath lace embroidered mother of the groom dress is made of chiffon, lace applique, and soft satin lining and falls just at the knee. Suitable for all the special affairs including winter wedding celebrations, this modern mother of the groom or bride dress comes in over ten different colors and a trendy matching sheer jacket, which can help your mother to stay warm during chilly weather conditions. The knee-length mother of the bride dress is amazing for destination weddings and garden-themed celebrations.
They have most likely stayed by their daughter or son's side, helping them plan their wedding, and lend invaluable advice along the way of the planning process. As the bride's mother, she plays a special role on her daughter's big day— from guiding her daughter to pick the best and trendy engagement ring to helping her to indulgently prep for the big day so that she looks and feels her best, so it makes sense that she'll want to look the part. These mother-of-the-bride dresses should complement the overall wedding palette, season, and venue, and should not feel restricted to traditional attire. Similarly, the modern mother-of-the-groom dresses offer the opportunity to spotlight their personal style and have fun while celebrating the biggest day of your life. No matter your style, we've got you covered with a wide variety of mother wedding outfits- from off-the-shoulder necklines with sparkle and intricate beading to long sleeves and shorter hemlines to make them feel confident and beautiful on their offspring's big day.