Glamping Ideas for a Minimoon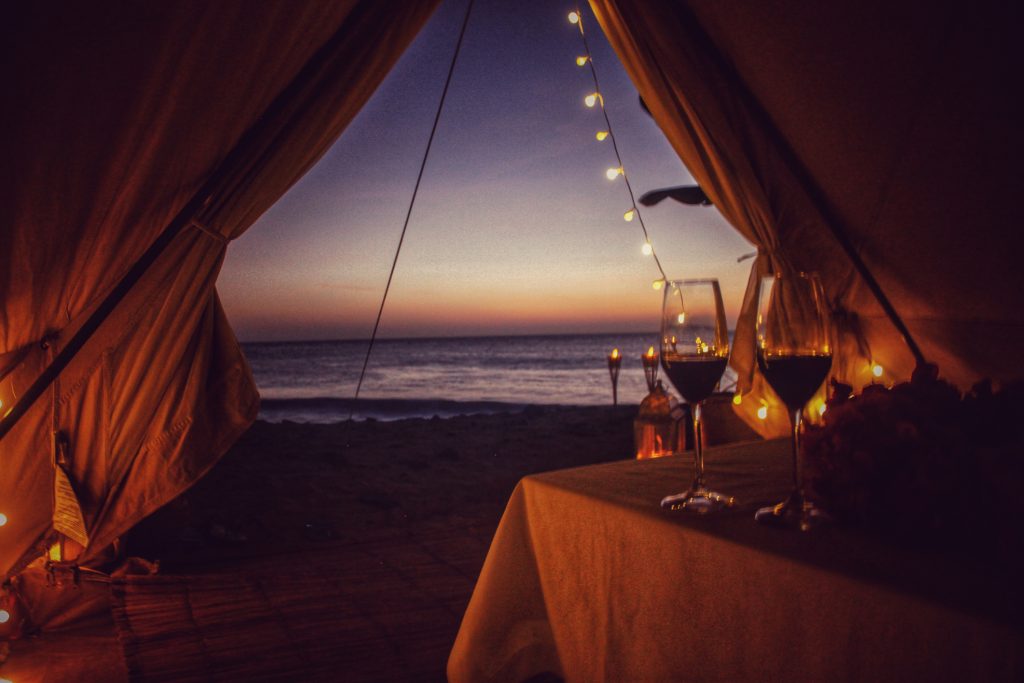 Jetting off for the big honeymoon to the best honeymoon destinations in the USA or even beyond is a romantic dream every couple holds close to their hearts but has recently hit the snooze button with all the international travel temporarily suspended. Times are difficult throughout the world and booking a seamless departure is nearly becoming impossible. Until the world goes back to normalcy and traveling becomes a regular routine for us, some of your ideas for the best vacations can be realized through getaways that are shorter and closer to home but are not in any way less romantic than exotic destinations. Whether you want to celebrate your anniversary in a grand way like every year or you want to celebrate the excitement of your nuptials, indulge in a "mini-honeymoon," or a "mini-moon" to take a few days off for decompressing after such a big event and jet off to some of the best honeymoon destinations in the US.
Another popular term coming up among modern couples is the word "glamping" which translates to glamorous camping. Glamping is where charming nature meets modern luxury in some of the most untamed and completely unique parts of the world without having to sacrifice creature comforts. With the rise of micro weddings and intimate elopements, many modern couples are planning mini-moons in glamping sites to celebrate their new beginnings in some of the most unique honeymoon destinations in the US. Even if it's not your wedding or engagement, but both of you want to take some time off work and indulge in some precious "me time" with your love by your side, plan and embark on a mini-moon and create epic memories. If you are a couple who is planning their wedding for 2022, take this time off and discuss necessary details about your ideal wedding like- choosing the best dream wedding venues across the US or something as frivolous as wedding favor ideas for your guests. Whether you are pivoting from your original itinerary or looking for a break between honeymoon planning and wedding planning, we have rounded up the best mini-moon destinations across the USA.
Top mini-moon destinations and glamping ideas:
Also considered to be a dream destination wedding spot in the USA, this romantic 1800's ghost town nestled across the mountain from Telluride is one of the best romantic getaways if hiding away in a cozy cabin in the mountains has always fascinated you, and you want to snuggle with your sweetheart without missing out on the comforts of modern amenities. This exclusive Colorado honeymoon retreat was once a ghost town surrounded by breathtaking mountainscapes and mineral springs which has been meticulously restored into several luxury honeymoon cabins. This exclusively restored ghost town boasts hand-hewn log cabins, sensuous hot springs, shimmering snowbanks, and the reminiscence of an old mining town along with the comforting sound of a tumbling waterfall that lulls you to sleep.
Just a 3-hour flight from Florida, Rendezvous in Saint Lucia is a couples-only tropical paradise rising above the spectacular Malabar Beach and prides itself in being one of the best honeymoon destinations near the USA. Go on a complete social media hiatus while spending some unforgettable moments with your sweetheart as the atmosphere of escapism is ideal for a reinvigoration of relationships. From taking a dip in the free form pool to indulging in a blend of French and Caribbean cuisine for a memorable delectable experience, from active vacation activities like scuba diving, tennis, golf, and windsurfing to trying the laid-back luxurious side-by-side couple massages at the on-site spa, these beachfront suites and cottages offer several honeymoon vacation packages to choose from for an unforgettable personalized service.
Looking out for some of the best last-minute mini-moon ideas from NYC? The Willow Treehouse is a unique and cozy cabin treehouse, nestled on 35 acres of private land that overlooks a forest paradise that is perfect for unwinding and escaping the hustles of city life. Located just outside Woodstock in upstate New York, this hidden gem is considered to be one of the best romantic weekend getaways near New York and is one of the eclectic hamlets of the Catskills. Plan your secret escapes from the city life at this cabin, which is nestled within the dense woodland forest and can instantly turn into your little haven for the weekend, away from the chaos of the world. It is also considered to be one of the most loved destinations for spreading love after saying the big "yes". You can also choose to channelize your outdoorsy spirits at this amazing staycation spot as the Catskill Mountains reward hikers with caverns, waterfalls, and swimming holes.
One of the best mini-moon destinations in the USA, Asheville Glamping is one of our favorite glamping spots in the Blue Ridge Mountains near Asheville, which is considered North Carolina's most unique luxury camping facility. If you are browsing through quick honeymoon ideas near North Carolina, this spot can be perfectly enjoyed by both city dwellers and nature lovers as it combines the traditional beauty of camping with glamorous details and modern amenities. Enjoy a unique and adventurous experience with a variety of glamping options from vintage RV's, domes, bell tents to treehouses and mountain cabins. With the whimsical and unique atmosphere of log mountain cabins combined with reimagined and innovative architecture, which is surrounded by the best of what nature has to offer, this glamping option in North Carolina can be your ultimate best bed and breakfast experience away from your daily life.
If your grand honeymoon trip to an exotic island is currently on hold, this sunny escape can be one of the most romantic getaways in the USA as this property provides couples with the option of both serenity and adventure. Go down on your one knee and ask your better half to be your forever with the trendiest big rock or simply enjoy your ideal weekend in seclusion amidst sandy beaches, crystal clear water, and swaying palms as this private island is accessible only by seaplanes or boats. Enjoy your luxurious mini-moon at this exotic tropical charm which is reminiscent of a Balinese hideaway, featuring luxurious beachfront bungalows which are steeped in British West Indies aesthetics and combine the old-world tradition with a modern twist. Apart from the beauty of this tropical island, you can also enjoy world-class cuisines in the dining room set amidst crushed seashell paths and verdant tropical foliage overlooking the endless horizon of turquoise blue waters.
One of the best vacation spots for couples in the US, especially the ones who live in the bustling cityscape of New York and want to escape the city hustles to the serenity of the wild. This woodland retreat which is also known as "Great Camp", was built by the Rockefellers on the shores of Saranac Lake and combines the vintage charm of the bygone era with a blend of rustic chic aesthetics. From water skiing and campfires in the summertime to skating and ice fishing in the wintertime, couples can unwind at this serene spot and bring their romantic honeymoon ideas to life. The rustic simplicity and extraordinary luxury that lights up the magnificent guest rooms in the four log buildings nestled on the peaceful wooded shore of the lake. Snuggle with your love by the blazing campfires at the edge of the lake, enjoy delicious meals, and get some memorable couple photographs against the artworks and antiques.
Probably one of the best mini-moon destinations for couples staying in Massachusetts and looking to get away for the weekend, the Tourist in the idyllic Berkshire Hills is a unique glamping site that is actually a modern take on an old school roadside motel. Located on the road of the scenic Mohawk Trail, it is probably one of the most contemporary fun weekend getaways for couples looking for outdoor adventures, fresh air, and chill vibes. The blond wood lodges featuring organic interior design featuring the on-site summer camp estate with a yoga pavilion and giant wind chimes located deep in the forest make it the wonderland and one of the best vacation spots for couples in the US. Being pet-friendly, this pleasure-focused getaway allows you to bring your fur baby here and plan an early morning climb to the nearby Mount Greylock and have the best of adventure and relaxation at the same time.
This oasis in the middle of a desert is no mirage! Located in the foothills of the Santa Catalina Mountains, this four-diamond hotel in the middle of the Sonoran Desert can be your ultimate luxury glamping destination to activate your sense of adventure and relaxation all at once. With the options for both serenity and adventure in one place, this resort in the middle of a desert offers flexible workspaces, five outdoor pools with cabanas, chaise lounge chairs, and sparkling waterfalls. Balancing activity with leisure, this desert oasis in Arizona offers newlywed couples beauty treatments at the Elizabeth Arden Red Door Spa and a private country club access along with reservation access at the Jack Nicklaus Signature Golf Course and offers unlimited creative cuisines from all over the world. From recharging with a coffee maker inside the luxurious honeymoon suites to basking in the setting Tucson sunshine from a private balcony or patio, your mini-moon in Arizona cannot get better than this.
Imbued with awe-inspiring views nestled amidst redwoods and meadows, this adults-only Big Sur hideaway features comfortable plush suites or glamping tents for a luxurious mini-moon in Big Sur, California. The convergence of the blue skies, the turquoise sea, the blue-gray mountains, and sage green forest lands can make you feel like you have reached the edge of the continent. Teleport yourself to the place of unmatched tranquility and beauty that has managed to draw artists and thinkers for centuries. Featuring water bodies of all kinds- from natural glories like a hike to McWay Falls for an 80-foot waterfall and an eggshell colored beach with splashing emerald color water to contemporary luxuries like an infinity hot tub, mountain pools, and Japanese hot baths, this secret hideaway in California is a party for the aesthetic senses. It is an enclave that is tucked among the forest in one of the most iconic and dramatic landscapes on earth. Find the fuel that feeds your souls and stirs your creative side with classes led by local artists or soothe your body and soul among romantics, visionaries, and seekers from around the world in a completely private luxury resort experience.
For all the bohemian spirits who want to get lost in the high desert outpost of West Texas, this glamping site in Marfa, Texas is a destination that has proven to be an exquisite food for the soul. Surrounded by large-scale installations of the Chinati Foundation and downtown galleries filled with contemporary art, this luxurious glamping site in Texas sits at a unique crossroads of rural Southwest culture and international art Mecca. Featuring renovated vintage trailers, safari tents, scout tents, Sioux-style tepees, Mongolian yurts, and tent campsites, each luxurious accommodation facility is designed with marine-varnished birch interiors, furnishings collected from around the world, and amenities for a comfortable camp experience. From dry goods and minibars to recreational features, this iconic minimoon destination of Texas is filled with Instagram-worthy photo ops in every corner.
Even if celebrating your newly-married status with the perfect honeymoon is an idea on pause at the moment, giving a strong nod to honoring this brand new start before returning to the same ol' life is a great idea for every couple. The way couples travel across the world has changed where one-size-fits-all vacations are becoming a thing of the past. Modern-day glamping ideas are all about exploring on one's own terms and immersing themselves in the local culture while beholding nature without sacrificing contemporary luxurious comforts. A fusion of glamor and camping has given rise to the beautiful travel trend of glamping among couples, families, and friends. Head to these destinations if you are tired of stay-at-home date ideas, or you want to get away for the weekend and plan an out-of-the-box engagement party without any distraction. From honeymoon suites with jacuzzi in rooms to tricked-out airstream trailers equipped with spa-like features, we have seen some of the most unique glamping inspirations and mini-moon destinations where you can take the best of nature without missing out on your daily luxuries.