Breweries & Cideries That Are Also Wedding Venues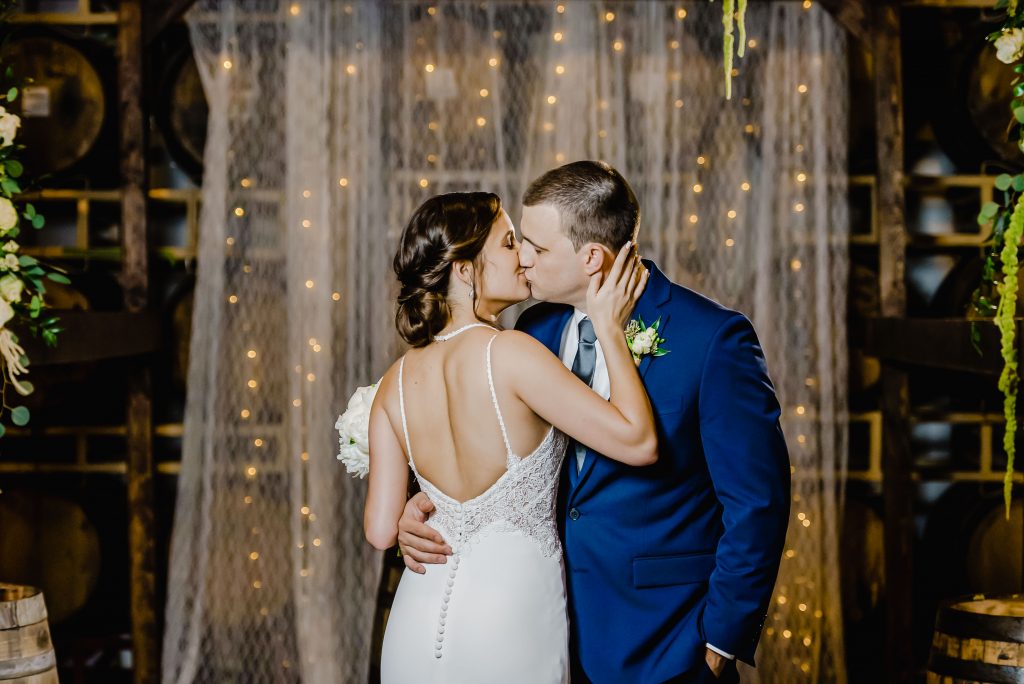 Falling in love is like bliss! It is like listening to a song for the first time and knowing that it will be your favorite for the rest of your life, and you are going to listen to it on loop! So, if you also feel the same, then surely planning a wedding for such a romantic, yet joyous notion should be at a wedding venue that's one part character, two parts conviviality. When it comes to the search for these kinds of wedding venues, nothing fits better and gracefully than the wineries, breweries, and distilleries! Well, talking about modern-day engaged couples, these days our couples are choosing wedding venues with creative settings for their wedding ceremonies and wedding receptions! That is because modern-day wedding celebrations are not as tied to traditions, and wedding guests can always expect something out-of-the-ordinary from the wedding venue! Our young, classic, modern romantic brides and grooms are going for a wedding venue that feels more! Two perfect examples? Breweries and their close cousins, wineries, cideries, and distilleries!
There is no denying the fact that wineries, breweries, and distilleries are definitely a mind-blowing combination of setting and spirits! When we talk about wineries, breweries, and distilleries as wedding venues, there are endless reasons because of which our newly engaged millennial couples are choosing these kinds of venues for their wedding day while ditching the traditional wedding venues! The reason they are the top wedding venues is that they are much less complex than the character of their spirits, and they are usually set in the sweetest and utterly romantic of ambiance and well, we all like a little tipple or two! After all, no good and memorable love story ever started with a salad (right!).
There are endless reasons for couples to choose these wedding venues for their big day! Maybe they just truly appreciate the craft of brewing, or they just simply want to surprise their wedding guests with an extraordinary wedding venue and romantic wedding celebration! Apart from couples, wineries, cideries, breweries, and distilleries are also our professional wedding photographers' desired locations! With so much to capture in the best frames, it's nothing but a dream come true for our talented wedding photographers to document a wedding day at these kinds of wedding venues! Often, the aesthetic is rustic and industrial, which indeed makes breweries and cideries the perfect canvas for designs! Breweries are about the community at the core, so they truly are perfect for the couple who wants to center their affair around that theme. So, if you are also in search of breweries and cideries that are also wedding venues in the United States of America to host the memorable and unforgettable day of life in the presence of all your loved ones, then don't stress away! Not only have we rounded up some of the classiest and luxurious options for you, but also we have also incorporated venues with a whole range of service and aesthetics! In this blog, you will easily find everything starting from luxurious and marvelous space for your grand wedding day celebration to intimate settings for your laid-back celebration!
If the idea of a cidery or brewery wedding intrigues you, browse our curated list of cideries and wineries across the United States that double as gorgeous wedding venues! So, let's dive in and lookout for some of the best breweries and cideries that are also wedding venues so that you can have a celebration that none of your wedding guests will ever forget, and in fact, will talk about for years to come!
Finn River Farm & Cidery, Washington State
For all the couples who are planning to elope and just want to have their special day by themselves, nothing fits better than the Finn River Farm & Cidery! If elopement is your choice, then this place is available for one day each month from May to September! But, if you want to have an intimate and cozy celebration with some of your loved ones, then this is 'the' place in Washington State! You can invite up to 25 of your wedding guests for your romantic and quaint wedding celebration at Finn River Farm and Cidery. After your wedding ceremony, you and your sweetheart can take orchard tours and pose for some utterly romantic couple portraits for your wedding portfolio!
There is something definitely magical about having your wedding day celebration at Finn River Farm and Cidery! Started in late 2018, this cozy and enchanting cidery wedding venue always plans to offer traditional weddings!
You & Yours Distilling Co., San Diego
You & Yours Distilling Co. is not just simply a distillery, in fact, it is a brand-new, California cool, and chic destination gracefully set in San Diego. Trust us, at this location you will have the best of your wedding day! Bring all your best together for your unforgettable and enchanting wedding to experience a gathering set amidst fantastic and eye-catching distillery design at its absolute coolest! You & Yours Distilling Co. offers an alluring and heady mix of intoxicating elixirs and salvaged wood, whitewashed brick, exposed concrete, plush velvet, impeccably placed lovely palm fronds, denim linen, and copper and marble accents!
We can assure you that your intimate wedding celebration at this luxurious location will definitely be a cut-above-the-rest kind of celebration for all your wedding guests!
Julian Hard Cider, California
Gracefully located and just a 60-minute drive from San Diego in the Cuyamaca Mountain Region, Julian Hard Cider is one of the most pristine and tranquil settings for a memorable wedding day! Spanning 10-acres of picturesque landscape, at this location, you will have the opportunity to choose from several backdrops for your wedding ceremony and outdoor wedding photos! From a beautiful pergola to well-maintained lush gardens, and a luxurious farmhouse that can accommodate up to 7 guests (overnight), the options are endless for a bride to choose from! Julian Hard Cider wedding venue will also provide you with a list of preferred vendors that includes wedding coordinators, bakeries, and florists to ensure each and every wedding is customized and goes off without a hitch, and leaves a lasting impression on the hearts and minds of all your wedding guests!
Wild Cider, Colorado
This cidery wedding venue is perfect for everyone who wants a quintessential location for their wedding day! But, if by any chance your partner is serving in the military, then trust us, nothing is better than the Wild Cider wedding venue in Colorado! A piece of advice here, all the military couples should consider this location in Firestone, Colorado for their wedding day celebration! The reason we are emphasizing booking this location is that the Wild Cider offers great and amazing discounts to those who serve the military! These discounts include a waived rental charge for the grounds, discounted staff costs, and reduced beverage prices (these freebies also apply to nonprofits that opt to host events at Wild Cider). Booking this location for your wedding day will definitely be a win-win for you!
Rolling over 14 acres of lush spaces, the Wild Cider is just 45 minutes from Denver, making it an easy place to fly and reach for you and all your out-of-town wedding guests! With the space to welcome up to 200 wedding guests, the Wild Cider wedding venue offers luxurious space for your grand wedding celebration! One of the greatest perks of hosting your wedding at the Wild Cider is that you and all your wedding guests will have long-range views of Colorado's Front Range and Longs Peak that will not only wow all your wedding guests, but will also give endless opportunities to our creative wedding photographers to capture fabulous wedding pictures!
Gorge Crest Vineyards, Washington
Gorge Crest Vineyard is nothing but a dreamy and magical location to get on the lush grounds! Featuring stunning cobblestone patios wind through expansive vineyard grounds along with the mesmerizing views of the Columbia River and Mt. Hood, this exquisite wedding space is just perfect! As far as eyes and our photographer's camera lens can see, this supreme location radiates panoramic beauty waiting to get captured in mindful and creative frames! Have your memorable and precious "I do" moment on the well-manicured and expansive lawn with the views of snow-capped Mt. Hood and feasting tables alight with local fare and wines as far as the eyes can see!
Urban Tree Cidery, Georgia
Couples who are in search of an urban destination for their wedding day celebration can consider tying the knot at Atlanta's first and only cidery, Urban Tree! This premium cidery is available every night of the week, except Thursday for weddings, receptions, and rehearsal dinners! So, if you have set your heart on this cidery make sure you are booking this venue on days that are available for weddings! Situated in the bustling metropolis of Atlanta does not mean that it lacks the rustic charm! Your wedding celebration at the Urban Tree Cidery will have an endless rustic charm that will woo all your wedding guests!
Avondale Brewing Company, Alabama
Once a pharmacy, and saloon, the Avondale Brewing Company is an alluring building featuring all kinds of historic brick and craft beer brewing beautifully! The hanging lights, exposed bricks, raw-wood beams, and suds to swig make this unique and romantic space more colorful, vibrant, and full of life! Your indoor wedding celebration at the Avondale Brewing Company will have an endless amount of natural light that will make your wedding photographs nothing but glowing!
Early Mountain Vineyards, Virginia
Gracefully situated at the base of the beautiful Blue Ridge Foothills in Virginia, the Early Mountain Vineyards is a stunning location featuring a vintage 200-year-old barn! Your wedding day at this location will be nothing but full of rustic and charismatic vintage charm! Your wedding guests will have the best of their time witnessing your exchange of vows at this glorious location! Let your wedding guests sip everything from rich Cabernets to perfect Pinots while everyone lingers at long feasting tables on the expansive lawn! Early Mountain Vineyards have everything for every couple! With the sweeping views of Virginia's most prized vistas, the location has endless photography opportunities for our wedding photographers to capture in swoon-worthy frames!
Wyndridge Farm, Pennsylvania
Perhaps the most experienced and most book wedding venue, the Wyndridge Farm is on every bride's wedding venue search list! With the expansive space to welcome up to 25 people, the farm features a climate-controlled setting, so weddings can be held year-round! The dramatic outdoor patio featured by this stunning location will be great for your wedding guests to savor their time outdoors while sipping fine wine while adorning the scenic views of the rolling hills and miles of the magnificent skyline! Think of the moment when you are sharing some romantic moments together while the changing hues of the sky during the golden hour create a magical backdrop for our professional wedding photographers to document in swoon-worthy frames!
Bad Seed Cider Company, New York
One of the unique things about the Bad Seed Cider wedding venue is that it only hosts about 10 weddings per year! So, if you want this to be a wedding venue, then you have to be early with the bookings! The versatility and flexibility offered by this location allow couples to customize the space to fit their vision! You can freely allow your wedding dreams and imaginations to go wild with the Bad Seed Cider wedding venue! At Bad Seed Cider, you and all your wedding guests will have easy access to all its ciders, which is a great way to amaze your wedding guests!
Lookout Farm Brewing Co., Massachusetts
All the couples who are in search of a classic farm wedding venue with an added perk of having a cidery on-site, look no further as the Lookout Farm will gracefully deliver both! With a deeply rich history dating back to 1651, the Lookout Farm is one of America's oldest working farms and offers everything family-friendly fun folks expect at a New England farm, including U-pick orchards to pick apples, farm animals petting area, and even a train ride for tots, from June to October. And of course, also have your memorable wedding day celebration!
One of the greatest advantages of hosting your wedding day at this beautiful location is that this venue brews its own beer, so all the couples who are divided on drink preferences can always enter matrimony in harmony (pun intended)! Rolling over 180 acres of lush green space, the Lookout Farm offers various opportunities for beautiful wedding photography to abound! Featuring an outdoor and indoor space to host your wedding day and wedding reception, this Massachusetts wedding venue provides you a chance to choose your desired event space! Conveniently sits just 40 minutes from Boston airport, your wedding guests will have an easy ride to reach your wedding location!
Maiden Rock Winery and Cidery, Wisconsin
If you and your sweetheart are more of a cider and wine person rather than a beer and cider kind, then Maiden Rock Winery and Cidery is nothing but an ideal location for you to tie the knot! Named for the nearby bluff overlooking Wisconsin and Minnesota's shared Lake Pepin, the Maiden Rock Winery and Cidery is the perfect place for couples who prefer the incredible combination of cider and wine over beer and cider! Before you plan to book this spot for your wedding day celebration, make sure you are well aware of the months when you can have your special day celebration. As Maiden Rock Winery and Cidery only permit weddings from May to August, which also makes a great time to check out the Mississippi city! Featuring a romantic outdoor gazebo that can lend a charming backdrop for your "I do" moment and a rustic barn with the space to welcome up to 150 of your wedding guests to host your indoor wedding reception, this Wisconsin wedding venue is an absolute stunner!
Brewery Ommegang, New York
Spanning 130 acres of stunning farmstead property, the Brewery Ommegang is a pristine location in New York City for couples to tie the knot! The impeccable white high peak tent featured by this charming wedding venue will automatically set the overall tone of your wedding day celebration! With the space to welcome up to 250 of your wedding guests at rustic farmhouse-style tables, this location will leave all your wedding guests in great amazement on the wedding day! They will love to savor the custom beer and food pairing menu created by you! Allow your attendees to taste the world-class beers offered by Brewery Ommegang! With endless beauty to capture, our cheap New York wedding photographers will have ample opportunities to click magical wedding photos in the best of frames!
Great Divide Brewing Company, Colorado
Elegantly situated in the heart of Denver's RiNo Art District on the Platte River, the wedding venue space at the Great Divide Brewing Company features an expansive 6,200 square feet of luxurious space in a rustic and chic industrial brewery ambiance! Couples who are in deep search of an authentic industrial setting with versatile and flexible spaces that can easily transform into as per their wedding visions, this is the place! Offering panoramic views of the majestic Rocky Mountain and mind-blowing Denver skyline views, your wedding guests will have the best of their time while witnessing your exchange of vows!