Sentimental Ways To Honor Grandparents at Your Wedding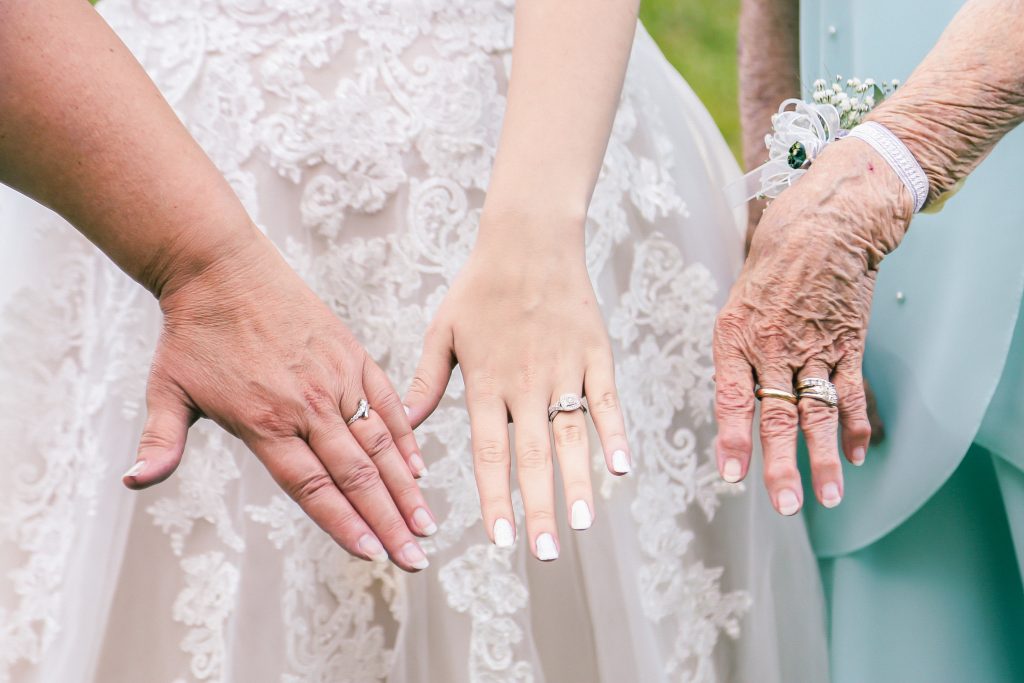 Your wedding day is one of the most important days of your life, and you would want to spend this day with everyone whom you hold very close to you. Speaking of close ones, your grandparents might have always dreamt of seeing you getting married and walking down the aisle. And honoring your grandparents on the most important day of your life can be really personal and meaningful. If you are lucky enough to have grandparents at your wedding, then why not honor their presence? From hosting a Parisian-themed wedding because your grandparents have always longed to visit Paris to picking out the finest song for a special dance with them, there are many creative ways to honor your grandparents' presence at your wedding. We have suggestions on how to honor grandparents at your wedding that are heartfelt and emotional.
However, in cases where our grandparents aren't able to be there to celebrate our biggest life milestones, there are many significant wedding ideas and meaningful ways to acknowledge their special presence in our lives, even if they have passed on. Whether your grandparents are looking down on you from above, or they aren't able to attend the event in person, or even if they are attending your wedding, here's a list of touching ideas dedicated to grandparents at weddings to celebrate their presence in your life.
Honoring your grandparents at your wedding if they are still with you:
Ask your grandma and grandpa to walk you down the aisle
Who says your typical flower girl or your ring bearer needs to be the youngest one in the family? Create one of the most capture-worthy wedding moments by asking grandma to be your flower girl and grandfather to be your ring bearer and honor the precious grandparents' role in the wedding. A quirky and cute spin to traditional wedding honors, giving the role of the flower girl and the ring bearer to grandma and grandpa respectively, can be a real surprise for everyone attending the celebration. One can only imagine the awe-inspiring moment when the elders come down the aisle, tossing petals and carrying the ring pillow! Prove that you are never too old to be a spectacular flower girl and a ring bearer by making them an essential part of the aisle walk moment.
Do a wedding speech or reading or a poem
Remembering loved ones at wedding poems during ceremonies will always be an emotional event for everyone connected to the couple. If you're wondering about how to honor the grandparents at your wedding, ask your grandparent(s) to do a reading as an emotional honor during the ceremony. If you want a sentimental way to include your grandparents at your wedding, pick a wedding poem or a wedding speech that was read at their own wedding. This can be a nice way to make your wedding guests aware of the emotional connection you have made with your grandparents. You can also make them practice their wedding speech or poem during filming your rehearsal dinner so that they are better prepared for the actual wedding day.
Do a special dance
Boogieing down on the dance floor with all your wedding guests is probably the best way to celebrate a new union. And what can be a better way for honoring grandparents at weddings than getting them a special dance on the biggest day of your life? Ask your wedding videographer and photographer to capture the special dance with your grandparents on the wedding dance floor and create keepsakes that will be cherished by future generations. This memorable wedding idea will create so many sweet photo ops, which will be nice to look back on for years to come.
Ask your grandparents to join the wedding party
Since there are no age limitations for the wedding party, why not involve your grandparents in the crew of your bridesmaids and groomsmen? Making your grandma a bridesmaid and grandpa your groomsman by giving them a special boutonniere or bouquet can be a great way to testify the significant bond you share with your grandparents. Raise a toast to grandparents at weddings, by gifting wedding attire for grandparents and dress them up as members of the wedding party to play their respective parts. Dressing up your grandma the same as your other bridesmaids and styling up your grandpa the same as your other dashing groomsmen is a fun way to incorporate grandparents in wedding ceremonies.
Give something to make them stand out
Give away special bouquets or boutonnieres to your grandparents as they play a part in your wedding ceremony. Petite wedding bouquets can be a great accessory for your grandma-turned bridesmaid as they won't be heavy for her to carry and can also double up as a wedding gift for grandparents. Similarly, a special boutonniere to honor your grandpa at your wedding as he plays a part in the team of groomsmen can be a great way to make him look cohesive in pictures and make him feel like he is a part of the group in a way that is appropriate.
Use photos of your grandparents
If you are wondering about how to include grandparents in your wedding ceremony in an easy way, displaying family photos of them on your wedding table can be a great way to celebrate their presence in your life. Displaying pictures of your grandparents in various ways can be one of the greatest ways of honoring and remembering loved ones at the wedding ceremony. From holding a small picture in your wedding bouquet to stitching a cufflink with portraits of them, can be great wedding thank you gifts for grandparents and a joyous way to honor your living grandparents.
Something borrowed for your wedding
There are details that can transform any wedding into a sentimental and touching celebration. Apart from thanking grandparents in the wedding speech, one can also bring sentimental accessories that belong to the grandparents to honor their presence on the big day. Sewing a piece of your grandma's bridal veil or a piece of her wedding dress can be a great way to honor her as you walk down the aisle. Your seamstress can also stitch a part of her wedding gown into yours if you would not like to wear the entire wedding dress of your grandma. The same applies to grooms, where a patch of grandpa's shirt can be sewn into the groom's jacket for a sweet, subtle touch.
Other ceremonial touches and wedding details
There are so many ways to honor your grandparents during the wedding ceremony. From lighting a candle in their memory to making special mentions in wedding readings for grandparents, there are many ideas for remembering loved ones at weddings. If you want to honor your grandparents at your wedding reception, you can take hints from their own wedding. From scentscaping your wedding with their favorite perfumes and using their wedding china at your sweetheart table to using their picture as your wedding cake topper or dancing with your sweetheart to their wedding song playing in the background, there are many remembrance wedding ceremony ideas to relay the love for your grandparents.
Honoring your grandparents at your wedding if they have passed away:
Wear your grandmother's wedding dress or grandpa's wedding suit
One of the most prominent ways to host a wedding in memory of your grandparents is to wear their wedding attire on your big day. Clicking your bridal portraits while wearing your grandmother's wedding dress can give you some precious must-have wedding shots. If you do not want to wear the heirloom wedding dress which has been passed on for generations, you can stitch a patch of that garment into your wedding dress to signify the fabric's greater meaning. It can be your sweet and sentimental idea for something borrowed, too.
Carry a family heirloom
One of our all-time favorite and unique wedding memorial ideas for honoring lost loved ones at a wedding is to carry a symbolic heirloom while you walk down the aisle. A quote from your grandparents' wedding speech or a brooch or a locket that belonged to your grandmother can symbolize remembrance for your grandparents on your wedding day. Incorporating a family heirloom into your wedding day ensemble can be a great way to feel the presence of those loved ones, who have passed away, with you on your special day.
Sharing their favorite pastime or memory
Probably one of the most sentimental yet sweet ways to honor deceased grandparents at weddings is to include their favorite activity or memory while planning your wedding timeline. Witnessing some of their favorite things might bring a smile to your parents' faces, and also allow your guests to learn about the bond with your loved ones. Giving away your grandparents' favorite candies by setting up a dessert station at your reception or setting up a special toasting station with grandpa's favorite bourbon and cigars can go a long way to signify your precious bond.
Adding photos to the bouquet
One of the most common ways of honoring deceased grandparents at weddings is to adorn your bridal bouquet with a locket, photo pin, handkerchief, or another small but sentimental trinket that belonged to the deceased loved one. It will make you feel as though your late grandparents are walking you down the aisle when you affix the photograph of them to your bridal bouquet in a small heart-shaped locket or charm. You can also tie a framed photo of your late grandparents or a photo charm that belonged to them to your wedding bouquet to feel as though they are with you during the wedding ceremony.
Play their favorite song or quote their wedding speeches
One of the most sentimental and touching grandparents' memorial ideas for weddings is to pick a tune that meant something to them, like their love song or the song they first danced to as newlyweds. Playing a tune for a song that reminds you of your grandparents can also be a great way to memorize them on your wedding day. Play the song as you walk down the aisle or take the steps to your first dance as newlyweds to the song that was your grandparents' jam or a tune that takes you back to them.
Light a candle
Light a candle during the service in memory of all those who are there in spirit. It's a good reminder that grandma and grandpa will be looking down from above as you walk down the aisle. After lighting the candle, have a moment of silence for your deceased grandparents or incorporate a touching song in their honor during the reception. You can also make a special wedding toast to commemorate your late family at the reception, as it is also a very special way to communicate that your grandparents continue to be in your thoughts on your big day.
Reserve seat in their honor
Reserve a seat in the wedding ceremony and leave it open in honor of your grandparents. You can also make a sweet wedding sign to honor the memory of your loved one and place their favorite flower bouquet on the seat. For instance, if rosemary sprigs or sunflowers instantly take you back to all those summer days spent at granny's home, then incorporating a beautiful bouquet of her special flower on the reserved seat will symbolize remembrance. Giving a spot up front at the ceremony is also one of our favorite ways to honor a late person's presence at weddings, as it is a heartfelt way to make sure that they are every bit as included in your big wedding as the rest of the wedding guests.
Select an important/significant wedding venue
Choosing a venue that was important to your late grandparents can be a great way to imagine them sitting there, bearing witness to your "I do's" as you stand at the altar. Probably one of the most important wedding decisions you will make during your wedding planning process, choosing your dream wedding venue will take some of the most important factors into account. For instance, you would like to consider the time of the year, the number of guests, and the spending limit in your account, while choosing your wedding venue. Here you might want to consider a special and significant site for your late family member(s) whom you keep close to your heart. A family summer home or your grandpa's beautiful backyard brimming with memories of summer vacations can be a significant wedding venue to tie the knot in their remembrance.
Each relationship is different and unique, and acknowledging a deceased loved one at your wedding is something you'll want to put extra thought into. These creative ways will include your special grandparents in your wedding without making it seem like a memorial. From swapping a traditional wedding cake in favor of serving your grandmother's famous chocolate chip cookies or peach cobbler to making a special note in your wedding ceremony program about your grandfather, these tips to honor your lovely grandparents at the wedding can be an ode to your special relationship with them.