Unforgettable Spring Desserts Perfect for your Wedding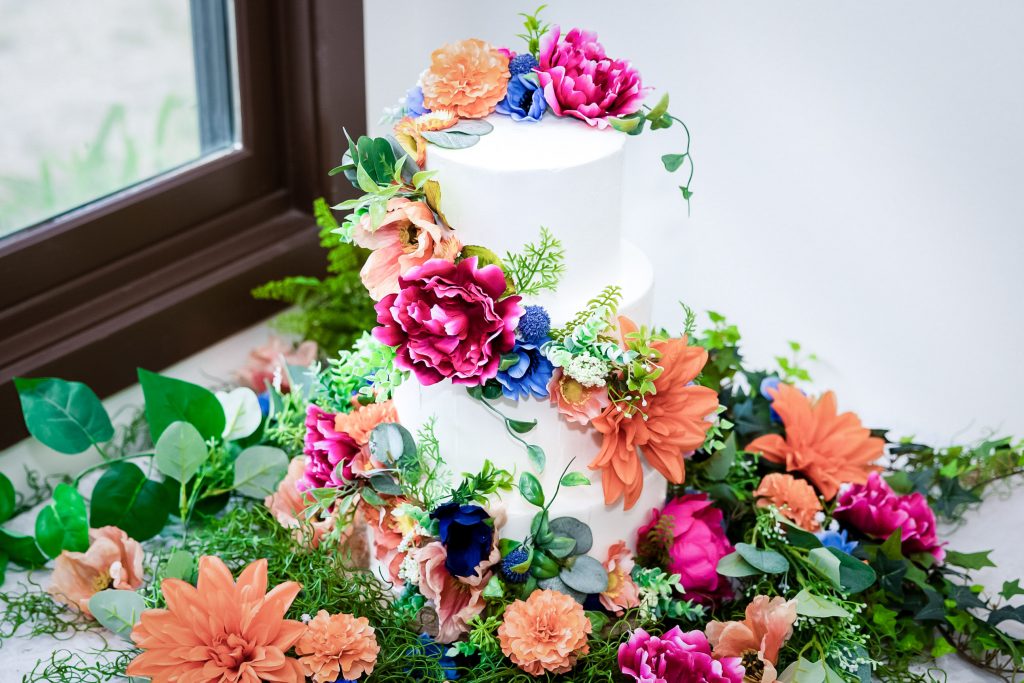 Spring, is the season of change, blossoming, and new growth. With the fragrance of the new flowers in the garden, you will surely find the tell-tale aroma of another wonder of nature- love! Spring weddings are a crowd favorite and there are no surprises as to why! One look out of your window into the garden will give you all the answers. However, like every wedding, a spring wedding comes with a long list of agendas!
Planning a wedding, spring or not, can be quite an undertaking! The beauty of the season offers tons of options, and that doesn't help your dilemma! You want your wedding day to be perfect. To stitch your dream wedding together, it's best to prepare months in advance. After all, there are so many colors to choose from, so many themes and decor ideas to take a call on, trends to keep up with and so many flowers to take your pick from! Understandably, a person would want to ensure that they pick the best options so that they end up creating amazing memories with their significant other on the big day. You surely wouldn't want to make things go disarray then. Thus, it's better and even recommended to start preparing well in advance. After all, there are a lot of tasks that you have to take care of. One of the most important aspects of any wedding is the wedding menu that you will be using in it.
Food is something that can make or break a wedding. That's because most of the guests look forward to the buffet after the ceremony. Therefore, it's recommended that you pick the dishes carefully. While the options available to you might be overwhelming and abundant, it is important to get choosy and consider the taste of every dish. Many people as well as wedding planners don't pay attention to the desserts, except for the wedding cake. The wedding cake tends to overshadow all the other desserts on the menu. If you end up picking desserts that stand out and surpass the wedding cake, your guests will end up remembering your wedding for a long time.
Before we get into spring desserts for weddings, let us take you through what a spring wedding is. Moreover, it's important for you to know the perks of a spring wedding and why a lot of people prefer it over summer and winter weddings.
Perks of a Spring Wedding
Right after the winter blues comes the happy season of spring. And it's the perfect time to have a wedding or any social event for that matter. It's considered one of the most romantic seasons out of all. Moreover, the weather is neither too cold nor too hot. One major reason why many people like to have their weddings in spring is that it's considered the most romantic season of all with the perfect weather and abundant flowers! There are a lot of beautiful blooms during this season, and they can be used to decorate your wedding to the fullest. With a variety of flowers, you can pump up the aesthetics to the roof. And you'll probably end up getting a lot of beautiful bouquets as gifts too.
Early spring is also the perfect season for some truly memorable outdoor weddings as the outdoor venues will be blooming with the season's freshest blooms, setting the stage for the most amazing day of your life. Whether you are going in for a tropical spring wedding or an English tea-party-inspired affair, you will be spoilt for choices, without having to fight for the spot as you will have to do for summer weddings or autumn weddings!
On top of everything, your guests will probably be in a better mood throughout your wedding. This is due to the pleasant weather and the fact that winter must've just gotten over. Most of us spend our winters tucked in our blankets and spending time at home. It is only during the spring that people who live in extremely cold areas start to go outside. Thus, they are in higher spirits than usual. That's why you're more likely to have a lively wedding during early spring. Another perk of a spring wedding is that your guests will be able to enjoy their food a bit better. As the weather won't be too extreme on either side, they'll be able to eat in a relaxed atmosphere. Moreover, they can try cold dishes as well as hot ones as the weather will be quite moderate. And you'll be able to increase the range of items in the buffet. That brings us to the spring desserts that you might want to include in your wedding buffet. These desserts can make your wedding unforgettable and they'll be perfect to have after a scrumptious dinner.
Unforgettable Spring Desserts to Consider!
Spring desserts are special and there is a ton of liberty that one can take in terms of flavors. From the season's choicest berries to the tropical flavors, from light-as-air textures to tart bites, the options are endless! Here is a list of some spring desserts that can make your wedding stand out pretty well.
Blooming Embroidered Cupcakes
Cupcakes can be the cutest and tastiest desserts if done right. What's even better are those embroidered cupcakes that not only serve as tasty desserts but also as an aesthetic component for your wedding. Ask your venue manager if they can arrange some embroidered cupcakes. If they can't, it's a good idea to get them pre-ordered from a decent bakery. The process of making embroidered cupcakes is not that complicated to be fair. All you need to do is ice them with a spatula and then use the tip of something to make flowery designs. If done right, they'll look so pretty that your guests will stare at them for a solid 10 minutes before eating them.
Designer Fondant Egg Cookies
If you're not into culinary, then perhaps you won't know what fondant is. It's a type of icing that is used to sculpt cakes and a variety of other desserts. It is made from sugar, gelatin, water, vegetable fat, and glycerol. It's one of the preferred icings among culinary artists. Fondant egg cookies exude an artistic vibe if you paint them well. To paint them, all you need to do is mix the icing with lemon extract. Make sure that you have icings of different colors and you mix them all with lemon extract. After that, you can use those mixtures as watercolors. Once that is done, the sky and your creative potential are the limits to how amazing those cookies end up looking. There are also edible ink pens available in the market that are designed for the very purpose of decorating food items. You can use these pens for details. If you don't believe us, you can jump on the internet and take a look at how beautiful these cookies can look. You'll be mesmerized by what people have done with fondant egg cookies in terms of design.
Berry Ice Cream
It's the evergreen dessert that everyone loves and adores. A buffet is never complete without some ice cream to go with it. One tip that you should heed when it comes to ice cream is to have multiple flavors available at the venue. Not all people like the same flavors. To play it safe, make sure that you have the trinity available – chocolate, strawberry, vanilla. On top of those, you can include some other flavors too. That's where you can get creative. For instance, you can include the mint flavor to stand out. Perhaps have some black current available. While the options may be endless, in the end, it's up to you which flavors of ice cream to include. But what's important is to have multiple flavors of ice cream available at the buffet.
Floral Cones
Floral cones are perhaps the most artistic piece of dessert that you'll find on this list. These are waffle cones with a little bit of cupcake inside them. These are then decorated with buttercream shapes and freeform candy. You can use these to make the cones seem like conical vases with flowers coming out of them. We're pretty sure that a lot of guests will end up thinking that they're a part of the decorations and not something edible. Moreover, if done right, you can match them with the visual aesthetics of your wedding and the venue. That will take the aesthetics of the wedding to a whole new level.
Designer Donuts
Donuts are another item that holds immense decorative potential. They come in a lot of flavors and you can customize them to your will. Make use of buttercream, jellybeans, M&Ms, chocolate cream, and whatnot to have a wide variety of tastes available in desserts. From strawberry to glazed sugar, your donuts will have every flavor. And that'll make your guests happy as everyone has a different taste when it comes to things like bagels and donuts.
Croissants 
If you're looking to add a touch of class to your buffet table, then it won't be a bad idea to go all-out French with your guests. Give your guests a glimpse of the French cuisine by including croissants in the desserts. Croissants taste amazing to most people as they are quite buttery and flaky. It's a dessert that not even diabetic people pass upon. One interesting fact about this dish is that it originated in Austria, even though it is associated with France. Thus, it'll add a whole European vibe to your wedding.
Rosy Rosette Cookies
Rosy Rosette Cookies can be another visually-pleasing dessert item at your wedding. They are very easy to make and they look amazing. All you need to do to prepare them is buy some pre-made cookies. After that, use buttercream of various colors to decorate those cookies according to the color palette of your wedding. We recommend that you have some pink ones on display as they look amazing. Apart from that, they even have a decent taste. So, in the end, it's a win-win situation.
Spring Floral Cake
In most spring desserts, the idea is to include designs and aesthetics that are flowery. Keeping true to that line of artistic vision, the spring floral cake made with a lot of buttercream is perhaps the best pick for most early spring weddings. It's a time when there are a lot of flower blooms. So why not have that reflected in your desserts? A spring floral cake is made by icing one's cake with buttercream. Once that is done, you can use an edible ink pen or even a toothpick to carve out designs.
Ice Cream Cakes
When it comes to desserts, what better option is there than to mix the two of the most popular desserts in the world – ice cream and cake. Ice cream cakes are extremely tasty and just heavenly. They're loved by children and adults alike. Moreover, the available flavors are abundant. So, there are a lot of options for you to choose from. What's more, is that you can even replace your wedding cake with an ice cream cake. Ice cream cakes are slowly phasing out traditional cakes.
Eclairs
If you're looking for something sweet and little, then opting for some multi-flavored eclairs might be a good idea. For instance, you can go for white chocolate raspberry eclairs. There are a lot of flavors and combinations that you can go for. The sky's the limit. And your guests will love the idea of having a snack-like dessert being available at the buffet. One upside of having such desserts is that your guests can keep coming back to the dessert stand in-between meals.
Strawberry Shortcakes 
There is something about tart berries in the fresh and refreshing springtime that feels like a match made in heaven. Strawberry shortcakes scream springtime like nothing else. Strawberry shortcakes are individual variations of strawberry shortcakes with basil for a herbaceous flavor, and they pair perfectly with vanilla ice cream or whipped cream for a sweet finish!
Carrot Cake
There's no way a list of spring wedding meal ideas could be complete without a mention of carrot cake. This classic and delectable spring treat can be transformed into a distinctive and exquisite wedding day dessert in a variety of ways. You may serve carrot cake as a wedding cake, cupcakes, cake pops, or even serve it to all your wedding guests in shot glasses for an elegant and distinctive tiny spring wedding dessert.
Monogram Cream Tart Cake
Monograms are popular for a variety of wedding day decorations decor, but nothing beats a monogram cake! Layers of sponge cake and buttercream frosting are topped with edible flowers and sugar pearls in this trendy take. It's a wonderful centerpiece for wedding parties, and it's a fun way to commemorate your newly shared surname!
Enchanting Rose Garden Cupcakes
The gorgeous garden cupcakes would be ideal for a backyard wedding, don't you think? If you want to truly give an ode to the season on your wedding day, go for this gorgeous rose cupcake which comes as tiny plants. Place them on a cake stand or a dessert table with some nice paper doilies underneath. This will go perfectly with the spirit of the season and everything that it represents! These will also work beautifully with a spring garden wedding!
Coconut Lime Tart
Coconut lime tart's tropical coconut and lime flavor will make all of your wedding guests feel as though winter is truly behind them. The combination of coconut and lime creates a particular zingy sweetness, but you can be creative and use other citrus tastes, such as lemon, without losing any of the magic in this spring wedding dessert.
S'More Kits
S'mores are a simple and crowd-pleasing dessert that can be served at any time of year. Whether it is the alluring springtime with the promise of summer in the air or the nippy autumn, you can't go wrong with smores, as it brings all the cozy vibes with it. Place a marshmallow and chocolate bar sandwiched between two graham crackers in a cellophane bag for a treat your guests will appreciate.
When it comes to desserts, you shouldn't get lax. Make sure that you try to get the best possible spring dessert items for your wedding. They should not only be tasty but also visually pleasing. You might want to balance it out by having some unorthodox dessert items along with some traditional ones like ice creams. In the end, it's about what makes your guests happy. And in spring, there will be a lot of dessert options to choose from. Another thing that you should remember is that you can always venture out of the continent when considering what dessert items to include at your wedding. Whether you are going for a low-key backyard spring wedding or an extravagant celebration of the season and your love, these ideas will have you covered regardless! There are some hidden gems of desserts out there in the world that you haven't had a taste of yet. Try and include those if you want to truly mesmerize your guests.