Luxurious Royal Residences For A Regal Experience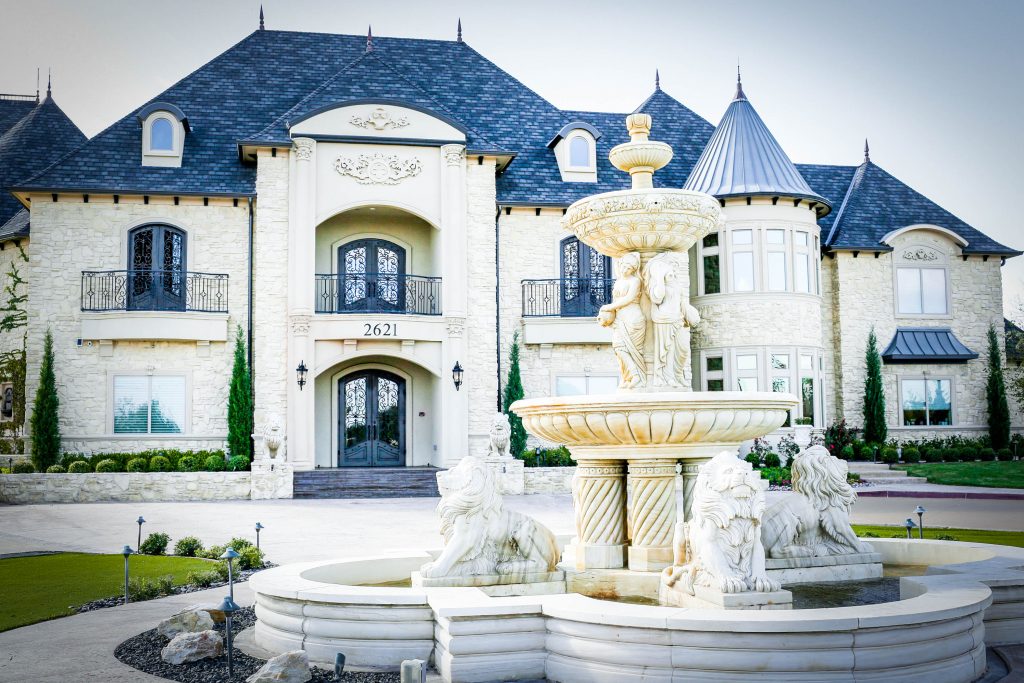 As a young girl, did you always imagine getting married to your Prince Charming in a sprawling royal palace with gold gilded walls and endless spirals of Roman Corinthian columns that reach up to the sky? Regardless of your personal wedding style, whether you are looking for a simple wedding or going over the top by hosting a regency core-inspired wedding, nothing comes close to tying the knot inside a regal wedding venue steeped in the history of the royals from around the world. From tying the knot in an Irish Castle to getting married in a palatial wedding venue where actual royals started their forever, here are some of the most royal reception venues from around the world for your Cinderella-esque wedding.
Kingly Royal Wedding Venues For Your Forever:
What better place to start the list off than Megan Markle and Prince Harry's preferred setting? Among British royalty, St. George's Chapel at Windsor Castle is a well-known wedding location. Among other royal weddings, it served as the setting for Prince Charles and Camilla Parker Bowles' union. It is considered to be one of the most royal wedding venues in the entire world. St George's Chapel is a place of worship for The Queen and the Royal Family as well as a church serving the local community. It is also one of England's finest medieval chapels to get married in a royal way. The grounds of this royal-inspired venue can turn out to be the exquisite wedding venue for your Victorian garden wedding.
Planning for a winter wedding in warm climates? Check this royal wedding venue. Prince Rainier III of Monaco married actress Grace Kelly at the Palace of Monaco in April 1956. Kelly's iconic wedding gown set the bar for all other royal wedding dresses. The palace was constructed in 1191, and numerous foreign powers bombarded and besieged it over the years. According to the website Palais Prince de Monaco, the palace is still a part of the 21st century and is still home to Albert II, the current Prince of Monaco.
Who wouldn't love an exotic European-inspired wedding venue for their grand wedding? The Château d'Esclimont is a resort that is so beautiful that it might even surpass the location of Harry and Meghan's royal wedding. The 52 guest rooms on this 150-acre property, which is located less than an hour outside of Paris. Couples interested in their services can get in touch with the estate for more details even though they don't provide wedding pricing on their website.
Princess Grace's grandson, Pierre Rainier Stefano Casiraghi, married Beatrice Borromeo in 2015 in a series of two weddings that can only be described as "lavish" and "extravagant." The second took place on one of the Borromean Islands in Lake Maggiore, Italy, while the first was a civil ceremony held in the Prince's Palace of Monaco. The bride's family owns the islands. It is considered to be one of the top 5 locations for a dream destination wedding!
At Madrid's Almudena Cathedral in May 2004, Felipe VI, the king of Spain, wed journalist Letizia Ortiz Rocasolano. The location was consecrated by Pope John Paul II in 1993, but their wedding was the first royal nuptial to ever take place there. The cathedral, which was constructed in the Gothic revival style, has a museum inside that educates visitors about the archdiocese of Madrid and the church's past. It is perfect for every couple who loves artistic museum wedding venues with a touch of royalty.
Want to recreate the wedding of Prince Harry and Meghan Markle? Belvoir Castle is the place for you. You will feel like you are next in line for the throne just by being there because these magnificent English grounds are still home to royals. The castle can house up to 130 guests and has a chapel for ceremonies. Future newlyweds can get price quotes and make reservations by contacting the property.
In June 1976, King Carl XVI Gustaf of Sweden wed Queen Silvia Renate Sommerlath at Stockholm Palace. Later, the Royal Chapel of the palace hosted the weddings of two of their children. This location has three museums as well as opulent royal apartments. According to the Swedish Royal Court website, King Carl XVI Gustaf and Queen Silvia Renate Sommerlath continue to reside in the palace and host official events there.
There is a reason why South Asian weddings are considered to be one of the most beautiful celebrations in the world. And out of them, grand Indian weddings have always captured global attention from Nick and Priyanka's to Deepika and Ranveer's! If you want a grand Indian wedding for yourself head to this Indian palace in Mysore-  where in 2016, Yaduveer, the 27th Maharaja of the Kingdom of Mysore, wed Trishika, a member of the Dungarpur royal family, who was his childhood friend. In India, the royal family is regarded as one of the wealthiest families.
In 1981, Prince Charles wed Princess Diana for the first time in the revered St. Paul's Cathedral setting. While getting married in this country is possible, you must adhere to a number of strict requirements, just like TV host Ade Adepitan. To get married here, you must be a part of the neighborhood, a member of the nearby Order of St. Michael and St. George's Church, a British Empire Medal holder, or a member of the Imperial Society of Knights Bachelor and their descendants.
According to The Telegraph, Grand Duke Henry, the current Grand Duke of Luxembourg, wed Princess Joséphine-Charlotte of Belgium in the cathedral in 1981. Grand Duke Guillaume, his eldest son, followed suit and wed there in 2012. The only cathedral in Luxembourg was initially constructed in 1613 as a Jesuit church. The royal family hired architect Hubert Schumacher in 1935 to enlarge and expand it. Its design combines Gothic and Renaissance styles. If you are a fan of Gothic architecture, this can be an amazing destination to make your engagement photo session memorable!
Boldt Castle, a 120-room establishment on picturesque Heart Island, is located directly at the Canada and U.S. border on the St. Lawrence River. The lavish home was constructed for George Boldt's wife, Louise, who was the former owner of the Waldorf Astoria Hotel in New York City, in addition to having a romantic design. It can be the perfect location for your spring destination elopement as couples can book this wedding venue for just $200!
At Rome's Basilica Santa Maria, Prince Amedeo of the House of Austria-Este married Italian journalist Elisabetta in 2014. Princess Beatrice of York, Princess Margaretha of Luxembourg, and the Belgian royal family were all present at this royal wedding celebration.
The marriage of Edward VIII and Bessie Wallis Warfield Simpson quickly rose to the top of the list of royal nuptials in terms of controversy. The queen's uncle, Edward VIII, relinquished the throne less than a year into his reign in order to wed Bessie Wallis who was an American. According to The Telegraph, they were married in June 1937 in the Chateau de Candé's library. Despite the fact that the wedding lacked the typical pomp and show associated with royal weddings, notable figures like Baron Eugene Rothschild and Randolph Churchill were present.
The king of Bhutan, Jigme Khesar Namgyel Wangchuck, married Jetsun Pema, whose mother is Aum Sonam Chuki, a member of the Bumthang Pangtey family (one of the oldest noble families of Bhutan). On the eastern edge of the Himalayas is the Buddhist kingdom of Bhutan. In a private ceremony held in the Palace of Great Happiness, a private fortress in Punakha, the former capital, the couple exchanged vows in 2011.
The civil union between Prince Charles and Camilla took place in this Grade I-listed structure in 2005. It is probably one of the dreamiest wedding venues across the globe. Later in the year, it also served as the location for pop royalty's weddings when Elton John wed longtime partner David Furnish in a civil ceremony at Windsor Guildhall. Couples from Windsor and outside the borough can hold ceremonies here because it is much less exclusive than many other royal wedding locations. Choose between the impressive Chamber, which can accommodate up to 100 guests for a ceremony, or the Ascot Room, where Charles exchanged vows and can accommodate up to 15 guests.
According to The Telegraph, Norway's King Harald V wed Sonja Haraldsen in 1968 at Oslo Cathedral. His oldest son, Prince Haakon, wed here in 2001. The cathedral, which was constructed in 1694, still serves as the primary church for the Oslo Diocese of the Church of Norway, and the royal family holds weddings and funerals there. The baroque building also serves as the parish church for Oslo's central district.
Dreaming of having your wedding at a French château? Or looking for a castle wedding venue for your St. Patrick's Day wedding? Why not have both? This magnificent Rosecliff mansion, which is much more conveniently situated in Rhode Island, was initially based on the baroque Grand Trianon of Versailles. The castle's building was completed in 1902, and since then it has played host to a large number of celebrity weddings and social events. For $7,500, couples can reserve a four-hour event at the Rosecliff.
Another French wedding venue makes the list. The Basilique de Sainte Marie-Madeleine, also known as the Benedictine Abbey Church, honors Mary Magdalene. According to The Telegraph, Prince Felix, the son of the Grand Duke of Luxembourg, wed Claire Lademacher there. The stunning, magnificent building, which was restored in the 1800s, is perched atop a tranquil hill.
Before it was transformed into a hotel, several members of the royal family lived at Cliveden House, including Frederick, Prince of Wales, and the Duke and Duchess of Sutherland. Therefore, it makes sense that Meghan Markle picked to stay here the night before her nuptials. It is also the perfect summer destination for a luxe bachelorette trip! Take over the whole house for a memorable house party.
The eldest child of the late Carlos Hugo, Duke of Parma, and Princess Irene of the Netherlands, Prince Carlos married parliamentary journalist Annemarie Gualthérie Van Weezel in 2010. The ceremony was held in the church of the former abbey of La Cambre, which is located in a charming dell covered in trees.
Princess Martha Louise of Norway, a writer of both novels and short stories, wed Ari Behn in 2002. She is the daughter of King Harald V and Queen Sonja. In Trondheim, Norway's Nidaros Cathedral, they exchanged vows.
There is a fair chance of you encountering challenges if you want to exchange vows at Westminster Abbey like the Queen and Prince Philip or the Duke and Duchess of Cambridge. There are stringent requirements regarding who is eligible to marry here, just like at St. Paul's Cathedral. Only royal weddings and ceremonies for recipients of the Most Honorable Order of the Bath and their families are held at the prestigious location.
Looking for an amazing wedding location that can turn into a dreamy winter honeymoon destination? Jordan's King Abdullah bin al-Hussein and Queen Rania were wed at the Royal Palace in June 1993. The palace, where the couple resides and hosts official functions. During a royal tour of the Middle East in 2013, Prince Charles and the Duchess of Cornwall, Camilla Bowles, paid a visit to the king at the palace.
The grounds of Neuschwanstein Castle, which were once the residence of Bavarian royalty, were made available to the public in 1886 and today draw more than a million tourists annually because of its magnificent views of the surrounding German countryside. Although it beats getting married in front of tens of thousands of visitors to an amusement park, this design served as the inspiration for Disneyland's Sleeping Beauty Castle. If interested, couples can get in touch with the venue to learn more about their wedding ceremony options.
Chelsea Clinton, the former first daughter, isn't technically royalty, but in the United States, she comes close. In 2010, she wed Marc Mezvinsky at Astor Courts, a location with sleek, understated, elegant architecture and a lot of Corinthian columns. Madeleine Albright, Ted Danson, Mary Steenburgen, and Terry McAuliffe, the former chairman of the Democratic National Committee, were among those present.
The King's Gallery and King's Drawing Room inside the palace, as well as the lovely Sunken Garden, where Prince Harry and Meghan announced their engagement in November 2017, are just a few locations on Kensington Palace's grounds that can be reserved for weddings. The Orangery, which is on the grounds of Kensington Palace, can accommodate 150 guests for the ceremony, 120 for dinner and dancing, and up to 300 for a reception. It is the only location at the palace that is authorized for civil ceremonies. Nicky Hilton wed James Rothschild in a lavish ceremony in the historic structure in 2015. However, all of the other locations can be reserved for wedding receptions and will undoubtedly give the event a regal air. The Orangery lawn can be used for large wedding celebrations with up to 1,000 guests in the summer, while the Cupola Room makes a stunning setting for smaller weddings with up to 80 guests.
Your wedding will be even more memorable thanks to the stunning venue that was once Queen Victoria's family home. There are a variety of gorgeous locations to choose from, including the Duchess of Kent suite, which George V and Queen Mary used for their honeymoon, the picturesque Belvedere Terrace, which is perfect for an outdoor ceremony, and even the beach, where Queen Victoria, Prince Albert, and their family frequently spent time.
Since Sir John Lyon wed Princess Johanna, a princess, at Glamis Castle in 1376, the royal grounds have become a popular choice for couples looking for a distinctive setting for their wedding. The venue not only has a variety of lovely rooms for ceremonies and receptions, but the grounds also have sizable gardens that are perfect for taking the most romantic wedding photos. The website provides a brochure and contact information for more information.
The 83-room Ashford Castle hotel is located in the sleepy Irish village of Mayo and offers views of the tranquil countryside. Originally built in 1228, this hotel's medieval-style architecture and tastefully decorated rooms will make visitors feel like royalty. The hotel not only makes a fantastic and unexpected honeymoon destination, but it also provides wedding packages with space for up to 160 guests. Requests for more details on reservations can be made through Ashford Castle.
Considering a smaller wedding reception? On the grounds of Kew Gardens, Kew Palace might be the ideal setting for a truly exceptional and memorable day. You could host up to 40 guests in the King's Dining Room or up to 60 guests for a special reception in the Royal Kitchens, which are best known as the former residence of King George III, Queen Charlotte, and their children. Back then, cooks and servants used to prepare banquets for the royal family and their guests.
The largest Renaissance castle in Scandinavia and the location of the Museum of Natural History, which houses artifacts from 500 years of Danish history in the form of portraits, paintings, and furniture, Frederiksborg Castle was built in the 17th century by King Christian IV. The first wedding of Prince Joachim of Denmark took place there in 1995 as well.
Cinderella would have reserved this location if she had been a real bride! You wouldn't know at first glance that Oheka Castle is actually on Long Island, New York. Although the wedding venue doesn't publish prices online, we can assume that this is your best chance to create your own fairytale wedding. The elegant estate has all the refinement of a château in France.
Where better to host a very regal wedding ceremony or reception than Hillsborough Castle, which serves as the Queen's official residence when she travels to Northern Ireland and has also been visited by senior royals like Prince William and Kate? If you are planning a lavish celebration, the Georgian mansion has spaces indoors and outdoors where you can hold your events. There is space for up to 350 guests. The South Lawn or the State Rooms are both excellent choices for a summer wedding.
A beautiful backdrop for your wedding would be King Henry VIII's former residence. The palace was not only the location of the King's sixth and final nuptials to Catherine Parr, but Katherine Jenkins also wed Andrew Levitas there in 2014. The Little Banqueting House, the Garden Room, and the Orangery are just a few of the elegant and historically significant locations inside the palace where you can host your wedding.
The newlyweds love to visit this castle from the Renaissance period. The castle, which is in the South Bohemian region of the Czech Republic, overlooks breathtaking views of the countryside and provides exclusive wedding packages.
Even if you aren't born in the direct line for the throne, your wedding shouldn't be less than that of a royal as you can still feel like royalty on your big day in one of these royal wedding residences. Whether you have always looked at celebrity love birds for wedding inspiration or have been a core follower of a royal, go for these A-list wedding venues for your Instagram-worthy wedding and walk in the footsteps of real-life royals and celebrities.