Selecting the Perfect Wedding Photographer in the City Of Your Dreams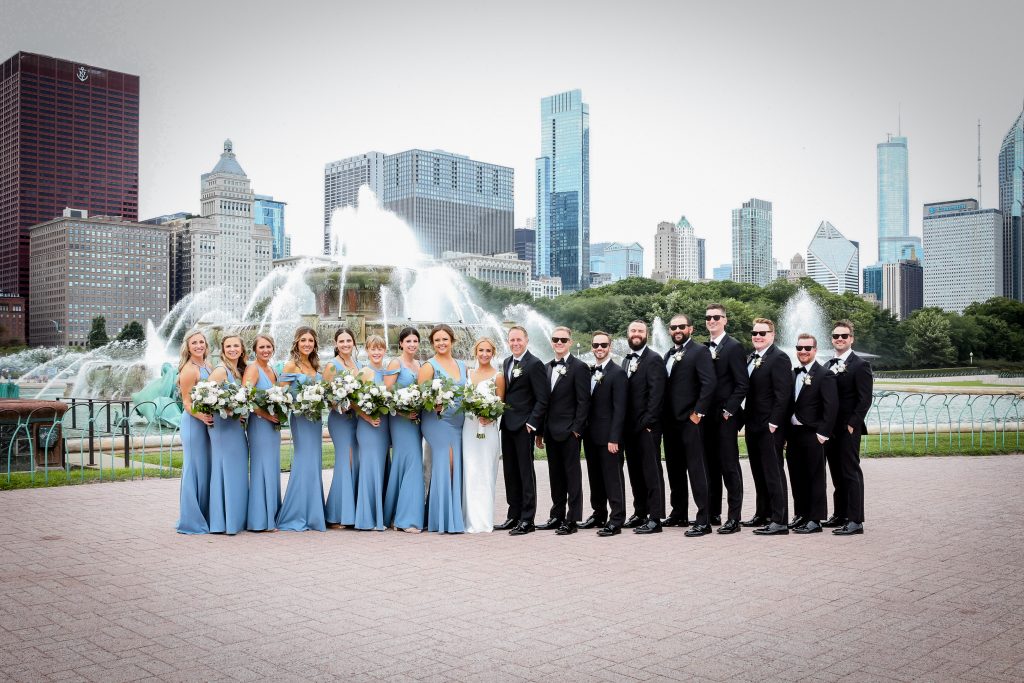 As you have the perfect meat cute moment with the love of your life, go on dates that make your hearts beat faster, fall in love irrevocably, and ultimately decide to get married, there is a city that bears witness to the magic being unfolded. It is those Sunday branch picnics in Central Park in gorgeous New York City, for spending your evening watching the colorful Bellagio Fountain in Las Vegas, it is the city that ends up becoming the playground for lovers. It's the city that sees endless lunch dates in corner cafes, hikes to witness the glorious sunsets, and endless post-dinner walks through the busy streets, hand in hand as two hearts fall in love. It is the city that becomes the tapestry of your beautiful love story, every street a timestamp to a beautiful memory. So of course when it's time to celebrate the most important day of your life, you want your city to shine as bright as you! Wedding photography with your favorite city in the background is the perfect love letter to the city that made you fall in love.
Choose Your Photographer in Your City
When it comes to getting married and captured in the city of your dreams, choosing your photographer for the job is extremely crucial. If only it was as easy as filtering your perfect dress as per your preference. Oh, wait! It is! You can now handpick your favorite photographer available in select cities and let the photographer of your choice capture your beautiful frames. Imagine finding the perfect photographer for you in the city who was a witness to your love story or means something important to you. So where do you get started? You can start by filling out our form to browse our exquisite collections and verify availability for your event in your chosen city. Pick a selection that is ideal for your requirements. After that, you can make an appointment to find out more. A brief appointment is just 30 to 45 minutes. After that, you can go for your online consultation, and choose from a variety of photography portfolios that we will display to you.
Dreamy Cities to Feature in your Dream Wedding!
Miami
No matter whether there is a wedding or not, Miami always guarantees a wonderful time! Miami is a magnificent city with stunning beaches, a tropical temperature, classic art deco structures, and an exciting nightlife that is just waiting to be discovered. Every shot is so wonderfully tropical, whether you are lounging on the shoreline or exploring the city streets, that it is a joy for photographers all over the globe! This lovely city is likely to not let down a couple getting engaged or married there. The city is located where Biscayne Bay and the Everglades meet. Miami offers something for everyone, from its breathtakingly gorgeous skyline to its aesthetically pleasing Art Deco Street. Although Miami's bright energy makes for interesting photos, your tropical wedding photo ideas may also be complemented by Miami's laid-back atmosphere. Maimi is a lover's paradise and is bursting with picture possibilities for you and your lover to explore and capture.
San Francisco
San Francisco, one of the most beautiful cities in the US, will undoubtedly charm any tourist that enters the city and capture the hearts of the locals so they never want to leave. The stunning San Francisco Bay Area and the gorgeous skyline that the city offers will be appreciated by a true blue San Franciscan pair. Love permeates the city, making it simple for couples to declare their love and celebrate it there. San Francisco is one of the most picturesque cities in the country and the crown gem of Northern California. It is situated along the coast, with undulating hills, and the famous Golden Gate Bridge. The city is rich in history and has wonderful neighborhoods, parks, beaches, museums, and a ton of other things to do and see. Alcatraz Island and Fisherman's Wharf are two of the most well-known landmarks, although there are many more places to see.
Philadelphia
Philadelphia is a metropolis of stunning skylines and the vivid blue colors of the Schuylkill River. Because of these stunning vistas, Philadelphia looks straight out of a travel magazine. A photographer's haven with a rainbow of hues, this location is a photogenic showstopper and is full of pleasant surprises. It is a city that maintains a sense of its historic past while still moving forward. A Philadelphia photographer may get the loveliest and most intriguing photos by focusing on this duality. Philadelphia is a beautiful city that is conveniently located near New York City, an hour from the coast, and a drive from the countryside. This makes it easy to go to and enjoy. Philadelphia's social fabric is textured by the city's wide-ranging and diverse cultural diversity. Every area in the city has its own character, food, and personality. The city has a strong sense of local culture. Philadelphia has a large variety of varied suburbs, ranging from Chesterbrook to Upper Providence Township. Philadelphia never falls short in terms of providing the ideal locations for you to declare your love, whether it be in the stunning Art Museum, The Franklin Institute, or one of the hipster cafés and performances. We like everything about it, from its generally photogenic vistas to a strong sense of community, and stronger history to complement it all.
Los Angeles
Planning a wedding in Los Angeles? Los Angeles is the ideal setting for a love tale, with its recognizable towering palm trees carving the skyline and lovely beaches. There's something complex and captivating about this city, which has a diverse topography and a resonant heart that is always buzzing. Perhaps it's the nearby Hollywood, or perhaps it's that inexplicable air of "cool." There are celebrations and promised worlds everywhere, whether it's Disneyland, the happiest place on earth, or the Santa Monica Pier with its attractions. It is magic waiting to be caught to have your own narrative told in this fantastical environment. Whatever your taste, you will discover that there are several spots to match your own feelings, which is what makes LA so diverse and welcoming. There is something for everyone, including white sand beaches, lush vineyards, and magnificent buildings like the Frank Lloyd Wright all-glass cathedral. Whether you're planning a beach wedding in Malibu, Santa Monica, or Venice or seeking classic locations for timeless wedding photos in locations like The Beverly Hills Hotel or Griffith Park, there is a whole buffet to choose from.
New York
New York is undoubtedly a mindset and a very beautiful one at that! There is a reason why both photographers and lovers like this location: the sky-scraping high-rise structures, photogenic settings, classic black and yellow taxis that blend into the backdrop, and the refreshing diversity of people with diverse histories and tales all contribute to that! Many couples want to capture the shining jewels of the city: the Statue of Liberty, the Empire State Building, the Brooklyn Bridge, Central Park, historic districts, and various renowned museums. The High Line and One World Observatory in New York both offer distinctive vistas of the city. There are many things to see and do in New York at any time of the year and day or night. Due to the amazing contrast between the anonymity of city people and the inclusiveness of the metropolis, New York City will never stop surprising you in the most spectacular way.
Chicago
Who wouldn't want to get married in Chicago? Chicago is a full city that boasts the benefits of top-notch architecture, amazing artwork, and inspirational monuments and sculptures. It is a muse for photographers from all over the world. Every vista of the city is breathtaking enough to be framed and displayed as art. This metropolis, affectionately known as "Windy City," has one of the most spectacular skylines in all of America. Chicago is an experience that only leaves behind smiles and pleasant memories, from jaw-droppingly unique architecture like the Cloud Gate and Sears Tower to invigorating jazz music and the magnificent Navy Pier. Chicago offers the perfect backdrop for you to shoot with the free-flowing Lake Michigan, gorgeous white-sand beaches, and entrancing parks! There are places that will steal your breath away while also leaving a trail of photographic wonders in their wake, so if you've picked this magnificent metropolis to be the canvas on which to sketch your love story, you are a lucky couple!
Dallas – Fort Worth
Dallas is a beautiful city with interesting historical tales to tell. It is also home to tall buildings, opulent restaurants, and a vibrant nightlife that is nearby. Dallas has several wonderful locations for weddings, from the lushness of gardens and parks to the rustic charm of the ranches. Dallas, the coolest city in north Texas, is all about going big, from the Dallas Cowboys to Mia's Tex-Mex Restaurant. With its uplifting art and heartfelt music, it serves as the region's economic and cultural hub and is a treasure trove of entertainment. Dallas is the perfect example of a southern city atmosphere coexisting harmoniously with expansive gardens, towering buildings, historic ports, and fashionable neighborhoods. The city is fond of its ancient buildings, which reflect the grandeur and aesthetic cultural representation as well as the continually changing urban environment. It is not just the location of the renowned Stockyards National Historic District, but it is also jam-packed with activities and stores themed after the Old West. Additionally, it includes a number of museums devoted to historic ranches that let visitors experience real cowboy life. Dallas is the ideal location for your wedding day due to its lovely scenery, plenty of parks, and inspiring architecture.
Atlanta
Atlanta is undoubtedly one of the most beautiful cities in the United States, with its sweeping skylines and colorful sunsets. Atlanta, the capital of Georgia and one of the biggest and most important cities in the nation, undoubtedly makes a lasting impression. This is a city that never stops surprising and captivating, from the gorgeous Centennial Olympic Park to the vintage World of Coca-Cola museum today. Atlanta strikes a balance between the fast-paced metropolitan life and the essence of the South. The magnificent visual splendor of this dynamic metropolis will persuade you that it is the ideal playground for a photographer and the destination of choice for lovers from all over the globe. If you've decided to share your love story in Atlanta, you won't be disappointed!
San Jose
San Jose, the third-largest city in California and the center of Silicon Valley, has its roots in the illustrious agricultural sector of the past. The Guadalupe River's banks cut straight through the center of the city, highlighting various waterfront spots and well-liked tourist attractions. Your photography session in San Jose can be loaded with a wide variety of varying settings, from the Municipal Rose Garden, which was established in 1927 and features countless rose shrubs and manicured green spaces, to the Rosicrucian Egyptian Museum, which is a house of genuine ancient Egypt artifacts. The Downtown region of San Jose is always buzzing and bustling with activities to capture couples in love set against famous, creative, and natural backdrops. The Plaza de Cesar Chavez Park, located in the center of Downtown San Jose and showcasing more than 2500 works of art, is a great place for couples who like vivid and dynamic backgrounds.
Minneapolis
When it comes to weddings, the Twin Cities and the nearby city of Saint Paul are unrivaled. Minneapolis sometimes referred to as the City of Lakes, is a photographer's and lovers' dream come true. It is renowned for having severe winters and plenty of lakes. The Minneapolis Public Library, Minneapolis Sculpture Garden, Minnehaha Regional Park, Weisman Art Museum, Walker Art Center, Chain of Lakes Regional Park, Hidden Falls, Island Parks like Boom and Nicollet, Como Pavilion, and more make Minneapolis the top choice for photo sessions for the majority of newly engaged and married couples. Snow-covered dreamscapes, bright waterfalls, sparkling skylines, endearing lakes, and gorgeous parks surrounded by nature are just a few of the city's features that will make your pre- and post-wedding days extraordinary. There are many different gorgeous settings in Minneapolis- both new and historic, and they bring in the perfect contrast that the city stands for!
There is something about getting married in your dream city which can feel extremely serendipitous. It is understandable why people might have strong preferences when it comes to their preferred city to get married in. What better than wearing a pretty dress, holding the love of your life close, in a city which saw it all happen? While that moment might be just perfect as it is, it will be justice well served if it's captured perfectly by a skilled photographer. A wedding photographer who is well-versed with the city and knows the perfect place to get that WOW shot is something that can add value to your wedding album. And with that memory in your wedding album, you can always carry your favorite city in your heart forever. And with By Design Films now offering in select cities the option to hand select your photographer, you can now have your favorite photographer capture you and your spouse against your favorite city's cityscape!