The Gorgeous Wedding Of Cameron And Lauren At Ninety Acres, Natirar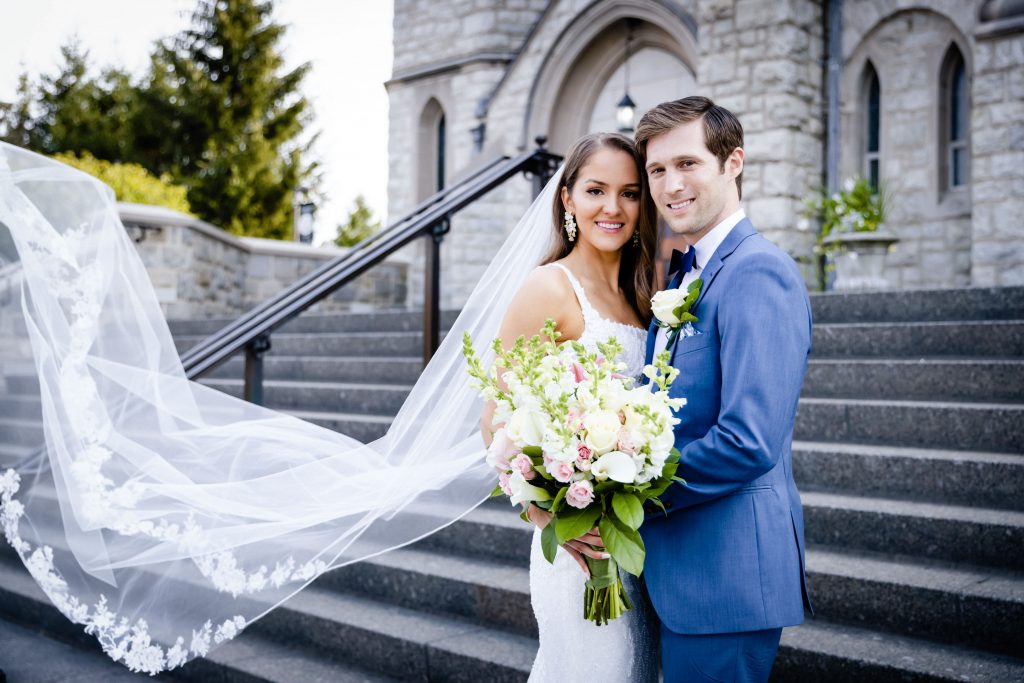 Is there anything more lovely than the marriage of two souls who were just meant to be together? Weddings are characterized by an enduring degree of happiness and joy all around and are in our opinion the best representation of true love. At weddings, the couple's friends and family gather under one roof to toast their new beginnings and relationships. Weddings are full of this tremendous support system and wedding celebrations are fascinating and enchanting no matter where they take place, whether it is an artistic celebration at a museum wedding venue, a lavish affair at one of the top beach wedding venues, or even a backyard affair with intimate wedding details. Real wedding stories of couples filled with stunning wedding attire, over-the-top wedding ideas, personalized wedding details, and unforgettable anecdotes about their individual love stories never cease to inspire us. We are so happy to see couples hosting their dream weddings once more, the way they were always meant to be, especially after two years of intimate elopements, staycation ideas, micro-wedding details, stay-at-home date ideas, and mini-wedding ceremonies!
Couples are experimenting more than ever, from glamorous wedding details that revolve entirely around extravagance and luxury to celebrating weddings with one-of-a-kind details that have never been seen before. It is particularly relevant for couples who either were undergoing lockdown together and forced to go on a mini-moon instead of their ideal honeymoon in the Bahamas or who were locked up separately and had to spend the entire lockdown apart. Thus, after surviving a global pandemic, couples are getting married in unique ways by hosting incredibly personalized celebrations. These couples showed us that "love cannot be canceled," overcoming obstacles to show their love for one another and making the most of the current circumstances. This is also the time when pet parents are showing love for their four-legged children more than ever! Because why not?
Many couples choose to have their furry companions present for the "I dos" and reception festivities. Pet wedding photos have always stolen our hearts, whether a little Persian cat with a hat on her head or an overtly energetic Husky wearing a cute bow tie. They live in our homes, behave like our soulmates, and we cannot imagine our lives without them. So including them on the biggest day of your life can be an excellent way to show how you appreciate their presence in your life. This next New York wedding takes us on a tour that is filled with priceless wedding moments to watch over and over again!
Early in the fall of 2021, we met Cameron and Lauren, a stunning New York-based couple who sparkled with stardust on their wedding day and had a fire in their eyes. This contemporary fall wedding was so brilliant— from including thoughtful pet wedding details to holding a glamorous reception with actual pets, everything took us on a spin! This lovely NYC couple's wedding photos were jam-packed with priceless moments that they will undoubtedly watch again and again in the years to come! Let's take a look back at their lavishly detailed wedding day, which was even more exquisitely captured by our talented team of luxe wedding photographers in New York, as they embark on their new chapter in life.
The day of Cameron and Lauren's wedding began at the St. Teresa of Avila's Church in New York suburbs bright and early. The beginning of this lovely couple was marked by their stunning New York church wedding photos. Bright and early, our top-notch wedding photographers in New York began documenting this magnificent day, which started with tender exchanges between the enchanted couple! Our premium New York wedding photographers first documented the little details that added up. From a close-up wedding ring shot that showcased all the wedding and promise rings placed beautifully on a flat lay to the gorgeous residence where the bride and the groom got ready for the biggest day of their lives.
In between, there were flashes of numerous memorable wedding moments from this suburban NY wedding. There were beautiful close-up shots of the dog-inspired wedding details included in the wedding featuring two pearl-studded dog collars with highlighted names "Skylar" and "Rylee". Our NYC photographers had the opportunity of capturing a few groom portraits of our dashing man Cameron outside the residence along with his fur baby. The gorgeous bridal portraits of Lauren also swept us off our feet as she donned her stunning wedding dress in her exclusive bridal suite.
The following scene took place in the bridal suite, occupied by our stunning bride Lauren and her group of close friends and family. The bride's getting-ready portraits were taken, along with brief glimpses of the general joy felt by everyone in the room. We were astounded by the final product that revealed a bride that looks like she just stepped out of a contemporary fairytale as the professional bridal makeup and hair artist prepared our stunning bride for the biggest day of her life! Her bridal accessories were arranged side by side, and our New York wedding photography session meticulously captured these details. The luxe bridal ensemble was a stunning embroidered sheath wedding dress with a layered train. Stunning, for sure! With her closest people by her side, the bride got ready and special moments were captured. These intricate and nuanced moments were used to capture special portraits of the bride getting ready.
Before donning her wedding gown, our bride took a moment to pose with it. It was a stunning sheath wedding dress with beading and elegant floral embroidery all over it. The wedding gown's square neckline had floral embroidery accents, and as she walked, a long train swept across the grounds. The décolletage is perfectly framed by the elegant thin straps that flow from the neckline. The gorgeous bridal bouquet made the statement with pastel pink roses, white orchids, and light yellow blooms with cascading greenery. The stylish and trending wedding flower choices stole our hearts. The statement bridal earrings and bare neck added even more glam to her wedding attire. She completed her elegant bridal look with a cathedral bridal veil that swept the ground as she walked which made it another statement-making bridal accessory. Her minimalistic wedding attire was perfectly complemented by her minimal bridal jewelry choices.
In his two-piece groom suit, which consisted of a royal blue suit with lapels, a navy blue bow tie, and a crisp white shirt, our groom Cameron looked equally stunning. He wore a statement-making groom boutonniere featuring one white blooming rose and some greenery to match the bridal bouquet. With gleaming tanned brown formal groom shoes and a neatly brushed hairdo, he completed the dapper groom look. The groom getting ready portraits as he was dressed by his best man were equally beautiful and moving. As he prepared for the ceremony, the anxiousness and excitement for what was likely the biggest day of his life were clearly visible on his face.
The bride and the groom stepped out to click a few couple portraits before they tied the knot. They got their fur babies for this pre-wedding photoshoot session and we loved every bit of it. We can definitely understand why they think that having their pets at the wedding was the best decision they have ever taken. We realized that some of the best feelings in the world include coming home to your paw friend after having a particularly rough day and instantly getting all the love in the world to waking up next to a vehemently wagging tail and a wet nose cuddling up. Dogs are indeed the best thing that has happened to the planet. From making you smile more and forcing you to move more, it is no surprise why having a furry friend encourages you to be mindful of the present moments. These pet-inspired wedding photos showed us why beautiful dogs are basically their babies. From sleeping on the owner's bed to taking up ninety percent of their phone's photo gallery, it is no surprise that this couple couldn't imagine part of their wedding without them.
The tall clerestory windows allowed sunlight to stream into the suburban New York church wedding venue. All of the guests settled into the roomy wedding ceremony seating arrangement, which included long wooden pews with a natural finish. The bride and the groom were escorted down the aisle by their respective parents on both sides in an intense and emotional scene breaking the wedding tradition beautifully! We see why our gorgeous couple chose to have a church wedding like so many other couples. A traditional church wedding will always be in style for numerous reasons, regardless of how trends change or how many new exotic wedding locations are discovered. Although it can almost seem overwhelming with the wide range of different style locations, there will always be something to be said about the beauty of church weddings.
Almost every church wedding venue will feature high vaulted ceilings with exposed wood beams making it a good combination for couples who are considering a grand reception later on. For vintage wedding details lovers, churches will always be dream wedding venues as these historic structures often feature rustic details with beams, wood, arched windows, hardwood floors, and exposed brick. It has a very warm, earthy feeling. Moreover, gorgeous church venues also work for the bride who wants to experience the traditional atmosphere of a community. With long tables and bucolic details, churches can also have something modern in contemporary times, lending to a variety of settings and aesthetics.
Church wedding locations have long been preferred for new beginnings because of their natural beauty. Additionally, because a beautiful church doesn't necessarily need to be elaborately decorated, this beauty not only improves the aesthetic of your wedding but also allows you to save time and effort on decorations if you so choose. With many churches, you don't need to make many changes. You don't need to change much about it because it is already so attractive. There is no need for luxurious wedding lighting ideas or elevated wedding decor details as church wedding sites already offer an additional layer and some additional textures for weddings. The same is true of uplighting; it can be used, but it isn't required to add drama and take things up a notch.
And as soon as Lauren and Cameron were declared as husband and wife, all the present wedding guests burst into jubilant applause! As they made their way out of the wedding aisle, the bubble-filled wedding exit stole the show. Along with numerous individual portraits of the two of them, they also posed for numerous wedding portraits with their respective teams of groomsmen and bridesmaids. The gorgeous bridesmaid portraits and groomsmen shots appeared staged for a glamor magazine! The grand staircase of this New York church wedding venue looked straight out of a Romanian tale as the couple posed for a few post-wedding shots!
The wedding reception shortly followed at the Ninety Acres at Natirar. This classy restaurant wedding venue in suburban New York is a chic and fashionable setting for wedding celebrations. The Mansion at Natirar has an amazing interior- from the grand doorways to the living garden wall in the reception room, it is hands down one of the most scenic wedding venues in New York suburbs. The sprawling and elegant countryside can offer you and your guests a one-of-a-kind wedding that is both traditional and rustic while also modern and opulent. You can feel an instant connection with the natural world and spend more time with the people who matter most to you at this classy suburban New York wedding venue. This wedding venue is known for bringing wedding visions to life with farm-fresh culinary expertise that captures the essence of the couple's expectations, whether it be a grand affair at the Mansion or a more private event at Ninety Acres. The Natirar property, which is only 40 miles from New York City, has 500 acres of lush landscape and a variety of stylish indoor and outdoor venues. Enjoy a large wine list, artisan cocktails, craft beer, delicious farm-grown food, and helpful wedding services. After all, the festivities surrounding your wedding should nourish both the body and the heart.
Every Ninety Acres at Natirar wedding celebration is a customized affair because the expert staff wants to make your occasion as special and memorable as they can. They have a number of menu options that can be tailored to your preferences. In order to create intense and flavorful modern cuisine or specially designed items for your palate, the chief executive chef uses the freshest ingredients available. With wine selections from the extensive cellar, their wine director can further enhance the evening's menu. Natirar wedding venue offers a variety of options, whether the couple is looking for a small-scale wedding or a lavish event. You can choose from private rooms or reservations at the Ninety Acres at Natirar restaurant to the Mansion at Natirar's ongoing renovation. The on-site events team is enthusiastic about the special services that they provide and the setting.
The couple arrived in style at their reception. The newlyweds' first dance as husband and wife was followed by an amazing time on the reception dance floor. All the guests had an amazing time with the newlyweds and the joy of being together was evident on everyone's faces including the couples'. As the day drew to a close, we thought back on how much we had enjoyed this fall wedding day in New York, which celebrated so many lovely and enjoyable wedding traditions while also being incredibly fun. This magical love story deserves to be heard by every Romeo and Juliet out there who believes in the power of true love, just as much as our wedding photographers loved capturing this lovely wedding day in suburban NYC.