How To Have A Luxurious Thanksgiving-Inspired Wedding Menu For A Cozy But Fabulous Day?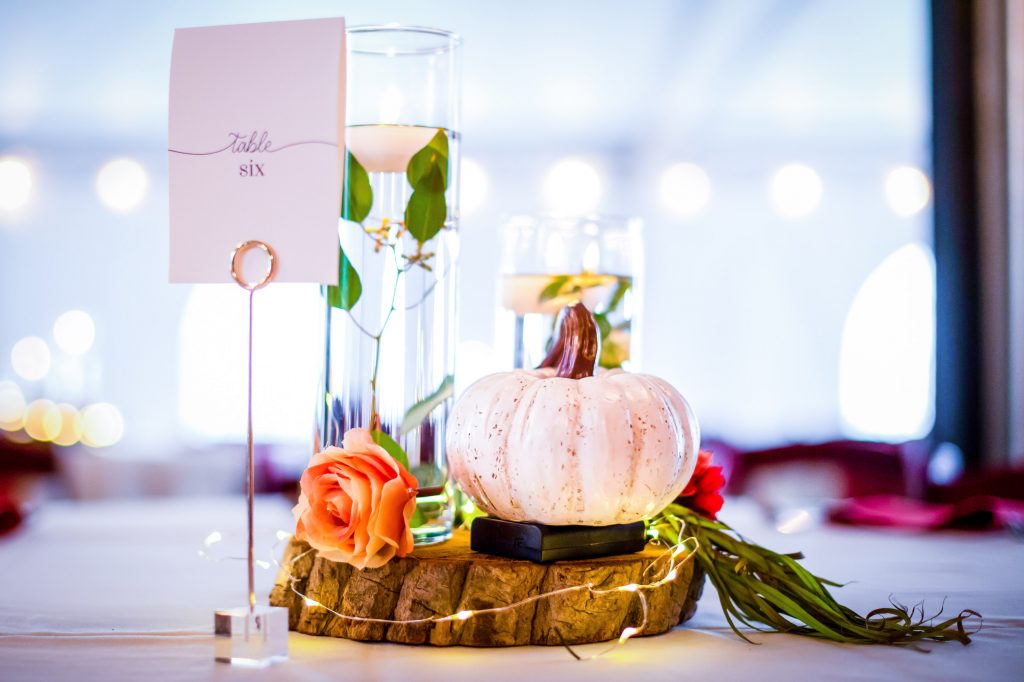 Weddings are a great way to share experiences with your loved ones and other people. With many emotions and happy moments to share with your loved ones and close ones, you'd have more to be thankful for during the day if you decide to get married around the wonderful holiday of thanksgiving, then you'll have the opportunity to have fun with your family, friends and all those that matter. We can't imagine a better day than Thanksgiving to tie the knot. After all, the holiday is all about being happy for the blessings you have and the wonderful souls that surround your life. And if you're lucky enough to have an amazing wedding venue booked, or have a destination wedding planned around the holiday, then we have just the things for you!
A thanksgiving-inspired wedding, with the holiday being so close or on the same day, is perfect to host a wedding with those who matter to you. However, that's not all! To throw the perfect wedding, you'll need the ideas that help you elevate the mood and your wedding ideas! Today, we have a mix of wonderful menu additions that can add charming details to your wedding and have your wedding guests fall in love with an elaborate dinner. And in the second half of the blog, we'll list down some impressive ideas to make your thanksgiving-inspired wedding a regal affair!
Luxurious Additions to your Thanksgiving-Inspired Wedding: Some Options to Add
Before we talk about other ways through which you can add charms to your thanksgiving-inspired wedding, let's talk about a great feast for your wedding! One of the best ways to add style and a touch of luxurious charms to your wedding day is through a great wedding menu. When it comes to creating a wedding menu for your wedding party, think of what you expect and what your wedding guests will enjoy. Also, before you start planning your wedding menu, remember to keep your wedding guests and their choices in mind. For example, if you have vegan friends and family joining you for your wedding, swap out the meat from the dishes, for vegan and vegetarian options.  Around the time of thanksgiving, here are some menu additions that will add charm and details to your wedding:
Roasting Turkey
One of the best ways to celebrate the holiday is to have traditional food and dishes on the table. A luxe wedding dinner party demands the best of everything. You can have other dishes with turkey, but a roast turkey will be an absolute must for the wedding. We love some ideas, one of them being having a station where you roast the turkey over time and carve it with your wedding guests. Also, you can have a cute station for ham and turkey, so that your wedding guests can either carve the turkey and ham or help themselves to some more pieces. When you're designing a wedding carving station for your wedding, make sure that the color and décor for the turkey station are similar to your wedding decor and other details.
Turkey Breasts with Stuffed Mushrooms
If you're not in the mood for a turkey roast or carved turkey at your wedding, then how about we add some turkey breasts with stuffed mushrooms for your wedding guests? This dish is a perfect dinner addition, and your guests will be licking their fingers after finishing this. You can have your wedding chefs prepare grilled chicken breasts in any way you'd like! For example, if you want to add some spices or different flavors, then you can add some herbs, cheese, and some amazing marination. Stuffed mushrooms have no limits! We love this idea because you can add whatever stuffing you will like. From potatoes to cottage cheese, from chopped vegetables to cheese with herbs, can be added to the mushrooms. For this dish, you'll need large hallowed mushrooms. You can also decide to serve the stuffed mushrooms with some interesting dips and sauces along with grilled turkey breasts.
Turkey Wrapped in Lettuce 
One of the best things about Thanksgiving menu ideas and dishes is that you can add the deliciousness of turkey to different forms of food items. One of the easiest ways to add a great snack to your wedding celebrations with turkey wrapped in lettuce. You can add a few variations to your wedding offerings! One of the easiest and the tastiest versions is to add grilled turkey and wrap it in lettuce and sprinkle some herbs on it. Another way to add variety is to deep fry the turkey piece, add some veggies and add some cheese, then wrap it in lettuce! You can also add more flavors by adding sauces or dips to your turkey wraps. That said, if you want your wedding guests to enjoy a luxurious dinner, you can have a platter of lettuce-wrapped turkey for every wedding guest!
Apple-Cranberry Crisp With Oatmeal-Cookie Crumble
Thanksgiving is known for turkey and cranberry dishes. Although this menu addition to your wedding may sound as though it is meant for breakfast, it is still a great way to swap out appetizers! This dish can help you add a sweet zing to your wedding starters! You can have a delicious oatmeal cookie crumble dish as a great addition to your kid-friendly wedding menu. This dish is full of flavors, and the allure of cookies for the kids. You can have the dish topped with almonds, and whipped cream with some colorful sprinkles to make it appealing for the children. You can also have a station or have this dish served in small portions for your wedding guests!
As we just said, thanksgiving is about enjoying the flavors of turkey, cranberry, and wine! You can have a snacking bar with all kinds of delicious snacks that announce "thanksgiving." You can have wine served apart from the cocktails with the snacking cake along with some crackers. You can have a station where your wedding guests can easily go and pick out some different kinds of wine to serve at your wedding! You can decorate the pretty station with greenery and foliage. Add a signboard to help your guests find the station during the dinner party.
Looking for something easy and extra special for your thanksgiving dinner wedding party, then how about adding the perfect soup to the mix? Creamy turkey dinner soup is a tummy-filling option that packs a punch of all the flavors! Complete with cream, cheese, stuffing, turkey, some herbs and spices along with vegetables, this soup is a great way to add some flavors and easy dinner options. To add more touches of flavor, you can also add some interesting sides to this wedding dinner option. You can add some interesting stuffed vegetables, styles or types of bread, or baked vegetables to add to the flavor. A great way to add an interesting touch to your wedding tablescape and to elevate your dinner ideas at your wedding is to create a space for sides on the dinner tables. You can have the soup brought to your guests, directly to their seats, and they can have the options of sides on the tables! You can add pull-apart garlic bread or pull-apart challah rolls, these options go well with the soup. Next, you can also have a cheese board and some interesting baked vegetables for your guests to pick out from!
This option is more of a snack, and we don't love it any less than the primary dishes for your wedding menu! Before we talk about the different ways you can serve turkey meatballs at your wedding reception party, let's talk about where you can have these served first. One of the reasons why we love turkey meatballs is because it is exceptionally versatile! You can have these served to your guests at cocktail hour, before your wedding reception, and also during your reception party! You can choose to have meatballs served at all of these times or choose one of these times to have turkey meatballs served! Obviously, you can choose to have them served on skewers or with pasta! That said, you can easily switch up the flavors with different kinds of herbs and additions to the recipe. Apart from this, you can use dips and sauces to add variety to the meatballs. You can also create a station for meatballs at your wedding where your guests can choose which kind of sauce or dip they'd want and if they'd want to have the meatballs tossed in sauces and dips!
Mac-n-Cheese
A great way to add more comforting menu additions to your wedding, you can add some interesting touches through the best comfort food in the world! Yes, we understand it can sound mundane to you, but it will definitely add charms to your wedding dinner! Apart from the delicious aroma, this dish is perfect for your vegetarian wedding guests, as well as for the children at your wedding! Of course, you can tweak the dish with different additions and many other forms of toppings! You can add meat, vegetables, or anything else that you'd like to the recipe! What's more, you can serve this with the wedding day snacks you've picked out! Lastly, you can create an allure about this dish by using different forms of plating techniques! For children, you can serve it in bright bowls or mugs with some breadsticks, or you can have these served in cones made out of cornbread! The ideas are limitless!
Bonus Idea: Have a Family Favorite Recipe For your Wedding 
If you have a family tradition or a recipe that has been passed down through generations in your family, use your wedding to share it with your closest friends and family at the wedding. A wedding celebration is nothing without sharing something special with your wedding guests. Since you're spending the day and showing them the beginning of the day, why not send your best with a family recipe? It could be anything, appetizers, snacks, cakes, dishes, or even casseroles! You can add this to your elaborate wedding menu in small portions or in large portions. Depending on the type of dish or recipe it is, you can serve it at the appropriate time.
Adding More to your Thanksgiving-Inspired Wedding With These Ideas
The above section has been about food and menu additions to your wedding. However, a great menu of food for the wedding lacks luster if the wedding details do not match! So, here are some suggestions that can add more charms to your holiday wedding!
Creative Dinner Ideas 
Thanksgiving weddings or a wedding around Thanksgiving is one of the best things in the world, and that is especially true if you're a foodie! The absolute beauty of the holiday is better experienced with food, and delicious aromas floating around. If you're lucky enough to plan a wedding around thanksgiving time, one of the best ways to have a luxurious thanksgiving-inspired wedding is to throw an elaborate party with an exciting and well-rounded wedding menu. You can add multiple things that announce "It's Thanksgiving!" From going traditional with a turkey in the center, and serving some impressive thanksgiving snacks. You can think about adding some recipes from top chefs in the world, to add a fancy touch to the wedding dinner.
You can start off your day with the perfect wedding appetizers, such as grilled oysters, pickled shrimp with satsuma, french piped potatoes (Pommes Duchesse), Cranberry Crostini, Scotch Eggs, or Nut and Cheese Gougères. If your wedding party will have vegan or vegetarian wedding guests, then you can ask the chefs for your wedding to prepare vegan or vegetarian options for the wedding appetizers you absolutely love! Another way to add more charms to your wedding menu is to add some traditional dishes with a creative twist. You can add Cranberry Brie Pastry Tarts, Spiced Nuts, Bacon Brussels Sprout Salad, and Pork Sausage Apple Stuffing in Pancetta Cups as appetizers. For sides, you can add delicious green bean casserole, Roasted Sweet Potato Stacks, Dauphinoise Potatoes, or Cranberry Orange Relish. And for the main course, you can have sumptuous Maple-Glazed Spatchcock Turkey, Vegan Lentil Nut Meatloaf, Garlic Herb Slow Cooker Turkey Breast, Easy Lentil Meatballs, and Cajun Baked Turkey Breast with Dressing. For dessert you can decide on different ideas, you can go traditional with tarts and pies, or you can add ice cream and donuts!
Cakes everywhere: Another Thanksgiving-inspired wedding idea that we absolutely love is a cake at every table! Apart from the wedding cake, you'd have for your cake cutting ceremony you can also create an experience for your wedding guests! You can add a cake, small enough to feed the number of guests on the table without filling their stomachs, for every guest to enjoy the beauty of your wedding. Another way to use this idea is to add small cakes for every guest to the wedding dinner tables! Or you can swap the cakes for pies!
Thanksgiving Cocktail Ideas 
A wedding celebration is incomplete without colorful drinks to mark the occasion. We absolutely love a wedding with crisp attention to detail, and one of the best ways to add more of the theme of your wedding to the decor and celebrations is through colorful cocktails! Cocktails are fun, delicious, and add color to your wedding. A thanksgiving wedding should have all the right elements, and cocktails are a key piece to your wedding! You can try out different drinks and colors, depending on your preference of course. You can opt for celebratory drinks, signature cocktails inspired by you and your partner, and add some thanksgiving-themed cocktails too! And by that what we mean is you can use the traditional colors to add some interesting notes to your drinks! You can ask your wedding planner to help you with it or have your bartender create some engaging cocktails with brown, orange, yellow and red, the traditional thanksgiving colors, to set the tone for your wedding day celebrations! A mix of all these colors or an appealing drink for each of the colors will work like a charm for your wedding.
If you're looking for some ideas for what kind of cocktails to add to your wedding cocktail menu then how about some scarlet apple cider mimosas, lovely cranberry zinger jam jar cocktail, creamy Salted Caramel Apple Martini, cutesy Cranberry Pear Ginger Fizz, or the perfect Apple Cider Moscow Mule to the mix. To add pretty colors along with dazzling drinks, apart from alcoholic beverages, you can also add a thanksgiving-twist to the non-alcoholic beverages. You can swap out the booze from these drinks to cater to your wedding guests who don't want to drink boozy drinks! Additionally, these non-alcoholic beverages are great for the young ones at your wedding party.
The Wedding Day Colors 
Apart from the menu and drinks, your wedding day color scheme is something that will give voice to the holiday around the corner! Sure enough, the traditional colors will work just as well. However, you can capitalize on the emotion of having a feast in a comfortable manner for your thanksgiving wedding idea! The first idea to try out is to ensure that your wedding guests not only have one with the over-the-top dinner ideas but also have fun sitting down with family and friends while enjoying the feast you have so carefully planned! To create the perfect thanksgiving color scheme for your wedding, you can try using an Autumn color palette. A great way to enjoy your wedding day's color scheme is to use copper, or antique gold for your wedding look! Both of these colors add a luxurious touch to your celebrations, simultaneously adding a great comforting vibe to your wedding day.
Use copper or antique gold as the cornerstone of your wedding color scheme and add other colors to enhance the color scheme. You can use white, brown, black, ivory, peacock blue, or gray. White, ivory, and peacock blue will help you add a dramatic touch to your wedding day, while black will add a dramatic touch. Additionally, you can use orange, terracotta, and amber to add more details and decor to your wedding day colors. All of these color combinations not only make for a trendy mix but also add an inviting ambiance to your wedding day. If you're wondering how to make use of these colors, then think about huge vintage candle holders with burnt orange, black or brown candles. Another way to add these colors is to have elaborate floral and leafy fall centerpieces in the same shades. To add a touch of prettiness, you can sprinkle some glitter on it. For your dinner table settings, you can use these colors as tablecloths and place them in an alternating fashion.
Rustic Decor 
Let's tie up the beautiful color schemes with the perfect wedding decor befitting the wedding day and the holiday. One of the best ways to add charming details to your wedding is to add beautiful decor. Thanksgiving details to your wedding do not have to be that of the holiday. You can simply incorporate the colors of the holiday and add some ornate details. One of the best ideas that scream beauty and rustic charm is using vintage mirrors as decor for your wedding! We love this idea because when you pair beautiful vintage mirrors with the fall blooms, it creates a picturesque setting. You can use vintage mirrors as wall decor for your wedding, and pair them with rustic floral and greenery arrangements. You can also use a big vintage mirror, with pampas grass all around it, hanging on the wall. This decor idea will not only add charms to your decor but will also give your wedding guests a space to take photos and mirror selfies! You can also use pumpkin place settings at your wedding to add the charming details of the season and the holiday! Add minimal vines to the pumpkin settings, along with the name of the wedding guests. To take it up a notch, you can tweak this idea by adding some candies or treats or even chocolates inside the pumpkin. Have these pumpkin place settings hollowed out, to add some fun surprises? Or better yet, you can use hollowed-out pumpkins to use it as a space to add your wedding favors! Another way to add charming touches to these pumpkin settings is to paint over them! If you're not in favor of using orange decor, you can use the color scheme ideas in the point above and paint over the pumpkins!
Another great way to add decor is to add to the element of "feast." You can use the season's best fruits and edible food items, and pair them with greenery or dried leaf arrangements. This will help you to improve the wedding day's tablescape! Apart from the colorful napkins, you can also add some interesting touches by using fruits and vegetables! Pairing it with the vintage candles will give you a glowy wedding dinner setting. And if you're looking to add more light to your wedding tablescape, then try adding tea lights, or string lights. A creative way to add lights to your white table settings is to add a glowing string of lights under the table. However, ensure that you fireproof everything and that your guests don't feel hot during their dinner if you're using under-the-table lights.
With that, we come to the end of our blog post! We hope that the ideas above help you plan a wedding worth remembering, not only for you but for your wedding guests as well. Before we leave you to plan the perfect wedding, we'll leave you with some practical pieces of advice! Firstly, when you decide to have a feast of luxurious food at your wedding, make that decision with your partner and the chef for your wedding. If you're looking to have different cuisines at your wedding, make it a point to ask if the chef is comfortable with it. Additionally, once you and your partner decide what to have at your wedding, discuss the feasibility of the wedding menu you desire. That said, the last thing you need to keep in mind is the wedding ideas and things you're looking for or you and your partner are choosing for your wedding, discuss them and see if it makes sense in the larger picture. We hope you can use the ideas above and plan a wedding of joy and shared experiences!