Grand Wedding Exit Ideas That Are Unforgettable!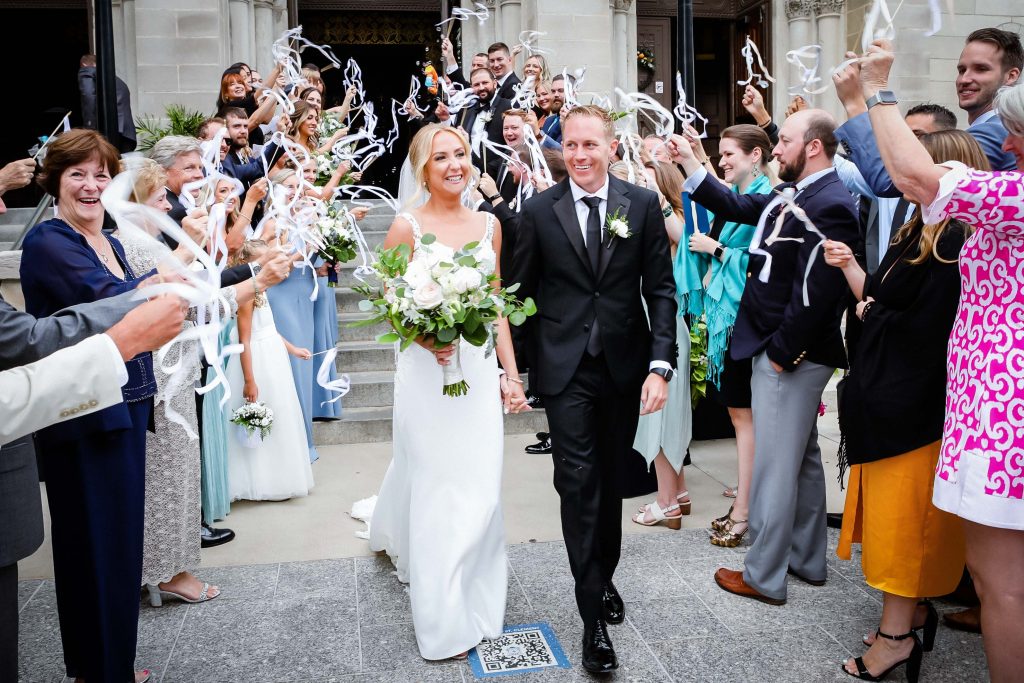 The wedding day you have been dreaming about for months is finally coming to an end. There are stars in your champagne flute and stars in your hair too in the form of confetti. You have held your sweetheart's hands and said those vows, and you have kissed with loved ones circling you both. You have danced your first dance and have listened to those toasts which brought tears. You have cut the cake and feasted and mingled, your eyes ever leaving your better half the whole evening! Your feet are aching from dancing too much, but your heart is not done celebrating. Your fairytale wedding day is far from over, but as you leave the reception site clutching your lover's hands, a grand exit will leave a lasting impression on your (and your wedding guests)mind. We all love a good sparkler exit but listed below are some of the most creative and unforgettable weddings exits that you can consider as you draft out the details for your perfect wedding day.
Sparkler Exit
We know, but there are no regrets! We had to mention a sparkler exit because we can't possibly talk of grand exits without this one. This is a classic wedding exit idea that you can't go wrong with. The festive glow of the sparklers, and not only celebratory, but they also make perfect props for night wedding photography. They are also perfect for a potential New Years' wedding day!
Paper Lanterns
You can ask your guests to release sky lanterns as you leave if your wedding reception ends after dusk, which happens at most weddings. Nothing is more lovely than seeing them dot the sky. Many people even view the practice as lucky, charging the lanterns with their own desires as they soar upward. However, avoid using open flames, which might start a fire, and instead use battery-operated lights.
Freeing Butterflies
This represents pleasure and fresh starts. Before then, though, make sure to locate a butterfly release business that safeguards the protection of the butterflies. Before taking off, the butterflies will flutter about the newlyweds, providing a once-in-a-lifetime photo opportunity and a final wedding experience you won't soon forget. These are always very lovely, and it is a beautiful way for visitors to bid the newlyweds farewell with good wishes.
Fall Leaves
Leaves are a perfect fit for a fall wedding. Furthermore, it's perfectly free to harvest leaves in lovely autumnal hues; just make sure they're completely dry and not wet. For even more bridal sparkle, you can sprinkle glitter on the leaves. Then get ready to run off into marital happiness among a whirlwind of golden autumnal delight.
Cowbells
Instead of throwing anything, ask your friends to ring mini bells as you leave for a lovely farewell instead. Whether you are trying to project a rustic vibe or a joyous winter wedding vibe, cowbells will be perfectly fitting! And if all you're after is a pretty tune, feel free to use any instrument in its place, including tambourines, maracas, and even kazoos.
Paper Planes
Imagine as you and your partner approach the getaway vehicle, paper planes are flying back and forth in the backdrop. We're also not referring to the paper aircraft you made in geometry class in the eighth grade. Create yours from craft or origami paper in complementary colors to your wedding theme. It's one of the most imaginative, one-of-a-kind suggestions for a wedding send-off, and is whimsical and charming in the most unexpected way. If you are planning a travel-themed wedding, it can't get better than this!
Provide your guests with hand-held smoke bombs or arrange for a professional to detonate them on cue and send them scurrying through colorful clouds that range from delicate wisps and plumes to a full-blown, ethereal backdrop. You can even plan your escape so that your getaway car passes through the veil. However, check with your venue first and only use this outside. A photographer should be informed in advance of your intention to utilize the colors because they may stain clothing.
The wedding can be tailored and personalized with the use of flags and pennants. Simple flags in your wedding colors are a simple way to declare your love for a team or alma mater. You can also display your new monogram or crest. This couple had visitors wave flags with their monogram initials, an insignia that has special value to them, encircled by a laurel wreath.
Bridal Processions
Bridal processions are a cultural staple not just in NOLA but also in Mexico and other Hispanic nations. They traditionally involve the wedding party and guests. These are celebrated with a lot of hooplas, featuring mariachi bands, professional dancers, and group tequila shots along the way.
Feathers
Consider sashaying out in a Gatsby-esque tornado of lavish feathers if full-on glitz is more your thing. Have guests fling them into the air as you pass by so they drift and tumble about dreamily. Alternatively, you can have your guests waving long feathers as you waft off toward your happily-ever-after.
Candles
Candles are not just for the wedding decor indoors, and make beautiful send-off props as well! As you and your partner can go through a tender sea of candlelight, your visitors can light the exit with sensual pillar candles. You may even take the hands-free route and make a candle-lit aisle as your guests rave over you two. Dark settings and late-night gatherings are ideal settings for a little romantic glow but kindly think about using votives to preserve the flame.
Glow Sticks
Bring your glow sticks from the dance floor to the send-off for the wedding! This vibrant and entertaining choice is a fantastic way to illuminate your exit at an evening wedding. This wedding departure concept has a variety of alternatives; guests can wave wands, don silly sunglasses, or make necklaces and bracelets. There are countless options.
Biodegradable Confetti
It is a responsible way to celebrate. The quality confetti is 100% water soluble, making it suitable for most venues and the environment. The lightweight material and round form produce an amazing slow fall. This biodegradable confetti is entirely natural, eco-friendly, and biodegradable! Beautiful fragrances of dried flowers and natural flowers fill the flower wedding toss. This is excellent for use as confetti.
Streamers
Give your guests colored streamers to wave at you as you exit with your sweetheart. The vivid hues will make for spectacular wedding photos, and you and your newlywed spouse will have a lot of fun navigating through them. Of course, you can match the streamers to your wedding's color scheme.
In addition to providing a faint aroma, delicate lavender buds are a wonderful addition to romantic or pastel color schemes. Ultra-convenient prefabricated lavender bridal toss tubes are available on Etsy. Alternatively, you can choose pre-filled sachets that double as lovely escort card holders. Then let visitors collect them. If lavender is not your thing, you can also go for other herbs for the perfect fragrant exit with your lover!
Hot Air Balloon Exit
If you are the kind of lover who likes big gestures, what can be better than a hot air balloon ride? A hot air balloon ride towards the end of the night would in fact be the perfect ending to a perfect night and provide a greater vantage point.
Water Exit
Speaking of unforgettable wedding exits, you can't go wrong with riding off into the sunset with your lover in a love quote. You can wave goodbye to loved ones on shore as they depart on a boat as the sun sinks into the water lines.
LightSaber Exit
Are you a Sci-fi fan? That's awesome! This opens up the opportunity to use lightsabers on your wedding day. Give your visitors glow sticks to wear, and instead of the usual sword sabers, have them stroll through with a pair of lightsabers. Now that's a wedding that your wedding guests will not forget for a long time.
Faux Snow
This might be the ideal option for your wedding reception exit if you're planning a winter wedding. Use white or silver confetti instead of a snow machine. This can be perfect if you want a winter wedding but you don't know whether or not it will snow on your wedding day. Using biodegradable confetti is something we advise. Make sure to inquire about the guidelines and criteria for your send-off from your wedding location if you plan to use a snow machine or confetti.
Pom Poms
Using cheerleading pom-poms for your send-off might be a great way to stage your grand exit if you are having a wedding that incorporates your college's colors or mascot into the theme. Cheer poms with your school's colors can be readily made at home or ordered from Etsy. You can also have pom poms made with your wedding colors in mind if the school or college sports have no significance to your love story.
Exit By Elevator
So you want a glam and cinematic exit which is full of drama and intrigue. Agreed you might not want to throw anything or the venue might not allow visitors to throw confetti on neighbors' doorsteps or in the halls. A spectacular photo opportunity still exists near an elevator exit. Bear in mind to kiss for that perfect photo!
Instruments For Percussion
To commemorate your special day, do you want your visitors to create a musical uproar? Including pleasant percussion instruments like maracas and tambourines will result in a lively departure. You may also add your name and the date of your wedding to create a unique keepsake for your guests to take home. This is a wedding favor and a wedding exit all rolled into one, a beautiful way for your guests to look back at your special day!
Ideas For A Natural Wedding Send-Off
Olive Leaves: Begin your marriage with a send-off in Mediterranean fashion. Since the time of Ancient Greece, olive branches have stood for triumph and peace, and using them as natural confetti for your guests to throw can be gorgeous and perfect for a greenery-centered wedding day.
Petal Pops: For a send-off full of flowers and seeds, you can make these do-it-yourself floral push pops. As you and your partner are running for the getaway car, have your photographer take a picture of guests waving their push pops and then letting the contents fall onto you and your partner.
Dried Flowers: This environmentally friendly wedding departure also serves as a fun craft. Prepare cones filled with dried flower petals for your guests to toss in the months preceding the wedding. Create your cones using recycled paper, and they can be later recycled once again.
Birdseed: Provide the birds with a tasty treat to consume. Love birds can be sent off with a simple birdseed toss that requires no cleanup. They are perfect treats for birds to enjoy after the wedding day and are sustainable!
Wedding day details, from the getting ready, the ceremony to the wedding exit, are all equally important and need attention and forethought. The wedding exit is like the perfect wrap-up to the experience of a lifetime that a wedding is. It's like the bow in the present, the final bow-down, and the last spark of magic on your wedding day. However, a wedding exit is not usually as well thought out as it should be, considering its significance. It doesn't have to be the last minute detail or an afterthought, and can in fact be a beautiful detail that you and your loved ones will remember forever. We hope the plethora of wedding exit ideas in this blog allows you to be more experimental in your wedding exit choices and be more creative!