The Elegant Minneapolis Fall Wedding of Jantzen and Vicki at Hotel Ivy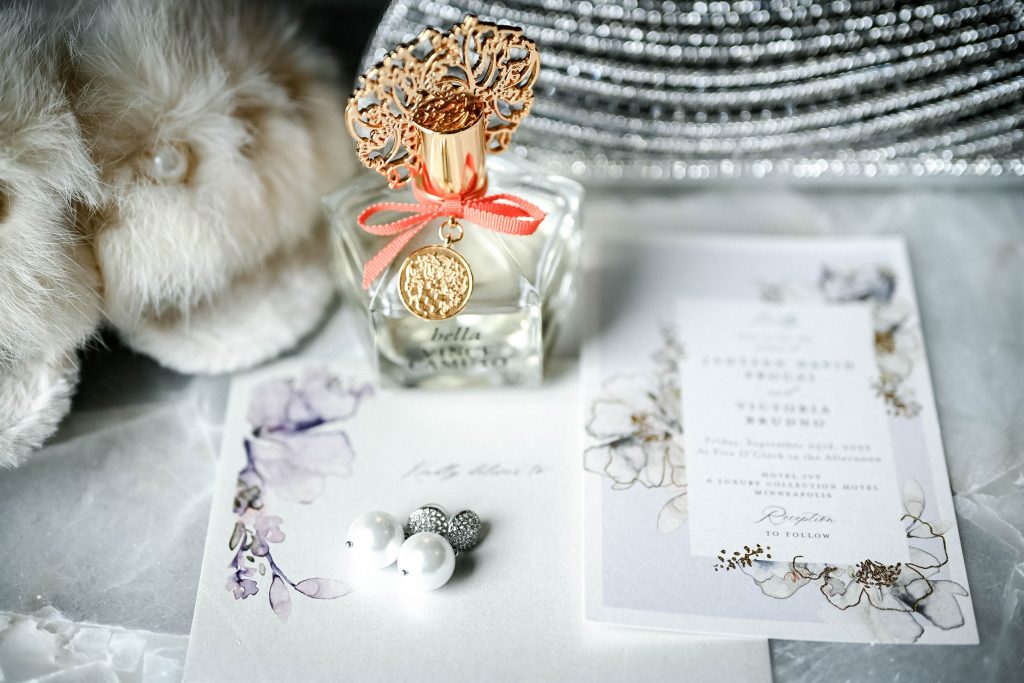 Weddings are lovely all year round, but fall weddings stand out because of their bucolic and rustic charm! Simply put, some enchantingly romantic fall wedding celebrations make our hearts flutter a little more. The hayride and cinnamon spice seasons combine to produce elegant fall wedding details that are finished with Halloween wedding inspirations! Autumn weddings are especially lovely and ready for the Gram during this time because the weather is starting to cool down and the changing leaves of nature are revealing rich and vibrant bucolic wedding color palettes. The most popular months to get married are September and October because of all the dramatic fall wedding flowers, gorgeous fall vacations with stunning views, and distinctive décor themes. A fall wedding can feature a variety of fall-inspired seasonal cocktails topped with mulled wine and apple cider, the prettiest fall wedding décor elements in some of the coolest shades of the rainbow, and a deep and vibrant wedding color palette (orange, red, yellow, and more!).
It is truly amazing to celebrate the most important day of your life during the most wonderful season of the year. Weddings during the fall season are absolutely stunning, and planning an autumn wedding close to Halloween and Thanksgiving is the ideal way to incorporate the festive spirit into your big day. From the amazing Thanksgiving-inspired wedding menu ideas to the breathtaking Halloween-inspired wedding cocktails, hosting a fall wedding is the best way to enjoy all that the amazing season has to offer. Everything comes together under one roof to create the ideal cozy wedding setting with an unmissable delight, from gorgeous fall wedding colors decking out every corner of your reception to cozy and warm wedding details that make us nostalgic about piping hot coffees, crackling fireplaces, and ugly sweater parties.
Fall is undoubtedly the most beautiful season of the year. As the summer months quickly pass by, couples worldwide begin to explore the countless options for having a fall wedding. After all, this is the season when gorgeous, vibrant flowers like dahlias, marigolds, and zinnias bloom in nature, pumpkin desserts, drinks, and reception spreads become popular, fresh fruits like pears, pomegranates, and apples inspire all-white wedding cake designs with rustic touches, and dark, moody wedding themes become popular on social media. We adore the cozy and relaxed atmosphere of rustic weddings, which goes beyond the general seasonal beauty, more than the outward aesthetics. From couples looking for rustic fall barn wedding inspirations for a dreamy event to couples embracing distinctive autumn wedding color palettes with warm tones, couples are getting creative about reception entertainment and introducing personalized corn hole games.
One of the hottest wedding trends that will endure is the chic rustic wedding. The endearing fusion of ethereal, vintage, country and rustic wedding styles frequently translates into autumn celebrations with the foliage of the season as the backdrop, with plenty of hot drinks, soft blankets, and romantic candlelight at reception tables. Unique woven elements, floral-adorned tablescapes, wooden backdrops, and farm-to-table reception menu ideas are a few examples of rustic and popular fall wedding themes. Why not incorporate the best of this time of year into your fall wedding décor? The promise of what's to come can leave you starry-eyed, whether hessian table runners and fairy lights speak to your soul or ever-popular barn wedding venues and exquisite and stylish wedding flower trends sing to you. If that sounds all too familiar, you might be looking everywhere for fall wedding inspiration to make your autumnal nuptials an unforgettable occasion. Nothing is more enjoyable than an autumn wedding festival, and nothing is more worthy of celebration than love.
Is there anything more romantic than a September wedding, whether you are looking for a Mediterranean seaside wedding or going for a cozy and calm Lake Como vibe? The beauty of this enchanted season is evident in the fall wedding photographs, which give every portrait an almost whimsical appearance. There are many good reasons why getting married in the fall season in a beautiful wedding location can be the ideal beginning for your union. The opportunity to host a wedding with warm, vibrant lighting, rustic wedding details, and holiday-inspired cocktail beverages can be ideal for those getting married in this romantic season!
This is probably the reason our lovely couple Vicki and Jantzen chose to marry with chic accents and believed in the magical glow of this season. We met the stunning couple on a clear and crisp September morning in 2022 as they took their first steps toward "forever" and took our Minneapolis wedding photographers on a joy ride! With striking all-white wedding details like white bridesmaid getting ready dresses and white wedding shoes, to the elegant white wedding invites and clear wedding accents turning the entire setting into a magical fall wonderland, photographing their fall wedding with classic white and black wedding details gave our romantic hearts a gleaming glow. As distinctive as they were individuals, Vicki and Jantzen also hosted a wedding that appeared to have been taken straight from a fairy tale with a storybook backdrop.
It was a crisp autumn morning, and the sun was shining brightly, enveloping everything it touched with a welcoming aura. Our premium Minneapolis wedding photographers began documenting the major and minor details of this picturesque fall wedding bright and early on the morning of the wedding. The beautiful black in black and white wedding details that were meticulously planned and executed by Jantzen and Vicki were revealed in the wedding portraits of this magical day. All the details that were captured by our talented wedding photographers in Minneapolis showcased the nuances of the dark and moody autumn color palettes with a dash of chic and sophisticated details, serving as a testament to an amazing fall wedding planning session.
Jantzen and Vicki decided to get ready for their wedding and take wedding group portraits before going on for their first look before the wedding ceremony. The glamorous wedding photography session in Minneapolis first started with a few detailed shots. The stunning bridal accessories in white and cream were highlighted in some of the intricate wedding portraits that were taken prior to the wedding ceremony. These up-close detail shots revealed the immaculately white wedding details, including the crisp white wedding invitations, the stunning white bridal shoes, the lovely bridal earrings, and the shiny wedding bands. Another close-up shot showed the statement welcome sign with gold gilded details that said: "Welcome to the Wedding of Jantzen and Victoria" along with their wedding date. The chic white wedding dress sparkled like a diamond in another bridal dress shot! The Minneapolis wedding photography session also revealed the statement-making couple's portrait watercolor painting that was placed alongside their welcome table.
Our stunning couple Vicki and Jantzen went on to orchestrate their first look in the grand staircase of this elegant wedding venue in Minneapolis. The first-look portrait looked straight out of a fairy tale as our groom waited patiently for his love to show up and tap on his shoulder! We could see their eyes shining bright like diamonds as they saw each other for the first time in their wedding get-up. It was a brilliantly orchestrated moment of this wedding. The groom portraits and the bridal portraits were also equally stunning that were captured just moments before the first look. This was the first time we saw the wedding venue. Hotel Ivy wedding venue in Minneapolis needs no introduction
The iconic and exquisitely refined Hotel Ivy in Downtown Minneapolis is the ideal setting for your private affair. Their top priority is to adjust the plans to suit the couple's unique requirements and make their ideal wedding a reality. The personal event manager can be your golden thread by establishing emotional touch points through design, cuisine, and service. This sleek and sophisticated Minneapolis hotel wedding venue is surrounded by the vibrant energy of the city and combines historic elegance with ultra-chic design and cutting-edge technology in a fantastic location right in the heart of the city. Choose between the intimate glamor of the Penthouse Suite, which offers an unrivaled view from its rooftop balcony, or host a sophisticated gala in the Grand Studio, which features vaulted ceilings and a stunning illuminated wall.
With so many special offers, you can plan your Minneapolis wedding in the Hotel Ivy style. Their chef-inspired wedding menus capture Minneapolis's gastronomic spirit with regional and international influences. So say "I do" in a charming setting with delicious catering and exquisite décor. Walk down the aisle in a setting of classic beauty and romance. You can even visit the hotel's tranquil on-site retreat, Anda Spa, for a luxurious escape from the hustle and bustle. The spa offers the best massages, body treatments, facials, and other services. The Grand Studio, a loft-style event space that is a remarkable fusion of old and new coming together as one, is a truly exceptional and unmatched space. It is on the third floor of the historic Ivy Tower, and features exposed columns and ceilings with modern industrial lighting accents. The Hotel Ivy wedding venue will create a glamorous event that fits your individual style and personality, whether your preferences are traditional or modern.
As Vicki prepared to marry the love of her life, the emotional and priceless bride-getting-ready portraits emerged, filling our hearts with so much love and appreciation for the couple. The bride and groom practicing their wedding vows were expertly captured in wedding couple portraits by our Minneapolis wedding photographers, who successfully conveyed the anticipation and emotion of the soon-to-be couple. With its understated beauty and stunning simplicity, Vicki's bridal attire undoubtedly stole the show. It was a long, flowing wedding dress made out of ivory silk with illusion details and seamless front details. Our stunning bride's elegantly understated wedding gown swept the floor like a dream as she accessorized with a long, flowing cathedral veil. Her auburn hair was left open with curled wisps adorning both sides of her face, and the minimal bridal makeup was flawless. As she prepared for the most important day of her life, her pale and nude lip color and deep eyes spoke a thousand words without saying a word.
As the wedding parties had their priceless group wedding portraits taken by our Minneapolis couple wedding photographers just before the wedding ceremony started, this wedding day with a sophisticated touch unfolded beautifully. The bridesmaids of Vicki were decked out in stunning cream-colored bridesmaid dresses with long, flowing details below the waist and wrap-around front details in the front. The charming white and greenery wedding bouquets, which featured white roses with cascading greenery, were paired with the color-coordinated bridesmaids' dresses. These breathtaking bridesmaid bouquets with a classic theme essentially complemented the aesthetic of the wedding.
When it came to nailing their fashionable looks, the groom and the groomsmen didn't lag too far behind. Jantzen, our handsome groom, sported a sharp three-piece black formal wedding suit. He wore a black bow tie, a crisp white shirt, and shiny black groom shoes, and his hair was neatly combed back for the perfect groom look. The groomsmen were attired in formal black groomsmen suits, crisp white shirts, and shiny black ties to convey the message that "we are official!" Before the wedding ceremony started, the groomsmen and bridesmaids took turns posing for stunning group wedding photos.
Our hearts danced with joy for their passion for one another as Jantzen waited at the altar for his love to appear at the end of the aisle. The atmosphere was filled with cheer as Vicki walked down the aisle looking like a dream and wed her Prince Charming! It showed how even on the darkest days, there are some people who shine the brightest. They were finally pronounced husband and wife and our hearts were bound by sheer happiness!
The wedding party came back together for an amazing group photo shoot. The bridesmaid and groomsmen portraits were so exquisitely coordinated with the wedding theme that they appeared to have been taken out of a magazine. After the wedding party dispersed and began preparing for the reception, our Minneapolis wedding photographer took advantage of the time to take some stunning couple portraits around the neighborhood. The day was made enjoyable and memorable by Jantzen and Vicki's stunning wedding photographs. From the stunning cityscapes blurring in the background to the dreamy magic created by the newlyweds, everything was spellbinding about the Minneapolis couple photographer session.
The newlyweds were captured during their stroll through the Downtown Minneapolis neighborhood in perfectly timed poses during the modern and minimalist wedding portrait session. Witnessing the chemistry of this endearing Minneapolis couple as they set out on a blissful new journey together was a truly beautiful experience for us. Everything came together and tugged at our heartstrings harder than ever, making us list our favorite must-have wedding photos in every nuptial affair.
Then came their wedding reception, which was held at the same wedding venue. Every once in a while, we come across a couple who instantly lightens the mood with their positive vibes! With their adorable smiles and inviting personalities, Vicki and Jantzen gave off the impression of being one of those couples who would embrace life as it came. This impression persisted even in the wedding album. From the way Jantzen looked at Vicki as she walked down the aisle to the way Vicki embraced her beloved soulmate in an effortlessly cozy and embracing way, the newly discovered wedding joy was evident throughout their wedding day.
As Vicki and Jantzen led us on such a romantic journey on a cozy fall day during the wonderful season, they appeared to be exactly mimicking the season. They gave off the impression that they would carefully and thoughtfully navigate the uncharted waters of marriage. Their affable smiles bore witness to this. Here's to one of the most entertaining and original couples we have ever photographed. We hope to do many more in the future.