Unique and Personalized Wedding Ceremony Ideas To Consider!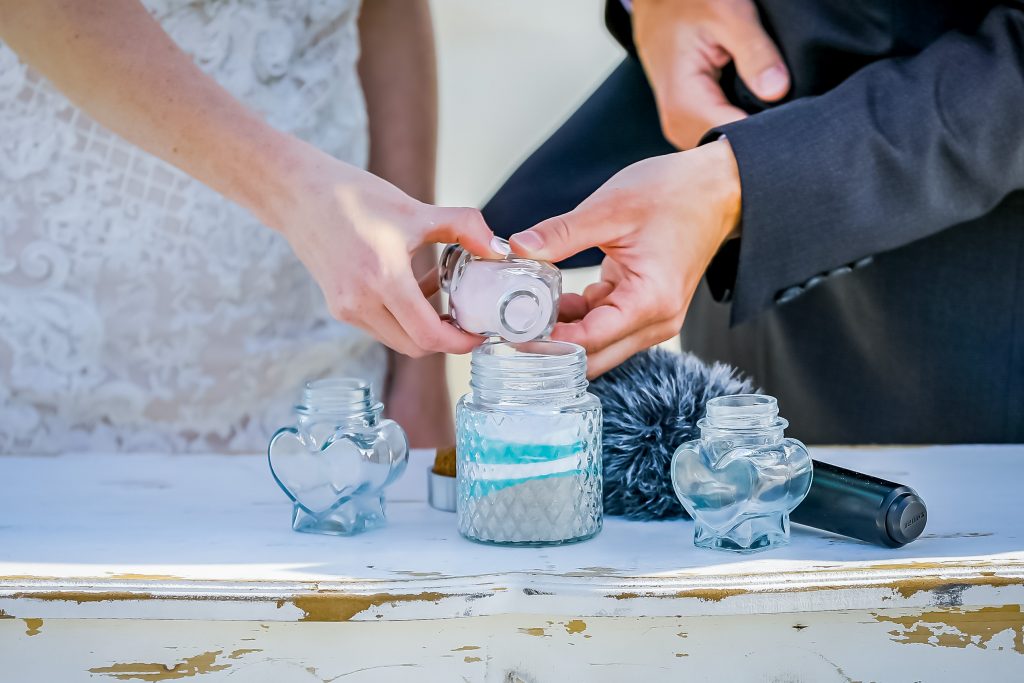 While your welcome table might receive plenty of impressed gasps, and your brilliantly selected color palette might win your wedding guest tremendously, we all know it's the wedding ceremony that is the main event of the wedding day. The entire wedding day is a build-up to the wedding ceremony and the wedding reception is the fun part that follows the ceremony. After all, aren't your friends and family gathered under one roof to witness your vows? Your vows happened to be the highlight of your wedding day, and a memorable wedding ceremony is something that your guest will always talk about for years to come. While there is no denying the importance of wedding ceremonies, they do tend to run a little dry when it comes to creativity. Most couples go for the simple wedding ceremony ideas which are still special but can be a tad forgettable. What if you can make your wedding ceremony unique and personalized to suit your specific personality?
The ideas below highlight some of the most unique and personalized wedding ceremony ideas that you can take inspiration from. From handing out cool wedding favors to arranging for a pre-ceremony cocktail; from walking the aisle in an unusual way to writing your own vows, the options are endless! Read on for some fun ideas below!
Make the Program Your Own
The wedding program says a lot about the couple so feel free to have fun with it. One of the easiest ways to personalize your wedding ceremony is by making your own programs. You should first create (and print) a customized program for your relationship. Include fonts you adore, trivia, readings, and song choices that have special meaning to you. Adding personal details to your ceremony programs, such as trivia about your special guests, pictures from your engagement session, a hand-drawn map of your travels together, or anything else that sets the mood for the wedding. For a creative approach to keep your guests cool throughout the wedding, transform your programs into paper fans. Go For a wedding program that tells your story in a unique way while still being practical in its purpose.
Pre-ceremony Cocktails
Wedding ceremonies are one of the most official events of the wedding day and it is obvious that one might get a little nervous. If you feel that your wedding party is a little on the edge, a round of pre-ceremony cocktails can surely unwind the nerves a little bit. Before the wedding, host an hour-long cocktail party to kick off the celebration as soon as guests arrive. This will allow everyone to get to know one another and guarantee that everyone will arrive in time for the main event. Serve only one festive cocktail or glass of champagne to keep things simple. Later on, you'll have more time for drinks. To establish the tone for the evening, we always recommend passing around trays of champagne, sparkling water, and possibly a fun, simple drink. Everything is dependent on the atmosphere the couple wants to create for the evening.
Put Favors On Your Guests' Tables
There is something about variable wedding favors which is completely enchanting. Give boutonnières and flower hair clips to your guests as they walk into the ceremony sites so that they can wear them during the ceremony. You can place them on trays near the start of the aisle for the wedding. Wearable favors are a terrific way to create the right atmosphere if your wedding has a specific theme. This will also extend an opportunity for you to take your wedding theme forward and include a fun detail!
Create Thank-You Notes In Advance
Why keep the thank-you notes for later when you can give them out upon arrival? This is a thoughtful little detail that will cheer your guest up even before the ceremony has begun. Just having the guests arrive at the wedding venue is enough for you to thank them so there is no real reason why you should wait until the end of the event. You may make guests feel welcome from the moment they arrive by writing them personalized cards and leaving them at the ceremony entry. Another benefit of sending cards is that you can avoid the receiving queue during the reception, allowing you extra time for pictures.
 Give them praise because you value them and it will make their performance more enjoyable. You can dress them up like angels, or have them walk the aisle and say "Just wait till you see her," You can set up a table with crayons, markers, glitter, and other materials so that the flower girls could customize the sign while the other girls were getting their hair and makeup done earlier in the day. It becomes even more special as they bring the scroll down the aisle. If your flower girl loves ballet, have them twirl down the aisle in a charming ballet costume!
Select A Moving Processional Song
Why go for a song off a list when you already have "your" song? You will never regret it 10 years down the lane if you choose a song today which means something important to you, whether it's a song that was playing in the cafe where you met your soulmate or a particular song that you like to dance to. Select music that resonates with you and your connection and you can never really go wrong with that. This way you will also love putting your wedding film on your anniversary years down the lane and smiling at the memories, essentially making that special song even more so.
Walk In A Non-Traditional Manner
After all, rules are meant to be broken. Break with convention and accompany your partner down the aisle. It's a touching and lovely way to begin your new life as a couple. You can also plan for a fun walk down the lane with your bridal party, or surprise your guests by dancing to your favorite beats as you and your lover walk down the aisle together hand in hand
Invite Your Pal To Officiate
No religious ceremony being performed? Ask a buddy to officiate your wedding. Nowadays it is pretty easy to be eligible for officiating a wedding, so look into those details well before the wedding ceremony. You can get married by yourself if you live in Colorado or certain areas of Pennsylvania.
Change the Ceremony's Seating
Arrange chairs for the guests around the altar in a circular pattern. You'll experience affection all around you and it's a fun way to change things up. Alternatively, you can weave through your guests while the processional is taking place. When the venue's layout permits, you can also make winding aisles. In addition to getting to pass more guests than if she were to walk in a straight line down the aisle, a winding entry sure is memorable and fascinating!
Make Your Own Vows
The vows are a significant part of the wedding ceremony. You can transform these into whatever you like, but we like the thought of you reading aloud passages you've written to one another or making vows together. Writing your own and giving your wedding ceremony a more personal touch. But whatever you decide to do, be sure you're on the same page to guarantee that they're the same length and evenly balanced between romantic and humorous.
Different Options To Readings
 how about giving your traditional readings a more fun twist? Ask a few folks to come up and provide their marriage advice instead of using the standard readings. Make sure to kindly request that they keep their speeches brief. Do you know somebody with musical talent? Instead of reading at the ceremony, request that they perform a meaningful song.
Dance To Seal The Vows
Don't save your first dance till the reception. It might be really romantic to exchange your vows cheek to cheek. Alternatively, you may speed things up by dancing joyfully down the aisle. They insert a much-needed fun angle into your rather formal wedding ceremony setup.
Make your first toast as husband and wife after the ceremony by having the ushers pass around your preferred beverage. If you don't want to wait until the wedding ceremony for the cocktail hour to finally have that celebratory drink, the perfect moment to have a toast is right after you are declared married!
If it is feasible, arrange for guests to walk with you from the ceremony to the reception, accompanied by a lively band. You can devise a smart method for people to travel from the ceremony to the reception venue, which is only a short distance away. The bride and husband can be followed by a marching band and all of the guests can follow them until they reach the reception area!
Honor Your Loved Ones
A small homage to departed loved ones can be a kind and heartfelt action. Some suggestions include displaying a picture of the guests on a chair in the front row or putting their preferred flower in the ceremony's decorations. Additionally, you might mention their names in your programs or add a reading or interlude to a favorite song or poem.
Consider Your Rings
It is always a nice reminder to talk about your wedding rings during your wedding ceremony. Your officiant can make reference to the particular significance of your wedding rings over the course of your ceremony. Another custom we prefer for intimate weddings is passing the rings around the crowd so that everyone can bless them individually. If you have a special wedding ring box that holds special significance to your family or your sweetheart, it might be a great idea to include that at this moment.
Include Your Pet
Your pet is an integral part of your life, which means you might wish to incorporate your pet in your ceremony because they are an integral part of your family. There isn't anything cuter than a furry buddy making their entrance down the aisle while dressed to the nines, of course, you'll need permission from your venue first. However, in some cases, you might be discouraged to include your pet during the wedding ceremony in which case you can have special decor elements dedicated to your favorite furry friend.
Find a Chair
While it's a little unique, there is no reason why you shouldn't have a chair for yourself and your fiance during the wedding ceremony. The best place to sit throughout the ceremony to fully concentrate on the readings and homily is frequently off to the side. When it's time to exchange vows and rings, stand up.
Painting Unity Ceremony
Create a straightforward yet distinctive work of art in the middle of your ceremony; this is perfect for artists and art enthusiasts both. Put two colors of paint on a small canvas, frame it, and hang it in your home as a reminder of the sentimental feeling and symbolic value of the same.
Wildflowers Guests
By incorporating a welcome area with wildflowers, you may allow everyone to accessorize themselves with your florist's creation. This is a thoughtful and environmentally responsible approach to honor your wedding's theme, and can be just perfect for a spring or summer wedding ceremony!
Include a Surprise
What better way to have fun with your wedding ceremony than to surprise your wedding guest with a little something? A little spontaneity will heighten the magic of the ceremony even further after meticulous planning. Sing a song, kneel down, or recite a memorized poem in front of your bride or groom.
Why not make your vows in front of your own moon? Consider using lit personalized artwork or rustic twinkle lights for your ceremonial lighting. Creative lighting decisions can escalate the entire wedding ceremony experience significantly.
Rooftop Weddings
A rooftop wedding ceremony gives you a front-row seat to the city's skyline and the stunning architecture of the nearby structures. Decorate with floral accents to balance the rooftop's simple form. While a more natural scenery like a beach or the mountains is more the norm, a jaw-dropping urbanscape can truly take one's breath away too!
Arrive by Boat!
Talk about a grand entry! Nobody mandated that you must travel down a conventional aisle or even an aisle at all! At your lakeside or seaside wedding, arrive in style by boat. This is especially fitting for a waterfront ceremony, and for a special surprise moment, you can still have your aisle all decorated, and arrive at the port by boat when your guests are released expecting you to!
Choosing a Favorite Book Passage
Sometimes when you are at a loss for words it's your favorite books that come to your rescue. Your favorite book likely has some of the most unique wedding vows. As an alternative to the conventional verses, read a passage from the author you often turn to. Alternatively, you can also get a few verses from your favorite poetry book, because is there anything more romantic than that?
Say Your Vows Together
There is something charming about the lovers saying their vows in unison as they look into each other's eyes. But for this to work out perfectly, your vows should be appropriate in length and duration. At the wedding, guests can read them aloud to one another. You may also read each other's vows one after the other. Wedding vows said together can cut down on the wedding ceremony time significantly.
Pre-Wedding Celebration
This idea is in line with the pre-ceremony cocktails, but hear us out. How about having a pre-ceremony celebration before you can take your vows? Arriving at a wedding ceremony and starting with the event straightaway can offer no real opportunity for the gas to mingle or relax. Having a pre-wedding celebration can help the guests to get to connect before the vows. This is one of the wedding ceremony concepts that are dependent on the wedding site. Historical settings or entertaining locations like the zoo, mountains, or beach are good choices for destination weddings and can be perfect for a little pre-ceremony fete before the ceremony! By giving visitors a tour of the location, you can give them memories. They have time to do this before the ceremony begins.
Wedding ceremonies have a way of being sentimental and unforgettable, even if you have witnessed a sea of weddings. Every couple is different and hence every wedding ceremony is unique and special in its own way. While a couple is going to treasure their wedding ceremony for years to come, having a fun and personalized ceremony can also help the guest think of the event in a fond way with great memories in their mind. The purpose of having a personalized wedding ceremony is not to necessarily do things differently but to claim the day as your own. By adding special twists and unique personalization details, you get to make the wedding ceremony truly yours. We hope the ideas mentioned in this wedding could inspire you to do something unique and personalized for your wedding ceremony too.