Inclusive Bridal Party Brands For Your Gorgeous Girl Gang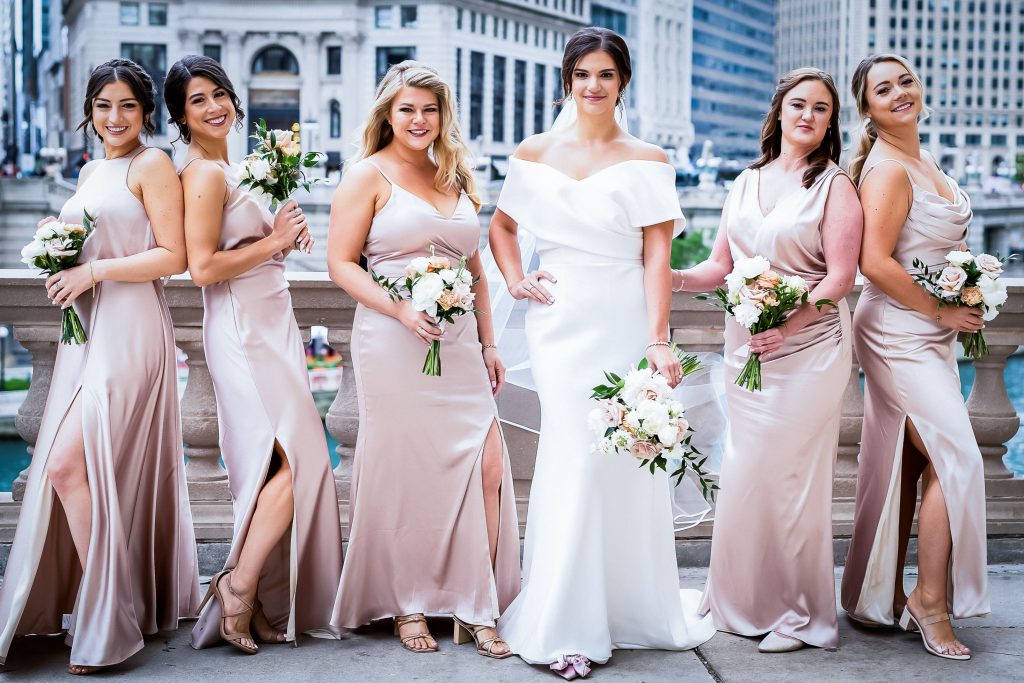 Your wedding day is a celebration of love, a celebration of a new beginning, and the perfect day to dress to the nines! Since the day will not only be something to remember for you, but also for those who are close to you, it only makes sense for you to find the absolutely perfect wedding dress and a stunning dress for your bridesmaids. If you're looking for plus size or size-inclusive wedding dresses for your wedding, then this is the blog for you! We understand that not every size-inclusive wedding brand is not everyone's cup of tea, which is why we have a list that includes a variety of different brands and lovely ideas for you! The list will include designers, brands, and boutiques for you to choose from. And we have made sure to compile a list of some of the best options, a list that helps you find wedding dresses in different styles that our list has something for every reader!
Bridal Party Shopping Made Easy with these Size-Inclusive Brands 
The list below will take you through a list of different size-inclusive wedding dress brands. We will also throw in some bridesmaids' dress brands as well.
Anne Barge 
We love Anne Barge because it is, firstly, a woman-led business. Blooming with new ideas, the wedding dresses are fresh. Size inclusivity does not get better than this, because the brand makes designs into sizes 0-22 and 16SP-24SP. Along with this, the dress samples from the brand usually range between the sizes of 8 to 20. The brand has multiple collections on the website, all of which differ in style and type. The most interesting thing about the brand is that, regardless of your preferences, you'll find something that works for you here. If we had to express what the dresses and designs look like, we'd like to say they look simply elegant. If you're looking for a chic design for your regalcore wedding. Apart from this, for those who want to go for a bolder look, even so, the website has many other designs. Anne Barge is the one-stop destination for a bride looking for pretty much any kind of dress!
Martin Thornburg 
Another designer bridal dress store that we love is Martin Thornburg. The website is full of amazing wedding dresses! One of the best things about this brand is that the dress designs are eloquent and perfect for any stylish bride. From sheer wedding dresses to curve-hugging bridal dresses, this brand has it all. One look at the collections, and you will fall in love with the designs! Apart from this, of all the designs on the website, we totally adore the mermaid wedding dresses. There is something exceptionally magical about Martin's mermaid wedding dresses. Also, the layered wedding dresses on the website are very flattering. If you're not sure of which dresses to pick out, perhaps starting there will help you out! The brand's wedding dresses are perfect for an elegant wedding. What we love the most about the collections from this brand is that almost all of the dresses can be paired with wedding veils to add an extra touch of finesse.
Christian Siriano: Perfect for Brides and Bridesmaids
Christian Siriano's work needs no introduction. The fashion designer, who worked under Vivienne Westwood and Alexander McQueen in the past, launched his label in 2008. And since then, his work, his designs, and fashion shows have been nothing but an absolute delight. In 2017, Siriano launched his bridal collection and followed it up with an expansive line of bridal dresses in 2021. However, more recently Siriano launched yet another bridal collection with more sizes, up to size 28. On more sizes being included in his collection, Siriano stated that he wanted to provide dresses to anyone regardless of size, age, and gender. His most recent collection, like his previous ready-to-wear bridal pieces, is a beautiful blend of eclectic and elegant styles. With a variety of colors in wedding dresses to all-white wedding dresses, the collection has something for every bride. Apart from this, there's more to Christian's collection. Apart from the wedding dresses, the brand has a lot of other dresses and outfits which can work perfectly well for your bridesmaids! Depending on the wedding theme, you can choose a bridesmaid dress from the collection. If you need inspiration, before you buy bridesmaid dresses, you can have a look at Siriano's website.
Amsale: For You and Your Bridesmaids
Although most of our options have been interesting and lovely brands with specific collections directed toward brides and bridesmaids, this one is a little different. Amsale, with more than three decades of experience in the industry, has collections of stunning wedding dresses, and beautifully stylish bridesmaid dresses. The brand's website showcases the brand and its offerings. Apart from these options, there's more to the brand. The brand recently launched a digital innovation, which is most likely to change wedding dress and bridesmaid dress shopping forever! Calling it Amsale X You Bridesmaids, which is an amazing designing tool. This tool is bringing the perfect wedding dress to your fingertips by allowing you to choose the bodice and the skirt style. The designing tool was crafted to help you customize your wedding dress and bridesmaids' dresses as per your tastes!
Galvan: For The Trendy Bridesmaids 
Galvan is a UK-based brand. Established by four women for women, the brand's unique selling point is trending and elegant dresses. The collections boast a lovely range of dresses. And recently, the brand came out with a collection just for bridesmaids, and trust us when we say it is just perfect! The beautiful bridesmaid dresses from this brand come in a variety of styles, looks, and fabrics. If we're being honest, we love everything. But if we had to pick our favorite out of the stellar collection, then it would be the satin dresses! The dresses are size-inclusive and boast a wide selection of dresses in a variety of sizes, colors, and styles. Other than this, the brand's website also has a list of approved US-based stockists, which will definitely make your bridesmaid dress shopping experience super easy! And let's not forget, this brand has a lovely collection of chic and especially trendy wedding dresses for brides. You can use these dresses for pretty much any season, any type of wedding you decide to throw! And if you're an unconventional bride or you're looking to wear a wedding suit or wedding jumpsuit, don't worry the brand has something for you in that department too!
Mark Ingram Atelier is one of the best places to treat yourself to your dream wedding dress. This wedding dress boutique is not only famous for its impeccable designs, but also for its interiors and ambiance. The reason why this boutique makes it to our list is that you'll find dresses from many designers. Mark Ingram Atelier boasts a collection of dresses from designers such as Romona Keveza, Ines Di Santo, Monique Lhuillier, Viktor & Rolf, Elizabeth Fillmore, Lela Rose Bridal, and Vera Wang. What's more, Mr. Ingram's home-grown brand, Mark Ingram Bride. One look at the website will have you swooning over the designs. With a collection of delicate wedding dresses, the boutique offers you an experience along with the perfect dresses. Above all, as of now, the boutique in Manhattan offers bridal dresses up to size 18. However, Ingram's boutique also states that they have fitters who can use muslin and other methods to make any dress of the bride's size. Ingram has stated that keeping dresses in every size is important to them. So, apart from ensuring they have the dresses going up to the sizes the designers may go to, they also have a talented group of fitters to fit the dress to the bride's size.
Size-Inclusive Bridal Dress Shopping Tips: What To Remember? 
Before we conclude the blog post, we'd like to leave you with some amazing tips that will help you to shop for your dresses better. With many options, it is only natural to feel overwhelmed and wonder which dress or brand, or designer to choose. As wedding planning can have you mapping out different things, from the wedding venue to your honeymoon, you can be here one minute and in a different place, planning your wedding's food menu in the next minute! And this is why we know some of the most obvious things when it comes to bridal dress shopping can slip off your mind. Since we want you to look your best, we have compiled a list of some amazing tips to remember:
Call Before You Visit The Store 
One of the most important things to remember when you're looking for a size-inclusive wedding dress is to remember to call the wedding retail store! Since by this time you would have already researched the brands, websites, and stores, you'll know exactly where to go. That said, even when you have a list of brands and websites, ensure that you visit the stores that have your size. Before visiting the store, just call them up real quick to ask if samples in your size are available. Because this will help you save a lot of time, and ensure that you visit the store when the store has dresses in your size.
Be Selective Of The People You Shop With
This advice may seem out of the ordinary things to mention, but remember not everyone is a great partner to shop with. Although it may seem a very movie-esque and fun-loving idea, it can go sideways very quickly. Make sure that you're only taking people who are really close to you. Furthermore, ensure that the friends and family members who have the best fashion advice and you trust their opinion, are with you when you step out to shop. Because when you're shopping for your wedding dress, not only will you need great advice, but you will also need support. Only those who are close to you will be able to give you the support you need.
The Tiny Bits and Bobs
One of the biggest things to keep in mind is that your wedding shopping is like shopping for any other valuable object. If you're looking for the perfect wedding dress or the absolutely perfect bridesmaid dress, then remember to keep the following things in mind as you shop:
•Wedding dresses or bridesmaid dresses are available in size and style! Most of the straight-size dresses are available in plus-size dresses as well. Even if you see that the brand you've picked out does not have the same dress in plus size, even so, you can place an order for your size.
•You can check out any wedding dress boutique or store. However, always remember that if the store does not have a collection for "plus sizes" or "curve options" then even if you're willing to pay for the expense, the boutique will not be able to create the dress you want. However, all is not lost, you can use the store to gain some inspiration! And then you can find a custom wedding dress designer to create your dream wedding dress!
•Although most of the classic wedding dress designers and shops offer size-inclusive bridal clothing pieces, most of them have the same, run-of-the-mill kind of dresses. If you want something elegant and simple, then these dresses can be perfect for you. However, if you're throwing a boho wedding, or have an elopement planned, then how about researching some more to find a brand that designs work for you? Apart from this, as we said earlier, you can also have the wedding dress or the bridesmaid dresses stitched as per your requirements.
That said, we hope that these brands and ideas help you find the bridal dresses that are just right for you and your bridal party! When you're shopping for your wedding dress or even bridesmaid's dresses, remember that your wedding color scheme should not be compromised. Of course, you can create some pops of colors with your dress choices. However, you cannot do the opposite. And if you want to choose a different color and step away from your wedding theme colors, then remember to add some details, or even a bridal bouquet to add the similarity of colors to your wedding look. That said, we hope the list of brands above along with the tips help you find the wedding dress you absolutely adore and feel good in.