Gorgeous And Trending Makeup Look For Black Brides!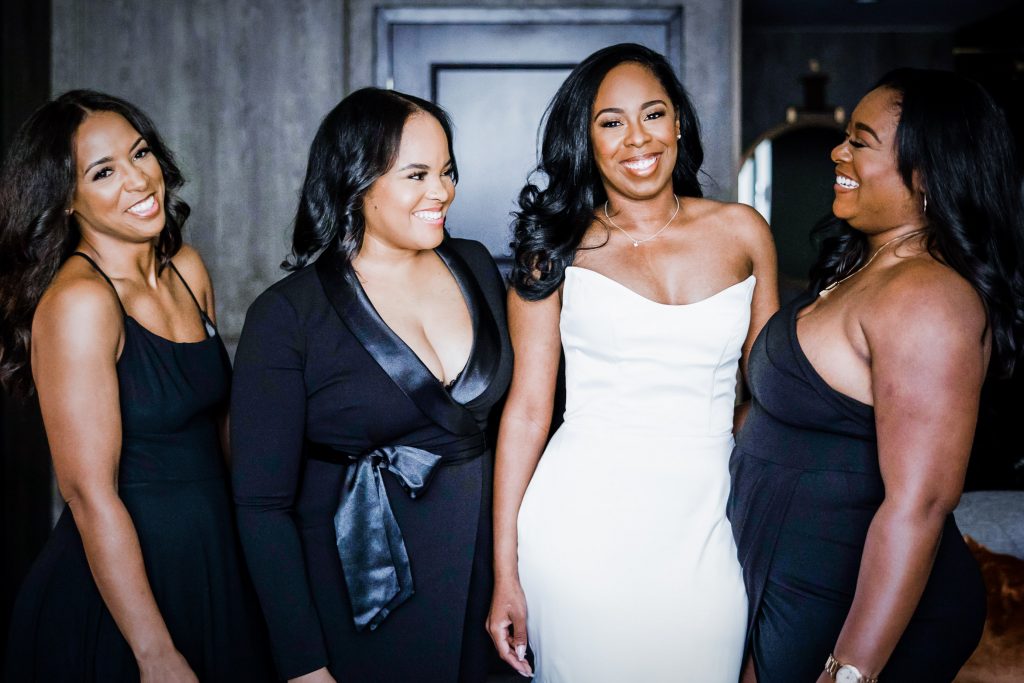 Your wedding is one of the most important days of your life, hands down. Since you will tie the knot in front of your friends and family, you will want to look your best. Apart from this, one of our biggest dreams, especially when you've planned your wedding down to the T, is to have fun and have even better wedding photos. And for that, simply covering the wedding planning bit is not enough, you'll need to go a little further. After you have your wedding details, the wedding decor, and the wedding menu settled, you'll need to smoothen out the other details, details such as your wedding dress, the bridesmaid dresses, the bridal makeup, and your bridal hair will have to be taken care of as well. However, this is easier said than done. See, when it comes to looking for ideas, there are plenty of bridal makeup ideas, but when it comes to looking for make-up ideas that look the best on African American brides, finding exactly what you want may seem like a difficult task. And that's why we have exactly the thing you'd need to finish your wedding ideas and plans! Today's discussion is going to be a few ideas for bridal make-up for African American brides and finish this blog with a few extra tips to help you choose the best bridal makeup ideas for your wedding!
One of the ideas that we love the most for African American brides is the completely natural makeup look. Natural makeup looks are always amazing, and we love it! Natural makeup will accentuate your look and your face. Usually, natural makeup is simpler and helps you accentuate the features, such as your eyes, lips, and cheeks. To be honest, natural makeup does not really use a lot of "super" bold makeup. When we say "bold," what we mean is simple: it does not use too many bright colors and is closer to your natural tone. So, when you're booking your wedding makeup artist, make sure that you let them know that you're looking for a natural wedding look. Your makeup artist may ask you a few questions or even ask you to show some photos of what you mean, so make sure that you have that before you speak to them. One of the reasons why we recommend a natural makeup look for your wedding is that it will go with any wedding dress that you choose, and will work well for any kind of themed wedding.
Rosy and Peachy! 
Another amazing wedding makeup look that goes well for any season, especially a bright wedding, is a rosy and peach look. When we recommend two ideas together, we do not mean that you have to have both of them together, in just one look. What we do mean is, you can go with either of these makeup looks. And if you're feeling adventurous, you can probably choose to have different looks for your wedding ceremony and wedding reception party! So, first, let's talk about the rosy makeup look! We recommend going easy on the cheeks, and paying more attention to the lips and the lipstick. This will help you get an even look for your wedding. You can tell your make-up artist to make your wedding look rosy, and tell them what you want. Another way to add some interesting touches to your wedding makeup is to use some glitter in your makeup. Additionally, for a makeup look with some depth, you For a peachy look, you have to follow the same idea, eyeshadow, and pretty peach lipstick. When it comes to a peachy look, make sure that you choose a softer look. This is especially important to keep in mind if you're choosing to wear a pearl white wedding dress or even an ivory wedding dress.
Romantic Soft Pink! 
If your wedding theme is romance and delicate details, then soft pink is your thing! We love wedding makeup ideas, and above all, we love a gorgeously soft wedding makeup look. Pink tones can be deep as well. However, a deep touch to your makeup look does not automatically mean that the entire look will turn out to be a darker shade, or even deeper. The pink shades can be used in balance, for example, a dark pink lip shade with soft blush and softer eye shadow will give you an amazing look for your wedding. To us, the appeal of this wedding look is the fact that it works for summer weddings, winter weddings, and even spring weddings.
Dramatic Smokey Eyes! 
Who doesn't love a bold and amazing look for your wedding? Well, one of the best parts about using this makeup idea for your wedding would be the fact that this will be perfect for any kind of wedding dress and will work for any type of themed wedding. Additionally, we usually assume that smokey eyes are all about "black" eyeshadow. However, if you're one of the non-traditional brides, then you can try a shade that is close to your wedding color combinations. If you love dramatic eyes and lips, then you can tell your makeup artist to help you attain this look. Another great way to add some interesting touches to your overall wedding look is to change the lip shade for your reception party. Changing only some parts of your wedding makeup will help you change the look, even if you're not opting for an outfit change for your wedding.
Trendy Vamp Red and Gold Glamor! 
One of the best wedding trends that we love is the "vampy red" look. However, we'd like to suggest taking it a step further when you're choosing this makeup look for your wedding day. There are a few ways you can use this makeup idea for your wedding look, you can use a vampy red look, with bright or deep red lipstick, and pair it with a gold bronzer for a great look. Another way to make your wedding look stand out is to use a lovely pinkish or reddish bronzer to add an extra layer of depth. Another idea that we recommend at least trying is to use red or a deep pink blush before adding your bronzer. This will help you intensify the look. Moderation in these shades is the key, please bear that in mind. What we love the most about this trendy wedding look can be paired with a simple bridal hairstyle and with bohemian wedding hairstyles.
Pretty Natural Bronze Skin Look! 
Our last recommendation on our list is the lovely bronze skin. We love this wedding makeup idea simply because it will never go out of style. Like, can you imagine, a lovely and glowy skin look going out of style? Ever? Well, we can't. We love this wedding makeup look for many reasons, but one of the biggest reasons why we love this idea is because it accentuates your natural features, and is exceptionally minimal. You won't have to worry about layering your face with different products. All you'll need is a good foundation, a primer, and a bronzer. Of course, your eye makeup and lip shades will have to be thought about as well. You can choose to go deep and bold, or you could go with softer looks, both of these types will look good! This makeup idea will work for indoor and outdoor weddings.
A few years ago, the world of makeup was a little different for the African American community. It was exceptionally difficult to find the shade that you like, and the foundation and contouring stick to work with your skin. However, today, different makeup brands have a wide range of shades, which works for your skin. Brands like Huda Beauty, Fenty, Bobbi Brown, Nars, Makeup For Ever, and Black Opal have an extensive range to choose from. That being said, makeup is a tricky conversation, especially if you're choosing a look for your wedding. Apart from choosing the right shade of foundation, contouring sticks, and lip shades, there are some more things to keep in mind. So, let's talk about some tips and tricks that will help you choose the perfect wedding look!
Look for Inspiration, Always! 
This may seem off-topic or too "obvious" but you'd be surprised how often we forget the "too obvious" things. Make sure that you look up some inspiration. And when you're going through Pinterest boards, and social media accounts make sure that they're close to your skin shade. And if not, you can look for some inspirational videos to help you recreate a similar look for your skin tone. Always remember, inspiration helps you in two ways, one is by giving you a proper step-by-step idea to recreate for yourself, and the other way is to help you inspire a different look with similarities. So, even if you don't find the exact shade, don't fret, you'll get something out of it.
Understand your Skin Tones 
When we talk about skin tones, we usually talk about the tone we see. And if you're doing your make-up or looking for ideas with that mindset, then you'd have a difficult time looking for what you want. See, your predominant skin tone is important. However, the undertones are just as important as well. Make sure that you understand those as well. This will help you understand the kinds of color correctors to use, and which shade of a color is actually your thing and appropriate. Understanding this will also help you to gauge the alternative colors from different ideas and inspirations that you shortlist. See, if you love a look, and you understand your tones, you'll be able to tell that the idea won't work with your skin tone, but with that, you will also know which colors and shades will help you achieve it!
Find the right Makeup Artist 
Understanding the kind of makeup that will look good on you is only half of the battle. The next step is to find the right wedding makeup artist for your wedding. A professional makeup artist will help you get the look that you need. However, for that, you will need to find the right makeup artist for your wedding day. Make sure that you do your research, and get in touch with the professionals. Remember, asking questions that matter to you should not be avoided. For example, don't be afraid to ask the professional if they have prior experience with people with darker skin tones. This should help you figure out if they'll be able to do a good job for you or not. Next, remember if they haven't had any experience with anyone in the past, don't be afraid to ask for a trial run, some makeup artists do it for a small fee. A trial will help you gauge their expertise and talents. Also, ask them about all the details, if they'll bring the products if they'll supply some things and you'll be responsible for other products, and more. This will help you avoid misunderstandings.
Remember the Flash 
When you're choosing your wedding makeup look, remember to consider the type of products you're using. Anything with even the slightest hint of SPF is a big no. Always remember that. SPFs tend to give your face a weird "whitish" look, which looks absolutely weird in your wedding photos. This will make your wedding photos look a little off, which is why we recommend not using any products with SPF in them for your wedding makeup at least. At other times, especially when you're sure that you are not getting photographed with the flash on, you can probably brave it out.
With that, we come to the end of our blog post. We hope that these ideas and tips help you find the makeup look that you not only love but would love to be photographed with. A wedding day has many elements to it, and will always be one of the most important days of your life, which is why your look should be impeccable on your special, special day. Sure enough, your wedding decor ideas and the color combinations will play a role in beautifying your day, but then again, it is your wedding day and you'll be the showstopper that day. And this is why, it is crucial that you know what you want, it is crucial that you know what works for you and you know how to get it for yourself. And we hope that our ideas, suggestions, and recommendations above help you do just that for your special day.