Green Is The New Black: How To Add The Most Popular New Neutral Shade Into Your Wedding Color Palette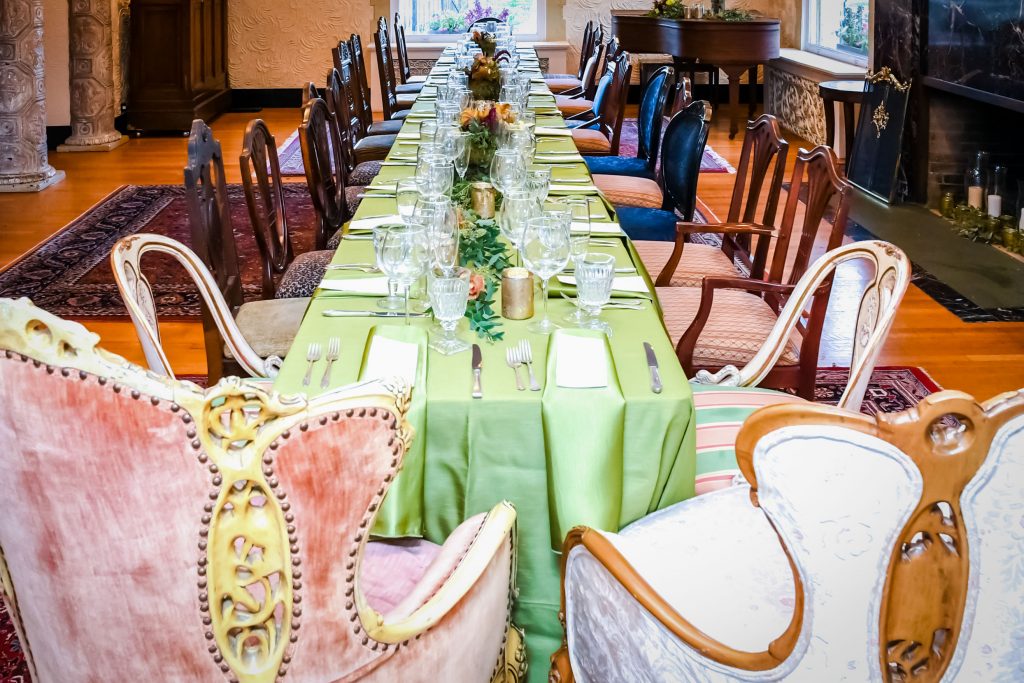 Your choice of wedding colors will dictate all the wedding details that can transform your reception and ceremony. From stylish and exquisite wedding flower choices to all the other glamorous wedding ideas, the focal point of your big-day décor will be your wedding colors. The wedding color scheme you choose will help direct the visual elements of your day and ensure that everything looks on theme and cohesive. As such, choosing your wedding color palette should be one of the first wedding décor decisions you make, inspired by your personal preferences as well as your event's seasonality and location. After all, choosing flowers, linens, and rentals will be much simpler if you are aware of your wedding color vision. So what is your vision? Are you throwing an extravagant winter wedding? Or are you going for a dreamy summer affair with the ultimate pastel wedding color combinations? When creating a tasteful wedding color palette, it's important to keep in mind that not all color combinations go well together. Here is how to go on about it. Select one or two primary colors to serve as the focal point, followed by one or two secondary wedding colors (one of which should be neutral to help blend the focal colors together seamlessly). Finally, select a fun accent color that you will use sparingly throughout your events, such as a metallic like gold or silver (like a classic black and gold wedding).
Most brides have at least one color in mind when they start the planning process, but if you are not sure how to elaborate on this, look to other aspects of your celebration to guide the rest of your palette. What time of year are you getting married? Winter celebrations benefit from deep jewel wedding colors, while springtime is best served by cherry blossom wedding details, and gorgeous fall wedding colors can be steeped in burnt reds and warm rusts. Your venue is another place to look for wedding color inspirations. Are you getting married abroad in Santorini, Greece? For hosting an exotic dreamy destination wedding, you can think of a blue and white wedding color scheme. An alternative would be a cream, peach, and sage-flavored southern California beach wedding.
Even though colorful wedding ideas are eye-catching and vibrant, a soft, muted wedding color palette of neutrals is the epitome of a dreamy. Neutral wedding colors like beige, ivory, white, and similar neutral hues are timeless and calming. What is the best aspect of this simple and natural look? When you make use of the various textures you have access to, it can complement any wedding style. Hosting a Victorian garden wedding party? Consider roses and delicate greenery. Hosting a regency-core-inspired wedding with sophisticated and elegant ideas? Consider metallics and gilded details. Beach weddings? Rattan accents and gauzy, carefree linens are ideal. Contrary to popular belief, choosing a neutral color scheme for your wedding doesn't mean you have to stick to a limited palette of shades and color combinations. If tans, creams, and hints of gray are too plain of a color scheme for you, subtly add pastel hues like an airy blush and light peach, or go the other way and add gleaming champagne or gold for a more opulent look and a sparkling finishing touch.
Speaking about wedding trends 2023 and the latest wedding color combinations for 2023, things have shifted to the color green. Can you imagine that the wedding color for 2023 is green? We aren't surprised! The color green stands for harmony, renewal, and prosperity. These qualities are the ideal complement to what the union of two souls represents in a wedding. This year's green wedding trend is a timeless classic once again! The romantic neutral color shades of green blend beautifully with both warm and cool tones found in nature. Any wedding style will look fantastic with trendy green wedding color combinations. Also green wedding color combinations not only represent virtues of greatness, but green weddings are also very photogenic! No matter the season, you will be overjoyed with the photos from your green-themed wedding. Moreover, the color green never fades! It is so timeless and classic. People won't get tired of the green-inspired wedding color combos, so you don't need to worry. It offers a serene and lovely foundation that works well with bold pops of color. Let us take a deep dive into six trending green wedding colors that can make your wedding as glamorous and as serene as you want it to be.
Check out the green wedding shades for your big-day celebration:
Emerald green weddings
We are thrilled to declare that emerald weddings are once more in style! What will be popular in the wedding industry can be accurately predicted by looking at Pantone's 2013 color of the year. Both outdoor and ballroom weddings rocked this jewel-toned wedding color, which was typically paired with other colorful shades and white. Emerald weddings are being upgraded as of 2023. Brides in 2023 are choosing a more elegant combination of emeralds with delicate greens, blush tones, cream, and lots of plants. Emerald green is a timeless yet fashionable color. What comes to mind when you consider the color that goes well with emerald green? You should try a white wedding color palette with this color to make your wedding vintage and elegant, but you should also consider pink, orange, gold, and brown to make it more photogenic. White candles, white flowers, and white cake toppers are just a few of the many white accessories that go well together. Emerald green is truly a welcome change after seeing so many weddings decorated in trendy wedding colors. This shade of green can be incorporated into wedding dresses, beautiful and elegant accessories, magnificent wedding cakes, and bright and interesting table settings. This beautiful green wedding color is a trendy option for 2023 couples.
Sage green weddings
As per 2023 wedding trends, sage green wedding colors are currently all the rage when it comes to choosing trendy wedding colors for your special day. Moreover, it has been declared that this wedding color is for fall 2023 weddings. Blush pink, rust, or navy blue are all excellent color combinations that go well with sage green. However, sage green is one of the few hues that look good all year long and complements almost every wedding design. It is calming, tender, exquisite, and refreshing. The natural green color enables you to effortlessly incorporate beautiful flowers and foliage into every aspect of your special day, from your bridesmaid dresses and wedding table decorations to your bridal bouquets and wedding invitations. So, let your favorite sage green wedding ideas serve as inspiration for your own special day. It is such a traditional and neutral wedding color that makes it simple to incorporate elements of nature into your big day. Bring your personal wedding look to life with the sage wedding color combinations of your liking.
Hunter green weddings
Another striking wedding color for 2023 is hunter green. Hunter green is a powerful color on its own and goes well with many different color shades. Light blue, yellow, and pink are excellent choices if you want to match them with this bold wedding color choice. Tan, light green, and gold tones are also good complementary colors if you prefer earthy tones. Although hunter green is frequently disregarded as a wedding color, it can have the most stunning and dramatic effects when used as a wedding theme! Hunter-green weddings beautifully combine a natural and glamorous aesthetic. Its resemblance to emerald green gives it the opulent gem tone appeal while still keeping an earthy origin. For instance, reception table glasses in hunter green are a subtle way to incorporate this color into your décor. You can also try green hydrangea and hunter green for the rest of the wedding if you want to be daring. Other vintage items with the color hunter green include typewriters and bicycles, which are ideal for vintage weddings.
Mint green weddings
Like a cool breeze on a hot day, vivid wedding colors make us feel very happy! Do you agree that mint green would be a lovely color for a summer wedding in 2023? In 2012, mint green was the rage. The soft color combination of green, blue, and white was prevalent in both fashion and home décor. After 2012, the color quickly fell out of popularity, but we are ready for it to return for weddings in 2023! For any season, but especially great for spring and summer celebrations, mint green weddings will be perfect. This popular color is making its presence felt in everything right now, including wedding planning. It's light, airy, and brisk, and it can be a nice addition to any summer wedding color scheme. To have a wedding with a mint green theme, you would need to plan some of the wedding details ahead with a mint green color scheme, such as mint green bridesmaid dresses, mint green decorations, mint green wedding cakes, and so on. In 2022, the primary color for some brides' beach weddings or rustic weddings was mint green. There are numerous ways to color your wedding with this lovely blueish-green hue, whatever name you choose to give it!
Forest green weddings
Although we kind of like that it's a hidden gem, forest green is one of those wedding colors that makes us wonder why it's not more popular. All the Pinterest forest green wedding theme suggestions demonstrate the color's adaptability; not only is it one of the few that looks good all year round, but it also complements almost every type of wedding, from formal black-tie affairs to romantic garden fêtes and rustic country weddings. You can check out many forest green wedding color ideas to get motivated for your own special day. For instance, you can use a cream tablecloth, crisp white plates, and white napkins to keep your tables simple. Then, as an alternative to elaborate centerpieces, accent the table with striking tropical leaves in simple free-standing vases. You can also give the table a slightly more formal appearance with a few touches of gold.
Olive green weddings
A timeless and adaptable wedding color is olive green. Olive green was connected to wisdom, harmony, and peace in 2021. These are powerful characteristics meant to evoke the union of your marriage. Olive green wedding ideas look fantastic throughout the year, not just in the fall and winter. Brides in 2023 want to combine olive green wedding color schemes with blush pink, gold, and light brown tones. Beautiful olive green wedding ideas can be anything like floral arrangements of foliage, bridal party attire, and a stunning greenery wedding arch. Olive green is ideal for weddings in all seasons because it creates a setting where the couple can express their romance while also highlighting the aesthetic value of the decorations and small details. Moreover, olive branches are always the first thing that comes to mind for greenery components. Olive branch wedding ideas can range from organic touches like a wreath for your flower girl to olive branch-adorned wedding invitations and wedding cakes. It's that simple to incorporate olive green into your wedding décor!
Neutral green colors come in shades that blend well with almost all other colors and are simple to match. Although it's frequently disregarded, green can be found all over nature. It serves as the neutral- it is the color that every other color must match, as it is so prevalent in nature. Hence green wedding color palettes are quickly rising to prominence on everything from ceremony backdrops to wedding aisles to wedding bouquets and bridal accessories. Remember that not every aspect of your wedding needs to be neutral. Including neutral décor items in specific areas of your wedding, like the chairs used for the ceremony or the table settings, can occasionally complete or enhance a larger theme.
The natural appearance that a neutral wedding color scheme creates can be enhanced by organic décors like raw wood or greenery. For instance, you can consider a sprig of ferns placed in a napkin setting or an ivy garland adorning a linen chuppah. Just keep in mind that your wedding color palette selection can evoke various moods. Even when using neutrals, the lighter end of the spectrum is more carefree and romantic, while the darker end is more sophisticated and stylish. In either case, just make sure when deciding on the composition of your palette in a way that the final appearance is stunning.