Spring Wedding Venues To Consider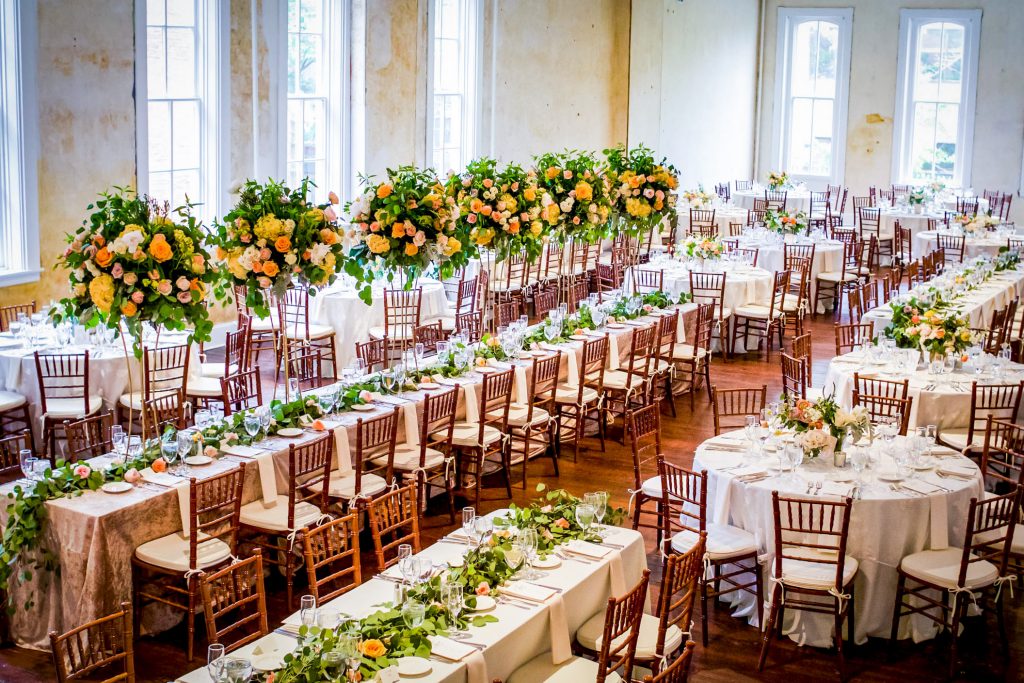 Want a spring wedding? From blooming flower beds and sun-kissed landscapes to temperate weather and endless natural produce, we don't wonder why spring is the most popular season to tie the knot! Spring weddings are gorgeous with a plethora of wedding venue options brimming in every corner of the world. Whether you have always dreamt of tying the knot in a fairytale castle wedding venue, wanted a garden wedding with an abundance of nature, a rooftop wedding with the city skyline as the backdrop, a beach wedding with sand between your toes, or a faraway luxurious resort destination wedding, you can find gorgeous spring wedding venues for exchanging your vows in the most beautiful time of the year. From historic buildings featuring grand facades, intricate stonework, and sweeping surroundings to distant farmlands featuring abounds of nature, whatever you are looking for, you are going to find your fit for your spring wedding.
Spring-inspired wedding venues can come in a wide range. Whether you fancy a tropical ambiance or an urban jungle, we have come up with some of the best spring outdoor venues that will leave your guests in awe. From rolling vineyards and pristine beaches to majestic mountain ranges, desert horizons, and lush rainforests, to even concrete cityscapes with dreamy skylines, each one of these spring-themed wedding venues is a party for the senses.
Gorgeous Spring Wedding Venues:
620 Loft & Garden, New York City
This is it if you are looking for a picture-perfect spring wedding setting for your special day- especially if you are into exotic Victorian garden wedding venues! This New York wedding venue is home to a historically landscaped garden, sparkling reflective pool, and tasteful fountain that highlight the dramatic cityscapes that directly overlook St. Patrick's Cathedral. This extraordinary yet traditional lofted space is completely adaptable, enabling you to plan the celebration of your dreams in the location of your dreams.
1 Hotel Brooklyn Bridge, New York City
If you are determined to get married in spring despite the possibility of springtime rains in New York City, check out 1 Hotel Brooklyn Bridge. There are many options available should the weather not be ideal, including an elegant rooftop space, indoor venues, and outdoor venues, all of which overlook the Manhattan skyline. The hotel wedding venue in New York's urban aesthetic, vertical gardens, and seasonally focused menu keep it grounded in Brooklyn's culture, while the breathtaking views bring back all your favorite aspects of Manhattan.
The Cove, Eleuthera, The Bahamas 
Looking for one of the best beach wedding venues in the US for your spring wedding? At The Cove in Eleuthera, fall in love with the Bahamas once again! You can get all the beach views you need at this oceanfront hotel in the Bahamas to get into the island spirit. The white sand and blue waters will be the ideal view to unwind and celebrate on the 45 acres of land.
Blackberry Farm in Walland, Tennessee 
Searching for a rustic wedding venue? At this gorgeous Tennessee wedding venue, you can expect a farm-to-table wedding menu that can fit foodies and has the perfect bucolic setting in this working farm and five-star hotel. In the spring, there are opportunities to go on hikes, bike rides, and play lawn games in between events like a wedding ceremony with a Smoky Mountain backdrop and a reception at the bucolic Bramble Hall. Additionally, every visitor will receive a first-edition copy of The Blackberry Farm Cookbook as a gracious welcome!
Zingerman's Cornman Farms, Michigan
Always dreamt of proposing at one of the dreamiest places? Would you like the same setting for your wedding? You can do it all at Zingerman's Cornman Farms! This Michigan wedding venue is just minutes from downtown Ann Arbor and offers outdoor weddings on 42 acres of rolling farmland and gardens. As the sun sets over the grounds, the renowned red barn and the classic Greek Revival farmhouse from 1834, spend a relaxing evening outside under the Tent Pavilion. Here, you can take dreamy wedding photos against a backdrop of a willow tree garden, a tree-lined driveway, a wildflower garden, the expansive front lawn, or those stunning open fields. Can't get lovelier than this!
Villa Tre Ville in Amalfi Coast, Italy 
Bring all your Italian-inspired wedding ideas to life at this exotic Amalfi Coast wedding venue. The best part is, this stunning Positano villa wedding venue in Amalfi Coast is even more stunning in the spring! The wisteria gardens are in full bloom all over the property, but especially under the arches, which are the most picturesque places to hold a ceremony. Your guests will be in awe of the Tyrrhenian Sea views, and you and your spouse will have the classic Amalfi Coast getaway- thanks to the suites with plunge pools.
This urban-chic location in Long Island City, directly across the river from Manhattan, combines the urban vibe with the perfect amount of springtime sunshine. This Long Island wedding venue features six locations, including a terrace and courtyard, which are available for weddings at the former 19th-century foundry turned event space. You can use the entire area for an evening of cocktails, dinner, dancing, and of course, "I dos" to create the ultimate indoor-outdoor event.
Looking for one of the top dreamy destination wedding venues without having to travel far? Andaz Mayakoba in Solidaridad, Mexico, has miles of white sand beaches and is a hidden paradise. More than just tropical views can be found at this oceanfront property. 6 miles of exotic mangroves, lagoons, and freshwater canals are at your disposal. Have your guests fall in love with the sand between their toes by providing them with the largest beachfront area in the Mayakoba complex. For awe-inspiring scenery, reserve the lagoon pool with views of the beach and a twinkling light atmosphere.
In Orlando, Florida's Paradise Cove, the scenic Lake Bryan paints the picture of this outdoor venue! Don't forget the abundance of palm trees, tiki torches, and twinkling lights that the tiki bar is surrounded by. Have your upcoming event at Paradise Cove's immaculate white beaches. This Florida wedding site can be one of your venues for a multi-destination wedding if you are looking for dreamy wedding locations in the Southeastern belt.
Franklin Park Conservatory in Columbus, Ohio
Browsing through options for your spring destination elopement? Check this: The Franklin Park Conservatory, a lush wedding venue in Ohio that allows you to have a garden-style wedding all year long, is especially lovely in the spring when guests can wander the grounds of the outdoor botanical gardens. Say "I do" in the Bride's Garden, which features an on-site arch, and invite guests to enjoy cocktail hour while taking in the Dale Chihuly glass installations amidst the foliage. The Palm Garden feels like a tropical oasis when you are dining there. The best part? Spring showers won't be able to ruin your day because of the glass dome.
The Bridge Building Event Spaces, Tennessee
At The Bridge Building Event Spaces, you can enjoy and take in the breathtaking skyline of Nashville! At this Tennessee wedding venue, you can choose from their rooftop patio with city views or their venue space nestled right on the bank of the Cumberland River at this riverfront location in the heart of Nashville. In 1908, the building that now houses office space for a bridge company in Nashville underwent a complete restoration. With exposed steel beams and panels, it maintained its original charm. The classic urban gathering place is this industrial bridge.
Camp Navarro in Navarro, California
Always loved glamping ideas for your honeymoon? Why not do that at your wedding? A few hours' drive from San Francisco in the redwoods, Camp Navarro elevates glamping weddings with activities like welcoming parties with a festival theme, cozy Adirondack cabins, rock climbing, archery, and even parking for Airstream trailers. Given its close proximity to Anderson Valley wineries, you can be sure the drinks will be just as idyllic as the location. Its team will host everything from a barbecue to a bonfire.
Always wanted a French wedding? Take over this exotic European-inspired wedding venue featuring a fourteen-home estate and get married while enjoying the lavender and olive groves. Perched on a hilltop, Domaine des Andéols wedding venue lets you host a charming and opulent outdoor wedding in France.
This opulent resort on the outskirts of Marrakech exudes Moroccan luxury with its olive trees and date palms. Before sipping cocktails at the reflection pool surrounded by brass lanterns and Moorish arches, exchange your vows in the garden's shaded courtyard. It will genuinely take your guests back in time. Create a weekend itinerary that includes visits to the hammam, outings to Berber villages, exploring the city's renowned souk, and eating a lot of tagine-based food.
With its surrounding ancient olive groves of the Itria Valley and the Sea of Savelletri, Borgo Egnazia is engulfed in an Italian dream. This historic wedding location in Italy is located in Puglia and is known for taking you back to the Renaissance era. Lush pomegranate bushes, wild succulents, and cacti overflow the many corners of Borgo Egnazia!
Known for being one of the best and dreamy destination wedding venues for exotic weddings, this French wedding venue is every bride's dream. Set your sights on the Ritz Paris if your vision of a spring wedding includes strolls along the Seine, gilded ballrooms, and views of the City of Light. Even though the French capital is stunning all year round, the arrival of spring brings with it fresh energy as residents venture outside after the long winter. Markets seem lively, and Parisians sipping rosé fill the gardens. In the hotel's Grand Jardin, you can hold an outdoor ceremony in the same manner, followed by a reception in a spacious ballroom. Fun fact: You can dance until dawn because the ballroom's walls are soundproof.
The Resort at Pedregal, Mexico
The Resort at Pedregal is located in sunny Cabo San Lucas, Mexico, where the Pacific Ocean and the Sea of Cortez converge. Come for the weather, and stay for the 24-acre view from your private plunge pool at this opulent resort with its breathtaking ocean views and mountainside cliffs. The perfect way to combine a destination wedding with your honeymoon!
U.S. National Arboretum in Washington, D.C.
What better symbolizes spring than cherry blossoms? Plan your wedding with cherry blossom details among the famous blooming trees and dripping with pink flowers at the U.S. National Arboretum. You can also host your wedding day around the National Capitol Columns. Your wedding will have plenty of natural decorations- thanks to the well-known plant and flower collection that is housed in this garden and research facility, especially as the buds develop into spring blooms.
Bosduifklip Open Air Restaurant & Wedding Venue, South Africa
Host a relaxed and private evening at this South African wedding venue with views of the seasonal Jackals Creek river and large ancient rock formations. You can toast and dance in the vast fields while admiring the South African night sky. Who knew that rocks could be so adorably romantic?
Hinoki & the Bird in Century City, California 
This Century City restaurant wedding venue in California with a Japanese theme transforms into a unique, upscale location with a patio to enjoy the Southern California sunshine. The restaurant serves Asian-fusion cuisine and artisanal cocktails, and the casual-luxury ambiance is ideal for the mood of true Angelenos. You won't run out of delicious food or beverages!
Belmond Castello di Casole, Italy
Wanted the beauty of rolling hills and gorgeous golf wedding venues as your big day backdrop? Needless to say, that spring in Tuscany is one of the best times to visit the small towns that make charming locations for weddings and the rolling hills covered in vineyards because of the warm but not oppressively hot weather. At the Belmond Castello di Casole, exchange vows in the lovingly restored Chiesa San Tommaso Church and host your reception on the estate's historic grounds. Additionally, there is no shortage of incredible wines to raise a toast to your new marriage.
Go to Gorrono Ranch in Telluride, Colorado, for views of the San Juan mountain range if the mountains make you happy and you want a cozy mountain wedding! Let the views of the forest and mountains speak for themselves when you host your spring wedding here. Before the major event, hit the slopes.
Spring is one of the best times to visit the American West, so it only makes sense that April or May would be ideal for an intimate spring wedding in Arches National Park. Numerous elopements and intimate weddings have taken place in this national park, which is famous for its more than 2,000 natural sandstone arches. Exchange vows in front of one of the most dramatic backdrops you can find on Earth by literally picking your own wedding arch.
Wanted an Asian wedding in the captivating vistas of this part of the world? Combine stunning architecture with sweeping views of the Indian Ocean to create Tirtha Bridal. Your event at this wedding venue in Bali will be set against a backdrop of a Balinese garden and the ocean waves, perched on the Southern cliffs of Bali.
Don't be misled by the name of this Chicago wedding venue! LondonHouse in Chicago offers unrivaled views of the city. At their rooftop bar, take in the views of Lake Michigan, the Chicago River, and the Magnificent Mile as they pass by. This can be the ultimate destination for your rooftop wedding in spring!
Spring can be a really gorgeous time to tie the knot. And all the above-mentioned spring wedding destinations you can take your pick on which wedding location suits your wedding style and personal taste. From beach weddings, barn venues, and national parks to luxurious resorts, elegant ballrooms, and botanical gardens, there are a wide array of beautiful places to get married in the spring season around the world. Moreover, you can choose all-inclusive wedding packages or go for a customized wedding package that suits your taste and style. Make sure to bookmark these spring wedding locations in the US and around the world to make your wedding memorable!