The Dreamy Spring Engagement Photo Session Of Artemisa And Marinos At Elfreth's Alley Museum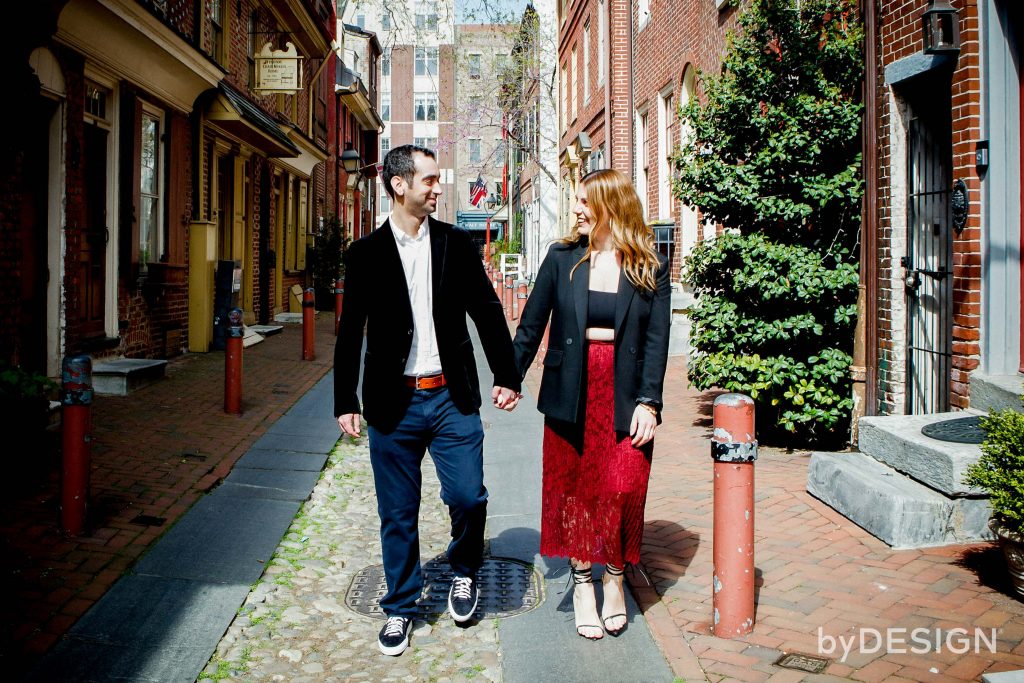 Spring is the perfect time for love to bloom, and what better way to capture that love than with an engagement session? With the world coming to life after the cold winter months, spring brings with it a sense of renewal and fresh beginnings. And there's no better time to start a new chapter in your love story than during this beautiful season. In the past, we have spoken in length about how much we love spring weddings! From dressing up gorgeous outdoor venues with spring details to searching for the perfect spring wedding destination to the exquisite Victorian garden wedding venues we love everything that this season has to offer for new beginnings.
Whether you speak about the dreamy pastel wedding color combinations that embellish everything from the wedding cake to the bridesmaid dresses or the lovely spring wedding bouquets that look ethereal, there is a reason why so many couples around the world celebrate new milestones during this time of the year. The season of spring calls for beautiful details on board! This is when couples go for flower-field engagement proposal backdrops as well as for gorgeously orchestrated private proposals to mark their new beginnings.
Spring engagement sessions are a wonderful way to capture the love and excitement between you and your partner. They allow you to create lasting memories that you can look back on for years to come. And what better backdrop for these memories than the beautiful colors and textures of spring? As the world awakens from its winter slumber, the trees begin to bud, and the flowers start to bloom. Everywhere you look, there is a burst of color and life. This is the perfect time to capture your love in a natural and organic setting. Whether you choose to pose in a field of wildflowers or against a backdrop of blooming trees, the natural beauty of spring is sure to make your engagement photos pop.
And it's not just the scenery that makes spring engagement photo sessions special. The weather is also ideal for outdoor photoshoots. With warmer temperatures and longer days, you and your partner can enjoy a leisurely stroll through a park or nature reserve without worrying about getting too cold or too dark too quickly. And if you are lucky, you might even catch a glimpse of some wildlife or migrating birds that are also enjoying the springtime weather. Another great thing about spring engagement photoshoots is the fashion. After a winter of bundling up in layers, spring is the perfect time to break out your favorite sundresses and light jackets. The pastel hues and soft fabrics of spring clothing make for beautiful and romantic photos. And don't forget about the accessories! A floral crown or a statement necklace can add just the right touch of whimsy to your photos.
Of course, no engagement session is complete without some amazing spring-inspired photo props. Spring offers plenty of options for creative and fun props that can add personality and charm to your engagement photos. For example, you could bring along a picnic basket and blanket for a cozy outdoor lunch. Or, you could bring a kite or a bubble wand for some playful and whimsical engagement shots. The options are endless, and the choice is yours. But perhaps the best thing about spring engagement sessions is the sense of hope and optimism that comes with the season. After a long winter, there is a sense of renewal and possibility in the air. This is the perfect time to celebrate your love and the bright future that lies ahead. And with an engagement session, you can capture that sense of hope and excitement in a tangible way.
Springtime engagement photoshoots are a wonderful way to capture your love in a natural, organic setting. From the beautiful scenery to the perfect weather to the fun props and fashion, there are endless opportunities to create lasting memories. So if you are thinking about getting engaged or planning a wedding, consider scheduling an engagement photoshoot this spring. You won't regret it! Speaking about the spring season, we cannot skip one of the best places to propose in the US during the season- the city of Philadelphia! There are so many ways to make your engagement session memorable and choosing the right place can be a great starter!
Philadelphia, also known as the "City of Brotherly Love," is a beautiful place to celebrate love and engagement during any season. It is a city rich in history, culture, and romance, making it the perfect location for a spring engagement session. With its stunning architecture, picturesque parks, and vibrant neighborhoods, Philadelphia offers plenty of options for capturing your love in a unique and memorable way.
One of the most popular locations in Philadelphia for spring engagement photos is the iconic Philadelphia Museum of Art. The museum is home to over 240,000 works of art, making it one of the largest art museums in the country. The museum's famous "Rocky Steps" have been featured in numerous movies and are a popular spot for couple photography in Philadelphia. In the spring, the museum's outdoor sculptures and gardens are in full bloom, providing a beautiful backdrop for Philadelphia engagement photography.
Another popular location for spring engagement photos in Philadelphia is Rittenhouse Square. This public park, located in the heart of Center City, is a beautiful oasis in the middle of the bustling city. In the spring, the park's cherry blossom trees are in full bloom, creating a stunning display of pink and white flowers. The park also features a large fountain and beautiful landscaping, making it an ideal location for our engagement photographers in Philadelphia to shoot some extraordinarily romantic photos.
For couples who want a more natural setting for their engagement photos, Wissahickon Valley Park is a beautiful option. This park, located just outside of the city, features over 50 miles of hiking trails, picturesque waterfalls, and stunning views of Wissahickon Creek. In the spring, the park is alive with new growth and blooming wildflowers, making it a breathtaking location for engagement photography in Philadelphia.
For couples who love history and architecture, Independence National Historical Park is a must-visit location for spring engagement portraits. This park is home to some of the most important sites in American history, including Independence Hall and the Liberty Bell. In the spring, the park's gardens and monuments are in full bloom, providing a beautiful backdrop for engagement photos that capture the couple's love of history and their future together.
Another historical location in Philadelphia that is perfect for spring couple photos is the Eastern State Penitentiary. This former prison, which operated from 1829 to 1971, is now a museum and National Historic Landmark. The prison's crumbling walls and beautifully haunting architecture make it an intriguing location for Philadelphia couple portraits, while the blooming cherry blossom trees and other spring flowers soften the setting and add a touch of romance.
For couples who want a more urban setting for their engagement photos, the streets of Philadelphia offer plenty of options. The city's narrow alleys and colorful row houses make for a charming backdrop, while the city's famous murals provide a colorful and artistic setting for photos. In the spring, the city's outdoor cafes and restaurants are bustling with activity, making it easy to capture candid photos of the couple enjoying each other's company.
Finally, the Schuylkill River Trail is a stunning location for a spring engagement photoshoot in Philadelphia. This 10-mile trail runs along the Schuylkill River, offering beautiful views of the water and the city skyline. In the spring, the trail is lined with blooming cherry blossom trees, providing a romantic and picturesque backdrop for engagement photos.
Overall, Philadelphia is a beautiful and diverse city that offers countless options for couples looking to celebrate their love and engagement in the spring season. Whether you prefer natural settings, historical landmarks, or urban backdrops, Philadelphia has something for everyone. With its stunning architecture, beautiful parks, and rich history, Philadelphia is the perfect place to capture your love story and create memories that will last a lifetime.
Ultimately, the location you choose for your engagement session will depend on your personal style and preferences. But with so many options to choose from, there is sure to be a location in Philadelphia that speaks to your love story and captures your unique bond. So grab your partner, pick a spot, and let our Philadelphia engagement photographers capture you against the beauty and romance that inspire your engagement photos.
With some kind of history in every corner, Philly is steeped with a plethora of gardens and green spaces along with pretty foliage and floral-filled spots right in the heart of the city as well as in its suburbs. Maybe this is the reason why Artemisa and Marinos, our next Philly couple, swept us off our feet with their chic engagement photography session in Philadelphia. We all know how Artemisa had her heart set on tying the knot in this elegant city soaked in a wide range of photo ops and dreamy backdrops. And hence she started with her dream through this amazing engagement portrait session in Philadelphia. We truly love their choice of city to start "forever!" Our Philadelphia engagement photographers love how the wide range of photogenic spots feature tucked-away gardens and greenhouses as well as rolling hills of historic estates and high-rise hotel wedding venues. After going through all of the stunning Philadelphia engagement locations, the couple decided on the historic location of Elfreth's Alley Museum.
Elfreth's Alley Museum is one of Philadelphia's most unique and historic locations for engagement photos. This picturesque alleyway is the oldest continuously inhabited street in America, dating back to the early 1700s. Its cobblestone streets, brick homes, and quaint storefronts offer a timeless and romantic backdrop for capturing your love. The Elfreth's Alley Museum offers guided tours that provide insight into the lives of the families who lived in these historic homes, as well as the unique history of the alley itself. The museum also features a beautiful garden, perfect for capturing intimate moments between you and your partner. Whether you choose to pose on the alley's cobblestone streets or in front of one of its charming brick homes, Elfreth's Alley Museum provides a romantic and authentic setting for your engagement photos. Its historic charm and unique character make it a location that is sure to stand out in your photo album and capture the essence of your love story.
The day of this spring engagement session in Philadelphia started early as our Philadelphia couple photographers started documenting Marinos and Artemisa against the breathtaking backdrops of Elfreth's Alley Museum. Our stunning would-be bride Artemisa wore a long scarlet red lace skirt with a sleeveless black top and a black blazer as her engagement outfit. The gorgeous engagement outfit looked ethereal against the moody and pensive backdrops of the rustic engagement location. The gorgeous spring engagement outfit had a flouncy and ruffled hemline, along with dreamy lace running all over the body. The two-piece engagement outfit featuring black and red color combination gave away a very mystique vibe to her overall bridal engagement look. She paired it with an elegant bracelet, a minimalist pendant chain, and a pair of round hoop earrings. Her hair was middle parted and left open as her long dark blonde curls caressed her gorgeous face. Her cute and quirky bridal sandals were a pair of black gladiator heels that amazingly complemented her overall charming engagement outfit.
Marinos brought out his A-game of casual power dressing by wearing a matching casual blazer and a crisp white shirt with a pair of casual navy blue casual pants that strike the chord between not too casual or formal. He also wore a camel brown belt and a pair of casual navy blue canvas shoes which together came out as an amazing casual groom engagement look. The matching black blazer completed the lovely spring engagement look with a little black tie effect!
From posing in front of the artistically arched alleys that featured exposed red brick walls with rustic details and cobblestone sideways to the engagement portraits clicked under the long white arched trellis, the engagement photo session of Artemisa and Marinos was dramatically beautiful. The rustic-chic engagement spots of the historic Elfreth's Alley Museum featured timeless details and the background foliage of this Pennsylvanian engagement spot looked straight out of a woodsy paradise. The surreal and profound moods were brought to life with the spring foliage in the background featuring greenery and blooming tree leaves swaying gently in the background.
Our Philadelphia engagement photographers did an amazing job of capturing them against the best backdrops of this photogenic spot in Pennsylvania. They moved around the historic nooks and alleys of this iconic Philadelphia engagement spot. The garden-inspired engagement portraits looked fabulously unreal with the white trellis flanked by verdant greenery. The fairytale love story of Artemisa and Marinos looked straight out of the English countryside as they lazily strolled around the location with our Philadelphia couple photographers. From never missing a chance to steal a kiss every now and then to embracing each other in warm hugs, this Philadelphia couple was full of surprises for our talented engagement photographers who danced to their rhythm and clicked pictures that looked magical.
The spring engagement photoshoot in Philadelphia was truly a beautiful and romantic experience. The blooming flowers and fresh greenery provided the perfect backdrop for the couple's love to shine through. Throughout the engagement photo shoot, the couple's joy and happiness were palpable as they laughed and held each other close. The city of Philadelphia provided a charming and picturesque setting for the photos, with iconic landmarks and stunning architecture adding to the romantic atmosphere.
As the photoshoot came to a close, the couple embraced one last time, capturing a moment of pure love and happiness. It was clear that this engagement photoshoot in Philadelphia was a wonderful start to the couple's journey together, and a beautiful memory that they will cherish for years to come.