A Riverside Love Story With Vivid Colors And Soothing Vibes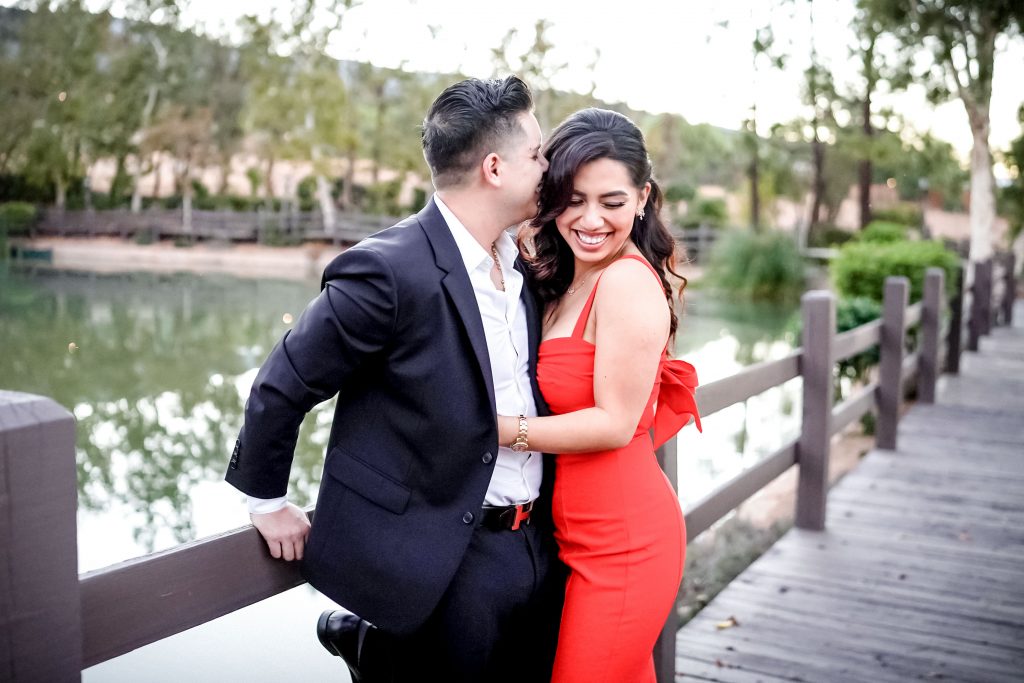 Fedrick Backman said in his book A Man Called Ove, "He was a man of black and white. And she was colored. All the colors he had." And somehow we couldn't help but think of this duo when listening to this. Your life may be average and devoid of love one minute, yet the very next day, a stranger may come along and show you a whole rainbow of colors you have never seen before. When love enters your life casually, it transforms it like flipping a switch and makes you feel as if you are now seeing colors. Without love tales, life would be quite boring since you can have all the experiences, thrills, and laughter you'll ever need with someone you love. Our hearts remain youthful and playful because of the immense delight and excitement that love offers! Even the most routine days may be made passionate and exciting by love, which also gives them their captivating zeal and purpose. It comes as no surprise that love has a history of inspiring poets, authors, and artists as well as fighting through wars, natural catastrophes, and pandemics. And despite its powerful grandness, love is also miraculously delicate and light as a spring wind! Because we get to witness contemporary love stories every day, which is nothing short of a miracle, we are happy to work in the business of love and weddings!
It may be an emotional time in a couple's relationship when they decide to spend the rest of their lives together. After saying "yes" to committing to a lifetime of companionship with your special someone, it's simple to get engrossed in the hustle of wedding preparation. There's a lot to it, and while it's a pleasant experience in and of itself before you know it, you're drowning in a sea of color swatches, cake tastings, and never-ending checklists! There are many decisions to be made, such as choosing the perfect wedding dress, the ideal wedding location, the ideal flowers, and the best music for the first dance. The best choice you've ever made, however, could be to take a few minutes for an engagement picture shoot before you give them one. Undoubtedly, the finest way to stop time and fully experience the lovely feeling of getting engaged is to have an engagement picture session. The lovely engagement photo session that Carla and Anthony had is the perfect place for them to enjoy being newlyweds and have their photographs shot at the same time! Every love story is beautiful, but there is something about this couple's looks that makes your heart sing with joy! Let's take a peek at Carla and Anthony's picture-perfect joyous engagement day, and witness the magic that they spring on us, starting with the sweet glances and ending with capturing the joy the pair carry on their shoulders.
Carla and Anthony chose Riverside as the setting for their love story! And one of California's greatest and brightest gems is the city of Riverside, which is part of the Inland Empire metropolitan region. It is one of the most sought-after locations in California for weddings. It is the biggest city in the Inland Empire and is just 60 miles east of Los Angeles. It has gorgeous Southern California architecture on every street with palm tree lines along the walkways. The glimpses of this stunning region of California can be a dream come true location for an unforgettable photography session, from the historic Mission Inn with its impressive Spanish Revival architecture to the towering Mount Rubidoux is a sprawling recreational space to visit within the city and poses as a vibrant background for professional photography sessions in Riverside.
Speaking about the grandeur of this region of California, there are several outdoor attractions that are drenched in exquisite beauty and that our wedding photographers in Riverside like for shooting priceless mementos. If you want to schedule a professional photo session to mark a significant event in your life, like an engagement or wedding, Riverside offers a wealth of picturesque locations. For instance, Mount Rubidoux, one of the city's most recognizable features, is also one of the most alluring and well-liked locations for relaxation and photography among locals and visitors. The Mission Inn in Riverside, which is the focal point of the Downtown District and occupies a whole block with the castle-like edifice, is another one of the most visually pleasing specimens of Spanish Mission architecture. This historic location in Riverside, which is home to many award-winning eateries, such as Duane's Prime Steaks and Seafood, maybe a perfect place for your late-summer wedding photos when the sun sets while emitting a warm light. Another noteworthy site in Riverside, California, is the March Field Air Museum, which has a chronology of aviation spanning a century and features more than 70 aircraft and thousands of artifacts on show. Outside the museum, adjacent to the enormous airplanes is the historic March Field park. The California State Citrus Historic Park is a stunning location to book a professional autumn photography session after that. This 250-acre state park is located southwest of the downtown area and honors the state's citrus heritage, sometimes known as the second California Gold Rush. One of the few old drive-in theaters still operating in the country is the Van Buren Drive-In Theater, located in Riverside's Arlington neighborhood next to the California Citrus State Historic Park. Your Riverside engagement photos session might be enhanced by using the drive-in theater's retro design as a background.
A picture is worth a thousand words, and having our skilled Riverside engagement photographers document every minute of your wedding day in the best light possible is always worth it. A good photographer can help you save those fleeting moments so you can look back on them in the future as we believe a moment missed is a moment gone forever. As you can see from the photos, our Riverside engagement photographer did an excellent job of gathering the treasure trove of beautiful moments scattered throughout the path.
Talking about the treasure trove of gorgeous pictures, Carla and Anthony arrive at their engagement photo location looking jaw-dropping in their own way. The lovely couple turned up all dressed up in their formal best. Carla looks simply ravishing in her eye-catching red dress which demands all attention instantly, and rightfully so! Her dress is a blood-red midi dress with a tie-up back detail and a sweetheart neckline. His dark brown hair is left down and pinned up on one side. Minimal jewelry and makeup complete her look and black slingback heels complete her engagement day look. If Carla was the fiery flame, Anthony grounded her with his classic black and white attire. His timeless black suit paired with a simple white shirt, black shoes, and black belt is everything that this photo session needed. The two certainly didn't hold back when it came to dressing up for their special engagement shoot. Apart from the outfits, another element that makes this possession special is the location. The location is abundant in nature and adds just the pops of green which is in perfect contrast to the very formally dressed duo. From the manicured hedges, the tall bamboo jungle, and the calming lake, everything looks serene and peaceful and sets the perfect scene for two lovers who are soon going to be married and want to catch a moment before that. The gorgeous mountains in the background and the dock area all come together to add depth and dimension to the couple's pictorial love story. The couple also used to stumble or an ounce of awkwardness, which is remarkable. Carla and Atony seem to know what they were doing and were just themselves, in love and lost in the beauty of the surrounding. Our Riverside wedding photographers did a fabulous job capturing the couple in the gorgeous setting. We especially are in love with the couple portraits captured with the bamboo trees in the backdrop. The cozy cuddles, the perfectly posed shots as well candid playful ones all turned out gorgeous. The moody setting, the elements of nature and the dressed-up glam look all look like an unlikely company, but surprisingly, they work beautifully!
The engagement is just as essential, if not more so, than the wedding day, which is "the day" of our life and the one you've been counting down to, waiting joyfully for, and planning and plotting to make "exactly right" for a long time. It's a day that makes the wedding day possible and a significant turning point that merits recognition on its own. Without a doubt, a wedding day is magnificent with its well-selected color scheme, unique theme, well-considered wedding cuisine, time-honored customs, and an emotional element of embracing and celebrating your lifetime love. Engagement, which is the first step in making this choice and has its own attraction, cannot be ignored nevertheless. A day set aside for the couple to celebrate their engagement is known as the engagement day, a day to be present with one another and celebrate their engagement before the preparation for the wedding starts. It's a much-welcome break if you ask us, and the pictures say the same too!
A couple's unique personality, their love story's flavor, and the way they choose to show their affection for one another are all revealed in an engagement picture. There are bound to be details of your engagement photo session that you'll want to remember as well, just as it's natural to want to remember how your bridal bouquet looked on your wedding day, how your veil swayed behind you, and how your lover looked at you as you swung to the beat of your favorite song during your first dance at a wedding. Have your engagement photographer take some special photos to capture how thrilled and excited you are about being newly engaged, as well as how full of hope you are about the incredible adventure that lies ahead of you. It's probably the last time you'll be photographed together as a couple before your wedding day.
Skilled engagement photographers must be chosen in order to record these delicate moments so that they may be included in the narrative of your love story. When you reflect back on it decades later, you'll be able to maintain the youthful excitement of the first stages of your wedding adventure for the rest of your life. The couple is usually in their most authentic selves in the engagement photos and express their story in whatever way they like, whether it be in an art museum, on a rural farm, at a university they went to, or showcasing a team or a fandom they support! Since there are so many possibilities, it's great to plan your engagement session around the things that are most significant to you as a couple! We suggest going for engagement photographs if you're still considering whether or not to do so, as the pictures you acquire from this session are irreplaceable, unlike the ones from your wedding! Additionally, it helps to make your social media engagement announcement tasteful and perfect! Our Riverside engagement photographers did a fantastic job capturing the ambiance of Carla and Anthony's young, vibrant, and colorful engagement session and turning it into stunning images!
It's remarkable how something as straightforward and natural as love can always hit you in a brand-new, genuinely lovely manner. We as human beings will always be fascinated by love and the spell it plays on us. Two individuals getting together and making a lifetime commitment has a romantic quality. Every love story is unique and intriguing, but some stick out and are brilliant in their own right! There is something unique about Carla and Anthony's engagement photo session, much like that favorite song, you can't stop humming, about their compelling love for one another, their chemistry on camera, or the unmatched energy and charm they bring to their engagement photo shoot. Simply by arriving, they created the perfect scene for a lovely photo session, and thanks to the imaginative ways they styled their costumes and posed. The duo has a way of relaxing with one another, and the apparent love that shines in their eyes, as well as the easy camaraderie they display, makes them a delight to work with. This is in addition to the great aesthetics and perfect color choice. We like the couple's positive outlook and how they work so well together with the engagement photographer to get one after another fantastic image every time. We also appreciate the little details, like the vivid color choices, the wide-open smiles, and the invigorating joyous atmosphere, all combine to produce great photographs. Our talented Riverside engagement photographers did a great job capturing the pleasure of the event in stunning pictures! Overall, the results of this engagement picture shoot were stunning, and the couple took some unforgettable memories with them as they left their delightful session in preparation for their upcoming wedding!