The Late Spring Chicago Union Station Engagement Session Of Montel And Joerissa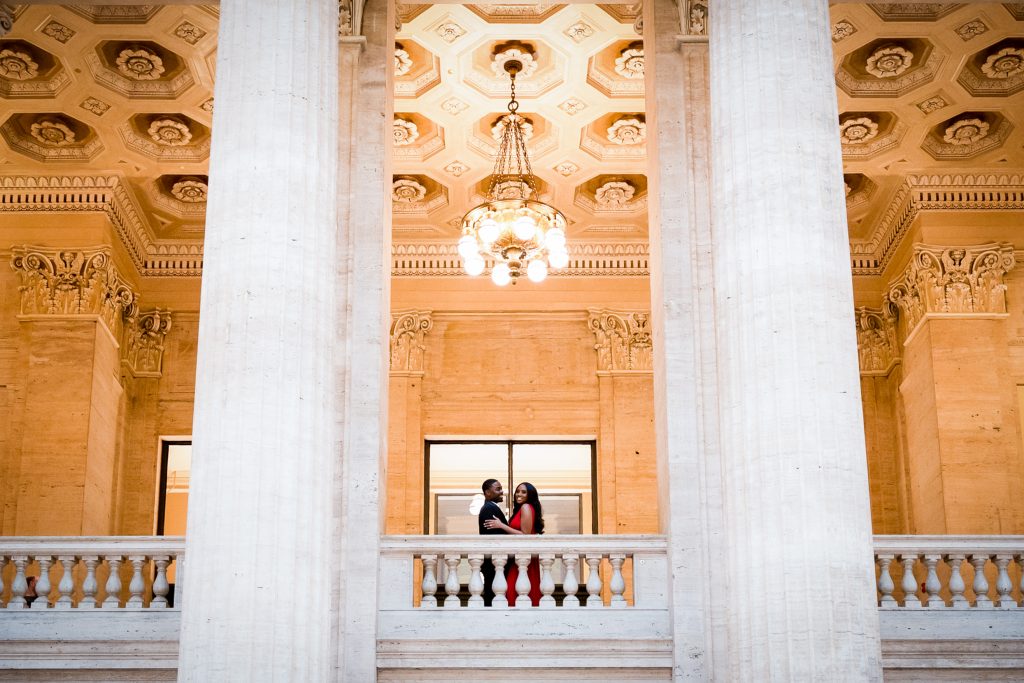 Different people blossom differently and in their own ways after falling in love. Love makes you feel like wearing your favorite pair of warm boots on a cold winter day. Love makes you feel and sing like Frank Sinatra! Therefore we have seen how so many love songs and poems have been written by people for their counterparts who posed to be their muses. And it is easy to see why this joyous feeling has been translated into millions of movies and plays.
Just like that, it truly makes our hearts delightful and magical to find two people who cannot take their eyes off each other and are constantly finding new things to fall in love with each day. And every now and then when you go through your Instagram feed you must wonder whether or not you should join the bandwagon after clicking engagement photographs. But what if we tell you that just like your timeless and trendy wedding photography shots, your engagement portraits are once-in-a-lifetime moments too?
You are engaged, and now you are going to get married! What can be more exciting than that? When you walk down memory lane years later, surrounded by your kids, family, fur babies, relatives, friends, and family, and wish to see how life used to be before you make the call for good, your engagement album might be a striking reminder of your love story. Of course, life seems to be going smoothly surrounded by love, health, and comfort, but photographs have an uncanny way of taking you back to the exact moment when you can precisely feel what you felt at that point in time. And trust us, you wouldn't want to miss this moment and occasion. Probably this is why couples take so much time to select the perfect wedding photographer for their milestones.
You might not like seeing sappy couples wearing color-coordinated clothes or couples kissing in front of the backdrop of blurred-out cityscapes, you cannot ignore the romantic feeling that they entail. It's unmissable! You can always go ahead and throw in your mix of charm to your professional engagement photography session as we believe that every couple has a different kind of energy and passion to them that comes out strikingly in their engagement portraits. From gorgeous flower field engagement portrait sessions to stunning summer engagement photo sessions with exotic backgrounds, what is there not to love?
There is something so magical and infectious along with the sense of joy and excitement among newly engaged couples, that comes to life in engagement photography sessions. What can be a better opportunity to document your love story than celebrating it with a professional photography session? We believe that every newly engaged pair deserves a collection of professional couple photos to look back on and cherish.
Probably one of the most exciting seasons of your life, engagement photography sessions are a beautiful note that says how a brand new life awaits you filled with love and joy. Every love story deserves a collection of professional couple portraits to document the kind of fascination and charm couples shared before getting married. Those professional engagement photos can be stored as precious keepsakes, as you navigate through the uncharted waters of marriage, holding the hand of your lover.
Classic engagement portraits can take you back to the days when both you and your partner were planning your wedding, which marked the beginning of lifetime planning sessions. From the unique and personalized wedding ceremony ideas that you came up with to the list of must-visit honeymoon places that you secretly coveted, your professional couple portraits can remind you how all of these unfolded prior to your wedding day. Keepsakes from your engagement photography session can be a walk down memory lane, bringing back the glorious past, and reminding you of the journey that you promised to begin.
If you and your partner aren't professional models, there is a fair chance that like most couples you won't be naturally at ease in front of the camera. Getting your engagement photos clicked by professional engagement photographers, who will most likely be your wedding photographers as well can be a great start. From deciding on the ultimate wedding photography shot list to discussing how you can make your wedding stand out on social media, your engagement turned-wedding photographer is someone with whom you will spend the most amount of time on your wedding day, and it might be your chance to swap stories and share laughs before your big day.
From engagement portraits running from simple detail shots to six-hour-long extravaganzas in multiple locations with multiple outfits to actually hosting multi-destination weddings, there is no argument that couple photography sessions are the new kick for couples all over the world. Whether you are getting married or getting engaged, these are the moments that will never come back, and freezing these moments in the most appealing professional photography will always remind you of the best reasons why you started this new life.
In the late spring of 2022, we swooned over the newly engaged duo, which reminded us of the naivety and whimsical spark of love and affection. We were greatly pleased when we met Montel and Joerissa, the couple with a blooming sense of passion, who are also teamed with a great sense of style and chicness. It would be right to say that we fell in love the moment we saw them, because of their adorable smiling faces and lively demeanor, and it was serendipitous to document their new beginning.
The lovely pair chose Chicago to record their love story for all the right reasons and we couldn't stop but cheer on this decision. One of the prettiest jewels in Illinois's crown, Chicago is crammed to the brim with picturesque wedding and engagement locations filled with breathtaking backgrounds for Chicago couple photography. Starting from your friendly neighborhoods to the trendy high rises to the gorgeous landmarks brimming with history, Chicago is the perfect venue to tie the knot with your lovely valentine or even declare your love by going down on your knees.
Chicago is filled with a wide range of dynamic backdrops from eclectic cityscapes to the rock and roll country music scenes blurring in the background, from the rustic neighborhoods filled with horse trails and quaint countryside elements to the unending sparkling beach waves, making it a perfect location for inspirational engagement photography sessions.
Our Chicago engagement photographers love the jaw-dropping beauty of the welcoming neighborhoods and thoughtful designs of the Chicago architecture and landscape that lends gorgeous photo opportunities marked with phenomenal backdrops. Filled with lush greenery, waterfront settings, towering skyscrapers, and glistening architectural marvels, we loved how our newly engaged Chicago couple chose this city to declare their love for each other.
They chose the historic landmark of Chicago Union Station as their engagement photography location. And we were swooned by their engagement portrait location choice! As much as we praise the choice of photography spot, our candid photographers in Chicago did not miss a single chance of capturing the exclusive elegance of this landmark. This iconic building and marvel of modern transportation that existed for nearly a century is an amazing engagement location in Chicago. Our engagement photographers in Chicago love this marvelous building that was designed by Daniel Burnham and completed by Graham, Anderson, Probst, and White. Montel and Joerissa reserved the majestic Great Hall of this iconic landmark for their couple's photography session in Chicago.
It is a majestic structure that is deserving of the city's status as a major railroad hub, as well as being a priceless asset for Chicago's future. Amtrak now holds ownership of it. Chicago Union Station is the third busiest station in the country overall and the fourth busiest station for Amtrak. The station serves over 300 trains daily for more than 3 million Amtrak passengers and 35 million Metra passengers annually.
You can also host your wedding at this iconic Chicago location. This way, you and your guests will be transported to a special time in the history of our city when Chicago Union Station's event spaces are filled with excitement and vitality and are steeped in vintage glamor. This Beaux-Arts station's meticulously restored Chicago wedding event spaces are ideal for gatherings of all sizes, from intimate to grand weddings.
Located just steps away from Downtown Chicago, your Chicago Union Station engagement photography is up for a treat when you choose this location! You can even move to Downtown Chicago for the rest of your couple portraits as this is undoubtedly one of the most photogenic and popular spots in Illinois. Since The Loop is the central business district and the main section of the city, it is one of our favorite and coveted spots for engagement photography in Chicago. The iconic and stunning panoramas of this city make it one of the most photogenic cities in America, as the phenomenal architecture retains a feeling of airiness as it gleams in the sun and the aesthetically pleasing public spaces and tourist spots reverberate like sunshine in engagement portraits in Chicago.
Perfect for realizing all the ideas for engagement photography sessions in Chicago, the various photogenic backdrops of the city makes it worthwhile and unforgettable for all the newly engaged couples who want to capture the blissful moment in time before all the wedding planning begins. Ranging from the 1920s theater's vertical 'CHICAGO' sign that can showcase the deep and committed love for this Windy City to the idyllic settings of Milton Lee Olive Park during the golden hour when the sun sets over Lake Michigan and the unobstructed views of Chicago Skyline come into life, there are many classic engagement photo locations in Chicago that are loved by professional photographers all across the globe.
While mentioning Chicago, we cannot miss out on the colorful and playful Centennial Wheel at Navy Pier, the oversized Ferris Wheel located by the waterfront carousel-like rides that are considered to be the brightest backdrops for the ones who are young at heart. Another monumental photo spot of Chicago, the famous Millennium Park where the popular Cloud Gate and Jay Pritzker Pavilion along with plenty of other cultural structures reside, continues to be the top spot for our couple photographers in Chicago.
Considered to be one of the most photogenic spaces in Chicago, The Loop has its own share of hidden gems for your Chicago engagement photography. Some of the most Instagram-able spots in The Loop can surprise you with their striking and marvelous aesthetics. You can start your photography session by visiting one of the observation decks in Downtown Chicago, like the Skydeck Chicago or 360 CHICAGO, and let our Chicago professional photographers capture you against the perfect Chicago Skyline in the backdrop spanning over 50 miles. The stunning Instagrammable engagement portraits in Chicago from these sky decks are truly out of the world in both night and day photography sessions.
The dining options in The Loop can be one of your best bets for your social media feed if you are looking for great spots for capturing unforgettable outdoor engagement photography moments. The elevated dining experience featuring an effortless and refreshing urban conservatory, especially during sunsets, can create some of the most incredible golden hour portraits in Chicago.
You can also indulge in an architecture tour or a sunset cruise from Navy Pier or the Michigan Avenue Bridge, and find the absolutely perfect backdrops for epic social media feeds. These 90-minute tours take you through the top-rated tourist places of Chicagoland's Loop, providing you with a plethora of photo opportunities for your incredible Chicago engagement photography session.
The day of this Chicago Union Station engagement portrait session started bright and early. Montel's gorgeous fiancee Joerissa donned a stunning red engagement dress with a floor-length train! Can anyone imagine anything more effortlessly chic to bring to an engagement photography session that depicts the mood of the city? The lovely floor-length red engagement dress featured a plunging neckline with a thigh-high slit. She paired it beautifully with a simple pendant. She teamed up this perfect elegant engagement look with enchanting engagement makeup. Her carefully middle-parted hair dropped down and beautifully caressed her face and shoulder, along with complementing her stunning engagement look very well.
Orchestrating the perfect couple's engagement look, Montel decided to flash his stylish front by wearing a formal black engagement suit with a crisp white shirt. The formal engagement look paired with a black buckle belt and black shoes looked chic and striking. The perfectly coordinated formal couple's engagement outfits looked incredibly accentuated by the lovely smiles that never left their faces throughout the day.
Our power couple posed on all the photo spots of Chicago Union Station and celebrated the extraordinary backdrops that it had to offer for their incredible engagement photography session in Chicago. Montel and Joerissa walk hand in hand while occasionally striking a pose and flaunting their engagement rings which were a total stunner! We loved how the couple exuded an elegant demeanor that was exactly portrayed in their Chicago engagement session.
The day was wrapped as Montel and Joerissa posed for gorgeous engagement portraits with our Chicago engagement photographers and where they orchestrated a long list of favorites that never seems to end. From the way, this fun-loving couple displayed their acts of love for their engagement photography session in Chicago, to the perfect shots which our professional photographers managed to capture in their candid moments, every little detail added up to create a memorable engagement album that will be cherished for generations. The dramatic settings of the various engagement spots spread across this Chicago landmark and the keen eye for detail were the perfect additions to our impressive newly engaged couple's professional photography session. There is something so positively infectious about this to-be-married couple that absolutely warmed up our souls and made the late spring day in Chicago even dreamier.