Monochromatic Wedding Palettes For A Modern Summer Soiree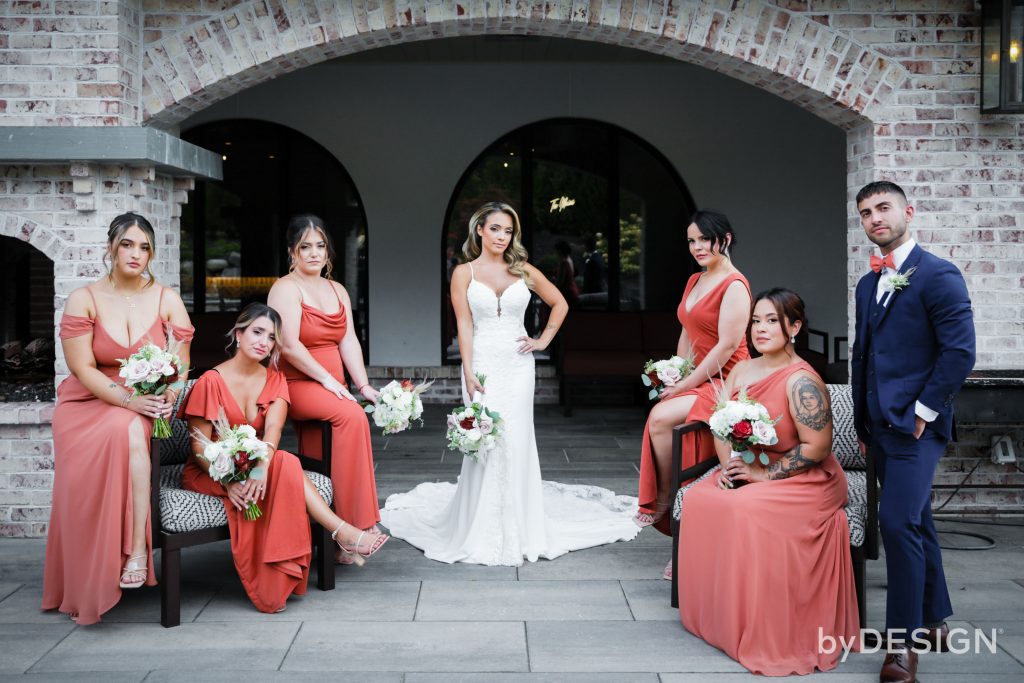 To celebrate your love, it is essential to find the colors, details, and ideas that fit your and your partner's personalities! A summer wedding is perfect to celebrate togetherness and a great new beginning. But with that, it is also crucial to find the right combination of colors. Although summer wedding color palettes are many and great, there's also room for something softer, something prettier, and something nuanced. In our opinion, apart from the lovely summer colors, we feel that your summer wedding deserves a modern twist. If you love summer color combinations for a wedding but are still looking for better ways of dressing your modern summer wedding, then we have just the thing for you! Today's topic of discussion revolves around pretty monochromatic wedding palettes!
What are Monochromatic Wedding Palettes?
Before we discuss the variety of colors and schemes that you can choose for your lovely summer wedding, let us talk about what makes a color palette monochromatic. The reason why we want to get into this is to help you understand the color schemes we mention better. Additionally, we want you to understand the bare essentials of a monochrome color scheme so that you can create your own if you don't fancy any of the ones we mention. Simply put, understanding what makes a color scheme monochrome will help you come up with ideas even if you go through our list of vetted color schemes, which we are sure will add drama, style, and perfection to your indoor or outdoor summer wedding. When we say monochrome palette, it refers to a gradation of colors that come from the same color or hue. The way to get it right is to choose a shade, which could be any color, and then choose other colors that are either darker or lighter. To balance your monochromatic wedding palettes you can add some neutral shades to the chosen shades and hues.
Impressive Monochromatic Color Palettes for your Summer Wedding 
We have compiled a list of some of the best monochromatic color palettes that we feel are beautiful and perfect for a summer wedding. You can choose these color schemes for your entire wedding, or choose one for your wedding ceremony, another for your cocktail hour, and one for your wedding reception party.
Add a Romantic Glow to your Wedding with Pretty Reds 
Choices of Reds: Burgundy, Crimson, Vermillion, Dusty Blush, Raspberry
Additional Colors: Dusty Rose, Blush Pink, White, Cream, Black
Let's start off with a romantic color palette for your wedding day. There's nothing more romantic than the pretty shades of red. You can use the different shades of red that we have mentioned above, and add a neutralizing color to balance the palette. One of the best ideas that we have is to use all of the red options to choose from, and then choose a neutral shade or any of the colors from the options we have mentioned under "additional colors" to create your wedding color scheme. For example, you can choose one or two colors, like dusty rose or cream for your wedding ceremony, and then choose black along with the other colors for your wedding reception party, and then choose white or cream for your reception party. This way you can create a different setting for your wedding day celebrations! Also, you can choose to inject some more neutralizing colors to your wedding palette with black, or any other shade you feel works with the monochromatic red color palette. You can also choose to have a tiered wedding cake, and have each tier of the cake colored with a shade of monochrome red color scheme! More ways to use this color palette for your modern wedding is to have some colors from the scheme displayed on the wedding stationery, and have, say blush red or dusty blush, or dusty pink, as your bridesmaid's dresses. Lastly, you can choose to have a brilliant moody red wedding bouquet for your wedding ceremony.
2. Color your Wedding with Pretty Cerulean Touches 
Choices of Blues: Dusty Blue, Midnight Blue, Cadet Blue, Pale Lapis, Presidential Blue
Additional colors: Coral Pink, Slate Gray, Silver Gray, Gold, White
Apart from pretty scarlet, we feel that blue and hues of blues will add more romantic touches to your wedding. The colors for blues for your monochromatic wedding color scheme are perfect for a lovely, fresh, and airy summer wedding. Although our first idea and options were deeper and on the moody side, this color combination will add freshness to your wedding. This delicate mix of colors can be used for an afternoon wedding. However, we feel that a monochromatic blue color palette will look perfect for just about any kind of wedding. That said, you can choose to use this color scheme by choosing a lovely wedding cake in silver, with dusty blue and midnight blue sprinkled on the cake. Additionally, you can also choose to add some gold to the wedding cake. For your wedding ceremony, you can choose to have lovely white, silver, and splashes of gold in your dusty blue, cadet blue, and midnight blue combination. To neutralize your wedding's color scheme, you can have slate gray bridesmaid dresses. Also, you can choose to have beautiful silver gray or slate gray as your wedding day accents. Also, for your wedding day tablescape, you can choose pretty much all the colors to make it look stylish and modern. For example, silver and gray French details for cutlery, dusty blue napkins, and coral pink table runners will be perfect! However, you can choose to use the colors as you, please.
3. Splashes of Green for a Beautiful Wedding 
Choices of Greens: Pastel Green, Emerald Green, Teal, Thyme, Basil
Additional Colors: Mint, Persian Green, Dark Green, Deep Brown, Lavender, Peach
If you're in the mood to have an amazing wedding but want a color scheme that makes you feel closer to nature, then this is the color scheme for you! Green is usually a color of rejuvenation, the start of something new, and revitalizing energy. So, if you're looking for something fresh sans the air, then instead of choosing a beautiful blue color palette for your wedding, then this color palette is exactly for you! From greenery-heavy wedding bouquets to flowers in pretty shades of green, from emerald green velvet bridesmaid dresses to precious emerald jewelry for your wedding day, there are so many different ways to add these colors to the modern celebration of your love. For bridesmaids, instead of choosing velvet dresses, which will make your bridesmaids feel uncomfortable, you can choose slip dresses. You can also have them dress up in basil green dresses. As for other wedding decor details, to incorporate green into your wedding, the best idea is to choose lovely greenery decor, we're talking about massive additions to your wedding and have pretty peach flowers and lavender woven into your greenery. Apart from this, you can also use this color scheme by adding more details to your wedding by having the groomsmen dressed in mint green suits or shorts, if you're looking for non-traditional outfits for them. You can choose to have Persian green accents, or even have Persian green wedding dessert along with desserts created in beautiful peach and lavender, which will help you to add more color to the wedding. You can also have these colors in your wedding escort cards or place cards. For example, you can have each color on the escort card for different wedding guests, this way all of the colors will be used.
4. Go Classic with White and Beige 
Colors: White, Beige
Additional Colors: Peach, Brown, Black
For the last color scheme on our list, we want to go back to the classics for your modern wedding celebration! We love a wedding dressed in beautiful white and beige shades. The reason why we're drawn to this evergreen color combination is simply that it is just perfect for a summer wedding. Depending on which neutralizing color you choose, this color palette will go from stylish to delicate. For example, if you use peach with white and beige, it is a delicate summer celebration, while if you choose brown or deep brown, the wedding will look classy. Additionally, if you choose black with white and beige, then it can be vintage. To make your beautiful white and beige monochromatic color scheme into a lovely vintage wedding theme, you can choose pretty wrought iron details, and pair them with crystal wedding details. That said, floral arrangements in these shades are just right, they are lovely and exceptionally romantic. You can use black in the wedding bouquets too, especially if you're a non-traditional bride. Apart from this, you can choose all of the additional colors for this color scheme as your bridesmaid dresses in even numbers or odd numbers. Also, to add more charming details, you can choose to have peach, black and beige on a white wedding cake!
Bonus Idea: Ombre Wedding Shades 
For couples who are looking to choose a beautiful wedding color scheme and want something unique, then an ombre wedding color scheme is perfect for you. You can choose a lovely shade, and then, you can choose to go a shade lighter or dark for the color scheme. For example, if you want three colors apart from one primary color, then all three can be darker than the primary color for your wedding color theme, or lighter. And if you have six colors, you can do the same. However, for six or more colors in a color scheme, you will have more room to play with colors, so you can choose white, beige, and other colors to neutralize the ombre, as we have mentioned above. That said, an ombre color scheme can be used for your floral arrangements, which will make your wedding look dreamy, or you can even have an ombre wedding dress! That said, you can also choose to have an ombre wedding cake, which looks stunning and modern. Other options you can choose drapes in a way that creates the ombre effect of the wedding color scheme you've picked out, you can also choose to have some pretty cocktails and lovely dessert table decorations that portray the colors you've picked out. What's more, you can also choose to come up with a pretty cascading wedding bouquet in the shades of the ombre color scheme you've chosen. Ombre wedding ideas not only help you choose a pretty wedding color scheme but also give you impressive wedding photos.
Additional Tip: Pull Off a Monochrome Wedding with Ease 
The first step for your monochromatic wedding theme is to choose a color you love. Once you have that color and continue choosing shades, hues, and tints that are similar but not the same. To pull off a wedding with a great monochrome scheme, you will need to take two more steps, which are especially crucial. The first step after choosing a beautiful color for your color scheme is to communicate it to your wedding vendors, this will help you finalize the floral decor, the other wedding details, and your pretty wedding cake. And this will be followed by communicating the same to your wedding guests. For your monochrome wedding theme, it will be crucial for your wedding guests' attire to match. So, once you have everything finalized, the last step to pulling off a monochrome wedding is to settle on a dress code for your wedding.
With that, we hope you not only have a great time planning your wedding but also have a great time choosing the colors you'd want your wedding to have. Also, we hope that the ideas above help you choose a color scheme for your wedding, and give you the perfect setting for a dreamy summer wedding. Before we leave you with our inspiration blog, we'd like to mention that the ideas that we have are just to help you find inspiration. Although these can be used as they are, you can choose to swap out some colors and add some new colors to them as well. That aside, you can also use the information above to create your own wedding color scheme. However, remember to do swatch tests to see the colors, and get your wedding planner and wedding coordinator in the loop, they may have some great ideas as well.