Luxury Wedding Cakes To Take The Spotlight!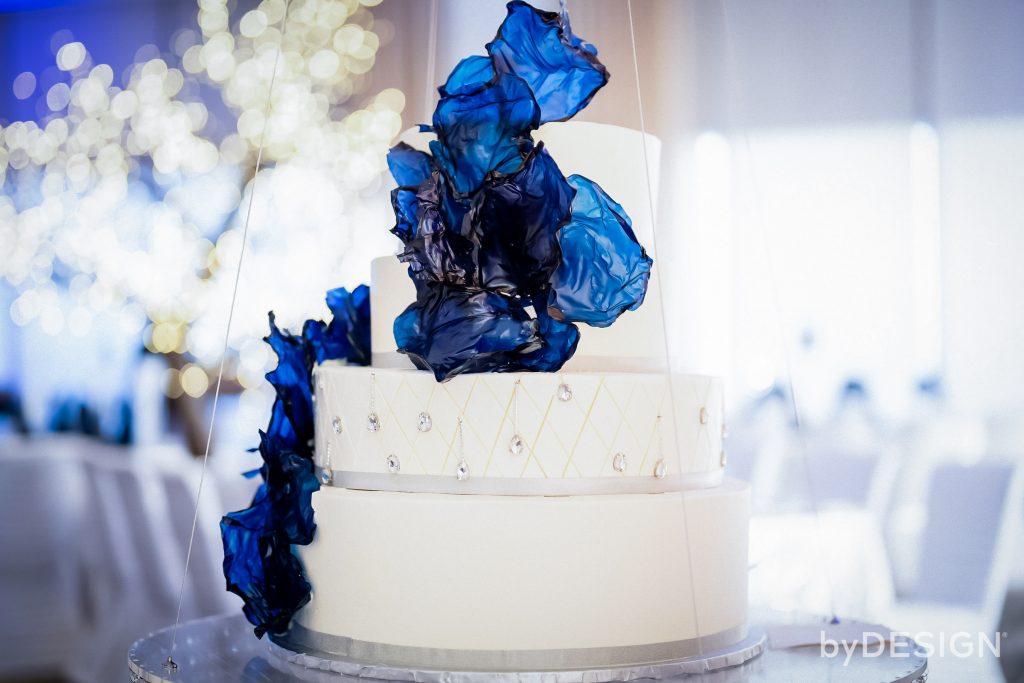 Wedding cakes, the pièce de résistance of any wedding celebration, are not just mere desserts but rather exquisite works of art that capture the essence of the celebration. The mere sight of a luxurious wedding cake evokes a sense of awe and wonder, and it is no wonder that they have become an indispensable part of any extravagant wedding. These decadent cakes are more than just a treat for the palate. They are the embodiment of the couple's love and commitment to one another, a symbol of their union, and a representation of their shared dreams and aspirations. The artistry and craftsmanship that go into creating these cakes are a testament to the level of detail and care that the couple wishes to imbue on their special day. From the intricately designed fondant to the luscious layers of buttercream frosting, every element of the wedding cake is designed to tantalize and entice the senses. The use of exotic flavors and ingredients, such as lavender-infused cream, rose petal preserves, or artisanal chocolate, adds a touch of sophistication and luxury to the cake that is sure to delight even the most discerning palates. The cutting of the wedding cake is one of the most significant moments of the reception, and it is a time-honored tradition that symbolizes the couple's first act of sharing and unity. As the couple slices through the multiple layers of the cake, they are not only sharing a piece of dessert but rather, they are sharing a moment of love, joy, and hope that will last a lifetime. Since your wedding is a monumental moment in your life, and is going to be a lavish celebration, we feel that your wedding cake should be exuberantly lavish as well. Whether you're throwing a summer wedding or an eloquent winter wedding, we have some ideas that will make your wedding day look even better.
Flavorful Naked Cakes with Floral Details 
Luxurious wedding cakes are often adorned with intricate sugar flowers, delicate lace, and ornate pearls, giving them a sense of opulence and grandeur that is fit for a royal wedding. But this idea, our first one for the list, is a little different. Regardless of the type of wedding you're throwing, a naked wedding cake will be a great way to add beauty to your wedding. Naked wedding cakes are unfrosted cakes adorned with lovely wedding cake flavor and some amazing decor. We love naked wedding cakes because they are stylish and beautiful. And above all, they put a different twist on "lavish" and "luxurious." Sure enough, we feel that naked wedding cakes are too simple for a lavish wedding. However, the truth cannot be far from it. Instead of thinking of frosting for your wedding cake, you can simply choose a rare flavor for your wedding cake, such as lavender and honey or saffron and pistachio, or any other flavor that you may prefer for your wedding. To add the idea of lavishness to your wedding cake is to use more tiers to your cake. You can choose to add some amazing decor details to the wedding cake as well. For example, pressed floral details are a great way to add color to your cake, another way is to have a chocolate drip or any other flavored drip for your wedding cake, or even have a half-naked cake with some pressed flowers.
One of the best ways to add colorful and exquisite detail to your wedding is to choose a colorful wedding cake. And of all the different and many ideas that you can use, we absolutely love handpainted wedding cakes. There are many reasons, but the primary factors as to why we choose these are that one, they are pretty, and secondly, they are very personal and elaborate. You can use these wedding cakes to add a different color or hue to your wedding color theme, or you can use the same colors to make your wedding color scheme look better. A great way to use this idea for your wedding is to commission a beautiful handpainted wedding cake for your wedding. This will give you a personalized cake. You can put in some requests for the exact details that you want for your wedding cake. Additionally, you can put in a request on what kind of colors you'd want on your wedding cake. Apart from this, you can also ask your baker to add any kind of detail to your wedding cake, depending on your preferences. For example, you can ask for your wedding cake to be bright with big flowers handpainted on the cake tiers, ask your baker to create an abstract piece of art, or have your baker handprint an intricate design that tells a story, the choice is yours. If this is not elaborate enough, you can even have your wedding cake made with sugar leaves, edible flowers, and edible pearls (which can be glitter too!) or even have crystal accents! These additions will make your wedding cake look spectacular and just perfect. Another way to add more details to your wedding cake is to ask your baker to add some texture to your wedding cake as well. Think of a wedding cake that looks like a piece of art, pretty similar to an oil painting. Another way to make your wedding cake look lavish, and elaborate is to ask your wedding cake to be created to look like a cluster of gemstones such as amethyst or emeralds. Every detail can be created with sugar.
Vintage-inspired Wedding Cakes 
One of the best ways to improve your wedding's look is to choose a vintage-inspired wedding cake. Before we talk about different kinds of ideas, we want to talk about a big wedding cake, with multiple tiers. You can figure out a way to add some dainty details to your wedding cake, regardless of the tiers for your wedding cake. You can also choose to go a little different, you can choose to use vintage details for your one tier, then use piping details on the second tier, and then continue like that with alternating tiers. This will help you add pretty details to your wedding cake, by adding the best of both styles. This kind of cake will be perfect for not only your vintage-themed wedding but also for any kind of classic or opulent celebration. You can ask your baker to complete the cake as per an inspiration that you find interesting or have a baker craft something special for you. To make your vintage-inspired cake, you can also add some interesting pearl details to your wedding cake. Of course, it goes without saying that your wedding cake details need to be edible. As for color options, you can choose some amazing colors, such as pastel colors. We feel that pastel hues for a wedding cake, especially these kinds of cakes, are a perfect choice. You can have a wedding cake with multiple colors, one for each tier. However, apart from this, you can also choose to incorporate some pastel hues from the color scheme for your wedding.
White Wedding Cakes 
Another amazing way to add the idea of luxury to your wedding, as well as simplicity, is to choose a beautiful white wedding cake. All you need is a flavor for your wedding cake, and that's it. Don't worry, we won't let your wedding cake be monotonous. After all, your wedding day is special, which means your wedding cake is just as special. So, here are a few ways to make your wedding cake amazing and as grand as your wedding. The first idea that you can include is to choose a delicious wedding cake flavor. You can choose some rare flavors that will help you improve your wedding cakes' taste. And if you want to take it a step further, how about choosing to have a different flavor for every tier of your cake? This will help you marry different flavors together. For this idea to work, you will need to experiment with different kinds of flavors, so that you can have the best ideas together, so the cake tastes amazing. Now, for the look of the wedding cake, there are two ideas for it. The first idea to make your cake perfect is simple, you don't add anything to the cake or its look. This will keep the cake basic and allow you to add something traditional to the wedding. You can have white icing and white piping to make your cake look the part. And if that's a monotonous deal for you, then how about you add some love color to it? When we say color, we mean adding minimal details to the wedding cake by choosing any of the ideas we have already mentioned.
Lavish Weddings, Lavish Ideas: Some More Ideas 
Now that we've mentioned some usual ideas, let's talk about other ideas, ideas that are not conventional or even traditional. So, one of the most important things to keep in mind before we get into these ideas is that it is your wedding day, your celebration, so make sure that you choose something that you and your partner love. Your wedding day cake should be pretty and flavorful, and above all, look exactly as you want it to look. Another idea that we'd like to bring to your attention is a beautiful, artisanal cake. What we mean is simple, choose a wedding cake baker, and have them create something out of the cake! For example, if you're throwing a fairytale wedding, you can have your wedding cake designed as an elaborate beauty. You can request your baker to create a castle out of the wedding cake. However, you can choose to have a small castle or even a massive one, as you like. You can request to have any idea or design for your wedding. Another idea is to choose different shapes. If you're choosing a variety of different flavors for your wedding cake, as we mentioned a little earlier, you can choose different color ideas, and even shapes, that too on the same cake! We love a unique wedding cake, and you can choose to ditch the regular circular and round cakes, and be bold with some other shapes. You can choose to have a square wedding cake, a square design is relatively common though, then you can choose to have a diamond-shaped cake, you can choose to have obtuse shapes for your wedding day, any shape that you want, you can have it! This will add a unique touch to your wedding cake and also give you something fun to do when you're booking your wedding cake vendor. Lastly, you can have something absolutely different. You can have your wedding cake vendor bake a cake that is ultra-realistic so that the cake blends with your surroundings. What we mean to suggest is that you can your wedding vendor create an artistic cake, that blends with the surroundings and is not recognizable, and surprise your guests by cutting the cake and showing them that this is a cake! However, for this, you will need to keep the cake away from the reach of your guests, so that one of them does not find out about the cake accidentally. The cake can look like a beautiful ornament or anything else that fits the idea of your wedding.
That brings us to the end of our inspirational blog on wedding cakes. To us, wedding cakes are not just desserts; they are pieces of art that represent the couple's love and commitment to one another. The luxurious wedding cakes, with their exotic flavors, intricate designs, and opulent decorations, add a touch of sophistication and grandeur to any wedding celebration. The artistry and craftsmanship that go into creating these cakes are a testament to the level of detail and care that the couple wishes to imbue on their special day, making it a truly unforgettable experience for all. We hope that our ideas help you to choose a wedding cake that is close to your heart and represents what you want. And if you don't like any of the ideas above, we hope these ideas help you come up with an idea that works for you.