Bubbly Ideas For Your Wedding Day- Stemware, Champagne Towers, And More!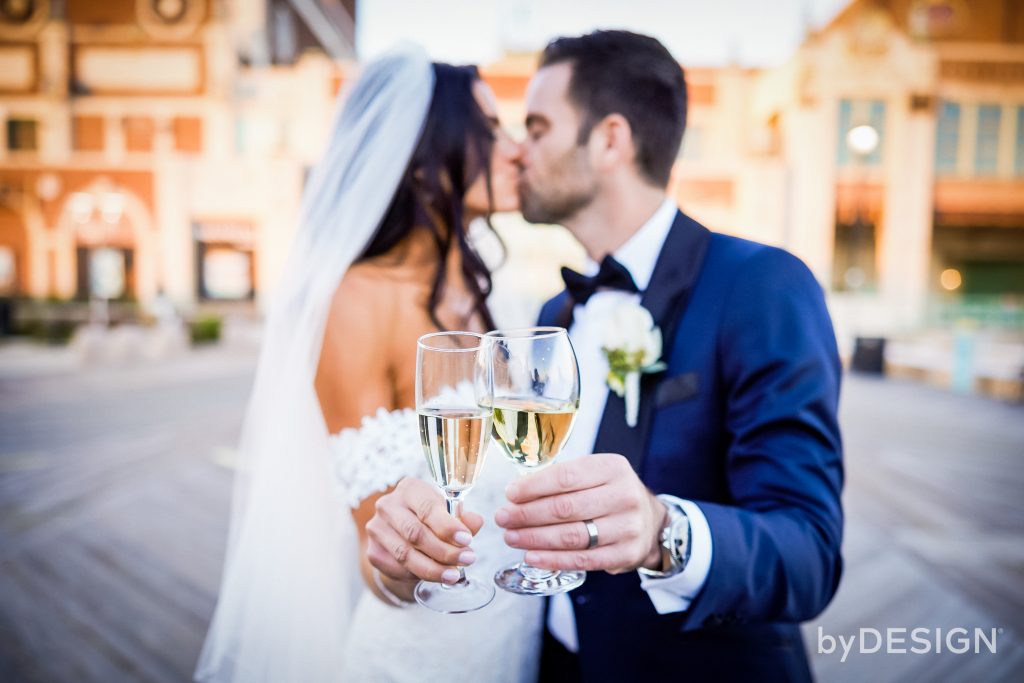 One of the best things about your wedding planning is that you have the opportunity to try different things. Trying different things gives you amazing ideas for your wedding day and helps you add some amazing details to your wedding day that make your wedding stand apart and make it an unforgettable celebration not only for you but also for your wedding guests. If your wedding day is approaching, then you must be beyond excited and must have started thinking about different ideas for your wedding, and we have some amazing ideas for you! Today the point in the discussion will revolve around the pretty stemware you can use for your wedding day, the champagne towers for your wedding cocktail hour and so much more! Let's get into it then!
The How-to To a Champagne Tower for Your Wedding 
Before we talk about the different ideas and stemware that you can use for your wedding day, let's start with step one. The first step is to figure out how to have one on your wedding day. Sure enough, a champagne tower will make you get excited because it looks classy, and pretty and gives you amazing wedding photos. But before you decide what kind of glasses to use and what kind of champagne tower you'd want, you should talk about wedding vendors. The first few steps of planning your wedding are to start booking your wedding vendors. So, before you start looking into ideas, make sure that you speak to your wedding vendors and ask if they can help you set up a champagne tower. Because, if the answer to this question is a yes, then you can get into discussions about the glasses and the types of towers you can use. So, always ask your vendors first. If your vendors can't, they may be willing to give it a shot for your wedding day celebrations as well. For this, the vendor you will have to get in touch with is the catering team.
After this, you will have to have a discussion with your partner and the vendor about the placement of the champagne tower. The thing about this is that it is easy to drop or fall over. All that work and beauty of the tower will be a shame if it topples over before you even get to fill it up. So, before you smoothen out the wrinkles in your plan, make sure that you and your partner settle on placement for your wedding's champagne tower. Also, if you have decided to use a champagne tower, remember to also discuss when you want to have your champagne tower moment. Although most couples want the champagne tower at their reception party, you can also choose to have this during cocktail hour or even after your wedding ceremony. These three points, talking to your wedding vendors if they can do it, figuring out where you will place the champagne tower, and the third point, knowing when you'll fill them out, are crucial. It is only after you have figured out the answers, you should begin looking into the different ideas that you can use for your wedding day.
Bubbly Ideas to Add Sparkle to Your Champagne Towers
In this section, we will dive into a variety of different ideas that will help you choose the right kind of champagne towers with the right glassware. To make these ideas easier for you to digest and visualize, we have decided to create different sections, such as one for the drinks to be poured in the other for the stemware or glassware, and one section for the type of champagne tower that will work amazingly well for your special day.
Size Ideas for Your Champagne Tower
Before we give you ideas for a champagne tower's size for your wedding, let's just say this, the base of your champagne tower should be solid. Pay attention to the base, and everything else will fall into place. Also, make sure that you agree on the number of tiers you will want for your wedding day. Now that we have two of the most important things mentioned, we'll like to tell you that size is one of the easiest things to manage. Depending on your tastes, you can have your catering vendor fix you up with something. Most couples go with the traditional 4×4 champagne towers for the wedding celebration. However, if you're in the mood for something larger, you can choose 6×6 or even 7×7 for your wedding day. Another thing to take note of is that the tier will be the same as the number of glasses you choose as the base.
Styles Ideas for your Champagne Tower
This section will have ideas for champagne towers along with the kind of glasses you can use to add charming details to your wedding day!
1. The Classic Champagne Tower 
The classic tower is the one that we're most used to. The tower in discussion right now is the pretty clean broad mouth stemmed glasses, stacked on top of each other. This idea is the most popular one for weddings, and we love it. There's something mesmerizing about rippling champagne in glasses. We also love the bubbly overflow. Unlike the ideas that we will talk about in the next few points, this one is simple and easy. All you'll need are glasses, the pretty coupe champagne glasses, and a bottle of champagne. That's it. This idea works well for classy black-and-white wedding ideas.
2. The Pretty Stacked Champagne Tower 
Another idea that we love is a champagne tower with pretty trays in between the tiers. What we love the most about this idea is that unlike the previous idea, which we love for its classy simplicity, this one is elaborate and eloquent. You can have your caterers or the wedding planner help you plan a beautiful wedding champagne tower with details from your wedding tablescape. Instead of simply looking for any tray to stack the glasses on, you can choose trays or similar styles of trays for your wedding day. For example, you can use a tray or a plate that looks similar to the dinner plates you've chosen for your wedding guests. If your wedding has a lot of lace details, then you can simply choose to add lace to the edges of the trays or look for trays with details that make the edges look as though it is lace. Or you can also choose a tray that is similar to your wedding decor.
3. Shapes Make Everything Better 
Another idea that we love for your wedding is a styled champagne tower. This can be any shape you like. The best way to have this at your wedding is to choose a block, in a different shape, and use that to build your champagne tower. You can have your wedding planner or wedding coordinator work this out for you. Although you can choose just about any shape, we absolutely adore the square one. The square-shaped towers look pretty and interesting. Also, it helps you create a strong base. All you need to do is place the glasses next to the shape, it could be a box or a hardboard, and build your tower on it. This looks good for any kind of wedding.
4. Stacked on the Boxes 
This idea, although amazing, works only for rustic wedding ideas only. The idea involves creating faux tiers by placing wooden boxes or crates on different heights and then placing glasses on them. This works brilliantly for a creative champagne tower for your wedding. These wooden boxes can be rustic in appeal and have no color or writing on them or can be a box from things you've bought in the past to add an authentic appeal to the champagne tower. Another thing to keep in mind apart from a rustic wedding idea, you can use these boxes for any other wedding idea. All you have to do is have your wedding planner help you get these wooden boxes painted in the colors of your wedding color palette, this will help you merge the tiered champagne tower with your wedding's look. You can also request these boxes to be painted in matte colors so that it looks classy and pretty! We like this idea because it helps you add a unique aspect to your wedding day!
5. The Floral Champagne Tower 
If you loved the previous idea, we're sure you'll love this one too! You can use any of the ideas that we've mentioned above to create a champagne tower for your wedding day. Now, once you've had that nailed down, all you need to add to the tower are flowers! Every champagne glass can have a lovely flower stem in it, this adds beauty to your tower. Although we're big fans of red flowers and champagne because the colors simply go well together, you can choose a color that you like. You can also create a color progression or an ombre effect to add more beauty to the lovely floral champagne tower. For this, we feel that even the pretty flute champagne glasses will work. However, you can use coupe glasses as well. Apart from this, we feel that this kind of tower adds freshness and beauty to your wedding. The thing is, until you pour the champagne, the glasses are standing there empty. But if you have a tower with flowers and stems running from one tier to another, this will create a wonderful addition and also serve as a wedding accent for your wedding!
The Drinks and Cocktails You Can Use 
Firstly, remember that you will need more than one bottle to fill out the champagne tower. The calculation for how many bottles you'll need for the tower is simple, one bottle fills about five glasses. So, you'll need about six bottles to fill a 30-glass champagne tower. For the champagne tower, you can use the sweetest of the champagne options, so that you can maximize the output. You can also use bottles that are pretty, this will help you add a brilliant aesthetic appeal to your champagne tower. Champagne bottles such as the pretty Ruinart Rosé Second Skin by NV, Perrier-Jouët's Belle Epoque Vintage,  Dom Pérignon Vintage 2010, and Moët & Chandon's Ice Impérial are brilliant choices for your wedding day. You can use these bottles and have a great time. Apart from this, although this is unusual and we haven't seen it, you can also use signature cocktails for your wedding's champagne tower if you want to add some color to the tower. You can have the signature cocktails made in an extra batch for you to bottle, as per the number of bottles you'd need, and use it to have your classy champagne tower moment! We know that using this idea almost defeats the purpose of a "champagne tower" but we feel that it can be an interesting choice.
These ideas above are amazing ways to add charming details to your wedding day. To us, a champagne tower sounds like a beautiful old Hollywood idea for throwing a wedding. We love the razzle-dazzle of a beautiful champagne tower. Above all, we absolutely love the fact that you can try out different things, from a drink of your choice to the kind of glasses you'd want, there's so much you can do and figure out. Instead of choosing a simple option, which is pretty traditional, we feel that you can do so much more. Although you can use practically anything for your wedding, we feel that you can also try to synchronize the color and ideas of your champagne tower as though your wedding color combinations. Another way to add a glorious pop of color to your wedding is to use colorful drinks. Instead of simply using champagne, you can use mojitos or colorful cocktails packed in a bottle or bottles, this will help you personalize your champagne tower and its brilliance. We hope that our ideas help you come up with an idea or help you find one from our list that fits your wedding day idea perfectly.