Make Your Wedding Decor Sparkle With These Trending Ideas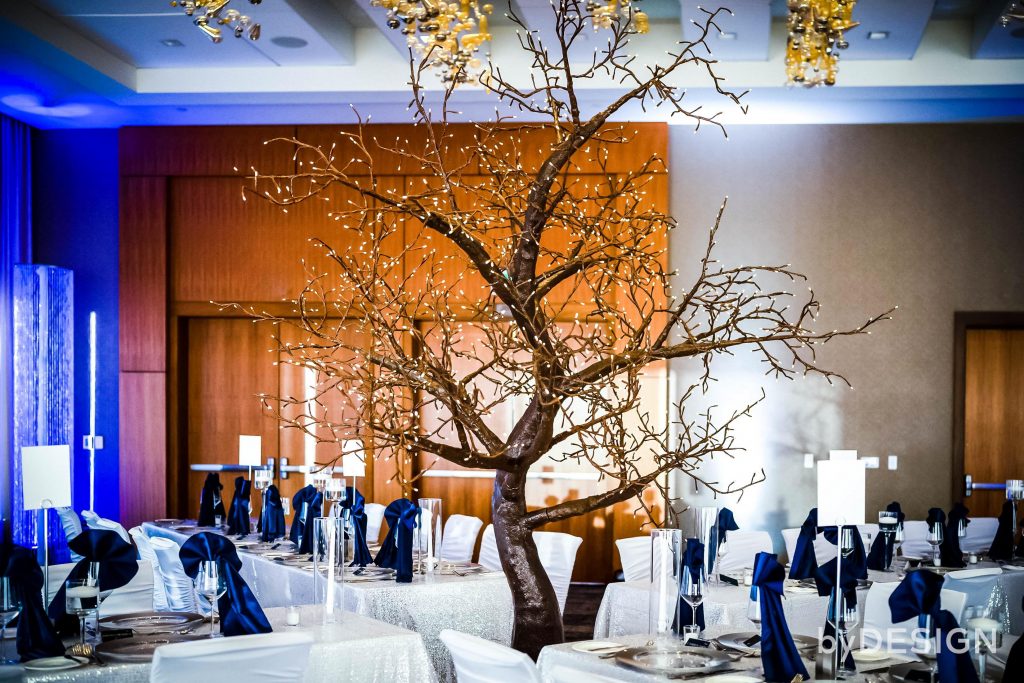 A short quote by Antoine de Saint-Exupéry, a French writer and poet, "True happiness comes from the joy of deeds well done, the zest of creating things new," is what comes to mind when we think of a wedding day and of tying the knot with the love of your life. To us, getting married is just the starting point of something significant in your life. To us, a wedding day is a dream coming true, your hard work finally paying off, and is the day you put a lot of thought into it! And this is why we love talking about how to improve your wedding day's aesthetics. After all, you're going to get married only once, and it is only natural for you to come up with the perfect wedding decor ideas along with beautiful decor details that make your day look as dreamy as you've always pictured your wedding day to be! That being said, there's something elegantly magnificent about a wedding with some sparkly wedding decor details. We love a wedding with some bling, some glittering decor, and some glam. And that is why the topic of our blog today is beautiful and fetching sparkle ideas for your wedding day!
Glitter-Dipped Wedding Details 
Let's start off this blog with a simpler idea! The first idea for your wedding details is a simple one but will end up adding big details to your wedding. Since adding sparkles to your wedding is a great idea, and honestly, who wouldn't want that, to us, the best idea is to use glitter! And as usual, let's start from the top. If you love glitter, then using some glitter in your wedding stationery is the best way to set the tone for your wedding. You can choose to use a minimal wedding invitation, or go for a big, grand wedding invitation set! Apart from this, you can add some prettier details by using feathers or paper. For your wedding escort cards or even place cards, you can use glitter-dipped feathers. You can choose to use one color for the entire feather, or you could go for a dual-tone, the choice is yours. However, remember the glitter shade should either be a color from your wedding color scheme or should be a complimentary color for the color combination you have chosen. Next, you can also choose to have skewers that are glitter dipped, simply to add some extra sparkle to your dessert or snack table! Another way to add glitter-dipped wedding details is to have glitter-dipped cocktail stirrers or even glitter-dipped wedding favor wrapping! All of these ideas can add some subtle glitter details to your wedding.
 Sparkling Tables! 
One of the best ideas that we love for your wedding day is sparkling wedding tables. A great way to add some amazing style or colors to your wedding is with sparkling tablecloths! So, there are a few ways to make this idea just perfect for your wedding. The first idea that we have for you is to use some amazing sparkling tablecloths for the dinner tables for your wedding guests. This can be a great idea because sparkling tables are a great way to keep your wedding minimal and stylish. The color, however, for the sparkling tablecloths can be as per your choice. Our recommendation is to use the colors from your wedding color theme, this will make your wedding look synchronized. Also, for us, our favorites are usually lighter shades. Another way to add sparkling tables is to use glitter tablecloth for your wedding sweetheart table. The tablecloths can add a beautiful touch to your wedding. Additionally, if you keep the wedding dinner table decor minimal, then the decor will be perfect for your celebration. Apart from this, you can also choose to have either only your wedding sweetheart table with sparkling tablecloths or you could have your wedding sweetheart table and the tablescape for your wedding guests, either way, the ideas will add charming details to your wedding.
Glittering Overhanging Wedding Decor 
Another interesting wedding detail that you can add to your wedding is to use lovely sparkling overhanging decor ideas. Let's start talking about the subtle ideas first, then progress to the bigger and better ideas. So, one of the simplest ways to add a glittering or sparkling overhanging wedding is to use a massive chandelier. If you're in the mood for something more, then you can use faux ceilings made out of string lights to help you get a cute and beautiful look. Other than this, you can also use overhanging balls of lights as well. However, for a luxurious wedding celebration, we feel that you can use beautiful mismatched chandeliers, the big, retro ones. This will not only add a wonderful look to your wedding day but will also give you a lavish vintage wedding vibe. Apart from it, you can also pair your wedding day with a chandelier that uses some candles. This will give you an interesting and very authentic look at your wedding.
Crystal Wedding Details 
Another great way to add to your wedding day's sparkles is to use crystal wedding details. So, to us, crystal details are a luxurious wedding and a great sparkle to your wedding. If you're looking to add some sparkles to your wedding, then adding some crystal curtains will be a great way to start. Crystal curtains to us are a great addition to your wedding, simply because these can be added anywhere. One of our favorites is to use these curtains, where the crystals are strung together and just drop down for outdoor wedding ceremony ideas. If you've decided to have your outdoor wedding ceremony around sunset or sometime in the afternoon, then these curtains will shine and glitter. And the best part about it is that it will be an amazing thing to capture in your wedding photos! Other than this, you can use the crystal curtains as thin ties to the drapes in your wedding, if you do not want to use crystal decor at your wedding. Another idea for using crystals in your wedding to make your wedding sparkle is to use strings of crystal curtains to add to your other wedding decor ideas. For example, you can use these to have them cascade around the wedding centerpieces, this will create a lovely effect. Another example of using sparkling crystal strings for your wedding is to use these around your floral accents.
Another Take on Crystal Details 
If you're of the opinion that the crystal decor ideas are not for your wedding, then how about using crystal tableware and cocktail glasses? If crystal chandeliers or curtains are not what you are into, then you can simply choose crystal dinnerware. Also, bring back your high school memories by serving some delicious punch in big crystal bowls for your wedding! Apart from this, you can choose two different sets of crystal drinkware for your wedding cocktail hour and a separate one for your reception dinner. This will help you keep the charms of sparkling crystal without making it the centerpiece of your wedding. To add to this idea, you can also choose some delicate and patterned vases for your wedding centerpiece.
Another way to add the charms of something shiny, and something glittering to your wedding, then we have just the idea for you! Instead of choosing wonderful, full, and blooming wedding bouquets, you can choose a bridal bouquet made solely out of beads, pearls, and big glittering details. These bouquets can be made to order, or you can purchase them from stores. What we love about the pearl and bling-y bouquets is that these are just perfect to add some extra details to your wedding outfits. We'll get to sparkling wedding outfits in a bit, but this section is for couples who'd rather hold the sparkle in their hands than add it to their wedding outfits. You can choose any kind of color for these bridal bouquets, and the same can be done for your bridesmaids' bouquets. To add a sense of synchronization to your wedding details, you can ask the groom to use a broch similar to the color of your bridal bouquet. Additionally, the groom can also use a glittering boutonniere. Along with this, the grooms can choose to have glittering watches or even amazing, glitter-heavy rings, or choose bright and sparkly ties.
Sparkling Wedding Outfits 
Let's move away from sequined wedding outfits because those are over the top and have gone out of style. The wedding outfit trends show that two-piece wedding outfits for brides, along with wedding suits are in. And if you're a modern bride looking to add some sparkles to your wedding day, then how about using your outfit to add some of that? All you need is a wedding outfit with some sparkly accents! For example, you can have elbow patches and/ or shoulder patches with glitter in them. Glittering pads are a subtle way of adding some sparkle. Of course, you can also add some sparkles with the help of some amazing glitter shoes. If you're choosing to rock a two-piece wedding outfit, for example, an outfit with a top paired with a pair of pants or skirt, then either of those can be sequinned, rhinestoned, or have a shiny material. As for grooms, one of the stylish ways to add glitter to their outfits is to choose a wedding suit with glitter lapels. Also, we feel that adding a sparkly pocket square or a metallic flower instead of a boutonniere will work just as well for the groom's outfit.
For the last idea on our wedding inspiration blog, let's talk about a delicious idea, shall we? Well, one of the best ways to add sparkles to your wedding is to use a lovely, lavish, and beautiful wedding cake! To be honest, wedding cakes have an important role in your wedding, and the wedding cake-cutting ceremony is attended by practically every person at your wedding reception party, which is why you should pay attention to your wedding cake. So, in our opinion, we feel that your wedding cake will take the cake at your wedding. If you're going for a glitter-heavy look for your wedding, then you can add sparkly details to your wedding cake. Of course, if you have a tiered wedding cake, then you can have alternate tiers smeared with glitter. Another idea that you can use for your wedding cake is to either have the top or the bottom of your tier cake heavy with metallic additions or glitter. You can also tweak your wedding cake's appearance by choosing a sparkling wedding cake topper! You can even add a cute sparkler as you cut the cake at your wedding with your partner!
More Sweet and Sparkly Ideas for your Wedding 
Speaking of your wedding cake, can we take a moment to discuss other ideas as well? Apart from your wedding cake, you can also have a beautiful dessert table for your wedding. Instead of just focusing on your wedding cake, you can choose to dip most of your wedding dessert in edible glitter! So, if you're throwing a Christmas-themed wedding, then you can have Christmas cookies, and top them with some cute edible cakes! If your wedding is based on a theme of your own, then you can also use star-shaped or oval-shaped cookies that are glazed and decorated with glitter, this will add sparkle to your desserts. Other than this, you can also add edible glitter to doughnuts or other desserts, this will make your dessert table look absolutely stunning.
Adding Sparkles to your Wedding is as Simple as This…
If you've been scratching your head and still can't decide on the kind of "sparkle" you want for your wedding, then here's what you can do for your wedding! As you're planning your wedding, make sure that you focus on the color scheme that you've chosen, and if you haven't settled on one before you think about the glitter details for your wedding. Once you have the color scheme in your mind, you will be able to understand the kind of shades you'd need for your glitter or sparkle details. Apart from this, you should remember that when you're choosing to look for your wedding, remember that sparkles will overshadow everything else, which is why it is important for you to choose the right color scheme for your wedding. A neutral color scheme for your wedding will definitely give you a glamorous look.
The Takeaway 
To conclude our blog, we'd like to leave you with some practical tips. As we have said so many times earlier, every idea in our blog is a recommendation or a suggestion. You can tweak it and use it as you, please. Of course, you can use the ideas as it is, but then again, if you want to change things up a little, don't be afraid to do that either. With glitter and sparkles, our only reminder is to make sure that you understand that color combinations will play a big role in your wedding's overall look. Make sure that you consider the colors, and try creating a visual picture of the sparkling details along with your chosen details.