Stylish Wedding Bar Ideas To Wow Your Guests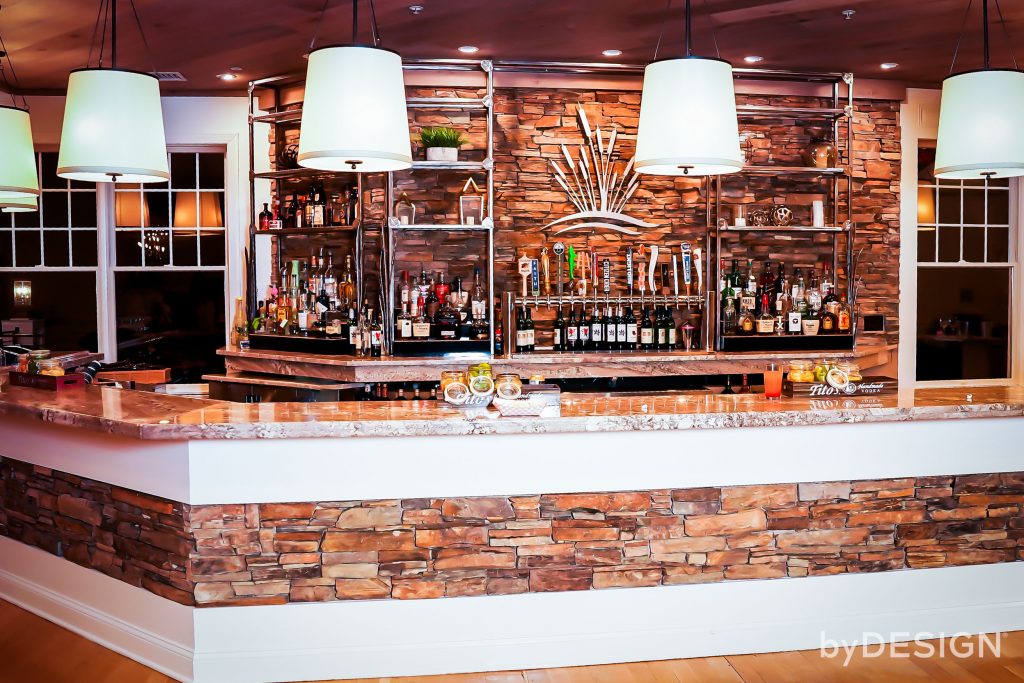 What's a wedding day and day's celebration without some good booze? To us, the primary focal point of a wedding reception party is the bar, be it peppered with delectable alcoholic beverages, or pretty and scrumptious mocktails, the wedding bar is a great place to take a breather, have a drink, and have a great conversation with a friend or a family member. To us, these beautiful wedding bars are the focal point of the celebrations of the day. In the past, here, on our inspiration blogs, we have talked about different kinds of cocktails and mocktails, which is why we think you can make use of some creative ideas to make your wedding bar look just perfect! In this blog, we will like to talk to you about some amazing ideas that will add interesting touches to your wedding bar, the signature cocktail for the day, and a few more decor ideas to amplify your wedding, the reception party bar, and your cocktail hour, if you're having one! Let's dive into the ideas then!
1. A Mobile Bar Set-up
One of the trendiest bar ideas at this moment is a mobile bar! Instead of opting for traditional bar ideas, you can simply have a mobile bar! Ever since we laid our eyes on mobile truck cocktail bars, we have been in love with them. Indulge in the epitome of luxury and convenience with a mobile cocktail bar, a refined concept that brings the art of mixology directly to your exclusive affair. Picture a meticulously stocked bar elegantly nestled within a stylishly appointed vehicle, complete with a skilled bartender poised to craft exquisite cocktails tailored to your wedding guests' desires. While this captivating addition effortlessly complements indoor or even outdoor celebrations. Immerse your loved ones in an interactive experience that fosters seamless mingling and socializing, as they relish in the captivating allure of this one-of-a-kind offering. Embrace the versatility of a mobile bar, using it not only to satiate thirst but also to accentuate your chosen aesthetic. For this to work the best for your wedding day, you can pick some alluring wedding decor ideas for your wedding day! From impressive balloon wedding ideas to impressive floral details, the choices are many. We also feel that vintage lamps and vintage lanterns will also do the trick for you! The mobile bar set-up for your wedding day can be in any color. This obviously will depend on the color scheme and palate of your wedding day. So, if your wedding color theme is vibrant and colorful, you can choose a cream and yellow truck, and if it is as opulent as black and white, then you can look for a pretty black, white, and gold mobile truck!
2. A Portable Bar
While we're on the topic of pretty wedding bar ideas, and mobile wedding bars, can we talk about portable bars? This idea can work with the wedding bar idea that we just discussed or can be a completely separate topic. To us, this idea is cute and efficient. However, before we continue, we'll like to tell you that this will require a few attendants and will be perfect for liquor and not cocktails. Additionally, if you're having some signature drinks created and bottled, for those too, this idea will work the best! Now, all we want you to do is have some portable carts or even a wheelbarrow. Then fill this up with the drinks you have for your wedding and have the attendant push the cart around. This way, all of your wedding guests can pick up the drinks they love and want to have. As for the decor for this beautiful idea, we have a few ideas you can use. One of them is to have these carts painted in white or in pastel colors that complement your wedding color scheme! Apart from this, you can also add greenery decors, like runners or some sprigs, to enhance the look! Another way to make your portable wedding cocktail bar look absolutely stunning is to add string lights to the frame. Lastly, you can add some wedding signage options with some funny quotes. Funny alcohol-related quotes can be along the lines of "Oh, it's time for a stumble," and "The Vows Are Done, It's Time for Fun," are good examples. What's more, you can also add your wedding favors to the portable bar. This will help your wedding guests to pick up their wedding favors easily. You can also have some funny quotes, as we just mentioned, to make your wedding favors look amazing! Or another way to synchronize your wedding details is to send out flasks to your groomsmen as groomsmen gifts with a quote from these fun wedding signage options for your wedding. This way, your wedding day photos have similarities as well!
3. Go Geometric
When you think about unique and beautiful bars, how can you forget to mention the geometric designs? These bar ideas, with pretty geometric additions, are simply beautiful. We love the idea, and we love the fact that you can add a bunch of things, it does not necessarily have to be the bar design. Firstly, you can have a diamond-shaped countertop, which can serve as your bar. Next, add geometric designs to your bar ideas. Let's start with geometric glasses. You won't find geometric flutes but can find pretty heavy-bottomed glasses. These heavy-bottomed glasses are usually used for whiskey but can be used to serve beautiful cocktails. You can rim these glasses with salt and other things, which will leave your wedding guests speechless. Next, you can add a geometric wedding bar menu! You only need to have it shaped in a particular design and have it placed on the bar. Additionally, you can have geometric lines running over it. Other than this, you can have custom-made napkins for your bar, which will help you add some extra details to the mix. Add monograms to cute little notes, and bind them together with pretty lines! That aside, you can have geometric boards and signage, or even wall hanging to create wedding accents for your bar!
4. Woody Bars
Although this idea has been around for a while, we still love to talk about and see it at weddings. This idea is amazing for rustic wedding themes. However, if you have a wedding venue with a large space, and have access to a lawn or garden, you can add this to any kind of wedding! One of the best ways to use it is to have huge beer or whiskey barrels! The barrels can be the support for a plank on top. You don't even need to have any tablecloth on top, it can work without it. The pretty wood grain will be enough for you to have something amazing. Apart from this, all you need are some crates. Stack the crates up, and create somewhat of a staircase, like a champagne tower if you will. You can also plan the wedding bar decor details with cursive writings on these crates. This will help you add more depth to your wedding ideas. To beautify your rustic wedding bar you can add a couple of ideas. You can choose to add some greenery details. You can add greenery runners to your crates or have them wrapped around the rims of the bar and around the crates. Apart from this, you can even have some vines in the crates as well. Another idea is to light it all up! You also have light strings. Use the same ideas we just talked about greenery-themed ideas.
5. Chic and Modern 
Another idea that you can use is a modern bar-like vibe for your wedding bar! Think of simple lines, minimal wedding ideas, and minimal decor ideas. Modern ideas such as white bars, countertops, and cabinets will look good for your wedding day! You can have empty bottles lined up on the cabinets, and think of adding some alcohol bottles as well. To elevate this idea all you need are some pretty candles or some battery-powered lights. Another idea is to use pretty lanterns with small candles in them. Another amazing idea is to have filament bulbs, which will add a classy aesthetic to your wedding bar. This idea for your wedding will be absolutely clean, as in think of an uncluttered bar! If you want to add some touches to this wedding idea, then simply add a greenery vine to the mix.
Other Wedding Bar Ideas 
Apart from the ideas we just mentioned, we'd like to mention a few more things in the mix. Although we mentioned a lot of ideas about the wedding bar, this segment will talk about some ideas that will beautify your wedding bar. Well, you can add some interesting floral decor for minimalistic wedding bar ideas. Think of adding big floral arrangements, like wedding accents. You can also add some pretty corners to your wedding bar. This will make your bar look fresh and colorful. Speaking of flowers, you can add some pretty flowers to the bar front! We love a beautiful bar, and some flowers poking out of the bar is just perfect! You can have any background, black, pastel pink, or even mint, and add bold flowers to make this idea your wedding's highlight. Adding details to your wedding bar can be as simple as having standing lamps. To complete the look, you can also add some lanterns. This works brilliantly for outdoor wedding celebrations. However, you can make it work for indoor weddings too. You can also have a floral ceiling for your bar. The color of these flowers can be based on the wedding color scheme.
The Other Titbits 
We all know that planning a wedding and then executing the plans requires precision. And that is why we'd like to briefly touch on the topic of wedding venues. Although it is possible to have a beautiful wedding bar that works in harmony with your wedding ideas, we also feel that the wedding venue will have a large part to play. When you're looking for a wedding venue, and you like something, consider where you'll have your wedding. Then look at the aspects of the architecture and space, this will help you envision the wedding of your dreams. When you look for the reception venue or space, remember to consider the view from the bar, the space from the bar, and the ambiance. For example, if you're throwing a beachfront wedding, we think planning a wedding reception party with a beach view will be the best idea. And make sure that the bar has a brilliant view of the beach too. This works for every wedding venue. So, to elevate your wedding bar, remember to consider the view from the bar. Consider what your guests will be looking at if they're standing at the bar or sitting down for a drink. Also, use this to have some fantastic wedding accents placed to the view or opposite the bar, this way the experience of the wedding guests will be complete.
With that, we come to the end of our blog. We hope that these ideas help you find the right wedding day bar ideas. To us, a bar is not only about alcohol but is also about adding a few more details to your wedding day. You can choose beautiful decor ideas with candles and lights to make your wedding day look opulent, or you can have string lights and colorful flowers along with some amazing cut-outs to make your wedding bar look beautiful and bright. More ways to make the bar for your wedding day is to choose pretty colors, and add garnish on the table too! Lastly, we'd also like to remind you that a beautiful bar will require beautiful wedding signage. You can use the traditional bar-like signage, as a homage to the bar, or you can also have some cool wedding signage options like mirrors or neon boards.