Shine And Sparkle: Incorporating Luxe Metallic Accents Into Your Fall Wedding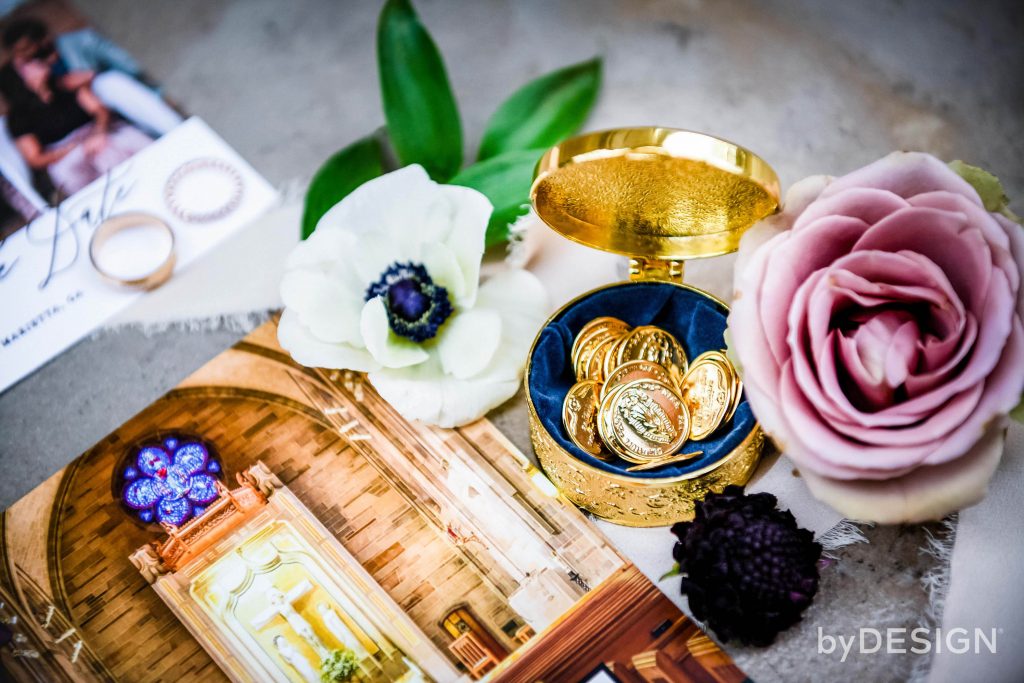 Add sparkle to your amazing wedding ideas by adding something pretty, something shiny! In today's inspiration blog, we will take the time to talk about some of the best wedding detail ideas, and yes, it is all about "metallic wedding accents!" For your wedding day, we bring you a blog that will help you figure out what kind of metallic accents will be a good addition to your wedding aesthetic. In today's blog, we will spell out a few ideas that you can use. Although metallic accents for a wedding are a pretty good addition, with winter almost around the corner, we feel that metallic accents can be just right for a warm and cozy winter wedding setting!
1. Metallic Wedding Cake Accents 
Since we're on the topic of interesting additions to your wedding day, let's talk about one of those aspects that takes center stage. Your wedding cake is one of the most important details of your wedding. Not only does it serve as an amazing way to celebrate your union, but is also a great way to add some colors and design aspects to your special day. The trend of incorporating metallic accents into wedding cake design has taken center stage, bringing with it an air of sophistication, allure, and fascination. These radiant embellishments, available in shades of gold, silver, rose gold, or copper, transcend the traditional notion of a dessert, elevating the cake to a masterful creation that captures and refracts light, sparking conversations and etching unforgettable memories. We love metallic accents because of their ability to transform the cake's appearance, creating a mesmerizing interplay between the cake's soft textures and the brilliant sheen of metallic intricacies. Whether through delicate gold brushstrokes, intricate silver lace motifs, or intricate rose gold designs, these accents infuse the cake with a luxurious charm that complements a range of wedding themes and styles. Beyond visual beauty, metallic accents infuse an ambiance of celebration and refinement.
If you're looking to add metallic touches to your wedding day, and are looking for a sophisticated yet easy way of doing so, we recommend starting with your wedding cake. This will be a fun opportunity for you and your partner to bring in your creativity and do something fun. We love seeing a traditional white wedding cake with metallic details. For example, if you're looking to have a wedding cake with fruity additions, then you can have the fruits dipped in metallic paint! Or if you have wedding cake decor, such as butterflies, or anything else on top, those can be done over with a soft metallic paint to add the accent! Another beautiful, yet sophisticated, way of adding metallic elements to your wedding cake is to have a marble wedding cake with metallic accents! Incorporating metallic accents into your wedding cake design is an artistic statement that promises to engage the senses and stimulate conversations among guests. With their ability to enhance the cake's allure and harmonize with diverse themes, metallic accents elevate your wedding cake to the allure of artistry, leaving an enduring impression on your celebration.
2. Metallic Wedding Signage 
A wonderful way to add design and fun elements to your wedding day is to choose amazing wedding signages! Whether you opt for metallic ones or not, a great idea for wedding signages for your celebration will add a sense of grandeur and practicality to your wedding day. Wedding day signages help you not only add more details to your wedding day aesthetic but also help you give directions to your wedding guests. Additionally, well-designed wedding signages make for great wedding photos as well! That said, this is another easy and fun way to infuse metallic accents into your wedding day! Consider using metallic details for your wedding signages to add accents! Metallic wedding signages stand as a gleaming testament to the art of infusing elegance and modernity into your celebration's visual narrative, to be honest. These shimmering accents, whether in gold, silver, rose gold, or copper, not only guide your guests but also add a touch of opulence that elevates the overall aesthetic of your wedding. With its reflective surfaces and captivating shine, metallic signage becomes more than just functional; it becomes a work of art that captures attention and imparts a sense of sophistication.
One of the remarkable qualities of metallic wedding signage is its ability to seamlessly harmonize with a range of wedding themes and styles. From lavish ballroom affairs to rustic outdoor ceremonies, these accents adapt effortlessly, lending a touch of glamor to every setting. Their metallic allure effortlessly complements both modern and vintage aesthetics, allowing you to curate an ambiance that echoes your unique vision. Incorporating metallic signage into your wedding decor enhances the overall visual experience for you and your guests. Whether guiding attendees to different areas of the venue or showcasing personalized messages, the radiant charm of metallic signage leaves an indelible mark. Their reflective surfaces catch the light, creating a dynamic interplay that infuses your celebration with a sense of movement and vitality.
Wondering how to bring the beauty and elegance of these to your wedding day? Well, don't worry, we have you covered! Think of adding some details by choosing to have metallic lettering! Your wedding signage's lettering can be similar to the lettering on your wedding invitation set. So, you can have that but in metallic hues. You can also choose to have vintage or mirror wedding signage, and add calligraphy lettering in gold! Apart from this, you can choose to have other forms of lettering. Another way to add metallic accents to your wedding signage is to have the corners in metallic colors. We also love foil accents to your wedding signages. This gives the wedding signage a lovely, sophisticated look. You can have the entire wedding signage in just about any color, we recommend using wedding theme colors or anything that complements the chosen wedding color palette, and have foil as accents on these signages!
3. Metallic Shimmer Curtains 
Elevating your wedding decor with a metallic shimmer curtain is a captivating choice that infuses your celebration with a touch of glamor, movement, and modern elegance. These shimmering curtains, available in a range of metallic shades, serve as versatile and visually stunning accents that can be incorporated into various aspects of your wedding, leaving a lasting impact on both aesthetics and ambiance. One striking way to use a metallic shimmer curtain is as a backdrop for your ceremony or reception. As the curtain catches the light, it creates a dynamic play of shimmering reflections that adds depth and texture to your photos and videos. The curtain becomes a captivating focal point that enhances the overall visual experience, turning ordinary moments into extraordinary ones.
For the reception, consider using a metallic shimmer curtain as a backdrop for the head table or sweetheart table. The curtain's luminous quality adds a sense of grandeur to the space where you and your partner will be seated, creating an intimate and glamorous atmosphere that reflects the significance of the occasion. Photo booths also benefit from the addition of a metallic shimmer curtain. This accent serves as a stylish and interactive backdrop for guests to capture fun and memorable moments. The curtain's reflective surfaces add an element of playfulness to the photos, enhancing the overall experience and leaving guests with cherished keepsakes. You can also use this to separate the wedding ceremony area and your wedding reception area in the wedding venue.
One of the reasons a metallic shimmer curtain is an amazing choice is its ability to transform the ambiance with minimal effort. Its innate shine and movement create an ever-changing display of light that dances across the room, infusing energy and excitement into the atmosphere. This versatile accent works well with a variety of color palettes and themes, making it adaptable to different wedding styles. Incorporating a metallic shimmer curtain into your wedding decor is a testament to your keen eye for detail and desire to create an unforgettable experience. As a stylish and captivating element, it enriches your celebration by adding a touch of luxury and allure. Its ability to catch the light, evoke motion, and enhance the aesthetic makes it an exceptional choice for couples seeking to infuse their wedding with a touch of contemporary sophistication and visual enchantment.
4. Wedding Corners but with Metallic Accents 
Creating captivating corners within your wedding decor allows you to craft intimate spaces that are both visually appealing and infused with personal touches. Among the myriad ways to enhance these corners, incorporating metallic accents stands out as a striking choice that adds an air of elegance, luxury, and modernity to your celebration. Imagine transforming a quiet corner into a shimmering oasis with the addition of metallic accents. Consider using metallic-framed mirrors, adorned with delicate gold or silver details, to create a glamorous vanity corner where guests can touch up their makeup or take reflective moments of reprieve. The reflective surfaces of metallic accents also make them ideal for corner photo booths, capturing playful and enchanting snapshots against a radiant backdrop.
Metallic-accented corners can also house memory stations where guests can leave heartfelt messages on metallic-finished cards. The brilliance of these accents infuses an additional layer of emotion into these cherished mementos, reflecting the love and joy that surrounds your special day. In cocktail corners, metallic trays and vases can beautifully display signature drinks or floral arrangements, adding a touch of opulence to the space. The brilliance of incorporating metallic accents into wedding corners is that they effortlessly elevate the atmosphere while adding a touch of refinement. Their reflective properties capture and amplify light, drawing attention to the corners and creating a sense of depth and dimension. Whether it's delicate rose gold candleholders casting a warm glow or silver-framed artwork adorning a quiet reading nook, metallic accents lend an air of sophistication and elegance that leaves a lasting impression.
Furthermore, metallic accents are versatile and adaptable to various wedding themes and styles. They seamlessly blend with a variety of color palettes, enhancing the cohesiveness of your decor while creating a luxurious and cohesive visual narrative. By incorporating metallic accents into your wedding corners, you're not only enhancing the aesthetic appeal of these spaces but also infusing them with a touch of modern glamor. These accents radiate a sense of opulence and refinement, elevating every corner into a captivating haven that echoes the sentiment and significance of your special day.
5. Metallic Wedding Day Outfits! 
Instead of choosing a wedding guest dress code with metallic details, we suggest dressing up in these hues. To make sure that your wedding day's outfits stand out and act as metallic accents, choosing a bridal dress with shimmer and glimmer will help you vastly. You can have the bridesmaids' outfits in metallic shades too! Apart from this, you can have the groom and groomsmen dressed in their wedding day outfits, but have a glitter-struck tie or bow tie to add the synchronicity! This way your wedding day will look just right. Another way to add the alluring beauty of metallic accents to your wedding day, for bridesmaids and brides, is to use glitter-laden shoes. From heels to boots, there are multiple choices for you to choose from!
Copper wedding accents radiate an enchanting blend of warmth, elegance, and rustic charm, infusing your celebration with a distinct allure that captures the eye and heart alike. This versatile metallic hue boasts a unique ability to seamlessly harmonize with various wedding styles, from rustic barn wedding ideas to modern city soirées. The gentle gleam of copper evokes a sense of intimacy, resonating with the sentiments of love and unity that define weddings. From beautiful wedding dinner table settings adorned with copper runners and cutlery to elegant copper calligraphy on place cards, these accents infuse your wedding reception party with an inviting ambiance. Consider showcasing vibrant floral arrangements in copper-hued vases or delicate copper candle holders that cast a soft, flickering glow. This can also help you bring in the charms of rustic yet romantic Roman wedding details. Even your wedding cakes adorned with copper leaf detailing will become amazing works of art and edible delicacies, blending opulence with the down-to-earth nature of celebrations.
Copper accents extend beyond your wedding decor to your bridal jewelry, adding a timeless elegance to bridal accessories and groomsmen's boutonnieres. The rich patina of copper captures the essence of evolving relationships, symbolizing the beauty of weathering time together. Its ability to evolve and gain character over time mirrors the journey of love and partnership. Also, the innate warmth of copper provides an inviting wedding aesthetic that encourages a sense of togetherness and comfort among guests. Incorporating copper accents into your wedding not only amplifies its visual allure but also infuses it with depth and meaning. From its charming rustic undertones to its sophisticated gleam, copper speaks of a love that is both enduring and elegant, making it a cherished choice for couples seeking to craft a celebration that reflects their unique bond. If you're looking to add more visual appeal to your wedding day, then try adding beautiful figurines or big bowls or vases to your wedding. This will help you create an amazing ambiance and help you realistically add copper wedding accents.
With that, we come to the end of our wedding inspiration blog! We hope that these ideas will help you set the right tone for your wedding day. We understand that choosing the just right wedding details is no easy task. However, we aim to help you and your partner find the right resources for your wedding day. With the ideas above, remember that these are not the "end all, be all." You can tweak these ideas to make them your own. Or better yet, you can use these ideas to find the inspiration to create something truly unique for your wedding day! We hope that you and your partner have a great time planning your wedding with the ideas we have listed above.