Stunning Details For The Stylish Spring Groom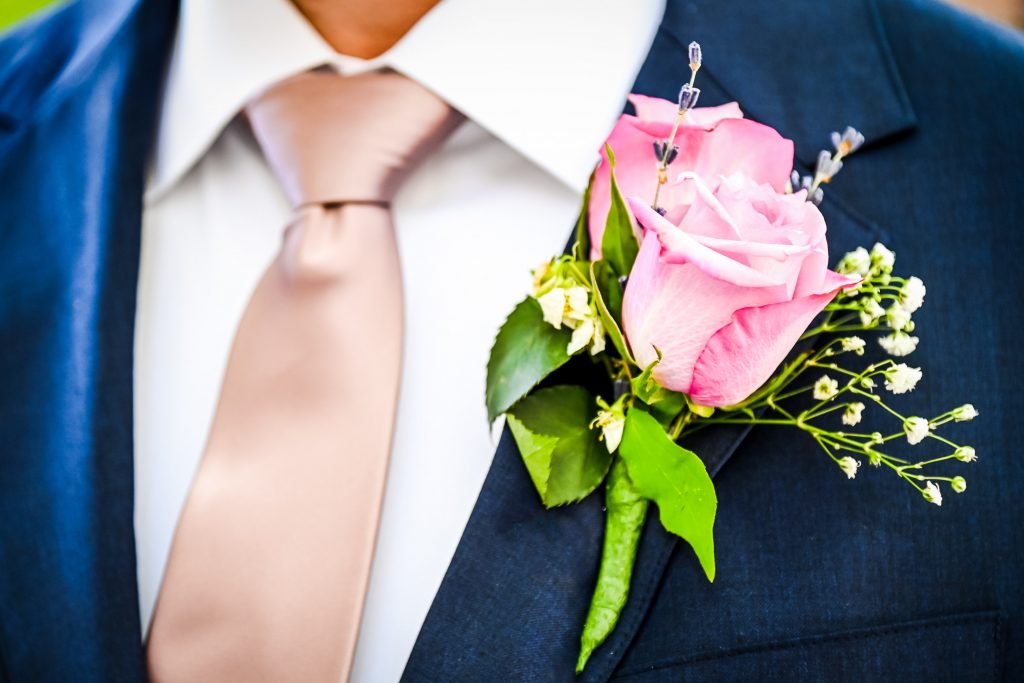 There is no surprise that we love weddings, but something about spring weddings just is a bit more special. Why? We have reasons by the buckets. Lovely weather, blooming flowers, gorgeous outdoor venues, and finally being able to shed away the layers and being able to wear those lighter colors and textures, are just some of the many reasons to plan a spring wedding. While a spring bride will have plenty of ideas rolled up her sleeves, we are here to talk about the spring grooms instead. While we speak of a bridal look, there are instantly many stunning silhouettes in the bridal dress, bouquet ideas, hairstyles, and makeup looks that one can take inspiration from. Then there are bridesmaid dresses and decors to take into account. But with a groom's look, the options and variations tend to be a little limited. While most grooms tend to choose a suit in traditional color, the options are even more limited that way. However, there are some amazing ideas that you can use for your spring wedding if you just swap out the colors and experiment a little. In this blog, we will talk about the different tips for a spring groom look, the colors and textures, and some lovely spring suit options for you to pick from.
Tips for the Groom for a Spring Wedding Look
No Jacket Groom Looks: The no-jacket style is your best choice if the weather is warm or even hot and you don't want to sweat profusely for your special day. You have the option of wearing a vest or merely suspenders. Wear a white shirt, a mint, pink, blue, or cheery yellow bow tie together with a light gray or tan vest and jeans. Another option is to dress in a vibrant shirt, such as a mint, blue, or white one, and accessorize with bright suspenders. Wear a sweet bow tie or tie in a variety of pastel hues or other colors.
Looks With Dark Suits: Why not wear a black or blue suit if you want a traditional black tux or at least a dark one? It may be worn with a vest or without one, and since it is classic and beautiful, it goes with practically any wedding theme. Wear a contrasting vest and tie; the colors might be neutral or soft. What you really need is a boutonniere that is cold and revitalizing and is constructed of new foliage and white or ivory flowers.
Looks With Light-Colored Suits: Light-hued outfits really scream spring to me! Because of this, it is a fantastic option for your spring wedding. For a spring wedding, light gray, blues, cream, ivory, and mint are excellent hues. Add a fashionable tie or bow tie in the colors you want, along with a white or pastel shirt. You may wear a matching tie or bow tie with a vibrant and eye-catching boutonniere made of fresh flowers and foliage.
Add Seasonal Accessories: You may greatly enhance the "spring" vibe of your look by picking the right accessories. Useful if you need to make a darker suit seem more seasonally appropriate after moving your wedding date. Bright yellow, pastel blue, coral, and pink are typical spring hues that go well with both light and dark suit colors. You should be able to simply match your buttonhole to your accessories since they often appear in springtime flowers as well. With a patterned tie, you may highlight the earthy tones of a green or brown tweed suit while still looking joyful for spring. Of course, if you're the groom or part of the bridal party, the bridesmaids' outfit choices may influence your choice of suit and accessories. Wearing two pocket squares, one neutral and one in the theme color might soften the effect if you want to coordinate without really matching.
Colors and Textures
Lightweight Fabrics: The lightness of the groom's outfit is the most crucial factor to take into account in the spring. Lightweight materials like linen or cotton work well for the season's cooler temperatures.
Softer Shades:  Definitely not required for a groom to wear a black suit! Spring is a terrific time for muted hues. The colors cream, grays, taupe, khaki, and pastels all look well together. The color blue is ideal for every groom. Light blues work nicely for spring as well as traditional navy, which is perfect for a formal wedding. For a spring groom, a light blue linen suit is a timeless and relaxed design that won't go out of style. Even while neutral hues work best in the spring, you may still use the season's livelier hues! Pick a vibrant and lovely flower, a pocket square or tie in a loud color, or a bold-colored waistcoat.
Floral Prints: Not only for women but floral is also stylish for everyone! In actuality, there are many wonderful ways to incorporate a flowery design into the groom's spring clothing. Wear a flowery pattern shirt with an open collar for a beachy mood, keep it simple with a tie, bow tie, or other little accessories, or go all out with a floral print suit. You may make the look your own regardless of how adventurous or conventional your sense of style is.
Add a Fun Boutonniere: Starting with the color, some of the popular colors for your boutonniere are yellow, green, and white. Bold greenery is a fantastic technique to further balance out a spring boutonnière. For softer-hued flowers, fresh herbs, leafy greens, or a contemporary succulent are all excellent choices. For a design that conveys a more contemporary style, use a single giant succulent, a cluster of greens or berries, or a barely perceptible off-white cluster of non-traditional bridal flowers like perennial astilbe or clematis.
Spring Accessories: You have several options for upgrading your traditional suit or tuxedo for the season by adding a few spring elements. The most common accessories you'll need are dress shoes, socks, ties, and cufflinks, although these are really just the fundamentals. There are several other methods for him to add his own style to his appearance, such as smart boutonnières, bow ties that match his shirt, caps, and even family antiques. Even though the groom's wedding day outfit certainly won't get as much spotlight as the bride's, the groom's accessories shouldn't really be overlooked. To complete your spring groom appearance, choose a few stylish accessories with spring motifs. scarves, cufflinks, pocket squares, socks, and ties with flowers are just some of the elements you can play with.
Spring Suits Questions To Ask Yourself
What color should you choose for your spring wedding suit?
Do you want to stick to the tradition? Gray and black are timeless colors. However, spring is a terrific time to experiment with color if you're interested in doing so. In this warmer season, pastels like pale blue, green, or pink seem perfect at home, while khaki or other neutral tones make it simple to experiment with interesting accessories.
What fabrics are best suited for a spring wedding suit?
Although linen is a good, lightweight alternative to cotton if you're in a location where the temperature will be a little warmer, cotton is still a terrific fabric for a spring suit. So long as they don't appear or feel too heavy, certain wool suits may still be worn in the spring. Avoid wearing very warm materials like corduroy, velvet, cashmere, or thick wool mixes.
A traditional black tuxedo, regardless of the season, is your best choice for this kind of formal occasion. In general, a black-tie wedding calls for a tuxedo over a suit. Simply choose light cloth if you can. You might hunt for a dark suit in a lighter fabric for black-tie events.
Spring Suits We are Loving
French Connection Slim Fit Neutral Suit: This three-piece suit in khaki might quickly establish itself as a stylish standard for weddings in the spring. It has a colorful eucalyptus lining, and the plain canvas lets you experiment with a variety of shirt colors. This French Connection suit is a three-piece you can look forward to wearing thanks to its neutral color and thin shape. It is made of wool-rich fabric, accented with mother-of-pearl effect buttons, and is lined with fabric with a eucalyptus design. A pull-out square in your jacket pocket makes it easier to complete the task without having to make any educated guesses.
ASOS Design Wedding Skinny Suit in Pastel Pink Crosshatch: Even if wearing a pink suit to a spring wedding is out of the ordinary, it is the appropriate occasion. It's a little more laid-back. As a result, although we wouldn't suggest this for a black tie or black tie optional wedding, it's fantastic for an outdoor event. This hue is extremely calming, making it the ideal choice for a groom who isn't afraid to try new things with his own style. This is a wonderful option for an outdoor wedding as well!
Bonobos Stretch Chambray Suit: Let's take a look at a nice chambray suit in a little more relaxed style that adds some more flair to your rotation. Wear chambray at midday or informal weddings since it is a fabric that is clearly more on the casual side. Since it begins to grow warmer towards the end of the season, this thin, cool fabric is also perfect for that time of year.
Yves Saint Laurent Black Classic Suit: This Saint Laurent suit is a great investment if you're searching for something you'll wear often. This black suit, which is made of virgin wool and has a silk lining, is a timeless classic that you will wear often. If you're a groom who appreciates tradition and prefers elegant and timeless colors for his big day, this suit is for you.
Brooks Brothers Regent Fit Stripe 1818 Suit: It has two buttons and is made entirely of wool. Hand-sewn armholes are a hallmark of our 1818 suits for more comfort and range of motion. It has side vents and is fitted with a royal fit. This suit seems like a timeless piece you'll wear often thanks to its modest stripes and beige tone. We like the superb fit and cozy materials in this elegant and adaptable item.
Moss 1851 Tailored Fit Stone Linen Suit: Wool is too hot to wear in April? Would you prefer to keep things a bit more casual? When more conventional fabrics don't feel quite right, get out the linen. The half-lined jacket by Moss 1851 is made of pure linen for cooling comfort and has tortoiseshell buttons to contrast the bland stone color. A firm, natural fit at the shoulder and a more defined waist may be expected from the tailored silhouette. A pure linen suit has an effortlessly attractive appearance and is cooling, comfy, and a little more informal, making it the ideal option for spring weddings. This fabric has a lovely light stone hue.
Studio Suits Desert Blue Linen Suit: The Desert Blue Linen Suit takes care of the requirement to update your formal pick and is a great match for weddings that take place in warm weather but are also comfortable in the dead of winter. It is cut to a clean profile and made of fabric that is 100% linen with a gorgeous woven texture. In the autumn or winter, you may not be able to get away with wearing a light blue suit, but in the spring, it looks great. Beautiful in a thin linen fabric is this light blue hue.
Mark & Spencer Slim Fit Suit: Mark and Spencer men's slim-fit suits will give your formal attire a contemporary twist. Discover a range at M&S that features aesthetically pleasing designs with a fitted finish. A suit like this one in gray is excellent to have in your wardrobe since it can be worn all year long, particularly in the spring. It seems more fashionable because of the narrow fit, and the neutral gray hue is basic and practical.
J.Crew Ludlow Slim Fit Unstructured Suit Jacket: This elegant Italian cotton-linen suit is flexible, comfy, and sumptuous. With components costing less than $200 apiece, it's also an excellent value. It's a good deal considering the quality. The Un-suit is the most adaptable suit you can purchase since it is unpadded and can be worn in many ways. They used fabric from Baird McNutt, an Irish mill established in 1912 and renowned for creating some of the best linen in the world, to make this suit jacket.
Brooks Brothers Milano Fit Combo Check 1818 Suit: Two-button suit with a soft structure made by Vitale Barberis Canonico from a wool and silk combination. The 1818 suits include hand-sewn armholes for increased comfort and mobility and framed internal pockets to remove stress spots. This distinctive checkered suit will stand out in any gathering. The fit is good, and the blue-gray color is ideal for a spring wedding.
Bonobos Italian Stretch Seersucker Suit: Are you flying out to a tropical destination wedding in the spring? Choose this light blue seersucker suit, which is appropriate for a warmer environment and a more relaxed atmosphere. In a well-fitting suit, experience the feel and coolness of a seersucker. This is ideal for those springtime days when you'll really enjoy the breezy fabric and calming hues.
Ted Baker Naver Striped Linen Double Breasted Blazer: Put away the tie, put on a pair of polished loafers, and put on this Ted Baker linen suit. This double-breasted suit achieves an easy European chicness by balancing a comfortable feel with a highly smart look thanks to its edgy boxy form and modernistic charcoal color. In a nutshell, we really love it and highly recommend it.
Sandro Yellow Suit: With this beautiful sand-toned piece, Sandro expertly catches the Parisian style of tailoring, which is further enhanced by such touches as its horn buttons. The combination of a pristine white dress shirt, black tie, and black shoes, which complements the shape and color of this suit wonderfully, is a sophisticated formal outfit you'll be able to wear time and time again.
Hawes & Curtis: There's no need to go much farther than British heritage company Hawes & Curtis for all things sumptuous and dandy. This gleaming white, crisp linen suit is distinguished by its double-breasted, vintage-inspired design that skims the shoulders while perfectly cuddling its user.
Moss Slim Fit Lilac Linen Suit: This Moss London suit is undoubtedly the way to match your wedding guest attire to the lavender table decorations and the alliums bordering the altar. The double-breasted button, which stands out on its own despite the garment's striking lilac tint, is also a statement. We advise going a step further with a pastel pink linen shirt and a floral tie, even if you would think it would be ideal to tone down the rest of the outfit with a traditional dress shirt and basic accessories.
Spring wedding look for the groom doesn't have to be all colorful and pastel-hued and can look different for different couples. Whatever you choose, stay true to your personality. If a floral suit or a pink tie is not in agreement with your core personality, you don't need to commit to one. However preference plays an important role in all this, there is no denying that a spring groom's look can be just as diverse as a bride's if not more.