The Cozy Chic LA Engagement Session Of Alex And Lucille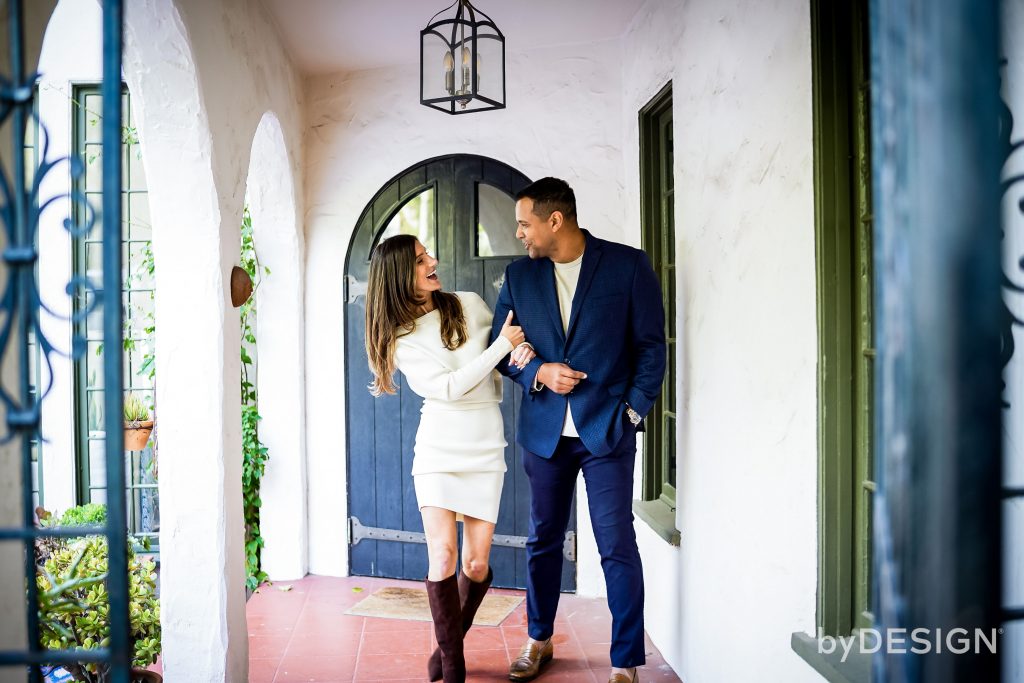 Engagement photoshoots have become a popular way for couples to commemorate their love and announce their upcoming nuptials. Whether it's a dreamy summer engagement photoshoot with surreal golden hour lighting glimmering on the couples' faces while they embrace each other or a stunning spring engagement photoshoot with bougainvillea trellises on their backdrop, it is no secret why we love beautifully orchestrated engagement portraits! While many couples choose to take their engagement photos in picturesque outdoor locations for proposals or scenic landmarks, there's something special about having an indoor engagement photoshoot in the comfort of their own home. Not only does it capture the essence of the couple's everyday life, but it also allows for a personalized and intimate touch that cannot be replicated elsewhere.
We say this because the location of an engagement photoshoot is more than just a backdrop for a pretty couple's portraits; it's a crucial decision that can shape the tone, feel, and meaning of the photos. The significance of the engagement photoshoot location decision lies in its ability to tell a story, evoke emotions, and create memories that will last a lifetime. Choosing the right location is like choosing a character in a story. Each location has its own unique personality and character traits that can complement or contrast with the couple's personalities and love story. A rustic barn, for example, can bring a sense of charm and nostalgia to a couple's shoot, while a bustling city street can add an element of energy and excitement. The location becomes a supporting actor in the couple's love story, adding depth and dimension to the photos.
The value of the engagement photo location decision also lies in its ability to evoke emotions. For instance, a pet-inspired engagement photo session on a serene beach can evoke a sense of peace and tranquility with the most important members of your life. Similarly, a holiday-themed proposal engagement photo shoot on a dramatic mountain landscape can inspire a sense of awe and wonder. The engagement location can set the mood for the photo shoot, creating an atmosphere that brings out the couple's true emotions and captures the essence of their love story. The couple's photos become a tangible reminder of a special moment in their love story, and the location becomes a symbol of that moment. Whenever the couple looks back on the photos, they will be transported back to that location and that moment in time, reliving the emotions and memories that our amazing engagement photographers captured in the photos.
The photoshoot location decision is significant because it can reflect the couple's personalities and values. A couple who loves nature may choose to have their photos taken in a lush forest or a scenic park, while a couple who loves art may choose to have their photos taken in a museum or gallery. It's all about finding the perfect background to put on the trendy engagement ring on your love's beautiful hand! While speaking about unforgettable engagement photography sessions, how can we forget home engagement sessions that can bring a sense of comfort and coziness to every portrait? After all, home is where the heart is. Couples can wear whatever they feel most comfortable in, relax in their favorite spot, and take photos in familiar surroundings with sentimental value. There's no need to worry about crowds or external factors that may disrupt the couple's photoshoot. The home engagement photos will have a natural and effortless feel, which is perfect for capturing genuine moments between the couple.
A couple's home is often a reflection of their personality and lifestyle, so the indoor couple photos will be a true representation of who they are together. Engagement photographers can use the couple's home as a backdrop to tell their unique story, incorporating personal items as beautiful engagement photo props and meaningful spaces into the photos. For example, if the couple enjoys cooking together, the kitchen could be a perfect spot for some candid and playful shots. Indoor engagement portraits at home also provide a great opportunity for creativity. With no restrictions or rules, the couple can get as imaginative as they want with their poses, props, and backgrounds. It's the perfect way to spread love after saying "Yes!" They can incorporate fun props such as balloons, flowers, or even their pets, and create a whimsical and lively vibe. The couple can also play around with lighting and textures to create a unique and unforgettable look.
One of the most overlooked benefits of having a home engagement photoshoot at home is the convenience it provides. It eliminates the need for travel or booking a venue. Couples can schedule an engagement photoshoot at their convenience, and they can always reschedule if needed due to unforeseen circumstances. Plus, they can easily take breaks, have snacks or drinks, and change outfits without having to worry about leaving the location. This brings us to our next couple from Los Angeles who had a couple's photography session at their home.
The session brought comfort, personalization, creativity, convenience, and safety, all while capturing the essence of the couple's everyday life. While outdoor photoshoots and scenic locations can be stunning, this LA engagement photoshoot showed that there's something special about capturing moments in the place where the couple spends most of their time. Our Los Angeles engagement photographers showcased the beauty of this home indoor engagement photoshoot by capturing the true essence of the couple's love in a familiar and intimate setting. The soft, natural light that filtered through the windows created a warm and inviting atmosphere as if the couple was inviting us into their private world.
The home is where the couple spends most of their time, and it's where they feel most comfortable and at ease. The Los Angeles engagement photography session took us on a journey through the different spaces in the home, each one revealing a new layer of the couple's personalities and love story. We saw them cuddled up on the couch, laughing in the kitchen, and gazing lovingly into each other's eyes in the bedroom. The beauty of this LA engagement photo session is in the details. The way the light fell on the couple's faces, the way their fingers entwined, the way their eyes met in a moment of pure bliss. Our talented engagement photographers in Los Angeles captured these moments of tenderness and affection, freezing them in time for the couple to cherish forever.
Of course, we love the idea of a gorgeous LA engagement photography session! LA is a city that offers endless possibilities when it comes to engagement photoshoot locations. From iconic landmarks to hidden gems, there is no shortage of beautiful spots to capture the love and excitement of this special time in your life. After all, Los Angeles, the city of angels, is a picturesque wonderland that exudes unparalleled charm and radiance, making it the perfect backdrop for couple photography. The city's sprawling landscape is a collage of towering palm trees, glittering beaches, iconic landmarks, and bustling streets, all of which come together to create a canvas of breathtaking beauty. You can imagine walking hand in hand with your significant other on the sun-kissed sands of Santa Monica beach, the warm breeze caressing your skin as the waves of the Pacific Ocean crash against the shore, creating a symphony of sound that's music to your ears. Or, picture yourself standing atop the iconic Griffith Observatory, gazing out at the stunning panoramic views of the city below, the twinkling lights of Downtown LA and Hollywood creating a magical ambiance that's sure to take your breath away.
Los Angeles is also home to some of the world's most iconic landmarks, such as the Hollywood Sign, the Walt Disney Concert Hall, and the Santa Monica Pier, all of which make for stunning backdrops for a stunning LA couple portrait session. The city's bustling streets are every professional photographer's dream, with their vibrant energy, colorful murals, and eclectic architecture providing endless opportunities for capturing unforgettable moments. Whether you are strolling down the trendy streets of Beverly Hills, exploring the vibrant art scene of Downtown LA, or enjoying a romantic dinner at one of the city's many world-class restaurants, Los Angeles is a city that's sure to inspire and captivate you at every turn. So why not capture your love story in this stunning city of angels and create memories that will last a lifetime?
One of the most popular spots for engagement photos in Los Angeles is Griffith Observatory. Located atop the hills of Griffith Park, this iconic observatory offers stunning panoramic views of the city, making it the perfect backdrop for an engagement photoshoot. One great option is the Arts District, an industrial neighborhood in Downtown LA that is filled with vibrant street art and murals. The colorful and playful backdrops make for stunning engagement photos that capture your fun-loving and creative side.
Another beautiful engagement location in Los Angeles is the Santa Monica Pier. This iconic pier offers a fun and playful atmosphere with its colorful Ferris wheel and carnival games. With the beautiful Pacific Ocean as your backdrop, you and your partner can capture stunning shots that showcase your love and excitement. For a more offbeat option, you can head to the Museum of Jurassic Technology, a quirky and fascinating museum in Culver City. The museum features exhibits on everything from ancient science to bizarre folklore, and its eclectic interior design makes for a unique and memorable backdrop for engagement photos.
For nature lovers, the Huntington Library and Botanical Gardens is a stunning location that offers a variety of backdrops, from lush greenery to elegant architecture. The gardens are full of hidden nooks and crannies that make for intimate and romantic photos, while the library's stunning interior provides a more sophisticated atmosphere. Similarly, the Los Angeles County Arboretum is another location that is perfect for capturing intimate and romantic moments. This 127-acre garden features a wide variety of plants and flowers from around the world, making it a stunning backdrop for LA photos. With its serene ponds and peaceful pathways, this LA engagement location is perfect for capturing intimate and romantic moments.
The Getty Center is another popular engagement location in Los Angeles. This world-renowned art museum features stunning architecture and beautiful gardens, making it a picturesque location for capturing elegant and sophisticated engagement photos. You can also consider heading to El Matador State Beach, a picturesque beach with rocky cliffs and stunning sunset views. The rugged and natural beauty of the location creates a romantic and adventurous atmosphere that is perfect for couples who love the outdoors. The city of Los Angeles offers a wide variety of beautiful engagement locations to choose from. Whether you prefer nature or cityscapes, iconic landmarks, hidden gems, or even your home there is something for every couple in this vibrant and diverse city.
The love story of Lucille and Alex was set in their home in the beautiful neighborhood of Santa Rosa Ave, Altadena. Altadena is a charming neighborhood located in the foothills of the San Gabriel Mountains, just north of Pasadena in California. It is a beautiful and peaceful area with tree-lined streets, historic homes, and stunning mountain views that make it a desirable place to live. In February 2023, our engagement photographers told us the story of this stunning LA couple with a picturesque winter engagement backdrop. This home engagement photo session in Los Angeles captured the intimacy and love shared between the lovely couple in the comfort of their own space. It proved to be the perfect opportunity to create lasting memories in a setting that is familiar and personal to them.
The session began in the couple's yard, where they had a pawsome engagement session with their beloved pet golden retriever! As they had some lively moments with their precious fur baby, our LA engagement photographers managed to click some playful engagement shots. Lucille wore a ravishing white engagement dress with off-the-shoulder sleeves and lace details. The trimmed lace hemline revealed a gorgeous ivory bridal sandal with straps and block heels. She kept her open for a more carefree bridal look. Our dashing would-be groom Alex wore a casual off-white solid full-sleeve sweatshirt with dark blue pants and a pair of brown shoes. The casual engagement wardrobe looked fabulous for this intimate home setting!
They went on to sit on their exquisite outdoor couches, surrounded by pillows and blankets, enjoying each other's company. Our engagement photographer in LA captured candid shots of them laughing, talking, and sharing a private moment. They also went for a change of engagement outfits to bring in a more dressy vibe! This time our stunning to-be bride Lucille went for an all-white knitted engagement dress with a pair of knee-high brown boots. Likewise, Alex put on a matching blazer to his royal blue pants and brought in a formal groom look. Together Alex and Lucille celebrated a beautiful winter engagement look in their beautiful home setting.
Our couple headed to the different corners of their home – starting from the long corridor with a stunning arched door in the backdrop to the magazine-worthy living room! Our couple photographer captured beautifully orchestrated intimate shots of them cuddled up in each other's arms, with soft, natural light creating a cozy and romantic atmosphere. The couple shared a few moments of pure joy, laughing and playing with each other as the photographer continued capturing their natural expressions. The couple continued their engagement session on the backyard and porch, as the golden hour light beautifully caressed their faces. Our photographer took captivating candid shots of them wrapped up in each other's arms, sharing sweet and tender moments.
The home was a beautiful choice for an engagement location as it was surrounded by lush gardens and mature trees, giving the photoshoot a peaceful and serene atmosphere. The architectural style of the home was a blend of Craftsman bungalow and Spanish Revival styles which added a unique charm and character to the couple portraits. This LA home engagement photo session was a wonderful way to capture the intimacy and love shared between the couple in a setting that is personal and comfortable to them. It was a beautiful way to create lasting memories that they will cherish forever!