Wedding Cake Table Decor You Haven't Thought Of Yet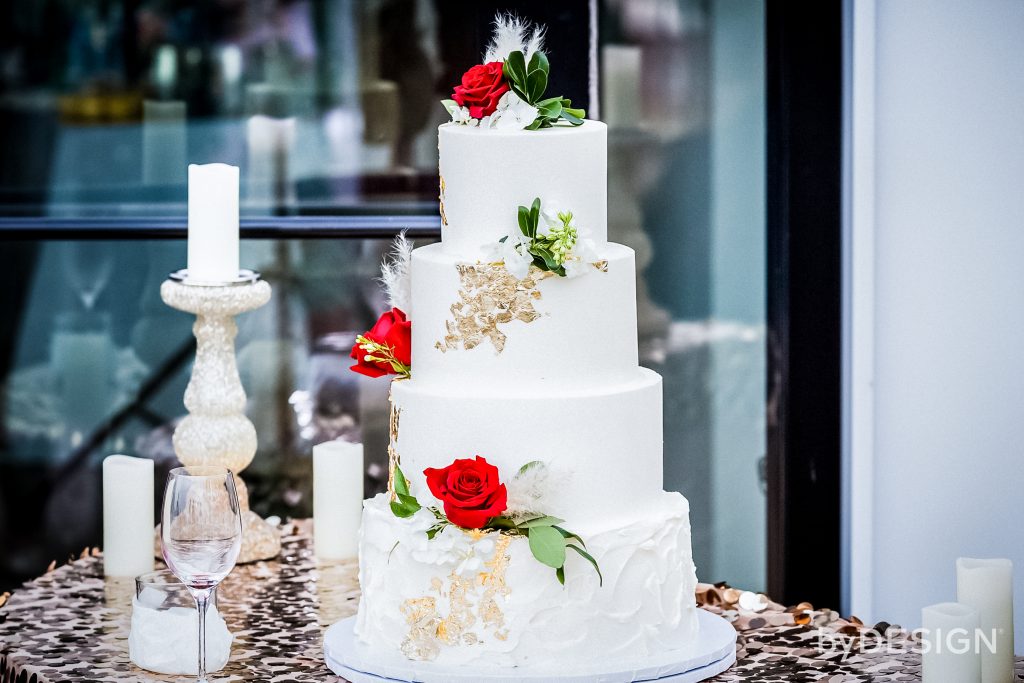 Your wedding is one of the most important days of your life and will be a memorable day for you, your partner, and those who are close to you. To make the day look like a dreamy celebration of love and new beginnings, we understand that a lot of planning will go into it. And not only that, we understand the desire to nail every tiny wedding detail in place, meaning you'd want everything to look perfect, brilliant, and dazzling. While we talk about pretty much everything that is included in your wedding, we'd like to talk about something that is not talked about as much, the decor for your wedding cake and dessert. Wedding cake table and dessert table decor are just as important as any other part of your wedding because it completes your wedding aesthetic. Today, we'll talk about some amazing and creative ideas you haven't thought of yet!
1. Greenery-Laiden Wedding Cake Table Decor 
Let's start with something that gives you lovely wedding photos and makes you a little weak in the knees. We all love weddings with greenery and love how the greenery ties into the wedding decor. For that, let's discuss something that will add a wondrous charm to your wedding. To decorate your wedding cake table, instead of choosing greenery to go around the table's edges, you can go for an elaborate decor idea. The idea we have for you to try out is a lovely wedding table decor with massive woven greenery runners. What we mean to say is to have your wedding cake in the center of the table, then use the remaining space on your table to add decor. All you need is an idea or a vision and you can achieve that with some greenery. Using greenery on the table and around the edges as a strip is quite common. Although you can do that, we feel that you can also try other things with greenery. One of the ways to add some brilliance and elegance to your cake table is to have the woven greenery wrapped around the lower half of the table. You can cover the table's legs with greenery. You can spice this up by adding some floral details to the woven greenery. The color of the flowers to add to the table can be a different one or can be a part of your wedding color scheme or can be different, which can add a pop of color to your wedding. If you're just looking to add some greenery, you can choose to have string lights wrapped around the table. This idea is a great fit for your garden-inspired wedding, or even for an outdoor wedding reception party. However, we know that this will look ethereal in an indoor wedding setting as well. To make this even better, you can also create a greenery-laden backdrop, which will go right behind the cake so that your cake-cutting ceremony's photos turn out well! You can add neon signage to it too!
2. Eloquent Romantic Aesthetic 
Another way to go big on your wedding cake table decor is to embrace the beauty of romance for a great wedding look! When we say something romantic, we mean you can use the ideas that we will put down right now, and you can tweak them later on with the colors for your wedding. So, considering that the wedding color theme is made of red, green, and black, you can have a red satin tablecloth and black satin runners. If you can find runners with fringes, then even better. You can add some pretty candlesticks, ornate and delicate, and light up the candles. This will create a beautiful wedding aesthetic. Above all, you can also have some floral decor with greenery being optional. The reason why we chose satin as an option is because it gives off elegance, and to us sounds romantic. This wedding decor idea can be used for your wedding cake as well as for your dessert tables. You can also add string lights if you're thinking of making it romantic. Another idea that you can use to make this idea even better is to use different kinds of candles. For example, you can use pillar candles along with tapered candles. These candles can be placed in a manner that the difference in the heights of the candles is visible. One more idea that we have, which we think you can use is to choose a brilliant floral arrangement and add it to the tables. You can also use small bunches of flowers with tinsel ties or any other form of ties and leave them at the tables.
3. Tapered Floral Decor 
This is a great idea for floral decor lovers! We've all seen the tapered arrangements made of donuts and pretty macarons at weddings. But, to be honest, we are thinking of putting a twist on this easy and popular dessert decor idea. Think of the same design, slim on top which gradually becomes heavier as we go down, much like a Christmas tree. You can have adorable arrangements with pretty flowers. First of all, let's discuss the kind of flowers you'd use for this kind of decor. One of the things you can use is to choose brilliant seasonal flowers or you can choose bright and big flowers which are rarely available. As for the idea, all you need to do is speak to your wedding florist and tell them what your idea is. They will help you get the exact look for the wedding day. Furthermore, make sure that you discuss the color combinations you'd want. For example, you can choose to have the entire thing in one color, or you can have the entire thing in one color with some flowers of another color peppered throughout the arrangement, or you can choose to have one tier in a particular color, then keep changing the color with every tier. Apart from this, if you want to experiment with some other ideas for your wedding, don't hesitate to give them a shot. Now, let's talk about how to use these decor items. You can choose to use these kinds of decor items for your wedding cake table, you can use them for the snack and dessert table, and you can use them to decorate your wedding guests' table.
4. Fruits, Flowers, and Greenery 
Bring in the beauty of lavishness to your wedding with a decor idea that makes use of fruits, flowers, and greenery. You can choose exotic fruits for your wedding decor, and make choices as per the colors so that these fruits match the color of your wedding scheme. Also, you can add greenery and floral runners to make this decor idea look rich in color and heavy with elegance. To add more touches of elegance to this, you can use lights and candles. You can pair this with vintage candlesticks or candelabras to add a vintage touch to it. Also, you can choose candlesticks. These candelabras and candlesticks can be in a brassy color or can be in silver and gold tones. The idea is similar to tablescape ideas that are inspired by fruits, satin table runners, and pretty, bright flowers. If you love this idea or you think that this idea, with its pretty fruits and flowers, is tying up with your wedding theme, then you can make it a part of your wedding table decor. However, to make it different from your wedding's look and ideas, you can choose this idea only for your wedding cake table and the dessert tables. Also, to make everything synchronized, you can choose fruits and flowers with similar flavors or in color to the wedding cake flavors. This will help you tie everything together. Apart from this, you can also use themed wedding signage boards. This part, the wedding signage bit, is true for your dessert table only. If you have an ice cream bar and desserts such as cookies and cakes on different tables, you can use similar wedding signage. For this, too, you can use the idea of fruits, flowers, and greenery as the theme of the signage! As for greenery, you can add it to your wedding signage and the decor idea as you see fit. You can go heavy on greenery with the fruits and flowers poking out of the greenery, or you can use greenery sparingly, it is your choice.
5. Cake Stands and Metallic Stands 
This idea is modernistic and brilliant. If you're a lover of minimal wedding details and appreciate brilliant details, then this idea will hit the right cords for you! For this idea, you don't need to ask your wedding vendors to plan something from scratch, it is basically about using the materials in the market to its best ability. All you need is to ask your wedding planner or your wedding coordinator to find minimalistic cake stands, hoops, or square-ish in shape. You can use these stands for your wedding cake table decor. You can also use these for every table, and place some amazing bite-sized desserts for your wedding guests. You can use the square cake stands for your dessert tables, and you can use the hoops for your wedding cake display. The hoops can be in any color. Although gold is quite popular these days, you can have your hoops colored with some other color if you can't find the color you'd want for your wedding. All it takes is a bottle of spray paint and that's it! That said, you can also add more things to these cake stands. Instead of winging it with a naked hoop or stand, all you need is to choose pretty lace details or even some cutesy floral details. You can also use LED strips if you're planning on creating something ethereal. You can have the stands draped with these lights or strips to give them a lovely, dreamy touch. Another way to add something more to the cake stands is to add pretty ribbons or pearls. You can have pearls and ribbons added at the same time, ribbons, however, should complement the color of your wedding cake or the wedding color scheme.
6. Crystals and Lanterns 
The last idea on our list is not only pretty but exceptionally stylish. It brings in the charm of a rustic decor set-up that, we think, is married to vintage brilliance. For a wedding day that is dressed in opulent wedding ideas, we think something like this, a cake table decor made of pretty lanterns, and some lovely crystal details. All you need for this is to choose lanterns in pastel white or you can swap these out for vintage birdcages in pastel white, and pair them with some crystal details. Think of crystal centerpieces, glasses, or even candlesticks. Both of these ideas are amazing, especially when paired together. To make this idea better, you can tie skinny ribbons around the candle holders or even candlesticks, which tie in with the wedding color scheme. If you choose lanterns for the decor, all you need is to add some interesting decor ideas, paired with greenery and some bouquet fillers. Also, if you're choosing to use birdcages, you can add greenery and bouquet fillers. You can also choose to add a few flowers, similar colors to your wedding color theme.
Other Ideas: Things You Can Use for Decor 
Apart from the ideas that we have mentioned above, there are a few ideas that you can use. We are compiling the extra ideas here because these ideas are simple and will look amazing separately or if you add these to the ideas above. So, the first idea that we'd like to tell you about is a pretty bar cart! Bar carts are an amazing way to add style and application to your wedding. This idea will make it easy for you to transport your wedding cake, and also add a brilliant touch to it. Another decor idea for the tables is to choose smaller cupcakes or dessert options. These smaller cupcakes or bite-sized desserts can be frosted or naked, to add a "difference in look" to the tables. Next, you can also choose to add some interesting cake stands, the vintage kind or the covered kind. This will help you add some interesting touches to the wedding decor as well.
That said, we're at the end of our inspiration blog and the ideas that you can use for your wedding tables for cakes and dessert decor. The ideas above can be used together, as in you can fuse the ideas with other ideas, or you can use them singularly, the choice is yours. Remember, your wedding cake decor can match the decor of the table. However, that is not necessary. When it comes to planning a wedding and its decor, the choices are many, which can be overwhelming. To get around this challenge is simple before you start deciding on the variety of options to use and start looking into ideas for your wedding, we'd like to tell you to pick a theme. As in, consider what your table for your wedding cake and desserts will look like, whether it is going to be minimal, or vintage, which will help you consolidate your ideas. We hope these ideas help you choose a brilliant wedding table decor idea!