City Love Chronicles: A Minimalist And Unforgettable Chicago Romance Of Meredith And Nicholas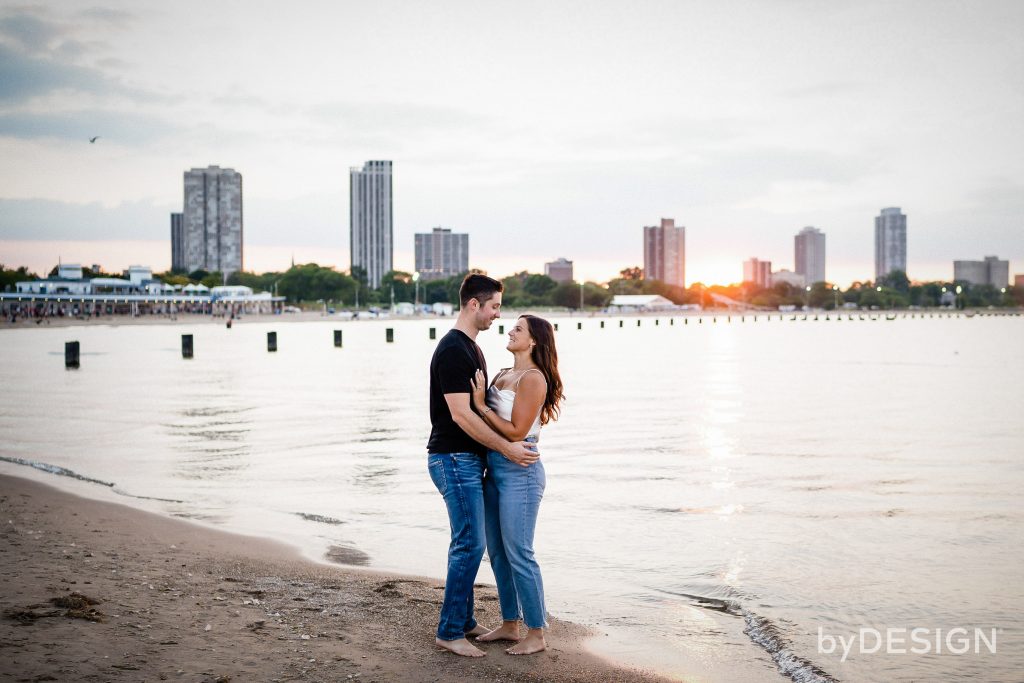 Falling in love and getting engaged are two remarkable milestones in a person's life, marking the beginning of an extraordinary journey filled with joy, vulnerability, and endless possibilities. It is a tale as old as time, yet uniquely personal and transformative for each couple involved. The journey of falling in love often begins unexpectedly, with a serendipitous encounter or a gradual deepening of emotions. Shared laughter, shared tears, and shared experiences create an unbreakable bond that grows stronger with every passing moment. Love is a captivating force that defies logic and understanding. It sweeps us off our feet, consuming our thoughts and filling our hearts with radiant warmth. In this state of euphoria, the world seems brighter, and even the simplest of gestures can feel like grand gestures of affection. The mere thought of the other person brings a smile to one's face and ignites a flicker of excitement in their soul.
As the relationship blossoms, the couple finds themselves entranced by the qualities they admire in each other. Their compatibility becomes apparent as they navigate life's challenges hand in hand, finding solace and support in one another's presence. Trust deepens, vulnerabilities are shared, and love becomes an anchor in the stormy seas of life. The decision to get engaged signifies a leap of faith, a declaration of love, and a promise of forever. It is a moment etched in time, when one person takes a knee and presents a symbol of their commitment, usually a ring, to the other. With bated breath and anticipation, the question is asked, and in that precious moment, the world stands still. When the answer is "yes," an explosion of emotions fills the air. Joy, excitement, and a profound sense of belonging wash over both lovers, and the prospect of building a life together, intertwining their dreams, and supporting each other through every triumph and tribulation becomes a shared reality. It is a celebration of love and the beginning of a beautiful new chapter.
Love is an exciting journey, and getting engaged marks the commencement of a lifelong adventure. It is a testament to the power of love to transform lives, bring two souls together, and create something greater than the sum of its parts. With love as their compass, the couple embarks on a voyage, their hearts intertwined, and their spirits forever connected, ready to embrace the joys and challenges that lie ahead. Today we are here to unwrap the love story of a gorgeous urban couple. Nicholas and Meredith's Chicago engagement session is not only gorgeous on its own, but it is also a perfect love letter for the city of Chicago. From the breathtaking cityscape to simmering water lines, this is a photo session that showcases the city in all its glory.
Having an engagement photo session in Chicago is a fantastic way to capture the beauty and vibrancy of this iconic city while celebrating your love and commitment. Chicago provides a stunning backdrop with its architecture, picturesque parks, and breathtaking skyline. Whether you're a native Chicagoan or simply visiting, this bustling metropolis offers endless possibilities for creating unforgettable engagement photos. One of the most popular locations for engagement photo sessions in Chicago is Millennium Park. This urban oasis is home to iconic landmarks like "The Bean", the Crown Fountain, and the Jay Pritzker Pavilion. These unique structures not only add an artistic touch to your photos but also serve as symbols of the city's rich culture and history. The park's manicured gardens, elegant walkways, and artistic sculptures provide a myriad of options for capturing beautiful moments.
For a more classic and refined setting, the Chicago Riverwalk is an excellent choice. Strolling along the riverbank, with the city's skyscrapers towering above you, creates a stunning backdrop for romantic photos. The river's iconic bridges, lined with twinkling lights, add a touch of elegance and charm. You can also opt to include a riverboat or water taxi in your photos, showcasing the city's unique transportation system. Another iconic location that embodies the spirit of Chicago is the Navy Pier. This beloved attraction offers a lively atmosphere and panoramic views of Lake Michigan. The pier's Ferris wheel, carousel, and colorful boardwalk create a fun and playful atmosphere for your engagement shoot. Capture moments of laughter, joy, and love as you enjoy the sights and sounds of this beloved Chicago landmark.
If you're looking for a more natural setting, Chicago has several stunning parks to choose from. Grant Park, known as "Chicago's Front Yard," boasts lush greenery, beautiful flowers, and unparalleled views of the cityscape. You can incorporate famous landmarks such as Buckingham Fountain or the Art Institute of Chicago into your photos, making them truly unique and representative of the city. The Chicago Cultural Center is another extraordinary location that offers a blend of architectural splendor and cultural significance. The stunning mosaics, intricate designs, and breathtaking stained glass windows create a visually captivating environment. Its grandeur and historical significance make it an excellent backdrop for engagement photos that exude elegance and sophistication.
No discussion of engagement photos in Chicago would be complete without mentioning the city's skyline. The skyline provides an iconic and awe-inspiring backdrop, especially when captured during golden hour or at night when the city lights illuminate the sky. Head to popular spots like Adler Planetarium or North Avenue Beach to capture the stunning skyline and the beauty of Lake Michigan. To make your engagement photo session in Chicago truly memorable, consider hiring a professional photographer who knows the city well. They can guide you to the best locations, capture your love story authentically, and make the most of the city's unique charm. Having an engagement photo session in Chicago is a dream come true for many couples. With its rich architectural heritage, stunning skyline, and vibrant city life, Chicago offers countless opportunities for capturing beautiful and meaningful moments. Whether you choose iconic landmarks, serene parks, or cultural sites, your engagement photos will be a testament to your love and a cherished memory for years to come. Nicholas and Meredith's engagement session is everything that a Chicago engagement photo session promises to be, and that's more than enough reason to consider it.
Nicholas and Meredith chose a gorgeous and slightly overcast day for their engagement photo session, and they had the whole city in their backdrop to use as their prop and playground. The result is a collection of photographs that the couple will forever cherish and treasure! The couple had two changes of outfits for two completely different looks. For the first look, Meredith wore a gorgeous black maxi dress and a pair of white heels. Her hair was long and wavy and minimal jewelry completed her elegant and semi-formal look. Nicholas matched the vibe with his white button-down, black trousers, and tan formal shoes. The overall look was contemporary and did perfect justice to the city life. The couple was captured by our Chicago engagement photographers in some stunning frames as the sun was starting to set, and the golden hour was coming out to grace the frames. Nicholas and Meredith were natural posers and did their thing and the string of pictures seized by our engagement photographers of Chicago were gorgeous. We especially love the shot where Nicholas swirled Meredith around as they walked down the city streets. We also loved the pictures shot with the greenery in the backdrop, as it was a textbook urban shot.
After the first few formal shots, the couple went in for a change of outfit and came out with a more casual look. Meredith wore a pair of blue jeans and a draped cowl-neck top, with the same pair of white heels, while Nicholas kept it timeless with a pair of blue jeans and a black t-shirt. They sat by the water as swapped stories and looked out to their future, as the cityscape spread out in front of them and the city lights were just starting to light up as the evening arrived. They celebrated by the water as they popped the champagne and clinked their coupe glasses in celebration of their love story. While there are many shots we absolutely loved, our favorites have to be the ones where the engaged couple walk by the beach as the sun dips down and bids adieu for the day. Needless to say, Nicholas and Meredith were stunning and did a phenomenal job posing, our Chicago engagement photographers did a great job capturing the magic sprinkled throughout. The neutral tones, somber waterlines, and the urban setting were perfectly contrasted by the happy couple and the effect was memorable and breathtaking.
Engagement and weddings are both significant milestones in a couple's journey, symbolizing their commitment to each other and the beginning of their lifelong partnership. While weddings are often seen as the grand celebration that marks the union of two individuals, the importance of engagement should not be overshadowed or underestimated. Engagement is a time of preparation and anticipation. It allows them to get to know each other's strengths, weaknesses, and idiosyncrasies, fostering a sense of acceptance and understanding that is essential for a healthy relationship. Engagement is also a period of decision-making and planning. It allows couples to discuss and make important choices about their future together, such as their living arrangements, career goals, financial management, and family planning. Engagements can be a time for self-discovery, learning, and growth, enabling individuals to enter marriage with a stronger sense of self and a clearer understanding of their own needs and desires. While weddings are often viewed as the culmination of the romantic journey, it is essential to recognize that engagement lays the groundwork for a successful marriage. It is a time for preparation, decision-making, celebration, personal growth, and bonding. By investing in their engagement period and prioritizing the development of their relationship, couples can create a solid foundation upon which to build a strong and enduring marital partnership.
Engagement photography holds a special place in the hearts of couples, as it captures the essence and excitement of a unique chapter in their love story. It serves as a beautiful memento of the time leading up to marriage, preserving precious memories that will be cherished for a lifetime. The importance of engagement photography lies not only in the images themselves but also in the emotions, connections, and experiences they evoke. One of the primary reasons engagement photography is valued is its ability to freeze a moment in time. The period of engagement is often a whirlwind of emotions, as couples navigate wedding planning, envision their future together, and experience the sheer joy of knowing they will soon be united in marriage. These photographs become a tangible representation of that time, allowing couples to revisit and relive the excitement, anticipation, and love they felt during that transformative phase.
Engagement photography also serves as a visual celebration of the couple's unique bond and personalities. Professional photographers skillfully capture the authenticity and connection between two individuals in love. The photographs become a testament to the love they share, showcasing their chemistry, laughter, and tenderness. These images not only portray the couple's outward appearance but also reveal their innermost emotions, allowing their love story to unfold through each frame. In addition to capturing the couple's love, engagement photography provides an opportunity to create lasting memories. During the photoshoot, couples often venture to meaningful locations, whether it's the place of their first date, a picturesque park, or a breathtaking natural landscape. These locations become a backdrop for their love story, imbuing the images with sentimental value. Looking back on these photographs years later, the couple can reminisce about the moments shared and the memories made during that chapter of their lives.
Engagement photography also holds practical significance. The images captured can be used for various purposes, such as creating personalized save-the-date cards, wedding invitations, or a guestbook. They can also be shared with family and friends, allowing them to share in the couple's excitement and anticipation. Furthermore, engagement photographs often serve as a prelude to the wedding day, giving couples a chance to become comfortable in front of the camera and develop a rapport with their photographer, which can contribute to a more relaxed and enjoyable wedding photography experience. Ultimately, engagement photography is a testament to the importance of love, connection, and the journey of two individuals coming together. It captures the emotions, the memories, and the essence of a significant time in a couple's life. These photographs become cherished keepsakes, allowing couples to reflect on their journey, their growth, and the love that binds them. They serve as a reminder of the commitment they have made to one another and the exciting chapter they are about to embark upon.
Getting engaged and documenting this milestone through engagement photography holds immense importance in a couple's love story. It is a declaration of commitment, a celebration of love, and the beginning of a journey toward a shared future. Through the lens of a skilled photographer, the emotions, connections, and memories of this transformative time are preserved, allowing couples to revisit and cherish these moments for years to come. Engagement photography captures the essence of the couple's unique bond, showcases their love and personalities, and serves as a visual testament to the power of their connection. It is a way to freeze time, create lasting memories, and share the joy and excitement of this chapter with loved ones. As couples embark on the beautiful adventure of marriage, these documented memories serve as a treasured reminder of the love that brought them together and the promise of a lifetime of happiness. Nicholas and Meredith's engagement session is not only classy and minimal, but it is also the perfect frame for the magical city of Chicago. We absolutely love how this session turned out, and wish the best for the couple in the future!