Best Traditional Ceremony Arch Alternative Ideas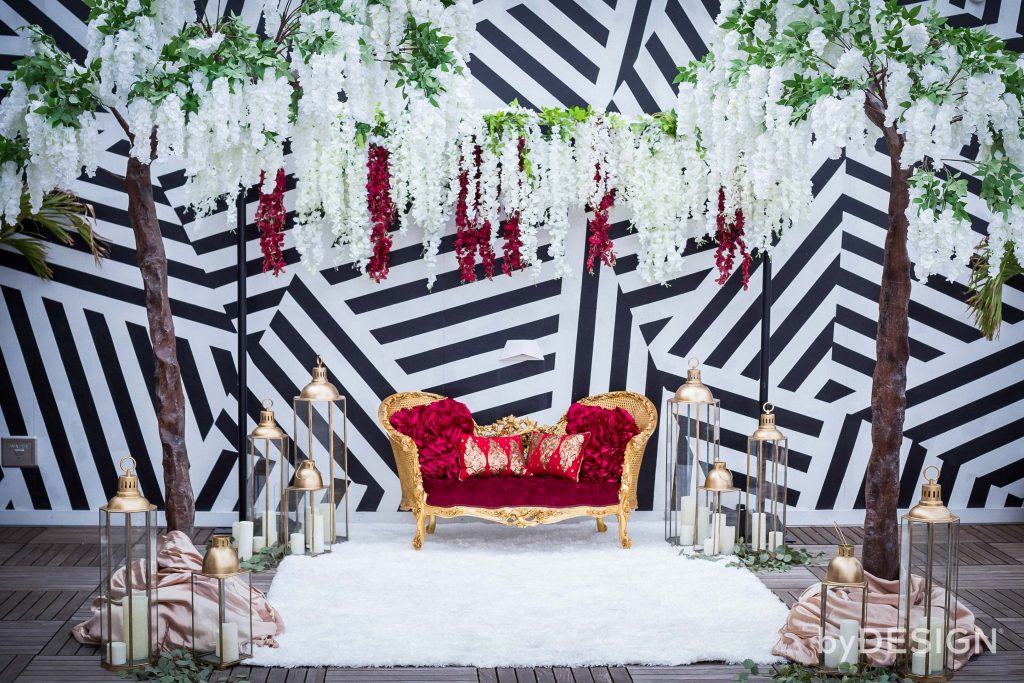 Picture yourself standing beside your beloved on your wedding day, making heartfelt vows to be together forever. Sounds amazing, doesn't it? Now imagine that beautiful moment taking place beneath the vibrant canopy of your most gorgeous wedding flowers. It can be an ethereal and enchanting scene! Elevate your wedding ceremony to new levels of elegance and capture the essence of becoming spouses with a unique wedding ceremony backdrop that captures the atmosphere of your special day.
The wedding arch is a timeless element of design that holds multiple roles during the ceremony. It serves as a captivating focal point of the ceremony, creates stunning wedding entrances and exits, and adds a touch of elegance to the reception decor. Across various cultures, exchanging vows under a gorgeous wedding arch holds significant cultural value, ranging from ceremonial canopies to Jewish chuppahs. While traditional wedding arches hold cultural and religious significance, symbolizing protection and the creation of a home, modern couples are embracing their graceful curves for aesthetic and trending wedding decor purposes. These modern wedding arch alternatives can add the perfect finishing touch to your momentous occasion!
Are you looking to make a grand wedding exit as an alternative to the standard and traditional? Your wedding decor can be refreshingly unique, allowing you countless opportunities to design a truly special day. From incorporating glamorous wedding ideas when it comes to designing your ceremony theme to incorporating luxe wedding lighting ideas for going above and beyond, everything is possible today!
Imagine exchanging vows beneath the majestic branches of a centuries-old oak tree, beneath the ethereal drapes of a chuppah as a way to dress up your outdoor spring wedding venue, or within the enchanting embrace of a vine-covered arbor. The choice of a modern ceremony backdrop sets the stage for you and your partner, accentuating the beauty of your vows. While a traditional wedding arch is always an option, don't feel constrained by convention. Need some inspiration? These exceptional alternatives to wedding arches are sure to ignite your imagination. These stylish wedding backdrop ideas encompass everything from trendy neon wedding signs and crescent moon altars to rustic barrels and more. These unique wedding altar ideas can allow you to infuse your ceremony with unique and personalized wedding ideas.
Our Favorite Wedding Arch Alternatives:
Boxwood Backdrop 
A unique twist on the classic floral wedding arch is a ceremony backdrop crafted from neatly trimmed boxwood. This modern ceremony backdrop design offers a traditional touch, and you have the flexibility to include fresh flowers by placing them on pedestals or the ground. Your wedding florist can create a boxwood wall using live greenery, or you can easily rent a faux version from a decor vendor.
Crescent Moon Altars 
Celestial wedding ideas and details are all the rage at the moment, and if you are considering a celestial wedding theme, why not opt for a stunning crescent moon wedding altar? It's a unique and breathtaking idea that adds a touch of ethereal beauty to your ceremony. You can adorn the altar with lush greenery, vibrant blooms, or even twinkling lights to create a magical and romantic ambiance.
Framed Wedding Display 
Instead of having tropical wedding displays of pampas grass and pink-toned monstera leaves directly above the bride and groom, you can go for a unique approach. Go for arrangements that are positioned on either side of the couple, acting as bookends.
Semicircular Altar
A semicircular wedding altar design placed on the ground can offer a non-traditional and eye-catching installation for your special day. It can serve as a focal point, highlighting you and your partner as you stand within it. You have the liberty to customize it according to your wedding style, whether that involves using greenery, florals, or even pampas grass and fronds.
Pillars of Balloons 
For a whimsical wedding theme, accentuate your ceremony space with clusters of balloons. Bright colors will enhance the lively vibe, while pastels or neutral tones provide a more subtle effect. For instance, if you want a gilded wedding theme, you can go for metallic balloons with gold wedding accents for a cohesive look. The best part is that you can repurpose the balloons for your reception decor.
Go for Different Heights 
To create a dynamic floral ceremony design, experiment with different heights. You can combine a large floral column with a pot filled with blooms and an arrangement placed on the ground for an eye-catching effect.
Metal Grid Pampas Grass 
Embrace a boho chic wedding style by incorporating earth tones like terracotta and olive green. For your outdoor wedding, you can use copper pipe framing to complement the orange hues and stand out against neutral pampas grass or dried greenery.
Rustic Circular Arbor
Circular wedding arbors, also known as oversized floral hoops can provide a whimsical touch to your ceremony decor. They offer a contemporary twist on the classic ceremony arbor design. These arbors can be personalized with various elements such as fresh flowers, greenery, pampas grass, ribbons, and macrame. Your arbor can be also constructed using vines and branches, lending a rustic and woodland feel to the setting.
Floating Floral Display 
Who doesn't love rose wedding floral arrangements? Elevate your ceremony floral arrangements to new heights with an elevated arrangement of greenery and roses. Clear wire can be used to suspend the structure above a platform where you plan to exchange vows, adding a touch of whimsy to the ceremony.
Fireplace Mantel with Candles 
You can create a cozy wedding ambiance and romantic atmosphere with a candle-lit fireplace mantel ceremony backdrop. You can arrange different-sized pillar candles and greenery to create an elegant and inviting ambiance. If your venue doesn't have a fireplace, consider sourcing a mantel from a local shop or event rental company. This idea is perfect for luxurious boutique hotel weddings! You can also frame the fireplace with wreaths and pine trees for added warmth and charm.
Geometric Backdrop
Break away from the traditional arch shape and consider a square structure for your ceremony. Adorn the top with florals to tie in your color palette and add a unique design element to your celebration.
All-white Wedding Arbor
If you are hosting an autumn wedding, you can go for a monochromatic floral arbor in a white color scheme. The enchanting blend can create a romantic ambiance, capturing the essence of the fall season while staying true to your wedding theme.
Wrought-Iron Details
For an enchanting alternative to a wedding arch, opt for a wrought-iron gate! Find an intricate and captivating gate to stand in front of on your special day. To add extra detail and a pop of color, you can drape a lush floral garland across the front.
Low Floral Arrangements 
You can go for a unique arrangement of blooms that can be placed in a semi-circle at the end of the aisle, nestled within a growing crescent nest. This design can highlight the view behind it and adds a focal point to the ceremony.
Bamboo Pole Backdrop
Create a fun beach wedding arch alternative by arranging bamboo poles in abstract triangular shapes. Finish the look with tropical blooms that stand out against the ocean backdrop, such as Birds of Paradise, orchids, anthuriums, and lush tropical greenery.
Lush Floral Installations 
You can enhance a winding staircase (if your venue has it) by adorning it with florals. Draped greenery can add a lush and stunning touch, transforming the staircase into a picturesque backdrop for your vows.
Macrame Drape Backdrop 
You can go for a macrame curtain wedding backdrop and hang a simple and understated wedding altar decoration. Depending on your wedding style, you can add optional greenery or flowers to enhance the design.
Potted Cacti Wedding Arbor
For those seeking a bohemian aesthetic or a desert-inspired wedding, incorporating potted cacti and succulents into your wedding arbor is a fantastic idea. The oversized and open-air design of the wooden structure adds a unique and captivating element to your ceremony decor.
Flags Backdrop 
For an unexpected ceremony accent with dynamic movement, consider using flags! With a soft breeze, the flags can create a captivating visual effect as you and your partner exchange vows.
Bright and Peppy Acrylic Squares 
Make a bold wedding statement with a unique backdrop made of layered neon-colored acrylic squares! For a more elevated LGBTQ wedding idea, you can finish the design with rainbow-inspired flowers to match the vibrant aesthetic. What a great way to speak for your colorful personality!
Canoe Design 
Perfect for a summer wedding by the lake, showcase a canoe or rowboat on top of tree branches to reflect the outdoorsy wedding theme. The creative arch alternative can offer a unique touch to your ceremony decor.
Geometric Patterns
Another lovely beach wedding idea, you can incorporate modern geometric structures as a backdrop for your vows that allows for negative space to showcase the ocean waves in the background.
Assorted Flower Pedestals 
Incorporate flower arrangements into your decor by showcasing them on pedestals or in urns. Planted flowers like hydrangeas, jasmine vines, or garden roses add a beautiful touch.
Vibrant Colors 
You can use dye-dried grasses, florals, and pampas grass in vibrant shades to create an autumnal flower wall that adds both color and texture to your ceremony design.
Neon Sign Backdrop 
You can craft a custom neon wedding sign with a favorite quote, your name, or your wedding date. Display it against a boxwood wall for an instant and personalized wedding backdrop.
Hanging Garlands 
Define a wall as your ceremony backdrop by adorning it with garlands of florals in your chosen color palette. This fun and whimsical framing technique adds a touch of charm to your vows!
Greenery Wall 
Instead of a floral wall, exchange vows in front of a lush wall of greenery and other botanicals. A greenery ceremony wall is a nature-inspired backdrop that adds a fresh and organic touch to your ceremony.
Floral Cross 
Embrace the beauty of nature by decorating your outdoor ceremony with a gorgeous flower-covered cross.
Wire Frame 
You can use a wire frame, and affix marigolds in an organic fashion to create a beautiful wall of color behind the bride and groom. This industry-theme ceremony backdrop can add vibrancy and artistic significance.
Float in the Clouds 
Bring the outdoors in with a backdrop of painted clouds. Add bright centerpieces to infuse a summery vibe into your indoor ceremony.
Pampas Grass Garlands
Instead of a traditional pampas grass wedding design, try hanging pampas grass garlands for an unexpected twist on the boho wedding trend.
Branches Backdrop 
You can craft a backdrop full of beautiful branches that appear to be growing from the ground. Lunaria branches can be used to create a blooming display, adding an enchanting touch to your ceremony.
Canvas Paint Backdrop 
Say "I do" in front of your favorite painting at an art gallery! You can utilize a large art piece as a backdrop for your vows, adding a touch of sophistication and personal meaning to the ceremony. Likewise, if you are artistically inclined, you can paint a collection of canvases or have them painted to match your wedding color scheme. Stack them at the altar to create an eclectic and personalized ceremony backdrop. Alternatively, you can use patterned wallpaper or contact paper for a similar effect. Similarly, modern and artsy couples can consider a wedding backdrop composed of colorful abstract shapes. Floral arrangements placed around the structures provide the perfect finishing touch.
Oversized Frame 
Highlight a focal point of the scenery by using a huge square structure for your outdoor wedding. Frame you and your partner as you exchange vows, keeping the backdrop simple yet impactful!
Baby's Breath Magic 
Create a unique ceremony backdrop using the baby's breath to form structures. The delicate blooms can offer structure and texture, resulting in a breathtaking wedding display.
Rainbow Paper Streamers 
Another colorful wedding ceremony idea, you can add a touch of whimsy to your celebration with colorful paper streamers. You can also incorporate handcrafted paper flowers for extra dimension and thoughtfulness.
Pampas Grass Arrangements 
Opt for a low arrangement of pampas grass as a neutral backdrop for a bohemian wedding. Incorporate additional blooms and grasses to add texture and dimension to the display.
Bistro or Fairy Lights Gossamer
Create a romantic ambiance by getting married under a canopy of twinkle lights. Whether indoors or outdoors, this dreamy reception setup can be enhanced with candles, chandeliers, or a vine-covered arbor.
Blooming Beaches 
Create the illusion of flowers growing from the sand by designing a beautiful and organic flower arrangement. This can be a beach-inspired ceremony display that is perfect for an intimate wedding along the coast.
Soccer Net 
Sports lovers unite! Celebrate your love for sports by using a net and goalposts as your wedding arch alternative. Add fresh flower accents to soften the overall design.
Elevated Platform 
If you elevate your ceremony on a platform, you can decorate the structure with blooms to enhance the space. Using baby's breath flowers, create a cloud-like effect, giving the impression of being elevated on a cloud.
Dream Catchers and Floral Garlands 
Channel sweet dreams for your future by decorating your wedding altar with dream catchers and strands of flowers. This light and cheerful setup can add a lovely touch to your ceremony. Nothing gets more romantic than this!
When envisioning your wedding ceremony space, it's essential to include a breathtaking backdrop that beautifully frames your "I dos." While wedding arches are a popular and stunning addition, they are by no means the only choice for your ceremony decor. If you are seeking something delightfully stunning for ceremony backdrop design, there exists a multitude of captivating alternatives to the traditional wedding arch that you can explore. From architectural accents to flower walls and unique ceremony installations, the possibilities are endless for couples wanting to infuse their ceremony with creativity. With a touch of ingenuity, you can bring to life the aesthetic of your dreams. The above-curated selection of exquisite wedding ceremony arch alternatives is gorgeous, and each captures its own distinct charm.
The article presents you with a treasure trove of incredible wedding backdrop display ideas to adorn your altar. These stunning ceremony altar designs can effortlessly complement any style of ceremony, adding a delightful dose of allure to your wedding day. While alternative wedding arches are typically associated with outdoor weddings, they can also be embraced indoors, say, within the charming ambiance of a restaurant. Let your wedding altar style harmonize with your wedding theme, and consider the chosen location, whether it be a serene forest or a picturesque beach. You can recreate these mesmerizing wedding ceremony designs or let your creativity soar by incorporating elements such as flowers, pearls, ribbons, and more.