LGBTQ + Luxe Details We Love!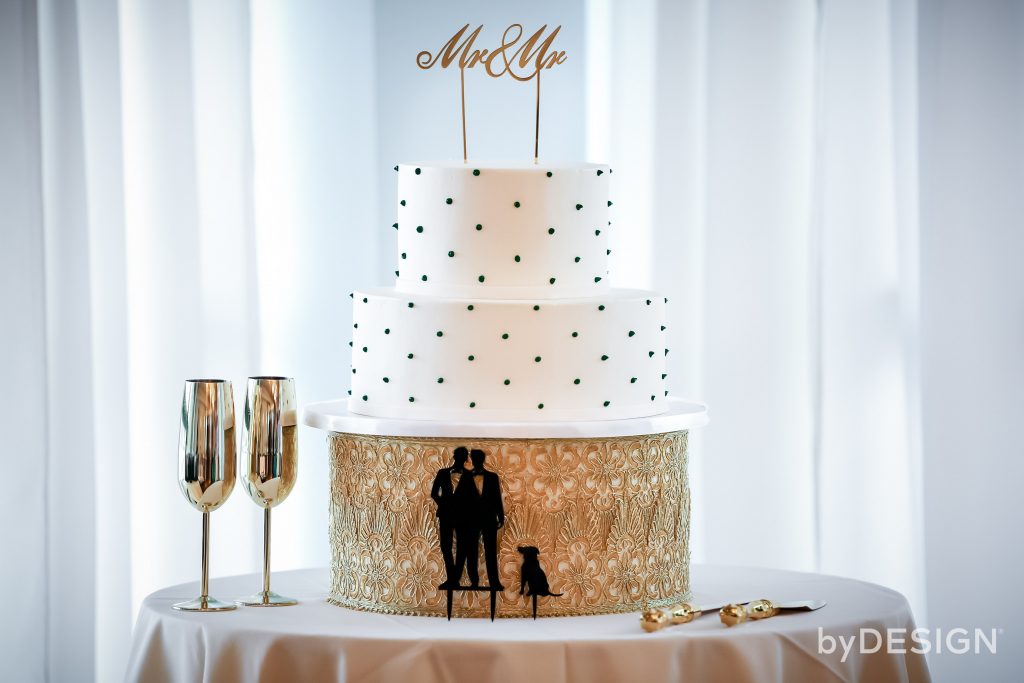 Luxury and LGBTQ were never really used interchangeably, as luxury was reserved primarily for the heteronormative population. However, the LGBTQ+ community has become more visible and celebrated than ever before, and this newfound visibility has led to an explosion of luxurious and elegant details that cater specifically to the LGBTQ+ community. From weddings and events to fashion and design, there are a variety of high-end details that are perfect for adding a touch of glamor and elegance to any LGBTQ+ experience. The world of luxury fashion and lifestyle has been changing rapidly over the past few years, with more and more designers and brands embracing the LGBTQ+ community and creating products that celebrate diversity and inclusivity. From rainbow-colored accessories to gender-neutral fragrances, there are plenty of luxe details that we love and that are perfect for anyone who wants to show their support for the LGBTQ+ community.
Gucci created a rainbow-striped leather tote bag that features the signature GG logo and is perfect for carrying all your essentials. Similarly, Burberry created a range of rainbow-colored sneakers that are both stylish and comfortable, and make a bold statement wherever you go. Another way that luxury brands are showing their support for the LGBTQ+ community is by creating gender-neutral products that are suitable for everyone. This is especially important for beauty and fragrance products, where traditional gender norms have often dictated what products are marketed to men and women. However, brands such as Tom Ford and Calvin Klein have released gender-neutral fragrances that are suitable for anyone, regardless of gender identity. These fragrances often feature fresh, clean scents that are perfect for everyday wear, and come in sleek, minimalist packaging that looks great on any vanity. While inclusivity and luxury have merged in several creative ways, it's only fair that we talk of luxe wedding ideas for an LGBTQ wedding because what is more fitting than that for this space? Read on and be ready to be inspired!
Luxury Watches: Luxury watches are another area where designers are embracing the LGBTQ+ community and creating products that celebrate diversity and inclusivity. For example, Cartier created a limited-edition watch that features a rainbow-colored bezel and dial and is sure to make a statement wherever you go. Similarly, Audemars Piguet created a range of rainbow-colored straps for their popular Royal Oak watch, allowing customers to customize their timepieces and show their support for LGBTQ+ rights at the same time.
Luxury Hotels And Resorts: For those planning a luxurious LGBTQ+ wedding or event, luxury accommodations are a must-have. Whether it's a luxurious hotel suite or a private villa, these accommodations can provide an extra touch of comfort and luxury. Many hotels and resorts now offer LGBTQ+-friendly packages that include special amenities such as spa treatments, champagne, and romantic dinners. In addition to fashion and lifestyle products, luxury hotels and resorts are also getting in on the act and creating spaces that are welcoming and inclusive for LGBTQ+ guests. This can add some glam factor to your honeymoon. For example, the W Hotels chain has a longstanding commitment to LGBTQ+ inclusivity and has even created a dedicated LGBTQ+ Advisory Board to ensure that their properties are safe and welcoming for all guests. Similarly, the Four Seasons Hotels and Resorts chain has a dedicated LGBTQ+ travel page on its website, which highlights LGBTQ+-friendly destinations and properties around the world.
Luxury Invitations: The invitation sets the tone for any event or wedding, and luxurious invitations are a great way to make a statement. Personalized, bespoke designs are a popular choice for those who want to add an extra touch of sophistication to their event. For LGBTQ+ events, invitations that feature rainbow designs or rainbow accents are a popular choice. Gold or silver foiling and intricate laser-cut designs can add an extra touch of elegance and luxury. When it comes to luxury invitations for LGBT weddings, there are many options to consider. Consider working with a designer who can create a custom design that reflects your style and the theme of your wedding. This could include using your wedding colors, incorporating LGBTQ+ symbols, or creating a unique monogram. Adding personalized details such as your name or wedding date in a calligraphic font, or including a custom wax seal can elevate the luxury factor of your invitations.
Customized Suits and Dresses: For LGBTQ+ weddings, custom-made suits and dresses are a popular choice. Tailored specifically to the individual's unique style and preferences, these outfits can be designed to reflect the couple's personality and style. For example, a bride might opt for a white pantsuit rather than a traditional wedding dress, while a groom might choose a brightly colored suit. Bespoke tailoring can ensure a perfect fit, and details such as monogramming and embroidery can add an extra touch of luxury. Some LGBTQ+ couples opt for matching wedding outfits, whether it's two custom-made suits or a pair of coordinating dresses. This can add a sense of unity and togetherness to the wedding ceremony.
Designer Jewelry: Jewelry is a classic way to add an extra touch of luxury and elegance to any outfit, and designer jewelry is a popular choice for LGBTQ+ events and weddings. From engagement rings and wedding bands to statement necklaces and earrings, there are many pieces of jewelry that can make a statement. For example, a rainbow-colored engagement ring or a pair of diamond-studded cufflinks can add an extra touch of glamor and sophistication to any outfit.
Rainbow-Themed Food and Drink: Food and drink are an essential part of any event or wedding, and rainbow-themed food and drink are a popular choice for LGBTQ+ events. From rainbow-colored cocktails to rainbow-colored desserts, there are many ways to incorporate this vibrant symbol into your menu. Additionally, personalized cocktails that reflect the couple's unique style and preferences are a great way to add an extra touch of luxury and elegance to any event.
Personalized Wedding Favors: Personalized wedding favors are a popular choice for LGBTQ+ weddings. From monogrammed luggage tags to customized candles, these small details can add an extra touch of luxury and elegance to your event. Personalized wine bottles or champagne flutes can also make great keepsakes for your guests.
Luxury Transportation: Luxury transportation is a great way to add an extra touch of sophistication and glamor to any LGBTQ+ event. Limousines, vintage cars, and even private jets are popular choices for those looking to make a statement. Additionally, personalized signage or monogrammed details on the vehicle can add an extra touch of luxury and elegance.
Custom Wedding Cake: The wedding cake is a centerpiece of many weddings, and for an LGBTQ+ wedding, it can be an opportunity to showcase creativity and personality. A custom cake that reflects the couple's style and interests can be a unique touch. For example, a cake with rainbow layers or a cake topper featuring same-sex figurines can be a subtle nod to the LGBTQ+ community.
Non-Traditional Venue: LGBTQ+ couples may choose a non-traditional wedding venue, such as a museum, art gallery, or even a historic landmark. These types of venues can provide a unique backdrop for the ceremony and reception, and can also create a memorable experience for guests. When selecting a venue, it's important to ensure that it is LGBTQ+ friendly and welcoming. The location of a luxury wedding is a crucial decision that sets the tone for the entire event. For an LGBTQ+ wedding, consider locations that are open and welcoming to diversity, such as cities with a thriving LGBTQ+ community or resorts that specialize in same-sex weddings. A luxury wedding on a beach or by the ocean can provide a stunning backdrop for the celebration, while a grand ballroom or stately mansion can create a regal atmosphere. Other ideas for a location include vineyards, rustic barns, and chic rooftops.
Inclusive Music Selection: Music is a key component of any wedding celebration, and for an LGBTQ+ wedding, it's important to select music that is inclusive and reflective of the couple's tastes. Consider incorporating music by LGBTQ+ artists or songs that have a special meaning for the couple. Additionally, hiring a DJ or band that is familiar with LGBTQ+ weddings can ensure that the music selection is inclusive and respectful. Consider asking the couple and their guests for music suggestions to ensure that everyone feels included and represented. This can be done through an online survey or by asking for song requests on the wedding invitations. Incorporate LGBTQ+ anthems into the playlist to celebrate the couple and their love. Some popular LGBTQ+ anthems include "I Will Survive" by Gloria Gaynor, "Born This Way" by Lady Gaga, and "I'm Coming Out" by Diana Ross. Be prepared to adjust the music selection as needed to accommodate the preferences of the guests. Take requests and be willing to change the playlist to ensure that everyone has a good time.
Unique Floral Arrangements: Flowers are a staple of wedding decor, but for an LGBTQ+ wedding, unique floral arrangements can add an extra touch of personality and flair. Consider using blooms that are not typically associated with weddings, such as succulents or tropical flowers. Bold, bright colors can also make a statement, particularly when paired with more traditional white flowers. Floral arrangements can also be used to create a backdrop or focal point for the ceremony or reception.
Bold Colors: One of the things that we love about LGBTQ+ weddings is the use of bold, bright colors. While traditional weddings often stick to a more muted color palette, LGBTQ+ couples are more likely to embrace bold colors and patterns. This can be seen in everything from the bridesmaids' dresses to the floral arrangements to the table settings. Bold colors can create a truly striking visual impact and help to set the tone for a joyous and celebratory occasion.
Interactive Entertainment: Another hallmark of LGBTQ+ luxe weddings is the use of interactive entertainment. Rather than simply having a DJ or a band, these weddings often feature unique and engaging forms of entertainment that encourage guests to participate and have fun. This could mean a photo booth, a caricature artist, or even a game room. By incorporating interactive entertainment into the wedding, LGBTQ+ couples are able to create a lively and memorable atmosphere that keeps guests engaged and entertained throughout the event.
Luxury Lighting: Luxury wedding lighting for LGBTQ+ couples can be a beautiful and unique way to enhance the ambiance of your special day. There are many different types of lighting that you can incorporate into your wedding, from colorful uplighting to elegant chandeliers. One important aspect to consider when choosing lighting for your wedding is to ensure that it complements the overall theme and style of your celebration. For example, if you're having a romantic and intimate wedding, soft and warm lighting can create a cozy and intimate atmosphere. On the other hand, if you're planning a modern and chic celebration, brighter and more colorful lighting can help to create a lively and energetic ambiance. Regardless of your preferences, working with a professional lighting designer or wedding planner can be a great way to ensure that your lighting choices are both functional and visually appealing. They can help you choose the right lighting fixtures, color schemes, and overall layout to create a beautiful and memorable atmosphere for your special day.
Inclusivity: Inclusivity is a crucial element of any LGBTQ+ wedding. Consider incorporating LGBTQ+ symbolism and traditions, such as the rainbow flag, into the ceremony or reception. Make sure the wedding party and guests feel comfortable and included by providing gender-neutral bathrooms and addressing invitations in a gender-neutral manner. Celebrate the diversity of the LGBTQ+ community by incorporating cultural traditions and customs from around the world.
Overall, there are plenty of luxe details that we love when it comes to LGBTQ+ fashion and lifestyle products. From rainbow-colored accessories to gender-neutral fragrances, luxury brands are embracing diversity and inclusivity in new and exciting ways, and there has never been a better time to show your support for the LGBTQ+ community. Whether you are looking for a bold statement piece or something subtle and understated, there is sure to be a product out there that fits your style and your values. The luxury industry has historically been known for its conservative values and heteronormative culture, but in recent years, there has been a significant shift towards inclusivity and diversity. The LGBTQ+ community, in particular, has become a key focus for many luxury brands, who are now embracing and celebrating the community through their products and marketing campaigns. We hope our blog was able to provide some inspiring ideas to keep it inclusive yet luxurious!