Trending Décor Ideas: Luxurious Suspended Wedding Décor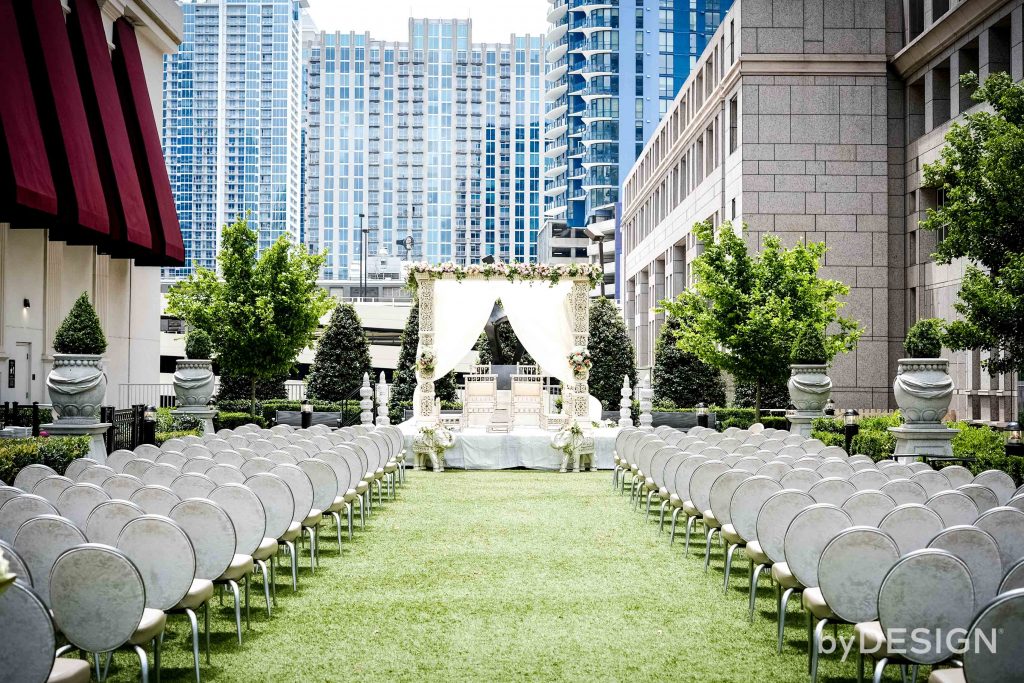 Finding the right design inspiration for your wedding day isn't always a walk in the park! While there's no shortage of transformational wedding details and ideas out there, it can be a challenge to determine which ones blend effectively. Among the various ways couples have transformed their wedding venues, one of our personal favorites involves making a visual wedding statement from above. Instead of crowding tables with excessive candles and blooms, you can make use of your venue's lofty ceilings or distinctive architecture by incorporating hanging reception décor. Using decorative elements from the overhead space virtually guarantees a breathtaking impact – your guests will undoubtedly be surprised by the captivating mid-air hanging wedding installations.
Modern wedding receptions are now expected to deliver more than ever before! We all love glamorous wedding ideas and it is amazing to think creatively and step outside the box while planning your wedding décor. The wedding décor planning has expanded beyond just reception tables, unique signs, or scattered petals on the ground – now, attention is directed upwards. Beautiful garlands, birdcages, tassels, candles, and delicate feathers are being suspended from ceilings and trees, offering us exciting and incredibly stylish wedding spaces that will undoubtedly leave a lasting impression. This wedding décor trend screams that "love is truly in the air!"
While traditional wedding chandeliers possess their beauty, if you want to elevate your wedding reception décor, modern wedding ceiling ideas featuring hanging installations can make a remarkable choice! Hanging wedding decorations are gaining popularity for good reason. This type of ceiling wedding décor not only stands as one of the finest over-the-top wedding ideas but also provides an unforgettable means to integrate the meticulously arranged your favorite wedding aesthetics into the venue.
It's quite simple to explain: a suspended wedding décor idea refers to any kind of wedding decoration that is hung from above rather than being placed in vases on a table or the ground. These larger-than-life and trendy wedding décor ideas and displays can complement or even replace other floral accents, such as ceremony backdrops or conventional centerpieces. Introducing hanging installations into your wedding décor creates a focal point and adds that "wow" factor to your space, whether you are using them to make stylish wedding bar ideas, during the reception above your wedding dance floor, at the altar for your ceremony, or centered over the reception entrance. Depending on the existing structures at your wedding venue, your florist or event designer may need to incorporate cables or poles to support these hanging wedding arrangements.
From loosely draped garlands to luxe wedding lighting fixtures adorned with vines, these romantic wedding décor ideas can enhance your overall celebration. Interestingly, hanging wedding ideas featuring eucalyptus, vines, or large leaves – cover a substantial amount of ceiling space which can go on to make a wedding décor statement! This wedding décor trend also allows you to bring the outdoors to your indoor celebration. Achieving an indoor-outdoor wedding ambiance is as simple as suspending charming garlands, delicate vines, or leafy branches from the ceiling. You can achieve this effect with clear wire or by attaching cut branches to existing fixtures, such as barn rafters or crystal chandeliers in a ballroom. Surprisingly, even with the addition of foliage bundles, your space might feel more expansive. Why, you ask? The eye-catching suspended installation naturally draws everyone's attention upward!
So, what types of hanging wedding décor should you consider for your big day? The suspended reception ideas are virtually limitless, but we have a soft spot for overhead lighting, floral arrangements, ceremony canopies, and chandeliers. And if all these possibilities pique your interest, feel free to mix and match. For instance, if you want a romantic setting, you can go for rose wedding flower arrangements with suspended clear glasses and greenery that seamlessly elevate the ambiance of the entire event space. If your wedding venue permits, take advantage of towering ceilings, adorn your elegant white tent, or emphasize the expansive sky above during an outdoor celebration. Regardless of your wedding's style and your venue's aesthetics, the art-themed wedding décor ideas are guaranteed to leave a lasting impression. From grand chandeliers to charming paper lanterns read on to find suspended wedding décor inspiration for your celebration.
Gorgeous Suspended Wedding Décor Ideas That We Love:
Embrace Classic Elegance and Simplicity
To infuse your wedding with a classic and minimalist wedding theme, consider incorporating greenery that perfectly complements the overall aesthetic. You can go for this wedding design idea by combining clean white linens and white flowers with cascading fragrant greens suspended from above, lending the space an invigorating sense of openness and lightness.
A Splash of Colors in Abstract Suspension
You can elevate your reception décor with a vibrant and organic floating ceiling arrangement of lush grasses, vines, and palm fronds. Against a backdrop of pristine white, the bursts of color from this abstract reception centerpiece can create a captivating visual contrast that will leave a lasting impression.
Creating an Upside-Down Chandelier
Experience a reception chandelier like no other – glass vases and globes brimming with exquisite and stylish wedding flowers and candles can be made to hang delicately from pale pink ribbon and twine, forming an exquisite rustic wedding ceiling suspended over a charming setting.
Bohemian Flair with Macramé Elegance
Embrace a boho-inspired wedding ambiance by introducing a suspended floral bridge centerpiece adorned with an intricate macramé rope curtain. This alternative wedding décor idea adds a touch of unique charm, providing a captivating choice for those seeking to incorporate pampas grass or dried flowers without going overboard.
Suspended Green Wreaths for a Unique Twist
A stylish way to incorporate greenery into your wedding is through suspended wreaths. These trendy wedding flower arrangements adorned with flowing ferns, tulips, and calla lilies can create a captivating visual effect.
Monochromatic Elegance with Pampas Grass
You can opt for a transition from traditional baby's breath clouds to the earthy allure of pampas grass. The neutral tones of the grass can harmonize beautifully with a gray and beige reception tablescape, offering a monochromatic wedding look yet a visually captivating focal point.
Captivating in Lush Pink
Witness an enchanting garden defying gravity as lush pink wedding blooms cascade above your reception tablescapes. The captivating idea can be a stunning addition to your reception decorations without disrupting your other décor elements.
Wooden Pergola and Chandelier
Leverage existing wooden pergolas of your wedding venue for an outdoor wedding to create a flower chandelier! This effortless transformation can define spaces and bring an air of elegance to your indoor wedding, framing the head table beautifully.
Organic Garland for Effortless Charm
You can achieve a striking impact with simple yet impactful greenery garlands that effortlessly drape from above. The lush green leaves overhead can be beautifully contrasted with rustic copper chairs below, creating a harmonious blend of nature and elegance.
Enchanting Wisteria-Covered Canopy
Evoke an enchanting reception ambiance by adorning your ceremony or reception ceiling with wisteria vines, reminiscent of the iconic scene from "Twilight." The result is a breathtaking floral canopy that sets a truly magical tone.
Citrus Accents Blooming Overhead
The vibrancy of citrus wedding accents which has become a trending element in summer reception tablescapes can be used to make a unique expression. Your vibrant wedding floral arrangements can echo the reception table blooms, forming an overhead square frame that adds a creative touch to the ambiance.
Sweetheart Table Enveloped by Floral Splendor
Elevate your VIP seating with the elegance of a flower chandelier or garland suspended above the wedding sweetheart table. This versatile arrangement can transition from altar décor to a captivating centerpiece, adding an element of continuity to your event.
Elevate with a Greenery Chandelier
Elevate your wedding reception ambiance by dining under a statement wedding chandelier adorned with lush greenery and floral accents. This wedding overhead installation design can mimic candlelight and abundant greenery along with adding a touch of enchantment to the celebrations.
Terracotta Charm with Macramé Accents
Infuse your décor with trendy charm by incorporating hanging terracotta pot flower decorations adorned with macramé wedding details. For your eco-chic wedding, you can choose flowers that complement your color palette or opt for potted plants that can find a new home post-wedding.
A Puzzle of Elegance and Curiosity
Your wedding suspended décor can become a captivating conversation starter amidst silver-hued geometric shapes that appear part beehive, part glass, and part lantern. This creative glass design infuses both charm and intrigue into the elegant reception ambiance.
Elegance in Woven Baskets
You can craft an aesthetic that conceals the wedding ceiling while enhancing the overall design using woven baskets for hanging flower centerpieces. This decorative touch can add an extra layer of allure to your décor, seamlessly blending structure and function.
Enchanting Tealight Candle Suspension
Achieve an enchanting garden-like reception atmosphere by suspending floating tealight candles from a greenery installation. This whimsical wedding idea can be particularly stunning in a greenhouse wedding venue, where the hanging greens stand out against a backdrop of white and green table settings.
Subtle Grace with Long-Stem Roses
Balance elegance and simplicity by embellishing wedding hoops or chandeliers with graceful long-stemmed roses. This tasteful approach offers a touch of refinement to your hanging floral arrangements at your reception, without overwhelming the overall aesthetic.
Dance Floor Elegance with Hanging Greenery
Enhance your first dance with a focal point above the dance floor – a captivating hanging greenery installation. This feature can instantly become the center of attention against the backdrop of a pristine white floor and drapes of your wedding venue!
Bring Nature Indoors with Full Branches
If you are looking to dress up your outdoor wedding venue, you can infuse the entire space with a natural touch by suspending full branches from the ceiling. For a fall wedding, you can hang upside-down pine branches that will add a striking contrast to the modern industry chic wedding aesthetic.
Edison Bulb Illuminance with Jewel-Tone Opulence
Drawing inspiration from the industrial minimalist wedding trend, Edison bulbs take center stage while radiating a distinctive charm. When harmoniously combined with the richness of jewel-toned wedding flowers, the result can be a captivating blend of contemporary allure and glamorous sophistication.
The Artistry of Precision
Embrace the allure of precise intricacy with a floral wedding chandelier that embodies a sense of effortlessness while exuding meticulous artistry, showcasing the timeless beauty of the well-structured design. You can opt for your favorite wedding flowers to create a personalized atmosphere.
A Canopy of Vows and Blooms
While all eyes are on the bride and groom, a magnificent enclosure of vows also can serve as the anchor for a stunning display of wedding florals! This can lead to prompting a few enchanted gazes upward and offering a moment for joyful tears.
Ingenious Escort Card Display
For a fresh twist, you can incorporate suspended greenery into your escort card display. You can go for delicate mini escort cards pinned to green wreaths hanging from the tent's apex to create an elegant yet creative escort card display idea.
Elegance in Simplicity
Sometimes "less is more!" If you believe this, go for suspended foliage and delicate twinkling lights instead of the absence of excessive florals proving that simplicity can indeed radiate spectacular elegance.
Make a Bold Statement with Dramatic Installations
Opt for an opulent aesthetic with a lavish hanging greenery installation featuring vines and lilies of the valley. This over-the-top wedding décor idea adds grandeur to a botanical garden wedding, especially when housed within a greenhouse-like reception venue.
Brilliance in Abundance
Why settle for one reception chandelier when an array can create an elegant impact? You can demonstrate how an abundance of lights can exude class by incorporating gorgeously placed wedding chandeliers and throwing focus on your statement wedding cake with grace and style.
Elevate Statement Lighting with Greenery
Turn statement wedding light fixtures into captivating focal points by adorning them with circular greenery installations. This creative approach seamlessly blends the charm of hanging foliage with the elegance of crystal wedding chandeliers.
A Romantic Seating Chart
Another way to elevate your escort card display into a work of art is by featuring a suspended seating plan adorned with flowers and vines. This ceremony seating chart idea can not only organize seating but transform it into a classic and chic decorative element.
Greenery for Ceremony Entrances and Backdrops
Enhance your ceremony space by placing a captivating greenery installation at the entrance of your wedding venue. This amazing wedding entrance idea can serve both as an inviting entrance and a picturesque backdrop for your vows.
Frames of Unexpected Beauty
As a traditional wedding photo booth alternative, you can go for empty photo frames designed for fun to take on a new role as a stunning ceremony backdrop. The unique approach can add a touch of unconventional beauty to your special day.
Contrast Greenery and Florals for Visual Impact
Create a stunning visual contrast by pairing lush suspended greenery with bold and vibrant floral reception centerpieces. Against a backdrop of gray linens, the interplay of greens, pinks, and purples this idea can create a captivating and harmonious design.
Trellis Elegance with Hanging Lanterns
You can make a striking wedding design statement with a greenery-adorned trellis! This impressive structure can not only add an element of grandeur but also provide ample space for guests while hanging lanterns add a touch of enchantment to the setting.
Wedding centerpieces designed for the reception aren't limited to table arrangements alone – they are equally captivating when suspended from the ceiling. This hanging décor idea can completely transform the look and feel of your reception area, adding a touch of elegance to tables and dance floors while also concealing any unattractive beams, rafters, or tent poles. The most popular suspended décor ideas usually feature flowers and greenery, but lanterns, streamers, and similar items can also become stunning focal points as we have seen above.
Opting for hanging wedding décor ideas is a grand and captivating way to adorn your ceremony or reception space, leaving your guests utterly amazed! From opulent flower chandeliers to subtly draped greenery garlands suspended from the ceiling, there are so many ways to enhance your wedding décor display. Imagine having your first dance beneath a garden of hybrid delphiniums or illuminating your tables with floating candles and abundant blooms overhead. Regardless of the style or theme you opt for on your big day, there are minimal constraints on what your talented wedding décor designer can bring to life.
Hanging décor installation ideas in weddings have undoubtedly emerged as one of the most popular wedding decoration trends, seamlessly fitting into weddings of all themes. There's an endless variety of fabulous styles and types to choose from when it comes to hanging decorations. From floral-inspired designs featuring pastel wedding color combinations for a romantic look to gilded glass designs elevated with exclusive lighting, you can find your favorite inspiration décor for your upcoming celebration.