Fall Wedding Stationery Trends: Vellum, Acrylic, And More!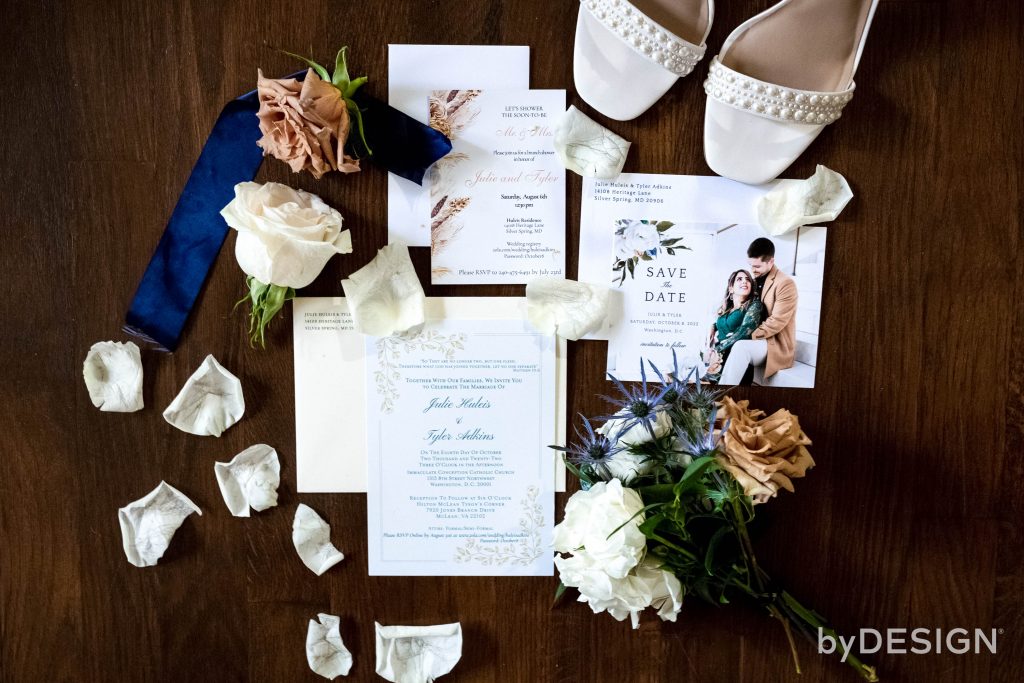 Fall weddings are beautiful, and enamoring. During this season, love finds its canvas adorned with the rich hues of rustling leaves and golden sunlight. Whether you imagine getting married in an outdoor wedding setting or indoors, fall is the season to be cozy, and enjoy the brilliant hues of the season. Fall weddings exude a timeless elegance, where nature's palette of warm oranges, deep reds, and earthy browns becomes a backdrop for heartfelt promises. Just like a crisp winter wedding, to us, a fall wedding sounds like a time and just the right setting for a beautiful wedding.
Since, the season gives you the perfect time to have a wedding and take your vows in the gentle embrace of autumn, as nature paints its canvas with warm hues and golden light, the world of weddings finds itself captivated by a symphony of romantic stationery trends. Just as you plan a beautiful fall wedding, you will want to have the perfect wedding invitation set for your special day. The artistry of wedding stationery is no longer confined to tradition; it has evolved into an expression of love's unique essence. In today's inspiration blog, we want to discuss the beautiful ideas, types, and styles you can use for your wedding stationery. You can use vellum wedding stationery ideas for your day. Its soft, translucent texture invites guests to embrace the journey of love as you take it with your soulmate, unveiling promises that resonate beyond words. And then there's acrylic—modern and elegant, it offers a window into the couple's shared dreams, where personalized designs dance against a crystalline backdrop. The allure of fall sets the stage for stationery adorned with rich, earthy tones, reminiscent of the season's palette. Nature's embrace is captured in every brushstroke, and every motif, infusing warmth and depth into each piece. Handcrafted details, evoking an old-world charm, pay homage to the craftsmanship of love, rendering each invitation a work of art in itself.
1. Vellum Wedding Invitation Set Ideas 
For your autumn wedding, you can incorporate vellum stationery ideas to elevate the essence of fall's enchantment. Like a whisper of love notes carried by the gentle breeze, vellum invitations transcend the ordinary, inviting guests to embark on a journey through layers of elegance and emotion. The translucence of vellum lends an ethereal quality to these invitations, casting a soft, diffused light that captures the essence of the season's golden hues. Delicate as the falling leaves, the vellum envelopes the details of the invitation with a sense of tenderness, allowing glimpses of the design to tease the eye.
Vellum's sheer nature provides an exquisite canvas for layering, creating a tactile experience that intrigues and delights. Enclosing the vellum with heavier cardstock or bundling it with delicate ribbon adds depth and sophistication to the overall presentation. And as the invitation is unfurled, the delicate texture of vellum encourages guests to take a moment, savoring the anticipation of the forthcoming celebration. For fall weddings, vellum invitations harmonize perfectly with the season's poetry. They embrace the fleeting beauty of autumn, much like leaves that flutter gracefully to the ground, and they capture the essence of a love that flourishes amidst change. With a sense of timelessness and an allure that is both delicate and alluring, vellum invitations become not just an introduction to the wedding day, but a portal into the enchanting world of a couple's shared journey.
You can use these as your wedding's entire invitation set. We recommend using something that builds on your wedding details and the color scheme. By the time you decide to design or choose your wedding invitations, you will have an idea about your wedding color scheme. Use that for your wedding invitations, and inject more synchronicity into the details of your wedding. That aside, you can also choose to have a modern design, which lays out the details of your wedding day! Apart from this, you can have tiny cards for thank-you notes for your wedding guests, and add them to your wedding favors for a personal touch.
2. Acrylic Wedding Invitations
Planning to throw a brilliant fall wedding? Then use acrylic wedding invitation sets! These are a fusion of modernity and the season's timeless beauty. Like the clear, crisp air of autumn, acrylic invitations provide a fresh perspective that marries innovation with the warmth of tradition. Acrylic, with its sleek and translucent quality, becomes a canvas for creativity and personalization. As the backdrop for fall wedding invitations, it captures the essence of the season's rich colors and textures, allowing the couple's chosen design to shine through with stunning clarity. Whether beautified with delicate watercolor depictions of falling leaves or minimalist typography that captures the essence of your love story, acrylic invitations are a testament to the magic of blending old and new.
The interplay of light against acrylic adds an element of intrigue, casting a subtle glow that enhances the invitation's allure. Much like the play of sunlight on autumn leaves, this interplay adds a touch of mesmerizing beauty that draws the eye and captivates the imagination. Fall's charm is captured in every element of acrylic invitations, from the boldness of the design to the tactile experience of holding the invitation in hand. Whether accented with metallic foil to evoke the shimmering quality of autumnal landscapes or adorned with delicate floral illustrations that reflect the season's grace, acrylic invitations encapsulate the spirit of fall weddings in a way that is both contemporary and heartfelt.
Simply put, we love acrylic wedding stationery for its elegance. The timeless allure makes these kinds of invitations perfect. Regardless of your wedding theme, this set will add to your entire day's setting. What we love the most is that you can have any theme for your wedding, and then use these to add style. You can add beautiful details to your wedding invitation sets, or you can choose to have a simpler style of invitation set for your guests. Also, acrylic wedding invitations are one of those that help you choose the perfect frills to add. If you're looking for a minimal wedding stationery set for your wedding if you're still in the process of looking for a wedding theme.
3. Cotton Fiber Wedding Stationery 
Cotton fiber wedding invitations for fall weddings evoke a sense of warmth and intimacy that aligns perfectly with the season's embrace. As delicate as the falling leaves, these invitations become a tactile representation of the couple's love story, inviting guests to partake in the beauty and sentiment of their special day. The softness and natural texture of cotton fiber capture the essence of autumn's coziness, like a warm embrace that welcomes loved ones to share in the celebration. Its earthy tones and subtle grain evoke images of rustic barns and quaint countryside scenes, setting the stage for a wedding that is both charming and elegant. Cotton fiber invitations provide a canvas for creativity, allowing for intricate detailing and personalized designs that reflect the couple's unique journey. Whether adorned with intricate calligraphy or adorned with motifs of falling leaves and intertwining vines, these invitations are a testament to the couple's attention to detail and their desire to share their story.
As guests marvel over the beauty of your wedding invitations, they will feel cherished and loved. A great invitation suite not only makes you happy but also makes your wedding guests swoon over the details before they make it to your wedding. This tactile interaction imparts a sense of authenticity and thoughtfulness that perfectly aligns with the spirit of fall weddings. Just as fall is a season of transformation, cotton fiber invitations symbolize the journey of the couple as they embark on a new chapter of their lives together. Just like the beauty of the season, these invitations invite guests to witness a love story that is equally beautiful and transformative. Use this opportunity to use the hues and the details that make you think of your wedding decor, details, and ideas. Amidst the season's changing hues, these invitations stand as a tribute to the enduring beauty of love and the promise of a future as vibrant and full of promise as the autumn landscape.
4. Kraft and Wood Wedding Stationery Ideas 
The marriage of kraft paper and wood-grain textures in a fall wedding invitation set is a captivating fusion of rustic charm and seasonal elegance. These tactile elements evoke the coziness of autumn, weaving a narrative that reflects the couple's love story against the backdrop of nature's warm embrace. Imagine an invitation suite adorned with the earthy allure of kraft paper, a canvas that lends itself to creative design. Delicate watercolor depictions of fall leaves dance across the surface, capturing the essence of the season's vibrant palette. The rich texture of wood grain adds depth as if guests are peeking into a woodland scene where love takes root. For the main invitation, consider minimalist typography that mimics the rugged beauty of tree bark, celebrating the unspoken strength of the couple's bond. Enclosed in a rustic envelope, the invitation sets the tone for a wedding that celebrates simplicity and authenticity.
As guests explore your wedding invitation set, they'll discover intricate details like wooden accents—a nod to the couple's journey. The RSVP card, adorned with a wood-grain pattern, invites recipients to respond with the same rustic elegance. The elegance of calligraphy on kraft paper envelopes is a charming touch, channeling the sentiment of handwritten letters exchanged amidst the falling leaves. Custom stamps featuring motifs of intertwined leaves or a carved heart mirror the woodsy atmosphere, while wax seals add an old-world charm to your beautiful wedding stationery. To make your wedding invitations aesthetic and to have great wedding photos out of these, we recommend using similar wedding color schemes as the day. Also, using some elemental designs, such as candles, lanterns, pumpkins, or any of your wedding accents as illustrations will help you make the invitations become a part of the narrative. Also, since these kinds of invitations are woodsy and evoke an otherworldly charm, we will recommend using forest-inspired ideas, floral details or bouquets, or even vine decor to create a wonderful look.
Tips to Choose the Right Wedding Stationery 
As you plan your wedding, you will go through many details. As you go through the myriad ideas of what to do, what to include, and what to not include on your wedding day, the same rules will apply to your wedding stationery. Before you start browsing invitation sets, have a clear understanding of your wedding theme and style. Whether it's a classic, rustic, modern, or vintage theme, your invitations should reflect the overall aesthetic of your wedding. Determine how much you're willing to spend on your invitation set. This will help you narrow down your options and avoid falling in love with sets that are beyond your budget. Make a rough estimate of the number of invitations you'll need. Some vendors offer bulk discounts, so knowing the quantity can help you get accurate quotes. Explore various design options online or at stationery stores. Look for designs that resonate with your style and theme. Consider factors like color, typography, motifs, and overall layout. Decide on the format of your invitation set. It could include the main invitation, RSVP card, details card, envelopes, and any additional inserts you want to include. Select the type of paper you prefer. Options include glossy, matte, textured, and specialty papers like vellum or recycled paper. The paper's texture can add depth and character to your invitations.
Choose a printing method that aligns with your style and budget. Common methods include digital printing, letterpress, foil stamping, and thermography. Each method offers a different aesthetic. Consider whether you want a fully customizable invitation set or if you're okay with choosing from pre-designed templates. Customization allows you to add personal touches, but templates can be more budget-friendly. Research the vendors you're considering. Read reviews from other couples to gauge their satisfaction. If possible, request samples to assess the quality of the paper, printing, and overall design. Ensure that all the details on the invitation are accurate and spelled correctly. Check the date, time, venue, and any other information you're including. With that, we hope that you not only plan a great wedding but also have amazing wedding invitations to go with your ideas!