Andrea And Julio's Moody And Elegant NYC Engagement Session To Make You Swoon!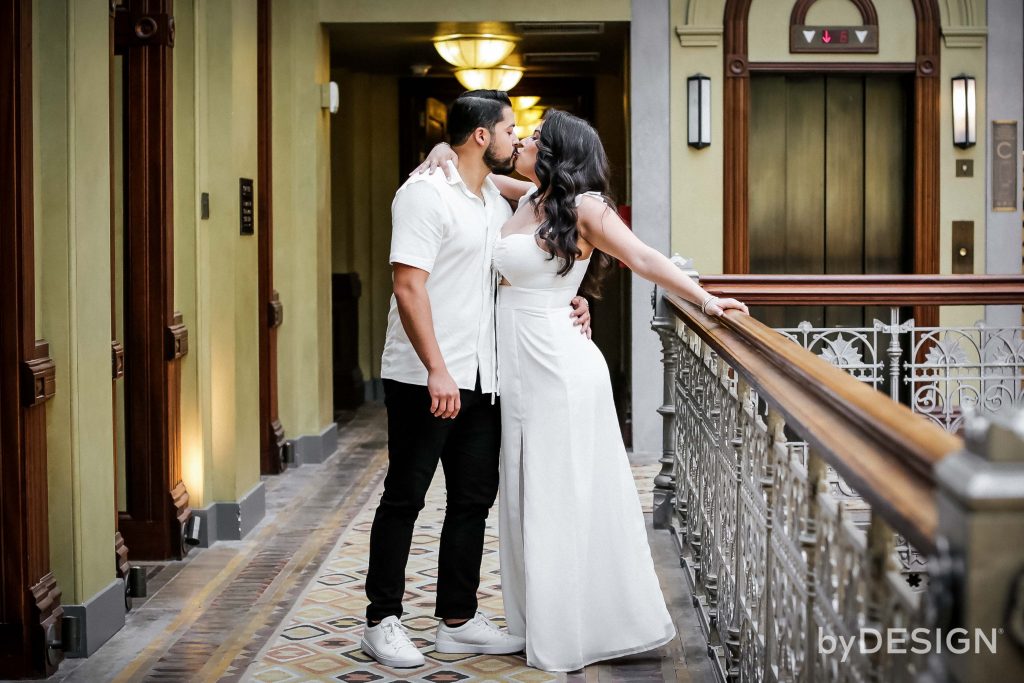 Love, they say, is the most enchanting and mysterious of human emotions. It can rage wars between hearts and even nations, it can inspire art, music, and poetry and it can send one on lifelong quests to unravel this mystery. It's a force that can turn ordinary moments into extraordinary memories and transform two lives into a shared journey of endless wonder. When you fall in love and find the person who completes your heart's puzzle, it's like stepping into a world where everything is bathed in the soft glow of magic. The journey of falling in love is like embarking on an exhilarating adventure. It often begins with a chance encounter or a serendipitous moment when your eyes lock, and your heart skips a beat. From that point on, every conversation, every touch, and every shared experience feels like a page from a fairy tale. And then, there comes a moment when you realize that you've found the one. The person who makes you laugh when you want to cry, who holds you when you're scared, and who believes in you when you doubt yourself. And when the time is right, you will not think twice before asking the question or saying "yes!"
From the moment you say "yes" to the engagement, the world seems to light up with a new radiance. You start planning a life together, envisioning your shared future, and cherishing every moment as a couple. The anticipation of the wedding day itself feels like a countdown to a grand magical celebration, where you'll declare your love in front of family and friends, surrounded by an aura of love and happiness. Falling in love and getting engaged to the love of your life is a journey that weaves together threads of joy, passion, and commitment. It's a reminder that in this complex world, magic still exists in the simplest of human connections. Love, in all its forms, has the power to transform our lives, elevate our spirits, and remind us that even in the most ordinary moments, we can find something extraordinary. And if you know us, we are all about celebrating love.
In the world of love stories, few chapters are as enchanting and heartwarming as the journey towards marriage. It's a time filled with anticipation, dreams, and the promise of forever. Andrea and Julio, a couple deeply in love, embarked on this beautiful journey, and their engagement photo session was nothing short of magical. Today, we invite you to step into their world, where love knows no bounds, and every stolen glance speaks volumes. Their engagement photo session was not just a documentation of their love story; it was a celebration of the love that binds two souls together. From romantic settings to candid moments, their photos narrate a tale of pure, unadulterated love. In this blog, we will take you on a visual journey through Andrea and Julio's engagement photo session, highlighting the breathtaking locations, the chemistry that's palpable in every frame, and the passionate love story that unfolded before the lens. So, grab a cup of your favorite beverage, settle in, and let's embark on a captivating exploration of Andrea and Julio's enchanting engagement photo session.
However, before we dive into the actual day of the shoot, let's set some context. Andrea and Julio chose the iconic city of New York City for their wedding engagement backdrop! Falling in love in New York is a unique and enchanting experience, unlike any other in the world. The city's vibrant energy and iconic skyline create a romantic backdrop that can sweep anyone off their feet. It's a place where love stories come alive against the backdrop of bustling streets and twinkling skyscrapers. The journey to falling in love in New York often begins with chance encounters. Whether it's a serendipitous meeting at a coffee shop in the East Village or a spontaneous conversation in Central Park, the city's unpredictability adds an element of excitement to every romantic connection. In the city's hustle and bustle, these encounters can feel like destiny at work.
As the relationship blossoms, couples in New York find themselves exploring the city together. From romantic strolls along the Brooklyn Bridge, where the city's lights reflect off the water, to intimate dinners in cozy West Village restaurants, the options for romantic experiences are endless. The city's diverse neighborhoods offer a plethora of unique date spots that cater to every taste and preference. One can't help but be inspired by the city's rich culture and art scene. Falling in love in New York often involves attending Broadway shows, visiting world-class museums like the MET, or getting lost in the indie music scene at hidden gems in Brooklyn. Sharing these cultural experiences deepens the emotional connection between partners and creates lasting memories. 
Of course, the changing seasons in New York also play a role in the romantic narrative. In the winter, the city becomes a wonderland as couples ice skate at Rockefeller Center, and in the summer, picnics in Central Park and rooftop sunsets offer an escape from the heat. Each season brings its unique charm and opportunities for romance. But perhaps the most magical aspect of falling in love in New York is the way the city itself becomes a character in the love story. The skyline, with its iconic skyscrapers and lights that never truly go out, provides a constant reminder of the grandeur and possibilities of love. Every corner of the city tells a different story, from the historic streets of Greenwich Village to the trendy vibes of Williamsburg in Brooklyn. In the end, falling in love in New York is like writing a love letter to the city itself. It's a testament to the city's ability to inspire, create lasting memories, and be a witness to some of the most beautiful love stories ever told. New York's magic lies not only in its breathtaking views and vibrant culture but also in its ability to ignite and sustain the flames of love, making it an unforgettable setting for romance.
New York City, often referred to as the "City that Never Sleeps," offers a plethora of unique and captivating opportunities for engagement photo sessions. From iconic landmarks to hidden gems, this vibrant metropolis provides an ideal backdrop for capturing the essence of your love story. One of the most popular engagement photo session opportunities in New York City is the beloved Central Park. With its sprawling greenery, serene lakes, and charming bridges, Central Park offers a diverse range of settings for your photos. Whether you choose to stroll along the Bow Bridge, pose in front of Bethesda Terrace, or relax in a cozy spot by the Conservatory Garden, the park's natural beauty creates a romantic atmosphere that's hard to match.
For couples seeking an urban, iconic backdrop, the city's skyline is another fantastic option. Head to one of the many rooftop bars or observatories for breathtaking views. The Top of the Rock at Rockefeller Center, the Empire State Building, and One World Observatory at the World Trade Center all provide stunning vistas that will set the stage for memorable engagement photos. DUMBO in Brooklyn is another trendy spot for engagement sessions. The area's cobblestone streets, historic architecture, and, most notably, the Manhattan Bridge and the iconic Jane's Carousel, offer a blend of urban and rustic aesthetics. The waterfront location allows for dramatic shots with the city skyline in the background. Chinatown and Little Italy are ideal for couples who want a touch of cultural charm in their photos. The vibrant colors, bustling streets, and authentic eateries provide a unique and dynamic backdrop that can add a touch of nostalgia to your engagement session. For art-loving couples, the Metropolitan Museum of Art, known as the Met, offers a grand and elegant setting. The museum's stunning architecture, grand halls, and impressive art collections provide a refined atmosphere that's perfect for capturing your love in a sophisticated and cultural context. 
Lastly, the city's famous street art scene in neighborhoods like Bushwick, Williamsburg, and the Lower East Side offers a more contemporary and edgy option for engagement photos. Graffiti murals, vibrant colors, and a sense of artistic rebellion can infuse your photos with a youthful and unconventional spirit. New York City's diverse landscape provides countless opportunities for engagement photo sessions, from natural and serene settings to urban and cultural backdrops. Whether you're looking for classic romance, modern flair, or a blend of both, the city's iconic locations will help you create lasting memories and beautiful photographs that capture the essence of your love.
While many gorgeous outdoor locations will make memorable backdrops, Andrea and Julio's photo shoot was executed in a stunning indoor location and was just as impactful, if not more! The wrought iron details, light and shadow play, and the stunning green walls brought this romantic shoot to life in just the most epic way, and our New York City engagement photographers did a phenomenal job of capturing the day. With the backdrop being dark, moody, and timeless, the couple contrasted the look with minimal and modern attire. Andrea wore a white maxi dress with a slit up one leg, ruffled details on the straps and cut-out details. The sweetheart neckline did our bride-to-be justice and the dress had the most flattering silhouette for Andrea's body type. The tie detail in the front added a romantic touch to the look. Andrea's makeup is radiant and glowy, and silver watch, jewelry, and her engagement ring added the right amount of bling to her look. Her raven-hued hair was arranged in flowy waves and looked stunning. Julio, our groom-to-be also wore crisp white to match the love of his life. He dressed up in a white short-sleeve button-down, black trousers, and white shoes, which seemed to match the relaxed, yet luxe mood of the shoot. Together, the couple looked perfect.
The couple was natural in front of the camera and was captured in a series of gorgeous shots by our engagement photographers in New York. Every frame was classy and magical, and we especially loved the shots of the duo holding the banisters as the sun played hide and seek and made an appearance for their photos. The couple sitting with the green wall in the backdrop, each holding a glass of wine, red for Andrea and white for Julio, was also a shot they will cherish for the rest of their lives. As a prop, Andrea also carried a bouquet of white flowers for a couple of shots, and the picture by the doorway of the two kissing is romantic and timeless. This gave us a trailer of their impending wedding day ahead! The yellow hallway lights, the gray and green details, and the dark corners created a moody allure in these photographs and we are obsessed with the result! Overall, Andrea and Julio did a phenomenal job posing for our NYC engagement photographers, and our skilled professionals will wonder and create shots that the couple will treasure for the rest of their lives. 
Engagement photo shoots have become an increasingly popular and cherished tradition in the journey towards marriage, and their importance cannot be overstated. These sessions offer a unique opportunity for couples to capture the excitement, love, and anticipation that surrounds this special time in their lives. Firstly, engagement photos serve as a visual testament to the love story of a couple. They freeze a moment in time when the couple is deeply in love, brimming with excitement, and radiating happiness. These photos become cherished mementos, reminding the couple of the beautiful journey they embarked upon together. They can be shared with friends and family, displayed at the wedding, or even used in wedding invitations, creating a strong emotional connection with those who will witness their union.
Secondly, engagement photo shoots provide an opportunity for couples to bond with their chosen photographer. This collaboration helps couples become comfortable in front of the camera, allowing them to express their authentic selves. As a result, the photographer can capture candid, natural moments that showcase the couple's true personalities and emotions. This familiarity with the photographer also ensures that the couple feels more relaxed on their wedding day, which can lead to even more stunning and authentic wedding photos. Moreover, engagement photo sessions can be a fun and creative experience. Couples can choose locations that are meaningful to them, whether it's the place where they first met, a favorite park, or a romantic beach. They can incorporate props, themes, or even outfits that reflect their unique style and personalities. The creative freedom offered by engagement shoots allows couples to express themselves artistically and create images that are truly one-of-a-kind. Additionally, engagement photos can be used for practical purposes. They can be used in save-the-date cards, wedding websites, and even as decorations at the wedding reception. They also provide an opportunity to test out hair, makeup, and styling choices before the big day. Couples can review their engagement photos to see how they look on camera and make any necessary adjustments to their wedding day appearance.
In conclusion, engagement photo shoots are far more than just a trendy pre-wedding activity; they are a meaningful and valuable part of the wedding planning process. They capture the essence of a couple's love story, strengthen their connection with their photographer, allow for creative expression, and serve practical purposes in the wedding preparations. These photos not only celebrate the journey towards marriage but also become lasting reminders of the love, joy, and anticipation that surround this special time in a couple's life. Andrea and Julio's engagement photo session day was a beautiful and unforgettable celebration of love and commitment. It was a day filled with laughter and celebration of coming together to witness the beginning of their journey to something new and exciting! It was clear that their love story was one for the ages. We hope that as they look back on this special day, they are reminded that love is a powerful force that can bring people together and create moments of pure happiness. We wish Andrea and Julio a lifetime of love, laughter, and endless adventures as they embark on this new chapter together. May their love continue to grow stronger with each passing day, and may their engagement day serve as a beautiful prelude to the wonderful life they will build together. Cheers, to love and happiness!